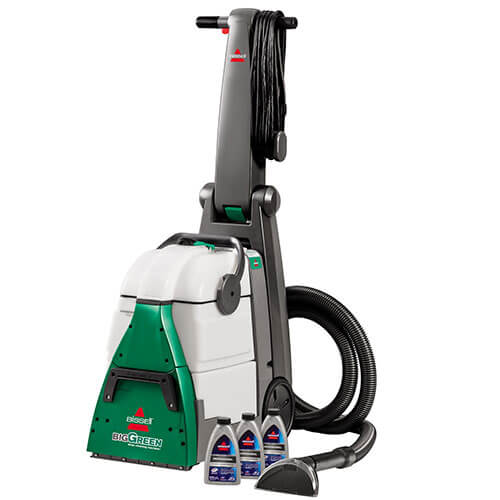 It is a known fact that Bissell makes one of the most famous carpet shampooers out there.  We decided to take the Big Green model and test it out in various situations for you. To ensure that this model from Bissell is the right for you, we will try to answer all the questions and inform you in detail. Summing it all up in this Bissell Big Green Professional review, you will have the chance to learn about this particular unit.
A major home cleaning competitor, Bissell, prides itself to be the lead carpet cleaner manufacturer nowadays. They specialize in all sorts of home cleaning and present themselves as a modern, but traditional company. We will go through portability, specifications, pros and cons, and the main reasons why someone should buy the Big Green. We hope that this review helps in making a purchase decision.
Big Green Professional Carpet Cleaner Specifications
Researching this particular market, the field of home carpet cleaners has a lot to offer. Extra knowledge to help you decide is always welcome, so we will maybe get a bit techy in the next part. It's important that you learn as much as possible before you decide whether this carpet cleaner is right for you.
The Big Green is also considered a heavy-duty carpet cleaner. What this means is that the unit is quite heavy, weighing at about 52.5 pounds. This often means that weight will be sacrificed for the sake of power. With the power rating of 12 Amps, this model has a strong kick and delivers strong results. Together with the powerful motor, mounted on a 2-wheel system, the Big Green is made with a lot of onboard features and technologies.
First off, there is the extra-large DirtLifter Power Brush, which provides extra cleaning power and powerful suction. This allows the unit to tackle multiple types of surfaces like carpets, drapes, rugs, upholsteries and all furniture shapes.
When things get too complicated with this heavy-weight machine, Bissell provided a 9-foot long hose, with the 6-inch-wide spot cleaning tool. This model has the technology that makes it clean on both strokes, forward and backward. This enables a lot of time-saving when the cleaning area is bigger than average.
With its rigid, yet modern and stylish design, this unit looks heavy-duty and certainly showed results as one. It also packs 2 large tanks for clean and dirty water, and Bissell recommends their cleaning agents for maximum performance.
Customer Support and Warranty Policy
Being that Bissell is around since 1876 to help humanity clean their homes, this company sure has a more traditional vibe. You can contact customer support through multiple standard channels, and they will gladly help you out. We have also found their website quite useful, and the community provides tutorials and how-to videos.
This specific Bissell model comes with a 5-year warranty, mainly covering the heaviest parts like the motor.
What Can You Clean with Bissell Big Green Professional Carpet Cleaner?
We have been able to clean some of the harshest and most stubborn stains, made by humans or animals. The upholstery cleaning accessory was pretty helpful to access hardly-reachable places and give them a proper cleaning. Multiple sorts of rugs and carpets, together with rugs of synthetic origin like office carpets can be cleaned with this unit.
Pros
This Bissell model is very strong and heavy-duty oriented and comes with big water tanks. It's very compact, considering the weight.
Cons
It's still somewhat hard to maneuver. Also, the plastic hose extension gets easily tangled but is sturdy enough to endure it.
Wrap Up
The most important things to learn are in this unbiased Bissell Big Green Professional review. This Bissell machine will be there to clean whatever you put in front of it. Many people say this is one of the most successful carpet cleaners around, at a reasonable price. Keep in mind that this is a heavy-duty machine and takes a bit more storage space, but it makes it all up with its cleaning power.
The back-and-forth cleaning feature is also kind of handy when you want to save time, but still, it provides a good cleaning session. We hope that we have managed to answer all the necessary questions you might have. If not, we will gladly answer additional questions in the comment section.