They say that the floor is the first thing we notice when we enter a room for the first time. Think about it for a second. Clean carpets and clean floors are what Carpet Cleaner Lab is all about.
We believe in reliable technology! That is why we took upon ourselves to test out popular (and some less so) carpet cleaners, steam cleaners and steam mops, as well as other useful things like chemicals, and info about the hottest brands in the game. The wide variety of today's market made it possible for some remarkable devices to come to anyone's home.
So, let's see what kind of devices can help you to restore your floor's old glory!
1.Carpet Cleaners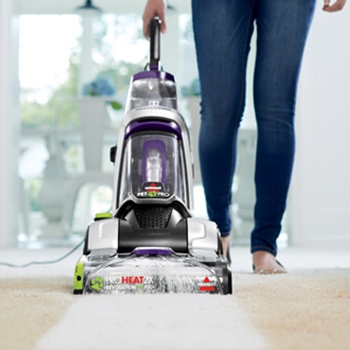 Nothing makes a rooms standout like a beautiful carpet, right? Well, carpet cleaners are the most reliable machines you can get your hands on if you wish to keep that room fresh and clean for a long time. Everyone uses them, from small households to large business offices. So, what kind of carpet cleaners are there?
1.1 Overall Best
This is the best of all sides. In the best home carpet cleaner section, we took the time to rate the machines according to a vast spectrum of criteria like overall power, portability, versatility, and unique abilities. Every single model in this group has shown to be the "jack of all trades."
Overall power – If you have several types of different carpets, or you have to cover a large area in your home, you will need a powerful machine that can do the job well. To put it simply, overall power represents the ratio of endurance and performance.
Portability – A powerful model is less useful if it weighs a lot, and that is why an overall best carpet cleaner needs to have good power to weight ratio. You need to be able to power clean and move at the same time
Versatility – Under this criterium, we put every useful extra attachment and extension a model has to offer. Need to wash the carpets and the upholstery? No biggie, get a hybrid model. The possibilities are almost endless with the right gear.
Unique abilities – Some models have more than one water tank, and some have a powerful vacuum under the washing module. Read on to find out what sorts of technological marvels the manufacturers had in mind.
Each brand has something unique and recognizable to offer. We tried a large number of models from world-renown brands like Hoover, Bissell, and Rug Doctor. The technology these companies develop has made a significant leap in the last decade, and it shows in the carpet cleaners' performance.
And, of course, with a well-built machine, you need to have reliable chemical support. We took the time to prepare some carpet shampoo reviews to help you with getting the best results.
1.2 Pets
People that have animals as roommates know very well what kind of mess that whole situation can sometimes be. Animals tend to leave a lot of traces behind, some hairy, some dirty, and some smelly.
We took the most popular carpet cleaners for pets and tested their abilities to see if they are really up to the challenge. Every carpet cleaner that pet owners use must have at least these two features:
Quick and efficient stain removal – Do not expect from a carpet cleaner specialized for pet owners to be able to clean the whole carpet. These machines are like sprinters, powerful in short bursts.
Odor removal – Yes, that is right. We think that a carpet cleaner for pets needs to be able to help you get rid of that nasty smell as soon as possible. Some models even have exclusive slots for air fresheners.
1.3 Portable
In times like house spring cleaning, you want to move freely and fast while cleaning all kinds of stains. We took the top-rated portable carpet cleaners and tested how well they can keep up with an active cleaning style. A couple of things to keep in mind regarding portable carpet cleaners:
Power to portability ratio – What good is an ultra-powerful unit if you can't get it to the other side of the room without extra effort? Or even worse, imagine having an ultra-light cleaner that can't clean a simple juice stain. We wanted to find the devices that are on the lighter side, but still powerful enough to tackle any stain you stumble upon.
Extended hoses and cords – Sometimes, the body of a portable carpet cleaner can be a little heavier, but there is a solution for that: extra long electric cords, and extendable high-pressure hoses.
1.4 Commercial
Lastly, in the group of carpet cleaners, we have the crown jewels that have it all. Commercial carpet cleaners, as the name suggests, are made to cover larger offices and busy areas daily. The performance of these machines is top-notch, but that kind of luxury comes with a higher price of course.
A crucial feature, besides the power of course, that a commercial carpet cleaner has is ultra-high durability. The need to be able to operate and work the extra hours. If you have ever been to the mall, you have probably seen a device like this. They are large, loud, and extra-powerful.
2. Steam Cleaners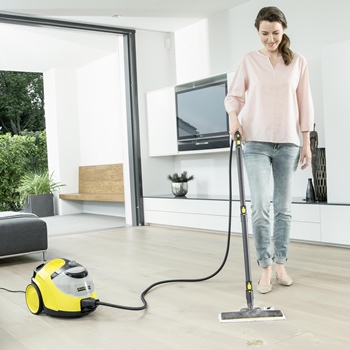 Now, carpet cleaners are just a part of the arsenal that you can use to keep stains and smell at bay. When it comes to the hard floor, wood floor, vinyl, tiles, or laminate, you need to be able to act quickly and efficiently. That is where the power of pressurized water vapor comes into play!
2.1 Overall Best
In this category, we placed the best steam cleaning machines that can deliver powerful steam kick but can also adapt to other problems that may occur when it comes to stubborn stains. Much like with carpet cleaners, we saw some ingenious and innovative solutions that boost efficiency by a large margin.
In this group, you can find hybrid devices, large devices that have big and mighty steam boilers, or smaller all-round steam cleaners that will help you tackle any problem with ease.
Cylinder model – They look like vacuum cleaner a lot, and they can sometimes be as loud. The strong suit of cylinder steam cleaners is their large capacity and overall power.
All-around steam cleaners – These are the standard model steamers that have some unique or ultra-efficient solution. They are usually lightweight and portable to a degree.
Hybrid steam cleaners – They can be whatever you want them to be. You can attach a mop or a hose extension and use them to clean both upholstery and floors.
2.2 Handheld
To people that like to delicate work and precision, we recommend taking a look at the top-rated handheld steam cleaners. They are always lightweight and offer ease of access features, such as increased mobility, extended wands and hoses, and lots and lots of additional gear.
Ultra-mobile – Anyone can carry a handheld around the house, due to their light weight that never exceeds 15 pounds. They sometimes even have double steam wands to help you reach the hardest of places.
Versatile use – People generally use these for cleaning, yes, but there are other, lesser-known abilities a handheld steam cleaner can have, like sticker removal and window washing.
2.3 Upholstery
Besides carpets and floor, the only other thing we take for granted inside our house is the furniture. Top-rated upholstery steam cleaners are there to take care of nasty smells and layers and layers of old dust and microorganisms. You would be amazed by how great an old sofa can look after you give it a thorough cleaning with an upholstery steam cleaner.
Deeper penetration – The fabrics are durable, but in time, they get weaker and dirtier. With a reliable upholstery steam cleaner, you can protect older furniture from breaking apart.
Bed bug and allergens elimination – One of the most sought-out features of upholstery steam cleaners is that they can destroy unwanted guests in your upholstery with just the power of hot water.
3. Vacuum Cleaners
3.1 Lightweight Vacuum Cleaners
Keeping your house clean does not have to be heavy work that leaves you tired and aching. It doesn't matter if you have mobility issues, fighting with a condition like arthritis, or you simply feel weaker due to old age – giving your carpets a good, thorough vacuuming does not have to be a chore. Regardless of your particular circumstances, a lightweight vacuum cleaner is a right addition to your cleaning equipment. These light machines are just as powerful as their full-sized, heavier counterparts, but with the added benefit of being easy to maneuver and move around.
3.2 Commercial Vacuum Cleaners
Keeping a business area clean is much more taxing than cleaning a home. It doesn't matter what kind of business you're dealing with – a hotel, an office, or a store, chances are that it gets a lot of foot traffic on a daily basis. In these cases, a regular vacuum cleaner simply won't do. What you need is a heavy-duty, top-rated commercial vacuum cleaner that's designed to handle heavy use, every workday, without fail.
4. Steam Mops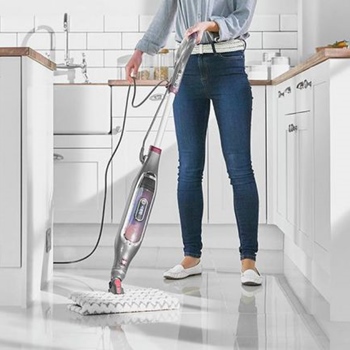 Steam mops are one of the most efficient floor care appliances out there. They require little to no skill and are always lightweight so that anyone can use them. There are a lot of rules when it comes to checking if your floor is eligible for steam mopping, but, if done right, it will surely be worth it.
Plug and Play – Mop-like design and smaller water tanks make it extremely easy to maneuver around the house and clean at the same time.
No harmful chemicals – The best part of steam mopping is that it does not require cleaning agents. Power of steam all the way.
Vertical versatility – With right extensions and attachments, a steam mop can quickly turn into window steamers or even clothes steamers, so watch out for the innovative models out there.
5. Blog Area
We have prepared some useful blogs about carpet cleaning.
Wrap Up
We do believe that a clean environment is a healthy environment. If you just take the time to clean your carpets, floors, and some furniture, you will see the tremendous payoff. It seems like a small thing to do, but people get amazed by how their own house looks like just after cleaning the floors. Everything can look brand new even after years of use.
And that is what we are all about: applying experience and science to get to a nicer, cleaner and healthier household. Let's start cleaning!