Getting the best steam mop for your household is the first step towards a squeaky-clean floor, without having to spend 3 hours on the process. Nowadays, nobody has the extra time to spare for cleaning and keeping the house in order. We work a lot and try to spend our remaining time relaxing and socializing. But, if you are one of those people that like to keep everything clean, you might want to look for a solution like a steam mop is.
Steam mops became popular just recently, so we went through some of the most popular models out there and gave them a test run. Everything we found out will be in these steam mop reviews for you to consider before deciding on a model. Let's dive right into it.
See The Quick Comparison Chart
Steam Mop Types and Uses
Judging from the basics of steam mopping, you probably do not understand why some people complain. Before we go any further, it would be great to address this concern, which states that steam mops only do damage.
The hard truth is that people who complain the most are the ones that usually do not follow the "how to use" instructions. So, for it to work correctly, you will have to go through some ground rules regarding the usage and maintenance process of a steam mop. These rules mainly include the type of water you are going to use and the material your floor is made of.
The other important factor is the type of floor you will be cleaning. Generally speaking, we can split the types into three groups: hardwood, laminate, and tile floors. As you can see, we are talking about hard floor surfaces, which should be the only surfaces a steam mop can clean. It is true that a steam mop has the power to damage the floor (especially floors made of wood), but the error is usually on the user's side.
Now that we went through the disclaimers let's see what different types of steam mops have to offer, and what kind of properties to look for depending on the type of floor you have.
1. Steam Mop for Hardwood/Laminate Floors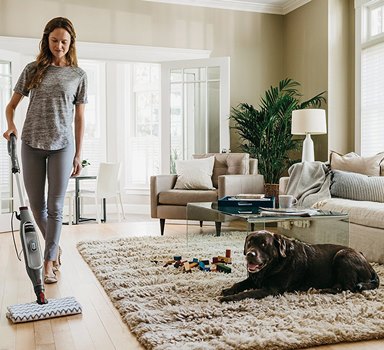 If you have mostly wooden and laminate floors, there are a few adjustments that the steam mop you chose must-have. Wooden floors, no matter the type of wood, are prone to water damages more than any other material out there.
So, before you get into steam mopping your hardwood, the very first thing you should do is to call the contractor that built the floor in the first place. You could consult the landlord, or the manual if you got one after you installed the floor. You should somehow get the information about the floor, and how resilient it is to temperature and moisture. Nowadays, most wooden floors are resistant enough, but it is always good to double-check. A part of the "bad rep" that steam mops gain is from people that assume that the floor they have at home is suitable for steam cleaning. This can lead to some irreparable damages.
Steam mops designed to clean laminate floors usually have adjustable steam release and can support various types of mop pads. So, before you start cleaning, check the wood or laminate if it's safe and if it is still coated!
Bonus pro tip: In the case laminate floors, or hardwood floors made of larger pieces, use the steam mop in the same direction the floor is installed. Go along the lines and along with the panels. This way, you minimize potential damage and clean faster at the same time.
2. Steam Mops for Tile Floors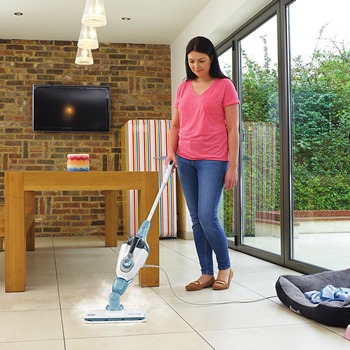 Steam mops designed to tackle the stains on tiles are a bit different. They can handle larger mop pads due to the resilience that ceramics have. This material can also handle more substantial quantities of water with ease. That is why there are almost no special rules that apply to steam mopping ceramic tiles. Almost.
The glazed tiles and sealed granite are quite common and are resistant to steam cleaning if done correctly. However, the adhesive that keeps them together (those white lines between the tiles) can be a potentially risky point if it is damaged. The steam will not damage it any further, but the moisture will get below and make a comfy bed for mold. But hey, if the floor is damaged, it is time to fix anyway, right?
In the case of tiles, you can always double-check just to make sure that you are not damaging the stone or ceramics. Steam mops that are made to clean tile floors will often have pads that dry quicker and produce slightly more heat than the ones which are made for hardwood. All in all, if you are not sure, test the steam mop on a single tile and see for yourself.
3. Hybrid Steam Mop for Tile & Hardwood/Laminate Floors
Hybrid steam mops are not only suitable for both hardwood/laminate and tile floors, but they come with a bonus: a detachable steam cleaner. The motor and the main water tank are removable and can serve as a handheld steam cleaner unit. Hybrid models usually come with a slightly higher price, but if you have toddlers or pets in the house, you will thank yourself for getting one.
When in handheld mode, the mop handle stays aside, and you control the steam more precisely. This way, you can apply the steam directly to the stain you want to remove.
Hybrid models usually have adjustable steam and pressure control, and their water tank is somewhat larger by default. And the cool look of this device/gadget is just a bonus if you are a fan of ergonomically designed appliances.
Best Steam Mops Comparison Chart
PRODUCT
DETAILS

BISSELL PowerFresh Hybrid Steam Mop for Tile and Hardwood Floor

Price:

$

Customer Rating:

4.1

Weight:

6 pounds

Size:

11.6 x 7.1 x 28.6 inches

Warranty:

1 year

View On Amazon

Shark Genius S5003D Hard Floor Cleaning System Steam Mop

Price:

$

Customer Rating:

4.4

Weight:

5.7 pounds

Size:

47.1 x 11.8 x 11.8 inches

Warranty:

5 years

View On Amazon

Smart Living Steam Mop Plus, White and Green

Price:

$$$

Customer Rating:

4.1

Weight:

7 pounds

Size:

22 x 8 x 14 inches

Warranty:

1 year

View On Amazon

Shark S3973D Lift-Away Pro Steam Pocket Mop

Price:

$$

Customer Rating:

3.3

Weight:

11 pounds

Size:

12 x 12 x 51.2 inches

Warranty:

5 years

View On Amazon

Steam and Go SAG806D Multi-Purpose Hybrid Steam Mop

Price:

$

Customer Rating:

4.0

Weight:

5 pounds

Size:

11 x 6 x 50 inches

Warranty:

1 year

View On Amazon
Best Steam Mop Reviews
1. BISSELL PowerFresh Hybrid Steam Mop for Tile and Hardwood Floor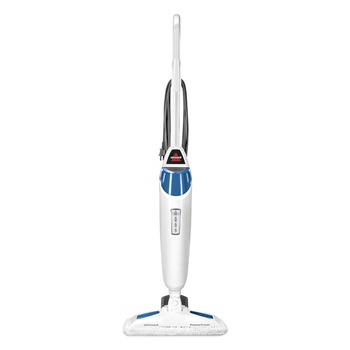 As you might already know, Bissell is a big name in the floor and carpet cleaning game, and this model inevitably follows the trend of modern cleaning appliances they produce. This unit has an elegant white and blue finish, and its water tank is located on the lower half, near the mop, which means that it is somewhat more comfortable to use.
This Bissell powerfresh deluxe steam mop model is made for every kind of hard floor out there, from hardwood to stone and metal. The digital control panel lets you select one of three steam levels, which is excellent if you need to adapt the pressure for sensitive floor surfaces. The pack includes one soft microfiber pad, one microfiber scrubby pad, two spring breeze fragrance discs, and a carpet glider (for freshening up the carpets).
Pros
This Bissell offers three different modes of operation, making it versatile and adaptable.
The pads provided are of good quality and fit perfectly without shimmying around.
The carpet glider is an excellent addition but should be used with caution.
Cons
The steam mop needs a lot of energy, so remote use is not an option.
The unit does not handle hard tap water well, potentially meaning more maintenance.
2. Shark Genius S5003D Hard Floor Cleaning System Steam Mop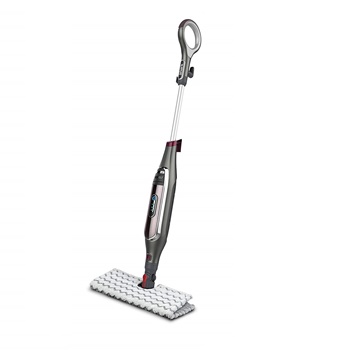 The Shark is a worthy competitor in the field of steam cleaning, and their models are known for durability. This particular Shark genius steam mop has a modern, slightly futuristic design, with a metallic black and red finish. The water tank is located on the lower end, making the steam mop easier to operate. The total weight of this mop is under 6 pounds, which is pretty lightweight in its class of steam mops for hardwood floors.
This Shark professional steam mop has a lot to offer when it comes to both performance and the additional gear it provides. The intuitive backlit control panel lets you adjust the amount of steam that is released, meaning that you can adapt it to more sensitive, or dirtier floors. The pack includes a genius mop head, dirt grip pads, spray pocket mop, spray bottle with cleaning solution and clip.
Pros
These hard floor steam mops have Dirt Grip pads which allow you to remove the mop pads without ever touching them.
The control module allows you to exert a short burst of extra steam for ultra-hard stains.
There is a spray bottle with a cleaning solution included with the mop.
Cons
This particular model takes a bit longer to heat up.
The steamer can sometimes be too powerful, even on lower settings.
3. Smart Living Steam Mop Plus, White and Green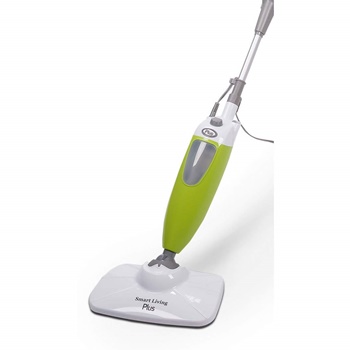 Here we have a Smart Living steam mop model that is somewhat specialized towards the direction of harder floor surfaces. It has a neutral white and green design, and the water tank is located in the middle, resting on the bottom. The total weight of this mop is 7 pounds when empty, and it is easy to move it around.
Now, even though the manufacturer says that this particular steam mop can clean any hard floor surface, many users noticed, and so did we, that it excels at tile floors, and is less gentle on sensitive floors like hardwood. With enough care, you can do anything, of course, but the steam mop seems too powerful from time to time, and you don't want to risk damages. The package includes the steam mop and a basic steam mop pad (medium grade).
Pros
The mop produces only high-pressure steam, so people with hard floors will benefit a lot.
This unit slides more smoothly than the other models in its class and is easier to operate.
The mop handle has an ankle that, when used, helps you reach under the furniture.
Cons
A high-pressure model like this one can be hurtful towards sensitive floors.
The mop pad holder doesn't bend in any way but is smaller than usual.
Not a cheap steam mop.
4. Shark S3973D Lift-Away Pro Steam Pocket Mop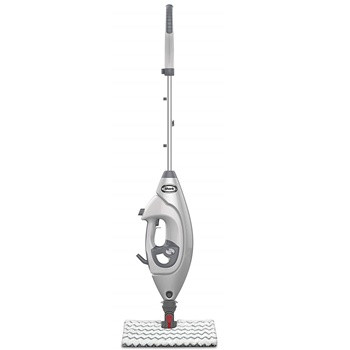 The Shark went all out to make a hybrid mop/steamer model such as this one. IT is modernly designed with a techno-gray finish, and the steamer unit is located on the mid-bottom side of the handle, alongside with the water tank. Being that this is a 2-in1 model, it weighs more than a usual steam mop, totaling at 11 pounds. However, it is not any harder to move around with it.
The strength of this Shark steam pocket mop lies in its multifunctional steaming module. This is a steam mop, yes, but if you so wish, you can remove the steamer and use it as a handheld device in a matter of seconds. The Shark pro steam pocket mop comes with dual-sided dirt grip pads, for people that clean longer and do not like touching the dirt directly. And, in handheld mode, there is a provided hose you can attach, and reach for those nasty stains around the house.
Pros
Extremely versatile steam mop with a handheld steamer option.
The dirt grip makes sure that your hands are clean after you finish using the mop pad.
The Shark lift away steam mop has three modes of different steam intensities for different floor types.
Cons
This model is on the pricier side, but it pays off in functionality.
The handheld module comes with a single hose extension only, so its purpose is limited without buying additional handheld-type pads.
5. Steam and Go SAG806D Multi-Purpose Hybrid Steam Mop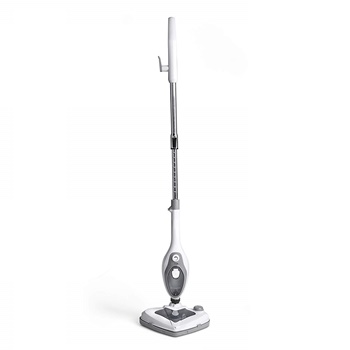 The Steam and Go model prides itself on being the easiest to use, and the lightest steam mop out there. The model has a minimalist approach when it comes to design, and it is lighter than the rest in its class, weighing only 5 pounds in total. This particular model is a hybrid, and as soon as you see it, you will know what we are talking about.
The steamer can be separated from the steam mop handle. After that, you get a handheld device, and the manufacturer provided an extra hose and all the necessary extensions to help you reach all the stains and remove them. The mopping part is triangular, and it comes with extra mop pads (microfiber grade). The package contains a metal brush tool, nylon brush tool, squeegee attachment, accessory adapter, angled nozzle tool, scraping tool, carpet glider, two microfiber cloths.
Pros
This device is great as an entry-level, due to its versatility and low price.
The steamer module has adjustable steam pressure, meaning that it's adaptable to different floors.
It is a hybrid unit, having a steam mop and a handheld steam cleaner on the same device.
Cons
The brand is lesser-known with, hence the affordable price of the unit.
This steam mop seems almost too light for what it delivers, so be careful until you get the hang of it.
6. Bissell Powerfresh 1806 Deluxe Hybrid Steam Mop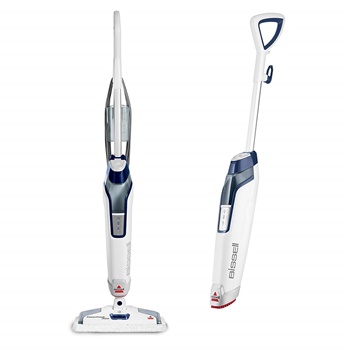 As you might have guessed, Bissell has a lot to offer in this floor cleaning game. They make all sorts of floor cleaning gadgets and are known for innovating within this field as well. Such is the case with this 1806 hybrid steam mop. The elegant white and sapphire finish will fit inside any home, and the unit weighs only 6.2 pounds in total.
The hybrid feature is not a standard one, as anyone might expect. In the regular mode, you get a standard steam mop, with a high-pressure and a low-pressure method designed for floor surfaces of different sensitivity. But, if you attach the Spot Boost extension, this becomes a focused stain remover. The extension is small in the area which is covered in delicate microfiber.  Additionally, you can add a fresh scent disc to the mop to freshen up the room smell while you are cleaning.
Pros
An excellent steam mop which focuses on removing harsh and stubborn stains.
The mop has two operating modes, for floor surfaces of different sensitivity.
The power fresh scent discs are a great addition, especially for people with pets in the house.
Cons
This steam mop doesn't come with a lot of versatile extensions.
The pressure can be set in high and low mode only, which can be limiting at times.
7. Shark S3501 Steam Pocket Mop with Swivel Steering XL Water Tank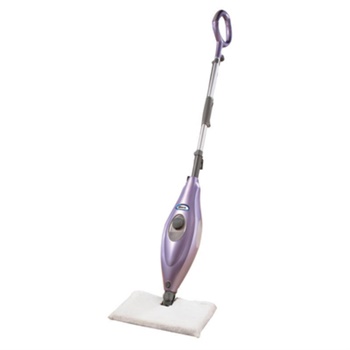 Coming off as one of the most affordable and popular units out there, this Shark has a lot to bring to the game of floor cleaning. The model is pearly pink, and the design is modern, with a nicely-rounded water tank on the bottom side of the mop handle. Without any water in it, this particular steam mop weighs just 4.8 pounds, making it one of the lightest out there.
This lightweight design is there for a purpose, though. The mop is light when empty, yes, but it has a large XL water tank for longer cleaning sessions. The strong suit of this steam mop is the hand pump that lets you add pressure when stubborn stains occur. The set, however, does not contain any additional features, and it comes only with two washable microfiber cloth pads.
Pros
The compact design of the mop will help you reach any secluded place and corner around the house.
The hand pump lets you adjust the pressure for harder stains.
This light and easy steam mop takes only 30 seconds to heat up.
Cons
Alongside the mop and two microfiber pads, not much is added to increase the versatility of the steam mop.
The hand pump for pressure adjustment takes some time to master.
8. Bissell PowerFresh Slim Steam Mop
This Bissell steam mop is not a standard unit, and stands out both in looks and the way it works, with hybrid features onboard. The water reservoir is on top, tucked inside the removable handheld steam cleaning unit. The design of the mop is pretty standard, with a white and blue finish. Having in mind that this is a hybrid unit, it is considered to be quite lightweight, weighing a total of 6 pounds.
The steam is placed on top and acts as a handle at the same time. Underneath the tank, there is a designated place for additional extensions and a whole set of steam brushes. This Bisell PowerFresh steam mop comes with two different pads (one for sensitive floors and one for tiles), and it can be detached, thus making the steam mop into a tool for focused cleaning. This feature makes the mop a 3-in-1 device, specialized for narrow spaces.
Pros
One of the most versatile units out there, with a unique design.
The mop can be turned into a handheld steam cleaner or a focused steamer for tight spots.
The provided extension set has designated storage space onboard, so you can always access the right tool.
Cons
Due to the design of detachable steamer, the water tank of this steam mop is smaller than average.
The handheld module has a lot of extensions, but it does not come with an extension hose.
9. Hoover FloorMate SteamScrub Touch Screen Hard Floor Steamer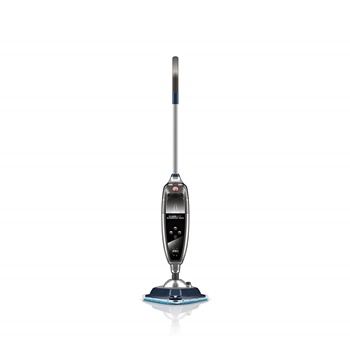 This Hoover steam mop found a place on our list thanks to the traditional household name, and due to the affordability of the appliance itself. The design of this steam mop is pretty modern. The finish is metallic black, and the control input is done through a touchpad, which is extra-convenient. Also, this mop weighs 7.2 pounds only, which considered average for its class.
So, besides modern design, what ca this unit offer? Firstly, the control panel lets you choose between four different modes: tile, vinyl, wood, and steam. By utilizing its multifunctional panel, you will lower the risk of damaging the floor you want to clean. Additionally, Hoover installed two separate liquid tanks into this steam mop. One is there to hold the water for vaporization, and the other is there to mix the cleaning solution with the water if you so choose.
Pros
Extremely-convenient design with a touchpad as a control panel.
The steam mop operates in four different modes, allowing more detailed cleaning sessions.
This particular steam mop has a cleaning agent tank, which means it can expand onto other surfaces. Be careful with using chemicals on floors, though.
Cons
The mop doesn't come with a standard set of extensions and attachments.
The touchpad can show a slow response if your hands are wet.
10. Swiffer and Bissel All-Purpose Cleaning, 1 Steam Mop + 2 Pads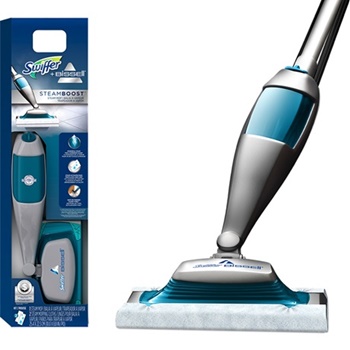 This Swiffer and Bissell set is a good foot in the door if you are just getting familiar with steam cleaning. It is a starter set that has the basics included. The easy home steam mop weighs just above 4 pounds, and it is pretty intuitive and easy to use. The design is simple, with a blue and light metallic finish.
The basic set of mop pads that comes with the steam mop will help you clean the floors, but if you wish to tackle some more stubborn and harder stains, you will have to apply some good old elbow grease. The mop head is smaller than average, making it easier to reach under furniture and around the corners.
Pros
This is a good set for beginners or people that like to experiment with different steam mops.
The Steam Boost technology is reliable and will get the job done on standard floors.
Mops support certified cleaning solutions, bought separately from the manufacturer.
Cons
This steam mop is entry-level, with no extra features to offer, comparing to the other in its class.
There is no extension set provided with the steam mop.
What Is a Steam Mop?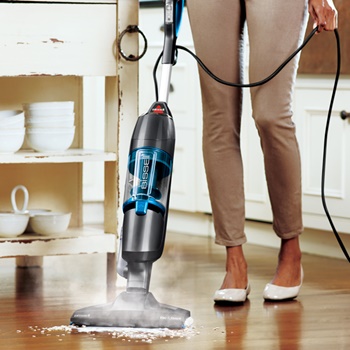 So, what exactly is a steam mop? We are sure that you have some idea of how it works. We are also convinced that you have stumbled upon mixed reviews and mixed feelings when it comes to this type of appliance. But, worry, not! We will shed some light on the topic, and deliver the facts, some better and some lesser-known.
A steam mop, in its core, is a mop that utilizes hot water steam to help you clean, but that is the vague standard explanation. Why is steam such a good cleaner, even without cleaning agents and harmful chemicals? Here's the whole process.
The first thing you need to do is pour water into the steam mop reservoir. It is usually located on the side, and it is not as big as other steam machines tend to have installed. Inside the heating part of the mop, there are potent heaters that raise the temperature to up to 248 degrees Fahrenheit and send the evaporated water into a system of tubes.
The main tube leads to the mop on the tip of the entire appliance. This tip also contains a holder made to hold a steam mop pad firmly. These pads are washable and changeable (more about that later). So, essentially, you swipe the floor with a slightly soaked very hot pad. But how does the heat help?
The most important mechanism of every steam floor mop out there is the heat, which directly attacks bacteria. At a temperature of over 200 degrees, bacteria and microorganisms cannot survive and start massively dying. After you dissolved the harmful unwanted dirt and bacteria, you scoop them up with the steam mop pad.
Now you know the essentials of steam mopping. It is time to see what other traits these mops have, and dig into the mixed feelings regarding this type of cleaning.
Steam Mop vs. Traditional Mops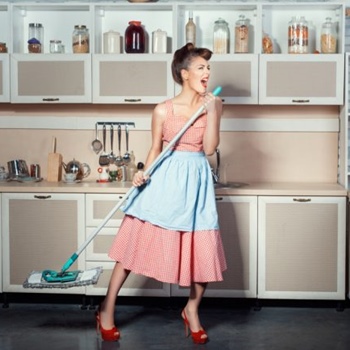 So, what do steam mops have that traditional ones don't? If you haven't figured out by yourself yet, let us do a quick summary of all the advantages, and some setbacks, that steam mops bring to the table.
1. Sterilization
The power to sterilize floor surfaces is maybe the most wanted feature of steam mops. As we mentioned before, bacteria and other microorganisms cannot survive temperatures over 200 degrees Fahrenheit, at least the vast majority of them. A regular mop cannot achieve a level of cleanliness and hygiene without additional chemicals and cleaning agents.
If you have a baby, a toddler, or a pet inside your home, you will want to have as much bacteria eliminated at the lowest risk possible. That is why sterilization through steam and other methods without the use of cleaning agents is quite popular. No matter what type of home you live in, everyone brings in "unwanted guests" that latch onto the bottom of our shoes.
2. Sustainability and Maintenance
Steam mop pads have a great feature: they can be machine washed. The majority of traditional mops and sponges rely on you, giving them a thorough cleaning after the floor is clean, which can often be a nuisance. Not to mention that regular mops tend to soak up way too much water, and are dry out slowly. How many times did you have to throw out a regular mop head because it started to stink and look bad?
With a steam mop, things tend to be a little different. Once you are done cleaning, all you have to do is put the mops pads into the washing machine with the other laundry, and that's it. No extra twisting, draining or waiting for the mop to dry out. And you can finally get rid of that mold accumulating bucket.
But steam mops do not come maintenance-free. You will have to clean the steam mop water reservoir from time to time to prolong the appliance's life and keep the performance on the higher end.
3. Caution and Potential Damages
The only downside of steam mops is that you should not use them daily. Steam cleaning is somewhat aggressive towards the floor, and you do not want to damage that sweet-looking wood. Avoiding common steam mop mistakes is definitely a need. If you steam clean weekly, you will see a difference between the results made with a steam mop and with a traditional bucket + mop set.
But that does not mean that regular mops are entirely safe. With a steam mop, you can have absolute control over how much water exits the mop, while with a traditional mop, you can only estimate. Not to mention the grip and twist strength which you need to invest in squeezing as much water from the regular mop as possible. If you fear the damages you might make, keep in mind that control and patience are key and that a steam mop can provide better results in both.
Steam Mop vs. Carpet Cleaner vs. Steam Cleaner
Let's be honest for a moment and say that there is no perfect floor cleaning appliance out there. There is a wide variety of general and specialized devices and machines, but we still haven't figured out the all-in-one solution. But if you arm yourself with knowledge (which is why we are here in the first place), you can see the difference for yourself.
For your convenience, and for the sake of general knowledge, we are going to do a small recap, and see which cleaning machine suits which purpose in the best possible way. The cleaning abilities of these three devices can slightly overlap, but in their essence, they are entirely different machines.
Let's see how they compare and compete with each other.
1. Steam Mop – Advantages and Drawbacks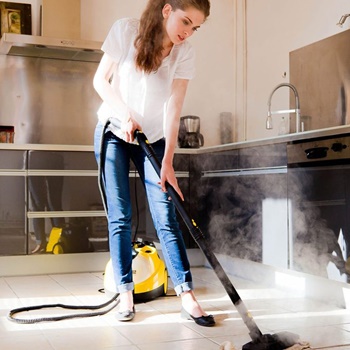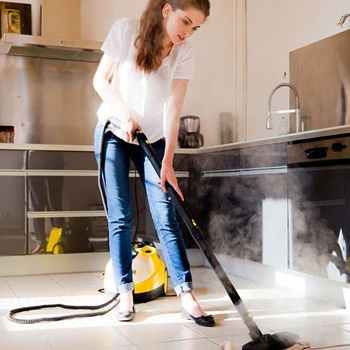 Among the three, there is no better device to clean hard floors than a steam mop. A mop will sterilize, scoop, and remove the dirt almost at the same time, and let you repeat until you finish, and the floor is perfectly clean. They are lightweight and generally lighter than home carpet cleaners and regular steam cleaners. If the hard floor is the game, a steam mop is a player you want at your side.
However, in this competition, steam mop loses when it comes to power. Because a steam mop needs to be lightweight and maneuverable, the manufacturers simply cannot put a lot of "horsepower" in. Also, there was never a need for heavy-duty steam mops, because hard floors are not that easily stained.
2. Carpet Cleaner – Advantages and Drawbacks
In the group of mops, cleaners, and steamers, carpet cleaners tend to be the most powerful in terms of wattage and raw power in general. They are also the most expensive machines, but they do pack the most complicated machinery inside. A carpet cleaner is made for carpets only, and it provides several devices in one: it dampens, soaps, extracts dirt and dries the carpet. This combination of tools requires a lot of electricity and is quite loud, but that is to be expected from a heavy-duty machine like a carpet cleaner.
The disadvantage of carpet cleaners, compared to mops and steamers, is its large size and its cost. There are portable options, but even the most portable carpet cleaner model is larger (and heavier) than an average steam mop.
3. Steam Cleaners – Advantages and Drawbacks
Steam cleaners should have the title of "jack of all trades" in this trio. They are for removing stains and small dirty spots around the house. Additionally, a steam cleaner can come in many shapes and sizes. There are portable, handheld, cylinder, upholstery and some other lesser-known forms. All in all, when it comes to versatility, standard steam cleaners are number one.
But people tend to forget that a "jack of all trade" is a "master of none," and that standard steam cleaners do not have something that steam mops and carpet cleaners do, and that is range. With steam mops, you can go back and forth and cover a large portion of the floor in a relatively small timeframe. Carpet cleaners follow the same system, but regular steamers tackle only the localized stain issues.
Steam Mop Buying Guide
So far, we have seen what kind of benefits steam mops have on their own and compared to similar cleaning machines. We went through some caution disclaimers and through types of floors that are suitable for steam mopping.
Now it is time to get to the intricate details and see where you should put your focus when it comes to steam mop parts, features and some lesser thought off intricacies. If you want to make an overall valuable decision, you should gather as many details and knowledge as possible. In the following section, we will see what makes steam mop models unique, and what kind of features you should look for to match the floors at home.
1. Water Reservoir
Besides the electronics, this part is the largest and takes up most of the weight and space of a steam mop. It is usually located somewhere down the middle of the handle and has a secured opening for pouring the water into the tank. The rule of thumb when it comes to the size of a steam mop's water tank is: the larger the container, the longer you will be able to clean without interruption.
Following said logic, if you have larger floor surfaces at home, and don't want to be bothered while cleaning, aim for a steam mop with larger water tanks. However, be aware of the fact that a larger reservoir usually means more heavy total weight. This easily translates to more physical labor on your side, so make sure not to go too big.
2. Swivel Head
When people think of sizeable hard floor surfaces, they tend to forget about the small corners and unreachable areas. That is where the swivel head comes to save the day. With a cleaning head that can swivel and shapeshift, you will be able to go behind poles, table legs, and toilet bowls.
This feature is for people that have no time for moving the housing inventory around every time cleaning is due. Additionally, if you have pets that leave their nasty business around all the time, with a swivel head, you can get rid of the "unwanted material" in no time.
Swivel heads are especially useful when combined with a right mop pad, which brings us to our next point.
3. Mop Pads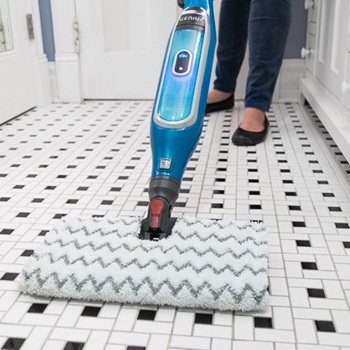 As you might have already concluded, mop pads are the part of the steam mop that makes direct contact with the floor you are cleaning. We mentioned the sensitivity and the quality of different pads when we talked about wood and tiles. But what kind of various mop pad features can you expect to find?
All-purpose – this is by far the most popular choice due to the versatility it brings. An all-purpose pad will be able to clean both hardwood and tile floors and will require some scrubbing (be extra careful around hardwood). Pads like these tend to last the longest because they are not too sensitive, not too harsh.
Heavy-duty grip – this type is dedicated to floors that can withstand hard treatment and thorough cleaning sessions. Grip mop pads are not intended to be used on wood, but on hard ceramics, coated stone and metals. They can absorb more water than any other type, but due to their robustness, heavy-duty mops have a shorter life span.
Microfiber/sensitive – it is a mop pad type made for hardwood and sensitive materials prone to scratching. Microfibers are not that absorbent as the other types, but a microfiber pad will leave less moisture behind. Some people even steam clean clothes with these, but that is a story for another time.
It is important to note that each of these mop pad types comes into two forms: disposable and washable. If you want to go down the eco-friendly road, we suggest to get washable pads, and ultimately save a lot of money as well.
4. Optimal Heat Time
Even though steam mops are fast in what they do, heat time stands as an essential factor for people that clean a lot. Optimal heat time represents the time it takes for the steam mop to evaporate enough water so you can start cleaning. For some models, this goes as fast as 30 seconds, and for some, it can be as long as 5 minutes. If you combine this feature with the size of the water tank, you can get an approximate cleaning time for any steam mop out there.
It is nice to have a fast steam mop, yes, but there is a little catch to it. Before speed, it is more important to have a steam mop that can heat the water evenly throughout the whole cleaning process. Temperature regulation is far more critical for people that have expensive floors at home. So, do not let this be the deciding factor.
5. Heat Control and Steam Regulation
Speaking of temperature regulation, there are models out there that have several modes of operation. Each mode factors in the power it will exert on the floor surface so that you can adapt the steam mop to the job at hand. If you see this as a relevant factor to the floors you have at home, the rule is simple: the more, the better.
With a well-built control panel, a steam mop can do a lot more. By utilizing proper temperature and pressure control, you will surely avoid any damage to the floor you are cleaning. You can already guess how it goes. Wood floors require the least moisture, temperature, and pressure, while ceramic tiles need higher values of all three parameters.
The point is that if you have a choice, all you have to do is play around a little and discover which mode suits your floors and cleaning habits the best.
6. Additional Features
A lot of manufacturers have their own added quirks and features to tackle as many situations as possible. So, do not be surprised if you stumble upon something that sounds weird at first. Here's an example of some of the most popular extensions and additional features out there.
6.1 Window squeegee
Some models allow you to attach a squeegee. This extension is used to steam clean the dirty and messy glass. The steam softens the stains and grease on the glass, and the squeegee shaves it off. This feature is excellent for cleaning windows and larger glass tables and cabinets.
6.2 Detachable steamer
We mentioned hybrid steam mops as the peak of steam versatility. Steam mop models like these are a bit pricier, but with a detachable handheld steamer, you can remove stains from furniture, carpets, and you can even use them as a basic upholstery cleaner. You can check our upholstery steam cleaner reviews for further information.
6.3 Hand Pressure Pump
There are models out there that allow you to add even more pressure to the steam mop. This feature is for highly-resilient surfaces, and achieve it by working the pump with your hand. The pump is usually located in the handle, for more convenience.
6.4 Touch-free pad removal
If you are grossed out by the sole thought of touching a filthy pad, there is a feature made just for you. Some models offer a clamp-like mechanism that lets you detach filthy used up mop pads directly into the laundry basket.
FAQ About Steam Mops
1. What kind of water can I use to fill the steam mop water reservoir?
This is the most common question out there. The safest bet would be always to use distilled water to avoid steam mop damages. Lime and minerals accumulate inside the pipes and stop the steam mop from working correctly. Distilled water is clear and free of minerals, so there are no risks of clogging.
Plus, you will avoid some nasty smells that can come out of evaporated tap water.
2. Will steam mopping hardwood floor void the warranty of the floor?
There is no one single answer to this question. Floor manufacturers are against steam mop cleaning, but not for the reason you might expect. Steam mops are not dangerous to floor surfaces if you use them correctly, and experience shows that only people who ignore steam mopping rules damage the floor. Manufacturers do not trust everyone to obey the rules of cleaning hardwood to the letter.
3. Can I use cleaning solutions with my steam mop?
The short and the most common answer is: no. Steam is powerful enough to help you get rid of almost every type of stain out there, and cleaning agents may cause more harm than good. However, some manufacturers may suggest some chemicals to help you fight hard water, and damages to the steam mop and floor itself. Double-check if it is really necessary, and read the instruction manual/label of the whole process carefully.
Wrap Up
And there we go, everything you need to know about steam mops. We encourage you to use our guide as a checklist to find the best steam mop for your household. Due to all the potential dangers we talked about, it is crucial to learn all the aspects of steam mopping. We are aware that this may be a lot to process, but hey, good hygiene and squeaky-clean floors are more than worth the trouble.
Factor in all the criteria, and go through the steam mop reviews to find out which model suits your floors, your cleaning style and your budget in the best possible way. In case you have anything to ask us, or you want to add something to our guide, feel free to do so in the comment section below.
Happy cleaning!