If you're looking for a device that will help you cut down the time you spend on household chores, then this is the right page to be on.  With our steam cleaner reviews, we are here to help you choose the best product for your needs.
Are you searching for a tool that can clean those stubborn soiled surfaces, while sanitizing them at the same time? Is the fear of those tough to clean carpet stains ruining your mood every time you have friends over?
If that's the case, a good steam cleaner is just the thing you're looking for. However, not all steam cleaners are the same. That is why we've done our research and write reviews only for the cream of the crop.
If you scroll down you will find reviews of the best steam cleaners currently on the market, written to help you make the right decision.
PRODUCT
DETAILS

McCulloch MC1275 with 18 Accessories

Price:

$$$

Customer Rating:

4.1

Weight:

15 pounds

Size:

20.1 x 13 x 12.6 inches

Warranty:

1 year

View On Amazon

PurSteam Handheld Pressurized

Price:

$

Customer Rating:

4.1

Weight:

5.2 pounds

Size:

11.7 x 10 x 7.6 inches

Warranty:

variable

View On Amazon

Bissell Spinwave 2039A

Price:

$$

Customer Rating:

4.4

Weight:

9.5 pounds

Size:

8 x 16 x 45 inches

Warranty:

2 years

View On Amazon

Lovin Product Handheld

Price:

$

Customer Rating:

3.6

Weight:

3.89 pounds

Size:

11.8 x 9.1 x 3.7 inches

Warranty:

variable

View On Amazon

Bissell PowerFresh Slim 2075A

Price:

$$$

Customer Rating:

3.9

Weight:

6.4 pounds

Size:

14 x 9.5 x 46.5 inches

Warranty:

2 years

View On Amazon

Steam Mop – Steam Cleaner Multifunctional Steamer

Price:

$$

Customer Rating:

4.5

Weight:

6.3 pounds

Size:

11.8 x 6.8 x 46.4 inches

Warranty:

1 year

View On Amazon

Bissell PowerFresh 1940

Price:

$

Customer Rating:

4.1

Weight:

6 pounds

Size:

11.6 x 7.1 x 28.6 inches

Warranty:

1 year

View On Amazon

Steam Mop – with 7.4 Ounces Tank

Price:

$

Customer Rating:

4.4

Weight:

4.6 pounds

Size:

21.3 x 11 x 5.3 inches

Warranty:

1 year

View On Amazon
Best Steam Cleaner Reviews
1. McCulloch MC1275 with 18 Accessories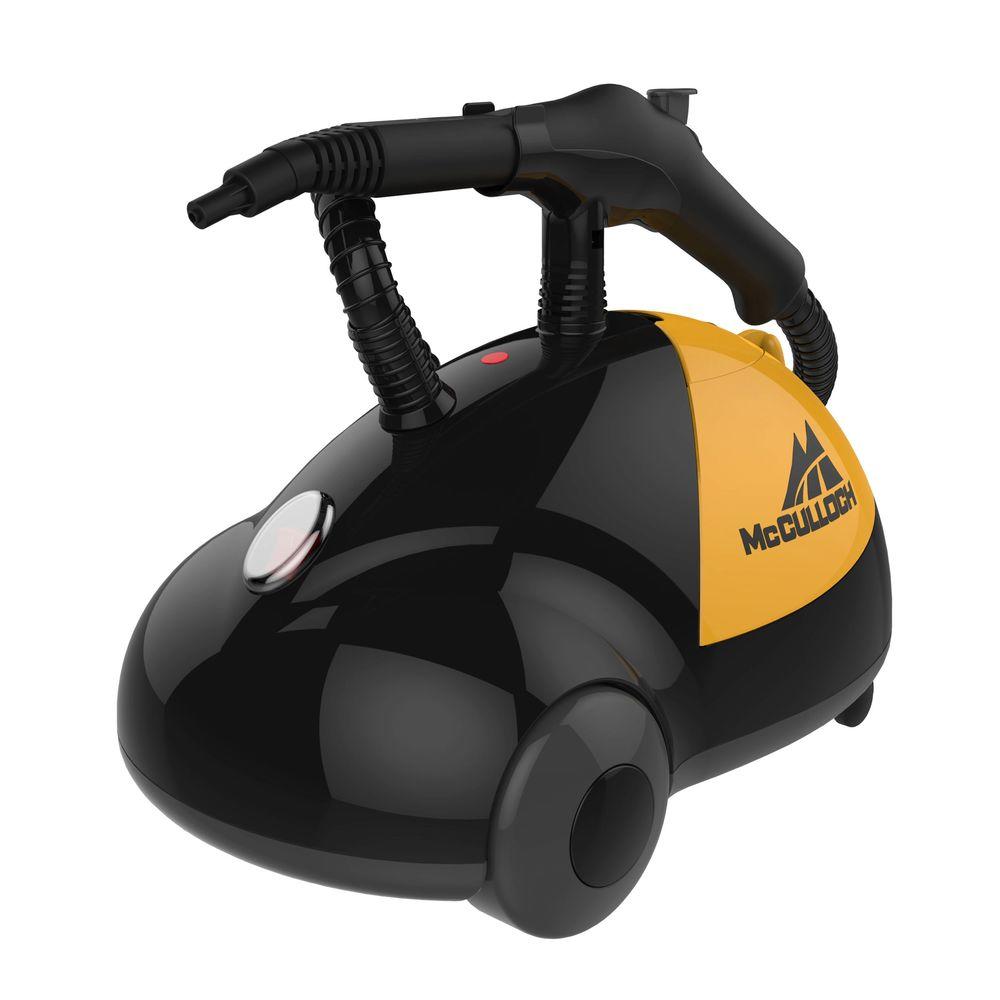 With its elegant design and as many as 18 accessories, there is very little this device can't do. Some of these accessories are mop pads, a brass brush, nylon brushes, a scrub pad, a squeegee, and many others. Equipped with such a heavy arsenal of cleaning gadgets, this product can tackle almost all types of dirt, germs, and stains on various surfaces. With its 15.7-foot power cord and over 9-foot-long steam hose, previously hard-to-reach spots will no longer be a problem.
Using harsh chemicals can be dangerous, not just for those with children but for grownups as well. With this steam cleaner's 48-ounce water tank that heats up in less than 8 minutes, you get 45 minutes of pressured steam to deep clean and sanitize almost all surfaces in and around your home.
McCulloch is perfectly suited to be used on your laminate or sealed wood flooring as well as on ceramic tiles, grout or granite, without damaging the surfaces. It's the tool to own when faced with heavy grease on your grill or a dirty vehicle. Basically, nothing is too dirty of a job for this machine. To top it all, this versatile, heavy-duty steam cleaner comes with a 2-year hassle-free warranty.
2. PurSteam Handheld Pressurized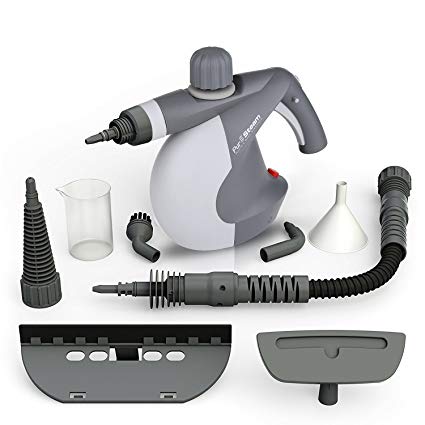 This small in size, heavy-duty handheld steam cleaner definitely has its perks. Light and small, it's easy to carry and even easier to store. What makes this unit stand out is its specially designed handle that allows for a good grip and easy maneuvering.
Are you afraid of bed bugs? Who isn't! With the PurSteam handheld pressurized steam cleaner, you will be able to address that problem. This unit produces 30% more steam flow than most steam cleaners on the market in its price range. Even those are two times expensive. The best thing about this model is that it does all that in only 3 to 4 minutes. You'll be able to sanitize your mattresses with the same device you use to iron the sheets.
Its 9-piece accessory set turns this unit into a multifunctioning household tool.
It is suitable for ironing, cleaning heavy grease of your pots, removing hard stains of your carpets, washing your car and much more. It has a 9.8-foot long cord and is therefore convenient for use on larger surfaces, both indoor and outdoor. However, this unit was made for household use and you may have to refill the tank a few times if you want to cover larger surfaces while cleaning.
3. 

Bissell Spinwave 2039A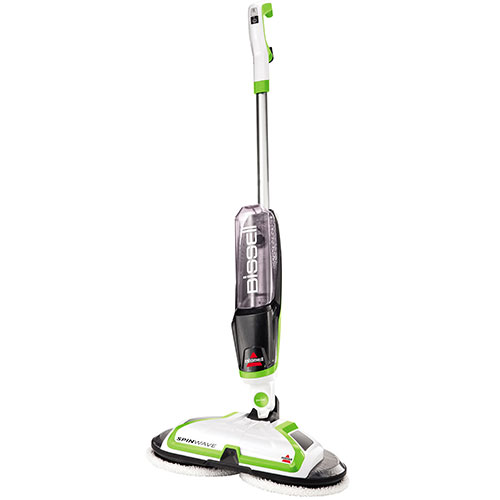 What matters when you're buying a household tool is that you know exactly what you plan on using it for. This unit stays true to its name and simply does exactly that what it's called. Bissell does its job well. It weighs 9.5 pounds and is easy to move around the house. It comes with a set of washable soft touch cleaning pads and a set of scrubby pads, for those sticky surfaces that require more attention.
This unit has a 28-ounce water tank and an on-demand spray option. You choose when to press and spray the solution onto your floors. With this device, you can clean underneath the furniture without hurting your knees to get to difficult spots. Its swivel steering makes it easy to maneuver and reach those sticky tiles underneath the kitchen cabinets.
This unit is not a heavy-duty machine and is not suited for heavy cleaning. However, it is of great help around the house. This is the tool to have when you're having guests over. After a busy day at work, mopping those floors and getting your house ready will go much faster with a tool like this.
It is covered by a 2-year limited warranty.
4. Lovin Product Handheld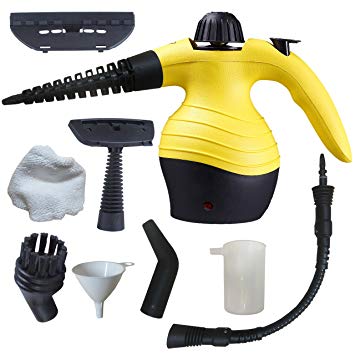 One of the perks of owning a steam cleaner is that no use of chemicals is necessary to sanitize your home. With this handheld steam cleaner comes an accessory kit of a total of 9 pieces. With one of the attachments, you can even use it for some light ironing. There is also an attachment with which you can sanitize a variety of surfaces.
While it can be used for some mid-duty cleaning around the house, its performance is as good when faced with more delicate tasks, such as cleaning your car's interiors. This versatile steam cleaner has a tank capacity of 350 ml and steam pressure of 0.25-0.30 MPa.
It is easily portable, only 3.84 pounds heavy, and comes with a 9.5 feet power cord for better mobility. The unit heats up fast and can resist high pressure. It also has a safety lock and cap on the handle, so no harm can come to children or elderly from the hot steam.
This product is not a heavy-duty tool that can handle long cleaning sessions, but it is suited for some light-duty cleaning tasks around the house. Energy-saving and user-friendly is what best describes this unit. For a good price, you get a versatile, small household tool that is easy to store and handy to own.
5. 

Bissell PowerFresh Slim 2075A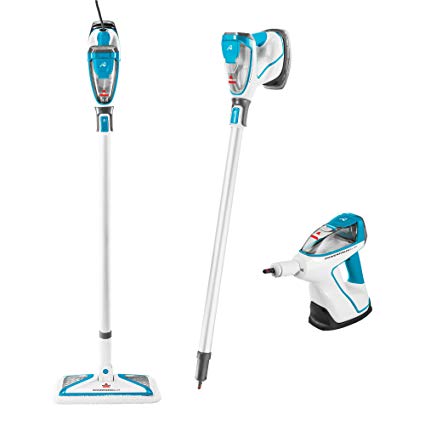 If you're looking for a safe and cost-effective way of cleaning your home, then a steam cleaner is the thing you're looking for. Bissell Powerfresh Slim Steam Mop has an onboard toolkit that follows as you move around the house. Cleaning, sanitizing or ironing, this device can change its purpose on the go. It has a variety of functions, handheld portable steam cleaner being just one of them.
Adding its extended reach wand, you get a steam mop that can reach on and above the floors, underneath the furniture and much more. The hot steam can eliminate 99.9% of germs and bacteria without the use of any harsh chemicals. With its flat surface tool, you can clean larger surfaces above floors, such as kitchen cabinets or tables.
With the clothing steamer tool, you can steam clean your shirts, curtains, furniture and other.
It also comes with a grout tool that leaves your bathroom tiles looking brand new. It weighs 6 pounds and doesn't take up much space. This unit is not a heavy-duty tool and the steam pressure may be stronger when used as a handheld steam cleaner than when used as a steam mop. Nonetheless, this unit is a good home tool and does what it's made for.
It comes with a 2-year limited warranty.
6. Steam Mop – Steam Cleaner Multifunctional Steamer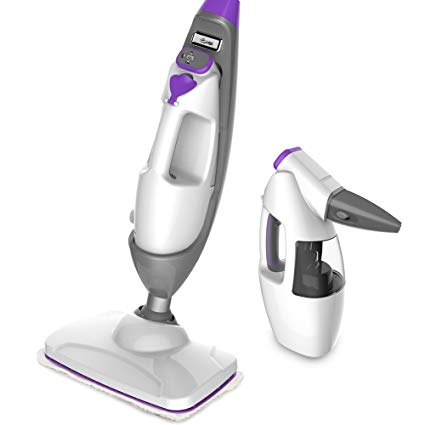 This product is a 5-in-1 tool that is well built and worth the money.
Weighing only 6.3 pounds, it's light and easy to carry around and maneuver.
Steam Mop has a 340ml/11.5Oz tank that is good for 20-25 minutes of steaming on the lowest setting. That is enough for your regular mopping session around the house. It will refresh your home and give a shiny, new look to your floors, all with less effort than with a regular mop.
This transformable device can be used as a handheld steamer, with which you can iron your drapes or your garments as well as steam clean your windows and mirrors. It can remove stains from your carpets or furniture, without having to use harsh chemicals. No need to fear to ruin the fabric anymore. This unit works in 3 adjustable modes, meaning that you get to control the steam pressure and adjust it to your specific needs.
It takes only 30-seconds for this unit to be ready for use. With the super-heated steam, you can kill all the germs in your children's pillows while being sure no chemicals were involved.
The company has a free replacement policy, without any costs for the buyer, and the unit itself comes with a 1-year warranty.
7. 

Bissell PowerFresh 1940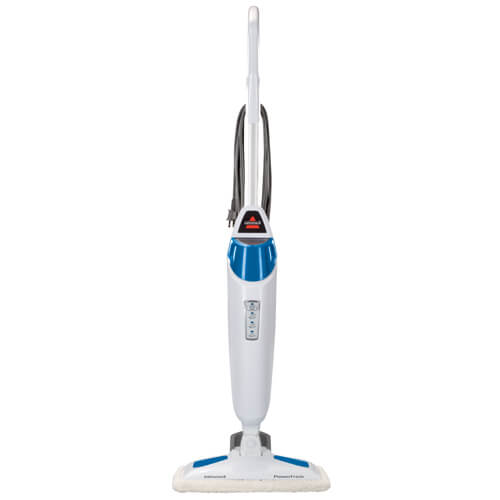 Bissell is a leading company in the homecare business and stands out for paying attention to the needs of their consumers. All their products are adapted to suit your everyday cleaning needs.
This Bissell product has a built-in easy scrubber that helps you get rid of the sticky spots on your kitchen floors and does that fast, with no chemicals involved. The special pockets on mop pads were designed for Febreze spring breeze fragrance discs that leave your home smelling fresh and clean. The unit is suitable for use on hardwood, ceramic surfaces, granite, and marble, as well as linoleum floors.
You get to control the steam pressure by choosing one of the 3 modes (low, medium, high).
This steam cleaner comes with a removable tank with a 16-ounce capacity and the steam warm up time is just 30 seconds. To maintain the device clean and working, it is recommended that you use distilled or demineralized water. It is easy to maneuver and designed to help you tackle the dirt in those hard to get spots, such as underneath the furniture or kitchen cabinets. It comes with a two-year warranty.
8. Steam Mop – with 7.4 Ounces Tank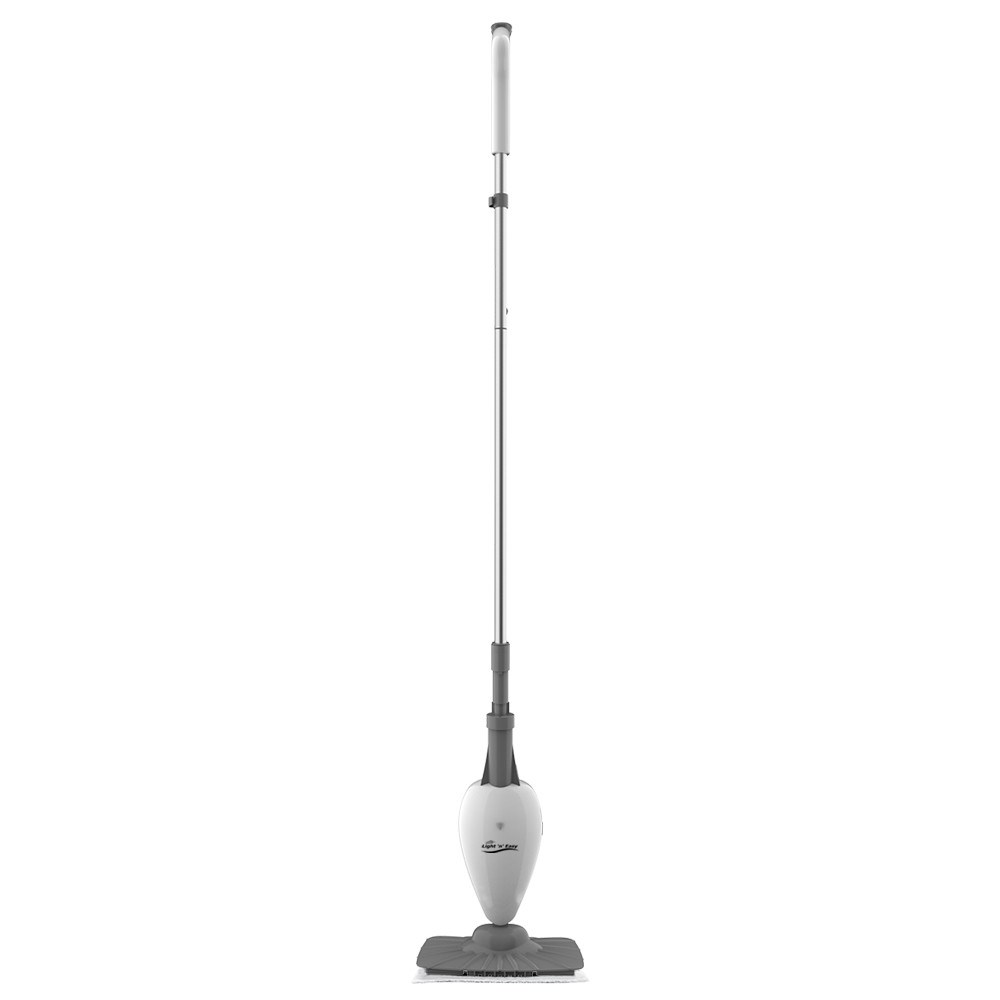 LIGHT 'N' EASY is a company that has been around for over 60 years, manufacturing high quality, affordable devices for your homes. This particular unit offers to replace all regular cleaning products and mops, leaving behind just clean and fresh floors.
How much time do you spend on preparing your regular mops and cleaning supplies before you can actually start cleaning? With this unit, the super-heated steam is ready in only 30 seconds. Now, that's a timesaver.
This high power, wide cover range unit will help you clean those hard to reach surfaces with ease.
No more scrubbing stains on your knees and elbows, no more extra water everywhere.
Its total weight is 4 pounds, making it easy for carrying around and maneuvering.
With this unit, you get to save time, enjoy your everyday cleaning tasks and expect great results.
If you have small children or are a pet owner, you surely want them away from harmful, strong chemicals generally used for cleaning. The hot steam eliminates 99.9% of bacteria and germs and is safe for both, your floors and those playing on them.
With a snap-on glider, that can be purchased separately, you can even give your carpets a fresh clean look while sanitizing them as well.
This unit comes with a one-year warranty and a free replacement policy.
Steam Cleaner Buying Guide
There are many powerful tools out there from prominent manufacturers that don't cost a fortune and are of high quality. You just have to know what you're looking for.
Some models are sold with all their accessories and can, therefore, be a bit pricey. For others, however, you can buy extra accessories when you decide to expand the use of the machine.
The offers on the market can be overwhelming, but with our cleaning guide, you can easily pick the unit that will be right for you. Some are more portable than the others, some have bigger tanks, and some models are for light cleaning only. Luckily, we have tested all these units, so we can provide an unbiased report.
1. What Is Steam Cleaning?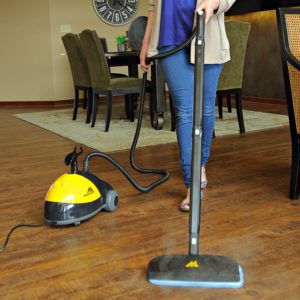 Let's start with the basics. Since most of you are probably still using regular mops and detergents for everyday cleaning around the house, we've prepared a detailed explanation to why steam cleaners are a safer and a better choice.
Naturally, the first question is what a steam cleaner is and how it functions. Steam cleaners are cleaning units that, within their own tanks, have a boiler that heats up the water up to 300 degrees Fahrenheit, forming a low moister steam vapor. As it reaches the tip of the cleaner the steam vapor cools to something over 200 degrees Fahrenheit.
That temperature is more than enough for the hot steam to disintegrate all dirt and sticky spots, killing germs and bacteria, softening and making it easy to swipe away.
The best part is that steam cleaners have multiple uses and are suitable for various surfaces.
These machines, if used by the instructions in their user manuals, will clean stubborn stains, dirt, grime, kill bacteria, without damaging your floors, carpets, garments or windows.
2. Is Steam Cleaning More Effective?
Most of the surfaces around your house are porous and those pores can hide some mean bacteria and dirt within them. When it comes to carpet cleaning, there are huge differences between dry cleaning and steam cleaning. No matter how well you scrub and clean or how much of the cleaning products you use, nothing can penetrate those pores and clean more thoroughly, while sanitizing them, than the hot steam.
Using a steam cleaner on your pillows and duvets can help you a lot if tackling an allergy or acne problem. Did you know that a study, led by Dr. Arthur Tucker, confirmed that up to a third of the weight of a pillow is dead skin, bugs, dust mites, and their feces? Imagine just how many of them find their home in your duvets!
Even if you're not allergic to anything, simply getting rid of all that's in them will make you sleep a lot better. A strong steam cleaner can tackle that problem very effectively for you. Now, we think that is effective!
3. What Can A Steam Cleaner Clean?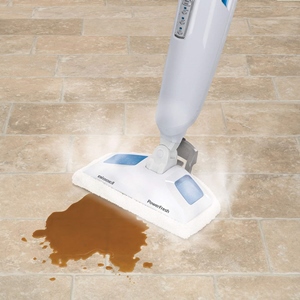 Many steam cleaners offer a variety of functions. Some are designed only for cleaning floors, but many can transform from a floor steam cleaner into a handheld steam ironing device, just by changing one of its parts. Some can be used to clean furniture or even clean the most stubborn carpet stains. What they do the best, whatever material or surface you use them on, sanitize and kill 99.9% of bacteria and even some viruses.
4. Safety first!
If you have kids or are a pet owner, one of your biggest worries must be all the chemicals they get in contact with after you mop the floors with regular detergents. Those heavy chemicals can affect your child's health in many ways.
Eczema, airway irritation, eye irritation, allergies, and poisoning are just a few things that can be caused by chemicals used in everyday cleaning. Sometimes kids and even grownups may experience some health issues, not knowing that the cause of those issues is the very thing they use to sanitize their living space.
Steam cleaners are arguably the safest way to clean your home. They use only water, no chemicals whatsoever, sanitize the space and leave behind fresh-looking surfaces. Neat!
5. Can the Steam Hurt You?
As we've previously mentioned, the steam is very hot. However, the moment it hits a cold surface it starts evaporating and losing temperature. Therefore, unless you point the cleaner in the general direction of your face or any other body part and release the hot steam, it cannot hurt you. Most of the steam cleaners on the market have a safety lock so that no harm can come to curious children or pets playing around.
6. Dirty Carpets, Shampoo or Steam?
There is a huge difference. Shampooing and dry cleaning are not the best ways to clean your carpets. Most of the dirt and grime is just being smushed deeper into the fabric, leaving space for more mold and bacteria to thrive in there.
Some shampoos, due to the chemicals in them, can cause your carpets to change color or turn yellow in time. With a proper steam cleaner, dirt is being dissolved and removed out of the fabric. It removes mildew spores and mold without damaging the carpet.
If you want to clean your carpets properly and prolong their life, simply invest in a good carpet cleaner.
7. What can you use a steam cleaner for?
As previously mentioned, many steam cleaners have more than one use and are applicable to most of the surfaces in your home. Only the heat-sensitive objects and materials, such as silk, should not be exposed to them.
You can use a steam cleaner on your living room floors and carpets. Removing wax from your table or floors after a romantic dinner with candles is no trouble with a machine like this. You can even clean your furniture or your pet's bed.
It finds great use in your kitchen as well! It will help you clean your oven and sticky pots with ease. Surfaces such as countertops and cabinets are being restored into their old glory by just one use of a good steam cleaner.
The whole bathroom can be cleaned and sanitized with a strong steam cleaner. Shower stalls, toilet seats, tiles, mirrors, all can be refreshed and sanitized without the use of harsh chemicals. These machines are safe to use on walls and ceiling vents as well as on your car's interior surface.  All in all, there is very little these machines can't be used for.
8. Which Steam Cleaner Is the Right One for You?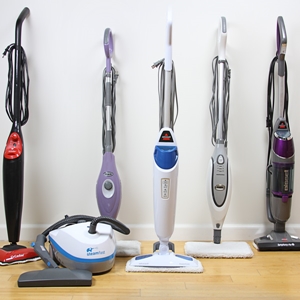 When choosing the right steam cleaner for your home, you must first determine what you plan on using it for. Prices vary from high to low depending on steamer's pressure power, accessories that come with it and all the different functions it has.
Plenty of steam cleaners are good with regular tap water. However, some may require you to use only distilled or demineralized water. It is very important to stick to the rules. Follow the instruction manuals and you won't be disappointed.
To sum up, when looking for a steam cleaner you must pay attention to the following;
Functions: If you want to steam your garments make sure you're buying a steamer with that function and the right attachments for the job.
Tank-size: Think of how many times during a cleaning session you want to stop, refill and reheat the unit.
Warm-up time: You don't want to end up watching the whole Gone with the Wind movie whilst waiting for your cleaner to heat up.
Price: Last but not least, the price matters. A lot of money doesn't always guarantee you quality.
Warranty: Usually, not always, the good ones have longer warranty coverage.
Best Steam Cleaner Comparison Chart
Product
Size
(inches)
Weight
(pounds)
Warranty
(years)
McCulloch MC1275 with 18 Accessories
20.1 x 13 x 12.6
15
1
PurSteam Handheld Pressurized
11.7 x 10 x 7.6
5.2
Variable
Bissell Spinwave 2039A
8 x 16 x 45
9.5
2
Lovin Product Handheld
11.8 x 9.1 x 3.7
3.84
Variable
Bissell PowerFresh Slim 2075A
14 x 9.5 x 46.5
6.4
2
Steam Mop - Steam Cleaner Multifunctional Steamer
11.8 x 6.8 x 46.4
6.3
1
Bissell PowerFresh 1940
11.6 x 7.1 x 28.6
6
1
Steam Mop - with 7.4 Ounces Tank
21.3 x 11 x 5.3
4.6
1
Wrap Up
Carpet Cleaner Lab team tried to cover all possible questions that you might have in our steam cleaner reviews about these cleaning machines. After all that we've said, it's safe to conclude that every household should have its own steam cleaner. They are reliable when it comes to cleaning, easy to use and much safer for children and pets than the chemicals we all so frequently use.
Best steam cleaners can come in all shapes and sizes and in all price ranges. We've shown you that there are plenty of good units and manufacturers for you to choose from. However, best steam cleaners are those that fit your needs perfectly.
Therefore, when buying one for your home, pay close attention to what your true needs are when it comes to cleaning, and you won't live to regret it.