Carpets are always a nice addition but sadly, carpets have one flaw – they get dirty, and they keep getting dirty, no matter what you do. Unless you maintain their cleanliness with some of the best carpet cleaners on the market, of course.
If you try to wash carpets at home without a carpet cleaner you can't get all the residue out. That's why your carpets get dirtier after you clean them. Also, people and pets shed skin cells and dandruff always, so carpets can contain four times their weight in the dirt – including bacteria and allergens. Simple vacuuming can't remove odors and bacteria, so you can only rely on professional cleaning service to remove it all, including the soap residue that acts as a magnet for further particles.
Luckily, we've prepared carpet cleaner reviews that will let you get rid of all the dirt, with ease.
PRODUCT
DETAILS

Hoover Power Scrub Deluxe Carpet Washer FH50150

Price:

$$

Customer Rating:

4.2

Weight:

25.8 pounds

Size:

20.8 x 13.9 x 22.2 inches

Warranty:

2 years

View On Amazon

Bissell Big Green Professional Carpet Cleaner, 86T3

Price:

$$$$

Customer Rating:

4.7

Weight:

52.5 pounds

Size:

20.5 x 11 x 42.25 inches

Warranty:

5 years

View On Amazon

Hoover F5914901NC Steam Vacuum and Carpet Cleaner

Price:

$

Customer Rating:

4.2

Weight:

27.5 pounds

Size:

20 x 11.2 x 44 inches

Warranty:

2 years

View On Amazon

Hoover F7412900 Max Extract Carpet Cleaner

Price:

$$

Customer Rating:

3.8

Weight:

26.9 pounds

Size:

20.2 x 15.8 x 29.2 inches

Warranty:

1 year

View On Amazon

Rug Doctor Deep Carpet Cleaner and Pet Pro Carpet Cleaner

Price:

$$

Customer Rating:

4.1

Weight:

37.4 pounds

Size:

22.8 x 14.2 x 28 inches

Warranty:

2 years

View On Amazon

Bissell 1622 PowerLifter Carpet Cleaner

Price:

$

Customer Rating:

4.2

Weight:

21.4 pounds

Size:

19 x 11 x 44 inches

Warranty:

1 year

View On Amazon

Hoover FH50220 Max Extract Pro Carpet Deep Cleaner

Price:

$

Customer Rating:

3.6

Weight:

26.4 pounds

Size:

23 x 16.2 x 26.8 inches

Warranty:

2 years

View On Amazon

Bissell 1548 ProHeat Carpet Cleaner

Price:

$$

Customer Rating:

3.9

Weight:

17.5 pounds

Size:

15 x 12.5 x 43.5 inches

Warranty:

3 years

View On Amazon
Best Home Carpet Cleaner Reviews
1. Hoover Power Scrub Deluxe Carpet Washer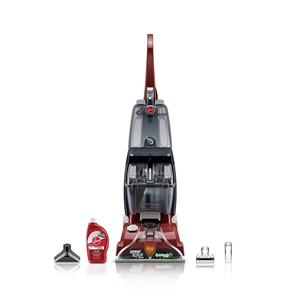 If you thought that this list could go without a Hoover, you were wrong – and there is a reason for it. Hoover carpet cleaners are one of the best on the market because they have an innovative approach to cleaning. Their inventions often set industry standards. This brand model is a good entry unit that will get your carpets clean, with ease.
This unit is so lightweight, which is a good trait when you have to clean crevices and stairs and carry the vacuum. With this Hoover model, you will truly do it with ease since it only weighs 19 pounds. But that's not the only thing that makes the mobility simple – there are also 4 handles on it, so you can choose the best way to carry the unit around the house.
You can even clean all your upholstery with an 8-foot hose and upholstery tool which is perfect for stairs and hard to reach areas. The SpinScrub Brush technology makes sure that all carpet fibers are cleaned and vacuumed from all sides, preventing the dirt from build-up. You can clean the area in one go, without having to approach the surface from all sides.
Pros
This carpet washer is very easy to assemble, all you need to do is attach the handle and it's ready to go. This Hoover has a DualV nozzle that ensures even particle cleaning. The box contains a crevice tool and a sample of cleaning solution.
Cons
SpinScrub Brushes are known to get rusty from time to time. When the product is under the warranty, you can simply get it to the service center and they will make the necessary repairs, but once the warranty stops, each change will cost the third of the unit's full price.
Read More: Hoover Power Scrub Deluxe Review
2. Bissell Big Green Professional Carpet Cleaner
Next up is a carpet cleaner with a bit more power and strength,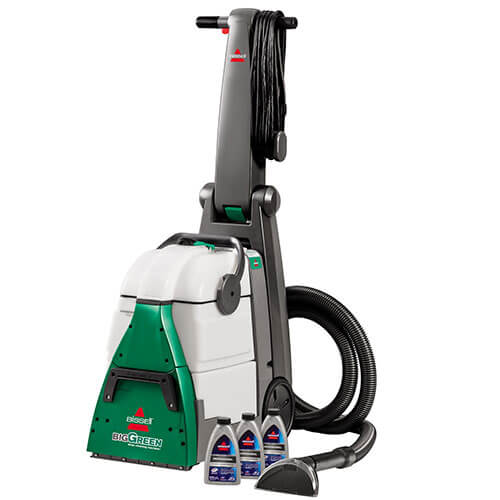 this Bissel model from the Big Green series. This unit prides itself on being one of the best in the carpet cleaning game when it comes to power-size ratio. It comes packed with several different types of technology that can help you get any kind of stain out of your carpet (including low pile ones), upholstery and/or stairs.
First of all, the extra-large DirtLifter power brush goes the extra length to penetrate the surface level of the carpet and go deep enough to get through the stain in order to fully remove it. Above the set of power brushes, there is a heavy-duty powerful suction module which extracts the dirt and odors with ease.
Pros
Besides the abovementioned, this carpet cleaner offers the commodity of not having to go to the sink every couple of minutes. It comes with two separated large tanks attached to it, one for clean and one for dirty water, enabling you to have longer cleaning sessions. Additionally, Bissell offers its own cleaning agents to best suit the carpet cleaner.
Cons
This unit, powerful as it is, is no light-weight machine. It weighs 53 pounds and it is a bit hard to maneuver with. But it has an ergonomic handle and the provided 9-foot long hose is there to help with the mobility.
Read More: Bissell Big Green Professional Carpet Cleaner, 86T3
3. Hoover Steam Vacuum and Carpet Cleaner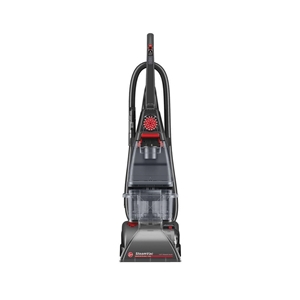 Another Hoover unit packed with a combination of tools and accessories to help you clean faster and with greater effectiveness. Being that Hoover is a major competitor in this industry, we expect no less than pure utility and great craftsmanship.
This unit has a SpinScrub 360 Brush system. It makes the brushes counter-rotate and scrubs all the angles in order to reach down and get through the stain better. If you need to attack a more sensitive one, or a different stain whatsoever, there is a 3-speed brush control. This enables you to go into 3 possible modes: high and normal for regular and more stubborn challenges, and low for gentle cleaning.
To make things even more effective, this unit has the option of heated cleaning, for quick-paced cleaning sessions that need to dry faster. And the CleanSurge control enables you to apply extra detergent from the detergent tank in order to tackle heavier stains and often-treaded areas.
Pros
The unit weighs just under 20 pounds, making it easy to handle and navigate while cleaning the heavy traffic area. Additionally, there is a furniture attachment SpinScrub tool provided to help with upholsteries and harder-to-reach areas.
Cons
The CleanSurge control system can be a bit challenging to master. Sometimes you will apply more cleaning agent than needed, so spending more solution will come off as unnecessary spending. Nevertheless, this unit can be mastered in a few cleaning sessions.
Read More: Hoover F5914901NC Steam Vacuum and Carpet Cleaner
4. Hoover Max Extract Carpet Cleaner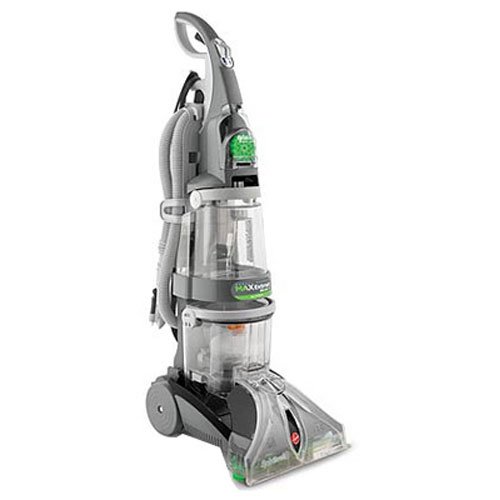 Another carpet cleaning form Hoover which got our attention with its wide variety of uses is the Max Extract model. As a member of the Hoover family, this unit also comes packed with SpinScrub technology to provide maximum cleaning power at your disposal. Though, this time the manufacturer provided another set of carpet-cleaning utility tools for you to consider.
The SpinScrub system with the counter-rotating brushes got an upgrade in the form of a SpinScrub handheld tool. This is a great advancement if deep cleaning hard-to-reach places is the task that you wish to accomplish. Combined with a powerful 12-amp electric motor, and a 20-foot long power cord, reaching hard spots will not be a problem while using this carpet cleaning unit.
Another well-designed feature that comes with this model is the WidePath nozzle, which as the name suggests, serves to easily cover a wider area with a single stroke of the cleaner. Hoover also put an extra brush in the five-brush system to make cleaning more effective.
Pros
This carpet cleaning unit is quite easy to handle, weighing just under 20 pounds, and the WidePath system saves you quite a lot of time. The controls are at the reach of your fingers, and are quite intuitive, making the cleaning process even easier and quicker. To top it off, this model comes equipped with an automatic detergent mixing system, so you don`t need to worry about using too much of the cleaning solution.
Cons
Though this carpet cleaning model is quite light-weight, it can sometimes feel a bit hard to handle while using the WidePath feature, so some extra muscle strength is required to get the job done as quickly as possible.
Read More: Hoover F7412900 Max Extract Carpet Cleaner
5. Rug Doctor Deep Carpet Cleaner and Pet Pro Carpet Cleaner
This combo unit comes from another highly-competitive carpet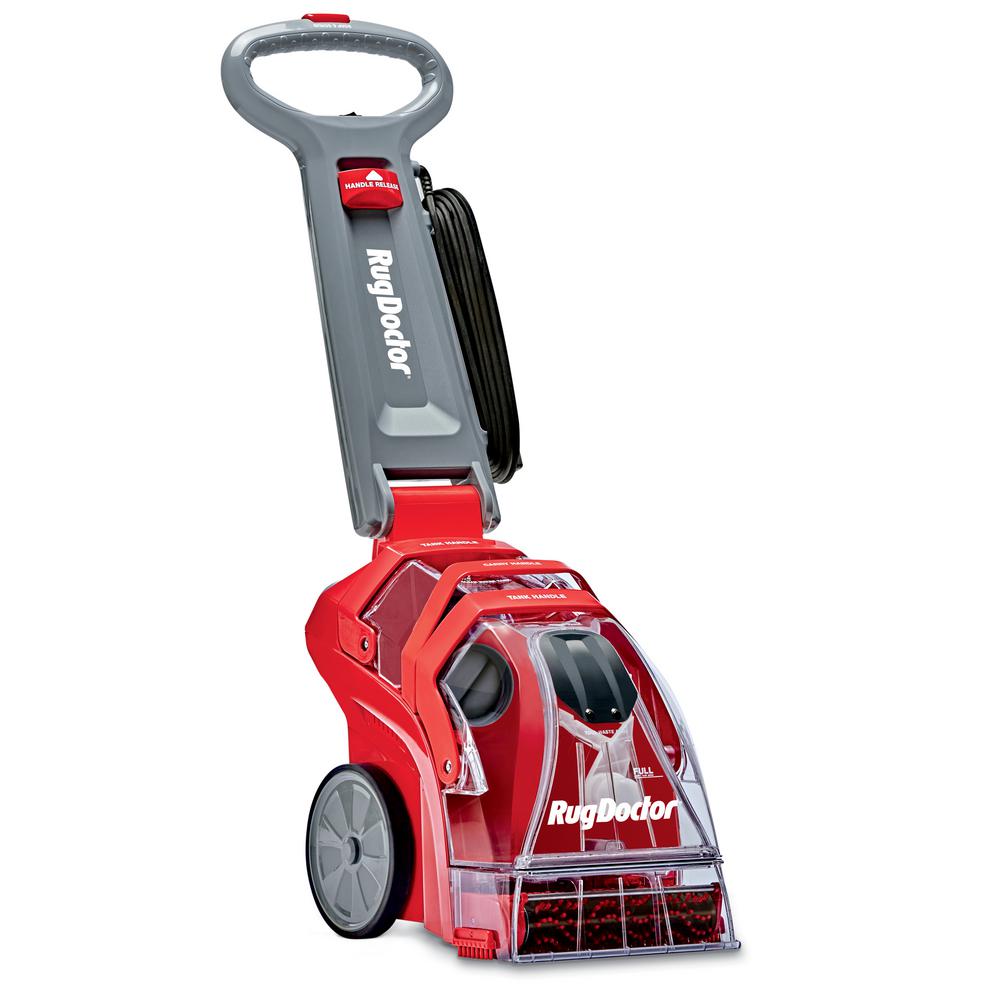 cleaner manufacturer, Rug Doctor. As the name suggests, this company takes the job of carpet cleaning quite seriously and delivers on multiple battlefronts in tackling stains. This model is specialized in the ones made by animals.
This Rug Doctor cleaning unit is packed with a Dial Cross Action Brush system, consisting of two large brushes under the machine, designed to deep clean every side of carpet fibers and/or sturdier materials.
Another great feature this model offers is the Super Boost Spray function, which as the company suggests, is for high-traffic and heavily-soiled areas which need to be power-cleaned on a regular basis. And if you need to get to the hard-to-reach area, there is a mobile brush head provided for your convenience.
Pros
A great feature of this Rug Doctor model is the 64 ounces water tank that will enable you to have longer cleaning sessions. Additionally, there is the pro-enzymatic formula from Rug Doctor to deter remarking stains, which is especially helpful with pet stains.
Cons
What may come as a nuisance with this carpet cleaning model is kind of paradoxical. It is a bit harder to clean the unit. The frontal part doesn`t come off entirely which makes the rest of it hard to reach so you can clean it thoroughly.
Read More: Rug Doctor Deep Carpet Cleaner and Pet Pro Carpet Cleaner
6. Bissell PowerLifter Carpet Cleaner
Another carpet cleaner worth mentioning is the model from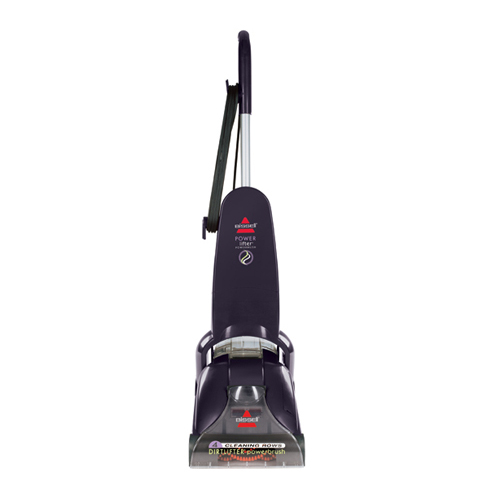 the Bissell family. This ultra-light model (15 pounds) is a fast-cleaning tool highly-convenient for everyday use. Even though, as a younger brother to the other models, this unit is not as strong, it certainly makes cleaning practical on a daily basis.
The 4-row dual rotating DirtLifter power brushes allow you to get the stains out of the way with ease, with no need to go back to the same spot over and over again. To make things even better, you can use the hot tap water and enable deeper cleaning combined with the Bissell carpet cleaning formula (sample size provided with the purchase).
Additionally, making this carpet-cleaning unit more portable, the manufacturer included a 2-in-1 onboard tank system, to keep the dirty and clean water separate and easily disposable.
Pros
Extreme mobility is a great feature with PowerLifter from Bissell. It is compact and doesn`t take a lot of storage space. Also, maintenance after using it is quite easy to do, so you will not waste additional time to clean the cleaner itself up.
Cons
This carpet washing unit does not have a hose feature and is only suitable for horizontally oriented surfaces.
Read More: Bissell 1622 PowerLifter Carpet Cleaner
7. Hoover Max Extract Pro Carpet Deep Cleaner
One more carpet-cleaning unit from the Hoover company,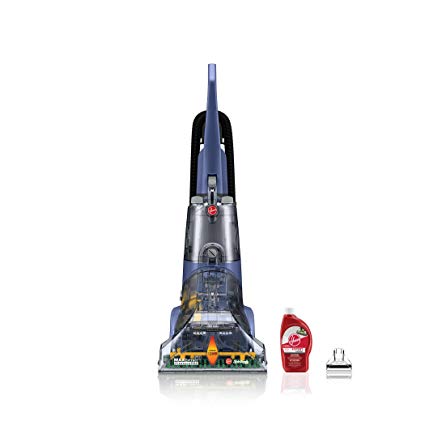 but this time a more powerful one specialized for professional cleaning. This model combines several cleaning systems in a single unit, making cleaning jobs easier and more practical.
The crown feature of this Hoover unit is the pressurized edge-to-edge cleaning technology. The cleaner makes a wall of pressurized water strong enough to loosen and/or lift stubborn stains and make them disappear.
This unit also comes packed with SpinScrub technology and its 360 counter-spinning brushes, cleaning all sides equally. Additionally, the dirty and clean water tanks are completely separated and can be emptied one by one, which helps you clean at your own pace.
Pros
The upholstery tool included with this carpet cleaning unit is quite useful and helps you clean spots that are not so easily-reachable. Plus, the edge-to-edge technology really proved great against stubborn stains and dirt.
Cons
A somewhat annoying thing about this carpet cleaner is the size of the tank. Even though the dirty and clean water is separated, you will have to make a few trips to the sink since the tank size could have been bigger.
Read More: Hoover FH50220 Max Extract Pro Carpet Deep Cleaner
8. Bissell ProHeat Carpet Cleaner
Cleaning preferences vary from person to person, but this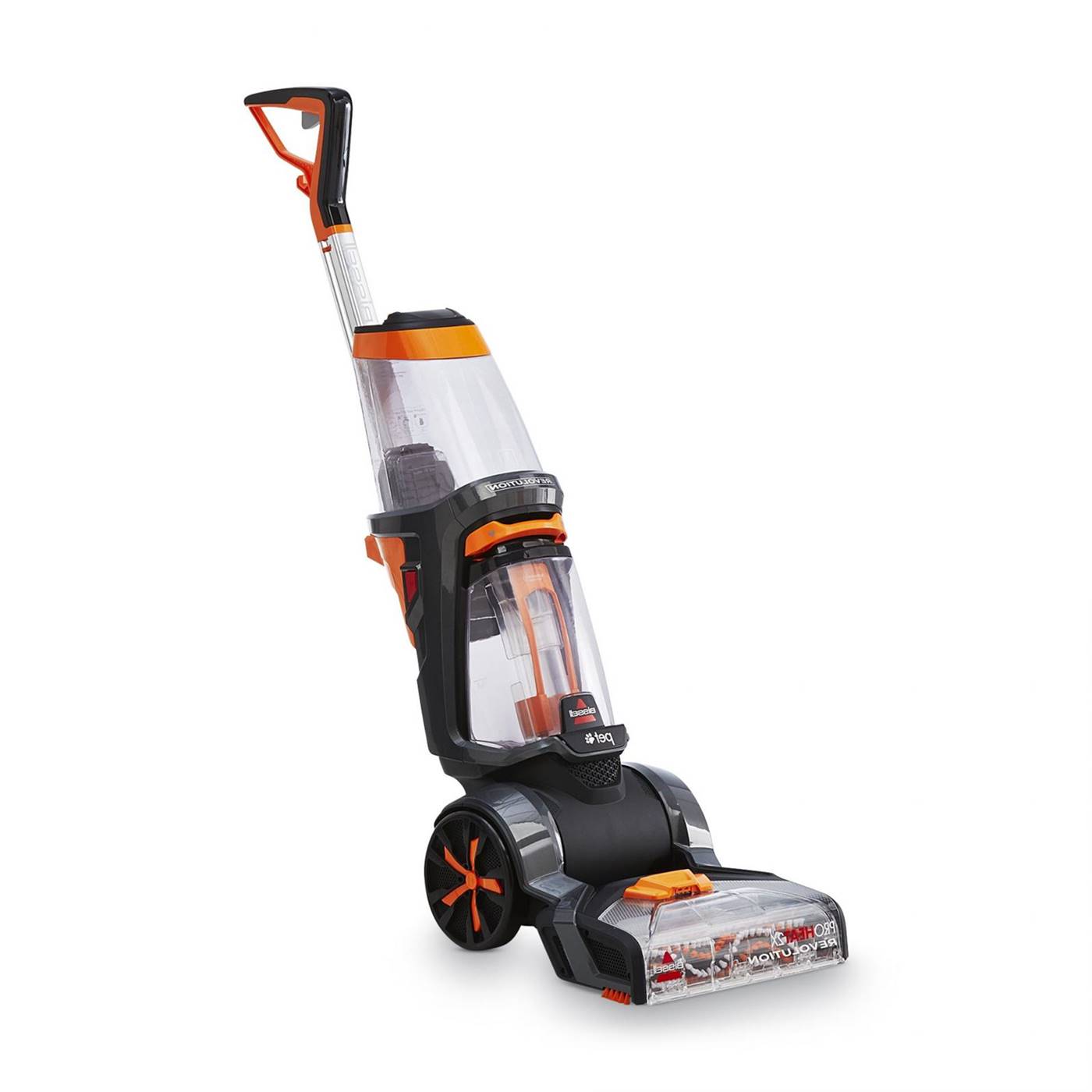 carpet cleaner was designed to fulfill all the needs and challenges presented. This carpet cleaner from the Bissell family will get the job done, and it will do it at a fast rate, with the skill of a professional.
An excellent feature that this unit has is the Express Clean mode, a setting that enables you to deep clean your carpet/rug and makes it dry in about an hour. Another highly-useful feature is the possibility of antibacterial cleaning which helps get rid of the nasty odors in your carpets with ease.
Combined with the mentioned technology, there is a HeatWave technology onboard, which get you the option of hot water cleaning for some of those nastier stains.
Pros
A wide variety of cleaning accessories are provided with the cleaning unit at your disposal: 7-foot long hose, spot cleaning tool, 2 shampoo formula samples. Combine it all to make your carpets clean and fresh again – like they are new!
Cons
This model is considered to be sturdy and will take a bit of effort to master and maintain, but it pays off considering cleaning power it provides.
Read More: Bissell 1548 ProHeat Carpet Cleaner
How Dirty Can a Carpet Be?
Well, we will start with a simple question – Do you actually know how dirty our carpets are? The answer will shock you. According to a study, more than 70 percent of people admit that they cover the stains on the carpet with furniture instead of cleaning them. Far from the eyes, far from the heart apparently also works in carpet cleaning. There are many types of dirt with serious consequences that can call your dirty carpet a home.
1. Mold
Mold is very dangerous and if you sense it, you should deal with it as soon as possible. Some compounds produced by mold are airborne and can cause serious issues. Some of them include difficulty in breathing, sinus infections, sore throat, migraines, bronchitis, even joint pain. Mold has a nasty odor, but these health concerns from mold spores are far greater than any bad fragrance.
2. Stomach Flu
Did you know that you can get the stomach flu from a dirty carpet? It is also quite common to get it this way. The so-called Norwalk virus, or Norovirus, that causes the stomach flu can survive on an uncleaned carpet for more than a month. And regular vacuuming can't get it out.
3. More Bacteria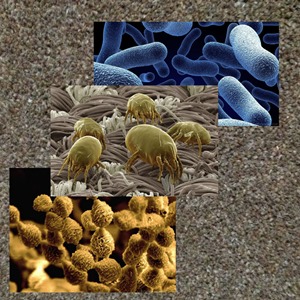 That's not the only virus or bacteria that you can get from a dirty carpet. Some of them are Campylobacter, Salmonella Typhimurium, and Salmonella Enteritis. Stachybotrys Chartarum is a mold bacterium that prefers wet carpets, and whose toxins can cause lowered immunity and dermatitis.
MRSA, one of the toughest bacteria around can easily get inside your carpets. Methicillin-Resistant Staphylococcus Aureus, MRSA loves damp areas like gyms, locker rooms, hospitals. People can carry it for years, even if they are healthy. MRSA can become untreatable and even lead to death.
4. Bed Bugs
Yeah, bed bugs aren't native only to beds, unfortunately. You can find them in the carpet fibers as well. But that is not all. Just one-bed bug can travel 100 feet to find a host and bite him. They usually go out at night, while everyone is asleep. The worse part is that they can feed on human and pet blood for 15 minutes before anybody realizes they have been bitten.
5. Dust
More than 2000 dust mites can be found on just one ounce of carpet. Indoor air quality control showed that there is twice as more pollutants and dust indoors than outdoors. Dust mites are bugs that love to eat dead skin cells that we shed in pounds during a year, and they prefer carpets for their nesting. When mixed with dust mite residue, some dust can be airborne and cause allergies. One carpet can have several pounds of dirt on it and under it.
Why Should You Use a Carpet Washer for Carpet Cleaning?
Perhaps it sounds like a dumb question – you clean the carpets because they are dirty, but there are numerous benefits to carpet cleaning that at least might be interesting for you to know.
1. Extend the life of your carpet
Yes, that's right. Regular maintenance and a good carpet washing at least once a year can extract all dirt and extend the life of your carpet. That way, you are also prolonging the investment – no need to remove and put new carpets again, or at least, not so soon. With regular carpet cleaning, you can enjoy your carpets for years to come.
2. Room Smells Better
Nobody wants to enter the house and then be splashed with a whiff of bad odor. Some surfaces, like carpets, need cleaning and you can't rely on simple vacuuming once the odor sets in. Whether it's from the mold, pets, stains or urine, you can protect your indoor air quality and remove the pollutants with good carpet maintenance.
3. Easy Regular Maintenance
You will keep your carpets clean much easier if you regularly vacuum them after getting them a good once-over, at least once a year. It's very simple when you think about it. Unless you have an accident and spill something, usually stains and dirt are of the dry kind. Including the pet dander, human dandruff and skin cells, shedding, and the rest. Mud and dust, also fit the description. If you vacuum regularly, you can get most of the dry stains and keep your carpet clean and well maintained.
But if you have harder stains that only grow larger, and particles get stuck on them, it's harder to maintain cleanliness.
4. Healthier Surroundings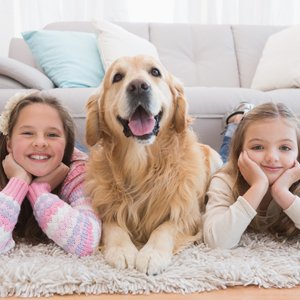 There are many allergens and bacteria in dirty carpets and when maintaining their cleanliness, you are actually keeping your kids, pets and the entire household healthy. Or at least, not prone to the disease so much.
Kids often play on the carpets, pets get their daily walks and people rarely clean their paws before entering the house when the weather is nice. They are all spending a lot of time on the rugs and can catch a virus, allergy or bacteria. Keeping your carpets clean is imperative if you have a household member with asthma.
5. Maintains Carpet Warranty
Some carpeting manufacturers and companies give a warranty on their products and services if the carpets are cleaned regularly. Some even state that the carpets must be cleaned with an extraction method and in a certain timeframe. It's best to do it once a year, but warranty conditions go from 12 to 18 months.
6. Spots Grow
You are reading this correctly. If you have a stain, chances are it can grow larger. You probably aren't delusional if it looks like the stains are getting bigger and bigger. The reason is simple – stains attract more dust and particles, so the stains literally build-up over time. If you leave a stain sitting for a long time, it can even damage your carpet fibers. That is why it's important to get the stains out as soon as possible.
How Do Carpet Cleaners Work?
They don't – you have to work them. Joking aside, carpet cleaners have a way of functioning and perhaps it will be helpful to know how they make your carpets look brand new. Carpet cleaning falls under the extraction cleaning method, where a carpet cleaner extracts deeply embedded dirt and stains. Every carpet cleaner consists of:
1. Pump
All these carpet cleaners, use water, naturally. A pump on any carpet cleaner serves to pump out the water at a certain pressure. Depending on the level of strength of the unit, pressure output (measured in PSI) can range anywhere from 60 to 500 Pounds per Square Inch.
2. Vacuum
The vacuum part is responsible for extracting the dirt and the carpet cleaning solution from carpet fibers. There are several types of motors that run the vacuum, and some units have even up to three 2-stage motors. For the best results, buy a unit that has at least one 2-stage motor.
3. Airflow
Airflow is the number that describes the power of the vacuum. The larger the airflow, the larger the power of a carpet cleaner. The measurement for airflow called cubic feet per minute or shortly, CFM. Usually, carpet cleaners have 100 to 200 CFM.
4. Water Lift
The power of the carpet cleaner is also seen in the aptness of raising the dirt and extracting it. The water lift number actually describes the suction power of a carpet cleaner and can go anywhere from 100 to 250 inches.
5. Heating Unit
The heating unit heats the water in the rinse tank. Usually, good carpet cleaners can heat the entire rinse tank in under 3 minutes, to a temperature of up to 210 Fahrenheit degrees.
6. Cleaning Solution Tank
This is a tank with clean water where you dilute the cleaning solution.
7. Rinse Tank
Rinse tank is the tank that holds the dirty water and vacuumed particles. It's also called a recovery tank.
Carpet Cleaner Buying Guide: How to Choose a Carpet Cleaner?
Rugs are wonderful inventions. If you ask your kids, they will even tell you that carpets and rugs are magical, and sometimes as hot as lava! Luckily, you know that it's a great way for them to play with their toys and not catch a cold. Which is why it's important to keep them clean.
If you thought that buying a carpet washer would be a simple task where you could go and just get one, you are mistaken. There are lots of things that you need to consider before buying the best carpet cleaner for your needs. We will address all of them in our carpet cleaning buying guide so that you don't make a mistake and buy a unit that can't satisfy your cleaning needs.
1. Carpet Size
Carpet size is the first thing you need to consider when making a purchasing decision. If you have hundreds of square feet under the carpets, you won't get a portable cleaning unit. Well, you can but you shouldn't, at least. The trick is to choose the size of the tank that can best fit your needs. If you have a vast area to cover, you should select a larger tank.
Carpet cleaners that have smaller tanks will need refilling often, mixing cleaning agents over and over, and all the rinsing… You will have to stop your cleaning every once in a while to run to the sink. This way, you can clean the designated area with one go.
2. Storage Space
It's not the same if you live in a tiny apartment or in a large house. Carpets still need cleaning, though. If you have smaller rug areas and limited storage space, you can always invest in compact units or even portable spot cleaners. If you have enough space, and plenty of areas to cover, you can choose bulkier units that come with all possible cleaning solutions in one machine.
3. Level of Stains
Well, this is a no-brainer. If you have heavily stained carpets that weren't cleaned in ages, even the most-professional carpet cleaner will have to struggle to get everything out. The hack is to invest in a good unit and use the best cleaning solutions for various needs. There are specially-designed cleaning agents for every type of stain out there.
Just remember that if you do have a heavily soiled carpet, you might have to clean it several times, and with several cleaning agents, to make sure it's really clean. Buy the carpet cleaner according to your needs. If you just need a regular carpet cleaning now and then, any light and the medium unit will do the job well.
4. Type of Stains
There are different types of stains, and not all carpet cleaners are equipped to deal with all of them. Pet odor and urine, children's mess around the house, spilled food or wine, mud, regular dirt… There are so many types of stains, so you should choose a unit that can clean all of yours.
5. Ease of Use
Some of the carpet washers are built like spaceships, and you might feel like you need an astrophysics degree just to operate one. Some are so simple that they only have an on/off button. Cleaning your carpets is a nuisance, a necessary evil that nobody actually likes doing but it needs to be done.
Adding over complicated attachments, buttons and unnecessary options to the whole ordeal doesn't seem like a good idea. Especially if you need a simple carpet cleaning unit. To make your carpet cleaning as smooth and easy as possible, try to select the unit that can easily clean in multiple directions.
6. Pets
We adore them, but pets can get quite messy. You can't really explain to your dog not to track mud from the backyard on your beige carpets. There is the fact that most pets shed, including the hair and the pet dander. No issue there – even we shed a lot. But somebody needs to clean that.
There are specially designed carpet cleaners that have special filters in place so that they can tackle the dirt and hair.
If you have pets, you should definitely invest in these specialized pet units because using a regular carpet cleaner with parts that can get easily clogged with pet hair is a disaster. You will get friendly with the people in the repair center, which isn't something you should strive for if it can be avoided.
Buying a carpet cleaner that cleans pet stains also means it is a high-quality unit that can remove the majority of all other types of stains. These units are durable. You can also invest in any efficient professional cleaner, they also have enough power to deal with pet stains.
7. Children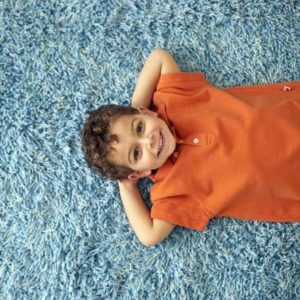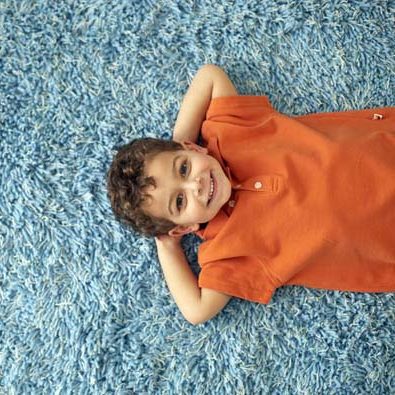 No need to speak about the love we have for children, but boy do they make a mess! Spilled food and beverages from falsely advertised spill-free sippy cups, snacking, water coloring on the carpets, crayon art… The list goes on and on, including the number of accidents in just one week.
The efficient carpet cleaner should be right there on the list of things you need to buy when the baby arrives because it's best to treat the stains as soon as they are made. Not to mention the fact when kids start crawling around the house and playing on the carpets – you want those areas squeaky clean. Don't worry about the chemical cleaners, if you keep your rugs clean, you can use 100% natural cleaning solutions that aren't toxic for kids, or just use hot water carpet cleaners.
8. Weight
If you want commercial units for high-quality carpet cleaning, those aren't lightweight. If you don't want to lug around dozens of pounds just to get your carpets cleaned, there are more portable units and some spot cleaner tools that weight under 10 pounds. Of course, you can still get a regular cleaner that weight around 15 – 20 pounds, and it will get the carpet cleaning job done up to your standards. Power comes with weight – just keep that in mind when trying to decide which unit you want to buy.
How To Use a Carpet Cleaner?
Okay, we understand how this sounds, but there's more to carpet cleaning then just turning the cleaner on and starting the ordeal. Well, that is an option too, but if you want to make the most of the carpet cleaning, and do it as soon as possible with the most satisfactory results, then keep reading to find out all the steps.
Step 1 – Vacuum
You should prepare your rug for cleaning by vacuuming the entire area, twice if need be. If you administer a cleaning solution on the dirty surface, it will stick to the dust particles and won't treat the carpet, so it won't clean it. Remove all the dust and clumps the best you can, so that the next steps can be easily completed.
Step 2 – Dampen the Surface
Most carpet cleaners will have two (or more) modes – the rinse mode and the wash mode. They can be named differently from unit to unit, but the end result is the same. One mode uses only water, and the other also apply the carpet cleaning shampoo.
In this step, you need to dampen the rug area with the rinse mode.
Step 3 – Pre-treating the Stains
If there are some exceptionally hard stains, you should pre-treat them with spot cleaning solution. Enzyme cleaning carpet shampoos can be diluted in water and applied to the stains. They break the bonds of dirt particles and dissolve them over time. Sometimes it would be best to leave the solution over-night to settle in and work its magic.
Step 4 – Washing the rug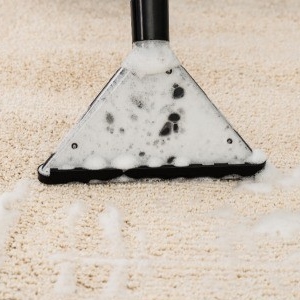 Whether you pre-treat the stains or not, you should carry on with washing the carpet. There are generally two types of carpet cleaning solutions – enzyme ones and regular shampoos. If you have a regular carpet shampoo, you can clean it almost immediately after you apply it. The enzyme shampoos, as we said above, need time to break up the dirt so you should let them set before you wash them away.
Some people let a couple of days pass before rinsing the enzyme shampoo. It all depends on how soiled the rug is. Some urine removers and deodorizers and heavily soiled areas need to be treated several times. If you have just a "regular" dirty carpet, letting the enzymes work overnight will be enough.
After letting the shampoo set, simply rinse the carpet. Make sure to rinse it well because if you leave the shampoo residue on carpet fibers, it will attract clumps of dirt so your carpets truly can get dirty much faster after the cleaning. When in doubt, go over the area with the carpet washer twice.
Step 5 – Don't Forget to Ventilate
Ventilation is crucial, especially when it comes to enzyme solutions. If you have heavily stained areas that smell bad and use an enzyme cleaner, things will get a lot worse before they get better. You need to ventilate the area for several reasons – first is to make the smell endurable if it's a room that you have to use until you clean it.
Secondly, your rugs will dry faster in ventilated rooms. Also, even if it's not an enzyme cleaner, even regular shampoos can have a strong scent, especially if you use more cleaning solution than necessary. You can use fans if you have them. Some of the carpet cleaners also have a dry heat feature to help speed up the process of drying.
Step 6 – Vacuum Again
When they are wet, and during the drying process, particles can get stuck to the carpet surface, so after the rug has been properly dried, you can run the vacuum again to pick up any leftover dry dirt and particles.
Frequently Asked Questions About Carpet Cleaners
1. Should I rent or buy a carpet cleaner?
Depends on your needs and whether you are willing to clean your carpets. It's easier to just pay the professionals to get the job done, but it's also quite costly. You should do it at least once a year to extend the lifetime of your carpets, hold the warranty and generally, have super-clean and bacteria-free rugs.
It is much more cost-efficient to buy your own unit than to rent it every time. Also, accidents happen, which is especially true if you have kids, pets or both. If you have a carpet cleaner on hand, you can easily remove the stain as soon as it occurs, so there's no permanent damage to your carpet fibers. It's always better to have your own carpet cleaner than rent it.
2. Can I get a headache from cleaning solutions?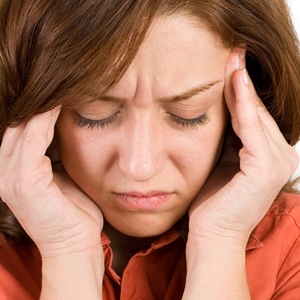 This is a tricky question. Yes, even if the product is all natural, it can cause a headache. But that is because any strong scent can cause one if you are overly exposed to it. Even if the fragrance is beautiful. The thing is, the brain and senses work differently. After 15 minutes, your senses will stop noticing the fragrance, whether it's good or bad. You will get used to it. So that means that you can spend hours cleaning a carpet with heavy fragrances and not notice it at all.
That is why you should keep the rooms aerated, especially during the cleaning.
3. Can I use heated water on all carpets?
No, each carpet material has a label where you can read how to use it and clean it. For example, wool carpets can shrink if you use hot water instead of cold water on them. Generally, natural fibers tend to shrink under hot water.
4. How to select the best carpet cleaning shampoo?
There are several types of carpet cleaning shampoos and solutions. There isn't the best one, but there are some that are better at removing certain types of stains. Shampoos and solutions for cleaning pet urine and odors are naturally best for those types of stains.
Hot water with a solution is great for removing ink, ketchup, coffee, and wine. Some cleaners work best on greasy and oily stains. Baking-soda powders are great deodorizers that lift the dirt and odors, clump around them, so you can remove it with a regular vacuum.
We have a guide for buying carpet cleaning shampoos for various stains and needs right here.
5. Is there a difference between a carpet cleaner and a steam cleaner?
Yes, and it's quite simple. Steam cleaners dampen the surface and clean the area with hot steam, but in terms of carpet cleaning, steam cleaners are quite ineffective. They use dry vapor, and carpet cleaners can use hot water, but mostly they rinse the cleaning solutions and extract the dirt from the carpet fibers.
Steam carpet cleaners usually have a wand hose attachment. Regular carpet cleaners cover a larger surface at one go and are generally the units that you have to push and pull over surfaces.
6. How often should you clean your carpets?
If we are talking about cleaning, once or twice per week is enough to keep the home clean and get rid of most of the dirt. If you have a heavily soiled area, you should vacuum anywhere from two to seven times per week. Carpet cleaning frequency depends on environmental factors.
When speaking about carpet cleaning and carpet washing, it also depends on the type of dirt, the level of stains and the severity. If you have a generally clean-looking rug with perhaps some light soils, you should clean the heavily-used area at least once per year. If it's a medium soiled rug, you can clean it every 6 months to keep it fresh and good looking. If you have a heavily soiled carpet, you can clean it every 3 months.
Some people just get their carpets dirtier than others. This is especially true if you have pets, children, lots of people in the household, or guests even. Carpets get dirtier if you walk with your outdoor footwear inside, as well.
7. How long does it take for carpets to dry?
Well, it all depends, but if you ask people who had their carpets washed, they would say it takes ages. Luckily, there are some things you can do to make your carpets dry faster. If your carpet cleaner has that option, you can vacuum it with dry air. You can also turn all ceiling fans above the cleaned surfaces if you have them. Keep the areas well ventilated to shorten the drying.
Also, you can be careful about cleaning and washing. Using too much of a cleaning product can prolong the drying later. Follow the label instructions. You can also vacuum with the PSI level turned to the maximum, which will lift and dry the surfaces in the process.
Best Carpet Shampooer Comparison Chart
Product
Size
(inches)
Weight
(pounds)
Warranty
(years)
Hoover Power Scrub Deluxe Carpet Washer FH50150
20.8 x 13.9 x 22.2
25.8
2
Bissell Big Green Professional Carpet Cleaner, 86T3
20.5 x 11 x 42.25
52.5
5
Hoover F5914091NC Steam Vacuum and Carpet Cleaner
20 x 11.2 x 44
27.5
2
Hoover F7412900 Max Extract Carpet Cleaner
20.2 x 15.8 x 29.2
26.9
1
Rug Doctor Deep Carpet Cleaner and Pet Pro Carpet Cleaner
22.8 x 14.2 x 28
37.4
2
Bissell 1622 PowerLifter Carpet Cleaner
19 x 11 x 44
21.4
1
Hoover FH50220 Max Extract Pro Carpet Deep Cleaner
23 x 16.2 x 26.8
26.4
2
Bissell 1548 ProHeat Carpet Cleaner
15 x 12.5 x 43.5
17.5
3
Wrap Up
There are plenty of things, dead and alive, that could be living in your rugs. According to a microbiologist study, a rug can be 4,000 times dirtier than a toilet seat! When you consider how dirty your rugs can be, the best thing to do is invest in a carpet cleaning unit. You can make sure that your carpets are fresh and clean, and allergen-free. With our carpet cleaner reviews, you can easily select the best unit.
We have chosen some of the best units on the market to find the best carpet shampooer so that you don't have to waste time on research. If you have any questions that we haven't answered in our FAQ section above, feel free to write them in the comments below. And happy carpet cleaner hunting!