What are the best carpet cleaners for pets? Thanks to vacuum cleaners and mops, we can keep our floors dust and grime free. However, homeowners know that carpets are harder to maintain. This rings especially true if you're a pet owner.
You might be under the impression that carpet cleaners are a tool made for big office buildings. Today, that's no longer true – thanks to the market giants Hoover and Bissel, carpet washing is now a thing every household can implement in their sanitary routine.
After quite a bit of testing and researching, we compiled the data and wrote these unbiased carpet cleaner for pets reviews. If you own a pet, and you've decided to invest into your cleaning routine but you're still not sure which model to get, this is just the thing for you!
PRODUCT
DETAILS

Bissell SpotBot Pet Handsfree Spot and Stain Cleaner

Price:

$$

Customer Rating:

4.2

Weight:

12.5 pounds

Size:

9.1 x 16.9 x 12.5  inches

Warranty:

1 year

View On Amazon

Bissell ProHeat 2X Revolution 1548

Price:

$$

Customer Rating:

3.9

Weight:

17.5 pounds

Size:

15 x 12.5 x 43.5 inches

Warranty:

3 years

View On Amazon

Bissell DeepClean Premier

Price:

$$

Customer Rating:

4.2

Weight:

32 pounds

Size:

23.5 x 14 x 25 inches

Warranty:

3 years

View On Amazon

Bissell Pet Stain Eraser Cordless Portable Cleaner

Price:

$

Customer Rating:

3.2

Weight:

4.6 pounds

Size:

16.5 x 5.5 x 7 inches

Warranty:

2 years

View On Amazon

Hoover FH50251PC Power Scrub Elite

Price:

$$

Customer Rating:

4.5

Weight:

18.5pounds

Size:

17.5 x 12.3 x 43 inches

Warranty:

2 years

View On Amazon

Bissell ProHeat 2X Revolution 1986

Price:

$$$

Customer Rating:

4.5

Weight:

17.5 pounds

Size:

15 x 12.5 x 43.5  inches

Warranty:

2 years

View On Amazon
Best Pet Carpet Cleaner Reviews
1. Bissell SpotBot Pet Handsfree Spot and Stain Cleaner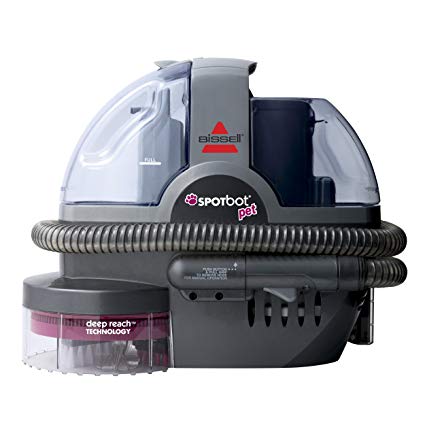 SpotBot, made by Bissel, is a specific unit that's different from the other carpet cleaners on our list. This is the only hands-free model. However, SpotBot can't be used for full-length carpet cleaning either. The primary purpose of this budget-friendly device is to automatically clean spots and stains on your carpet.
The whole process is automatically controlled – the cleaner sprays, scrubs and suctions in pre-programmed cycles to provide the best cleaning results. There are two main settings to fight off both fresh, surface stains and dry, set-in stains. You only need to fill the tank with the formula, put it on the spot, press a button, and let the device do its magic!
It comes with an attachable hose which can be used to clean upholstery and car interiors easily.
With a 15 ft long cord, you won't have trouble getting it where you need it. In fact, the machine is pretty lightweight at 14 pounds, so you can lift and move it easily. Since the only thing you need to do is change the position once it's done with a spot, this model is very portable.
It comes with a 2-year limited warranty, which is great as some people report an internal valve breaking. This did not happen to us, though.
Pros & Cons
SpotBot is ideal for low pile carpets, upholstery, automobile interiors and stairs. The best thing about it is the fact that it allows hands-free cleaning with automated processes. Meaning, you don't need to do anything but plug it in and set it on the right spot.
However, there are known issues with breakable internal valves. It's not suitable for washing the whole carpet area, as it's only used to clean a single spot.
2. Bissell ProHeat 2X Revolution 1548
With a power rating of 6.8 amps, this is an affordable but strong home carpet cleaner.
The selling point of this model is definitely its Dual DirtLifter PowerBrushes, designed to loosen up dirt that's already set-in. Combined with a low-profile foot which can get under any short-legged sofa, this machine is perfect for cat and other small animal owners. It's not heavy, either – it weighs less than 20 lb.
With two settings – deep and express clean, this powerful device is an all-in-one answer to your carpet washing needs. If you urgently need to make your home smell fresh and clean, the express clean function is a great solution – your carpets and area rugs will only need an hour to dry.
The patented Heatwave technology keeps the water inside the tank warm, providing additional cleaning power.
With a 22 ft long cord and a 7 ft long hose, you'll be able to clean your furniture easily. This model even comes with different additional hose heads for specialized cleaning! Whether you need to thoroughly clean a stain with the 3 inchTough Stain Tool, or have a smelly and messy pet spot to take care of with the Pet Stain Tool, Bissel ProHeat 2X has a solution.
Pros & Cons
The best thing about it is the fact that it's a powerful cleaning device that's not too heavy. Low profile foot can get under most pieces of furniture, which means reduced preparation time and effort. There are two distinct operation modes for either a thorough clean or a quick fix.
However, it's quite hefty, so it's not easy to store. Also, the belt seems fragile and it is known that it's prone to breaking.
Read More: Bissell ProHeat 2X Revolution 1548
3. Bissell DeepClean Premier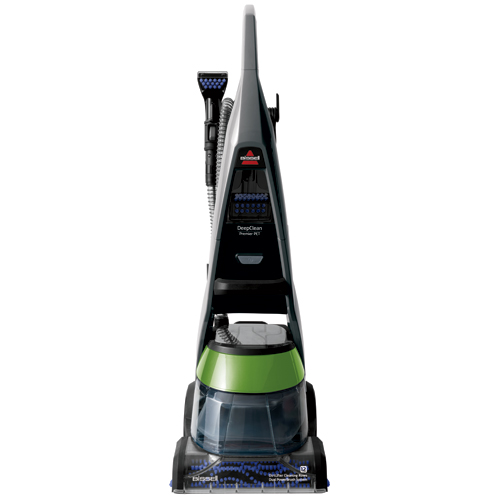 This heavy-duty machine is perfect for you if you have large carpets and long-haired pets. Weighing 25 lb and cleaning a 12-inch wide path, this strong device is a perfect answer for those with a large carpet area to cover. With a pet hair collection basket designed to catch all hair before it goes up the dirty water tank, this washer is easy to maintain.
The capacity of the tank makes trips to the bathroom scarce – you can pour as much as 1.25 gallons of water. Combining this with the HeatWave technology which keeps the water in your tank warm all throughout, you get a strong machine that is perfect for thorough cleaning.
A 22 ft. long cord makes this machine easy to use in remote corners of any home. However, weighing 25 lb, it might not be suitable for houses with many floors.
This machine is powerful enough for any home. It has strong suction, and we tested it against clumps of pet hair that regular vacuum cleaners were unable to force out. The hair previously thought embedded into the carpet is left behind in clumps, so it has to be picked up manually. On the bright side, clumps don't block the water passage. If you live with long-haired or thick-furred pets, this model might be a great choice for you because of this characteristic.
Pros & Cons
The best thing about this carpet cleaner is the fact that it's an overall powerful unit, perfect for large carpet areas.
However, being the heaviest model on the list, it's hardly portable and not suitable for homes with multiple floors. At least not if you don't plan on using it as the home gym at the same time.
4. Bissell Pet Stain Eraser Cordless Portable Cleaner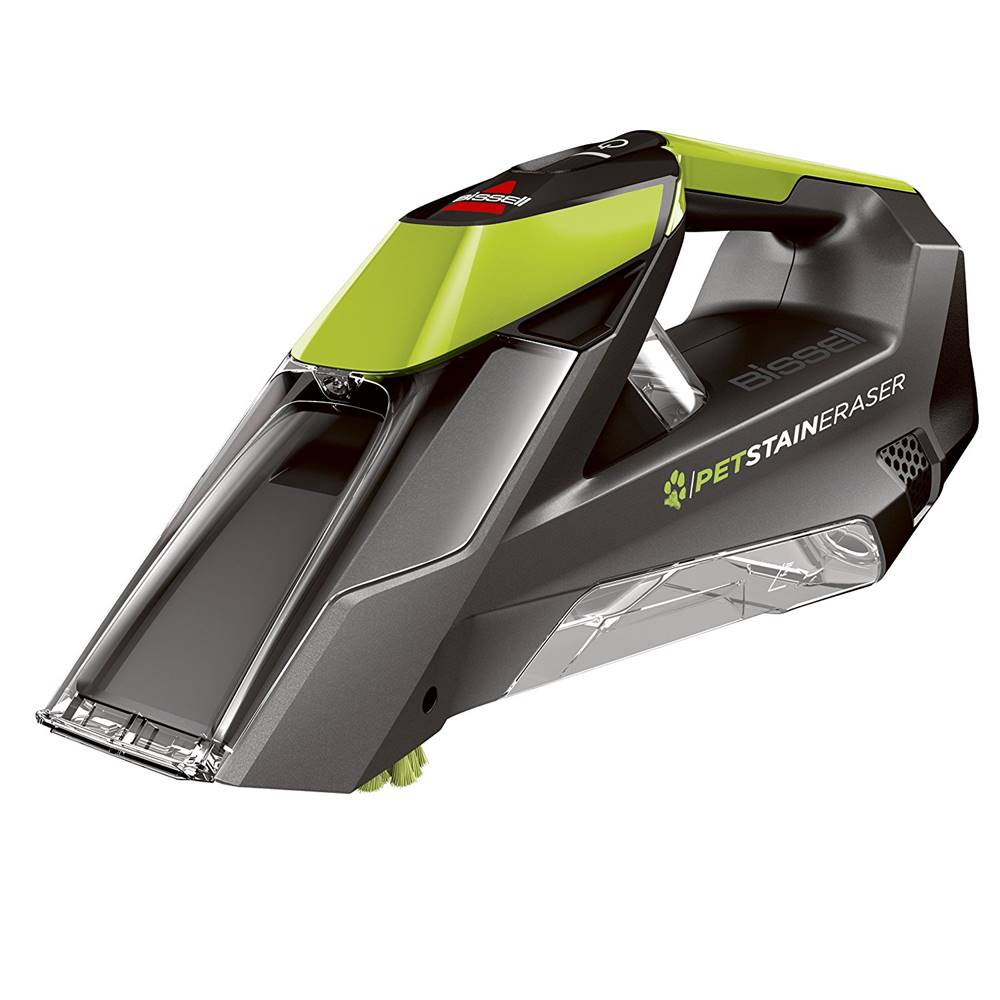 If you're not ready to invest in a large carpet cleaner but get stains on your carpets and furniture frequently, Bissell's Pet Stain Eraser is the perfect solution for you. This handheld device is a unique pick on our list. One of the selling points of this model is the fact that it's not dependent on the cord. It works on a well-functioning 7.2-volt lithium battery which needs to be recharged between uses.
At less than 5 lb, considering its size and the fact it's battery-powered, we expected this device to have lower power performance. However, the battery only runs for 15 minutes, so the performance is balanced. This model surprised us with its strength as it cleaned an old, set-in kitty mess stain with no scrubbing.
This model is perfect if you don't want to invest in a full-size carpet cleaner, but still, need something to clean after pets with. This affordable device has great value in terms of surface versatility and cleaning prowess. It can be used on virtually all surfaces larger cleaning machines from this list can.
While it didn't pose a problem for us, this model is known to have occasional leakage issues.
Pros & Cons
The best thing about this carpet cleaner is the fact that it's a handheld device which is not dependent on cords, making it extremely lightweight and portable. It has a strong spot cleaning prowess, despite the limited energy intake. Also, it's the cheapest item on our list which makes it a very affordable carpet cleaner.
However, it has a known, relatively often reported leakage issue. Also, the expected battery life is only 15 minutes per charge.
5. Hoover FH50251PC Power Scrub Elite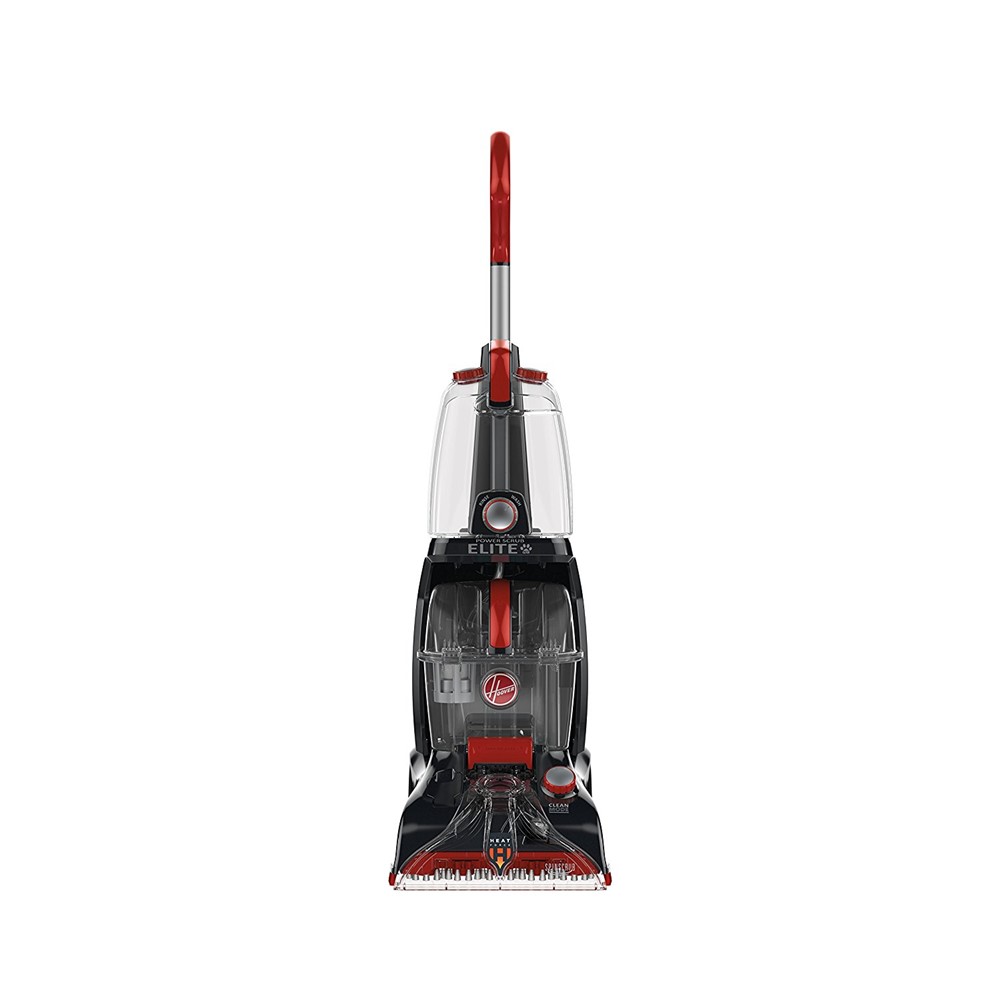 Cleaning a 12-inch wide path in front of it, this model made by Hoover is perfect for homes that need regular, full-length cleaning. An innovation that this model brings to the table is its superb HeatForce technology that allows for the carpets to dry in as little as 45 minutes.
With a tank capacity of 1.25 gallons of water and a 20 ft long cord, this machine is an affordable option with good performance. To make up for mobility lost in cord length, this device is exceptionally lightweight, weighing less than 19 lbs.
It supports two cleaning modes – a quick clean for regular maintenance and cleaning surface stains, and a deep clean for thorough carpet washing and cleaning set-in, embedded dirt.
Both the nozzle and the water tanks are removable and easy to clean after use. This model, of course, comes with additional tools – an 8 ft long hose and two inserts. One of the inserts is used for lighter stain removal and the other one for heavy scrubbing.
Overall, this is a powerful cleaning machine for larger households. Its main advantage is its superior heat drying, which gets you back on your feet in less than 45 minutes.
Pros & Cons
The best thing about this unit is that it's designed to ensure extremely quick drying – a quarter faster than other devices on the list. It also has a large water tank which is great for a relatively lightweight device.
However, this unit comes with a shorter warranty than other full-size devices – only 2 years.
6. Bissell ProHeat 2X Revolution 1986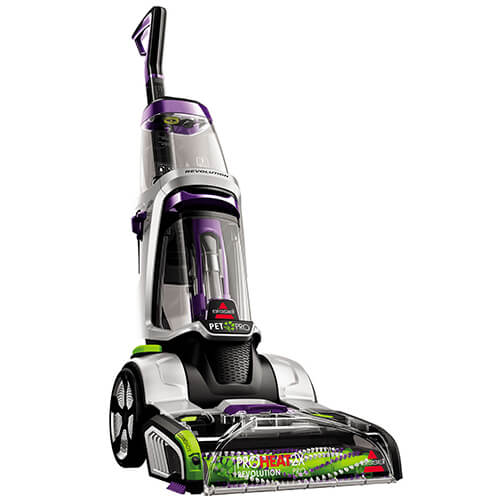 The most expensive model on our list comes with the most optimal features and a 5-year warranty. At 20 lb, this relatively lightweight machine outperforms some rental options in cleaning prowess.
A 25 ft long cord will allow for greater mobility, and its below-average weight helps as well! The width of the cleaning path, at 11 inches, is somewhat smaller from the other upright carpet cleaners we chose for this list.
It comes with a CleanShot Pretreater – an option to target and spray stains, and spots with a cleaning solution before you start deep cleaning. Pre-treating will make the stains easier to clean than ever. It comes with an 8 ft long hose and an innovative 2-in-1 tool that allows you to both vacuum clean and wash your upholstery. This is perfect for pet owners, as you can use the same device to vacuum hair and debris and remove stains and odor by wet cleaning – using the same tool.
This model is exceptionally easy to maintain, as it has an EZ Clean Brush Roll Cover. This means that the plastic nozzle covering the cleaning brushes is removable, making the device easier to clean.
Pros & Cons
Overall, this is a powerful device that any homeowner would love to have! The best thing about it is the exceptionally long warranty which is worth the unit's price. Also, you have tools to pre-treat stains and dry the carpets quickly.
As we said, it is the most expensive device model on our list, but with the tools and warranty, we have to say – it's worth it.
Is a Carpet Cleaner Essential For Pet Owners?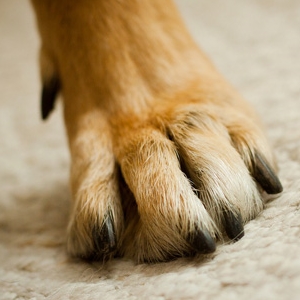 Carpets are among the dirtiest surfaces inside our homes. If you live with pets, this rings especially true. While carpeting is incredibly convenient and keeps your home warm and cozy, there's virtually no way to prevent your dog or cat from making it dirty.
While everyone should own a carpet cleaner, they are an essential part of the pet-owning household maintenance process. Why? Because…
Pets that go outside will inevitably bring dirt and soil inside
Animal skin oils and dander get embedded into the carpet fibers with time
Even well-trained and healthy pets sometimes vomit or go #1 or #2 where they shouldn't
By washing your carpets regularly, you create a healthy living environment for both you and your furry companion. With this buying guide, we will look into these common pet-owner problems in detail.
How Dirty Are Your Carpets?
It's impossible to avoid getting dirt from the outside onto your carpet. Pets can't take their shoes off – so everything, from the mud on the sidewalk to fecal matter from the park grass, will to some degree end up on your carpet.
Have you ever noticed discolorations on your couch or upholstered chairs where you use them the most? This happens because natural body oils transfer from you onto the upholstery. The same thing happens to your carpet when you walk on it without socks or shoes, or when your pet lays on it. As pets frequently choose a couple of favorite sleeping spots, you will probably notice the discolorations if you inspect your carpeting closely.
On the other hand, animal dander (tiny skin flakes that all mammals naturally shed with time) is the number one respiratory allergen coming from animals. Contrary to the widespread misconception, people who are allergic to cats and dogs are usually not allergic to animal fur or its oils – in most cases, skin dander is the culprit. And it gets embedded in your carpeting very easily.
What Are The Common Pet Stains?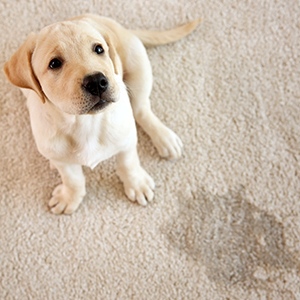 Even if they are healthy and well-trained, animals will occasionally soil the carpeting for various reasons. It might seem like number 2 is the worst that can happen to your carpet. However, the sneaky number 1 is even worse for a couple of reasons. First of all, urine will be instantly soaked up by your carpeting. After just a couple of seconds, even the most absorbent of fibers are rendered useless as the oily liquid gets soaked into your carpeting. The worst smell doesn't appear until the urine dries up a bit, as water vapors and the oily substances set in. Yuck!
To avoid the common mistakes pet owners make, the only way to truly get rid of the dirt and stains left by your furry friend is to regularly wash your carpeting. What sets the pet edition carpet cleaners from the regular ones are often the special urine-targeting solutions they can use, and additional parts they might have to control hair and fur that gets pulled in along with the dirty water.
Should You Get a Cleaner Of Your Own?
Your first question will probably be whether it is really necessary for you to get a carpet cleaner of your own.
After all, nothing beats the convenience of hiring a professional to do it for you. Nothing, besides knowing you did a thorough job on your carpet when you do it yourself. Pro cleaners, especially the more affordable ones, often seem rather uninterested or ill-equipped for your particular problem, especially if you're a pet owner with a need for special, pet-friendly cleaning products.
Furthermore, cleaning carpets more often are strongly suggested for pet-owning households. While homes that don't have children or pets can get away with cleaning once a year, pet owners should consider washing their carpets as much as once every three months. If you hire a cleaning service every time, this will get very expensive, very quickly.
Carpet Cleaners For Pets – Buying Guide
If you have a pet, you know the drill – even if Max was a good boy, it's impossible to avoid the buildup of pet fur and dust. Even if you do your best to tidy up and vacuum regularly, carpets and upholstery somehow remain an inexhaustible source of pet odor. While pet owners get used to these scents after a while, their guests always feel it. Still, it's possible to get rid of pet odor for good while keeping your furry friend. With regular carpet washing, your guests will never get a whiff of kitty smell anymore.
If you've decided to invest in a home maintenance device of this kind for the first time, you've made a good decision! Carpets are among the top dirt and mildew gathering points in your house. In fact, heavy traffic areas of your carpets are often far dirtier than the toilet seat itself!
If you decided that getting a carpet cleaner of your own is a viable investment for you, the next step for you is choosing the best model to get. There are many different factors you will want to consider when getting one. The currently available residential models are in most cases all pretty good, but the difference lies in your own needs. As a carpet cleaner is a device you want to use for years to come, it's important to make an informed decision, rather than making a choice based purely on the device price or numeric performances. Here is a list of things you might want to consider before making a final decision:
1.Carpet area size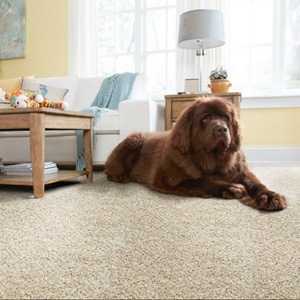 This is probably the first factor you should consider when making the initial model selection. If you have a larger carpeting area, a handheld or single spot device might not be the right choice for you. Consider saving up to buy a powerful machine with a wide cleaning path. Also, in cases of very large rooms, it might be a good idea to measure the distance between the most reliable power outlet and the furthest corner of the carpet. This way, you will not make the mistake of getting a cleaner machine which has a power cord too short for your needs.
On the other hand, if you have a small carpet but need to get a cleaner because of frequent pet stains, you should consider getting the more portable versions that target specific spots. With a smaller area, professional cleaning will come off much cheaper as most cleaning services charge per square foot. Having a device with which to treat accidents and spills as they happen will make your carpets looking guest-ready at all times.
You can treat specific problem spots while they're fresh while being easier and cheaper to maintain by deep-cleaning professionally or by rental. Consider Bissell's Pet Stain Eraser handheld device which works on battery or Bissell's SpotBot which is placed directly on the problematic area and treats it automatically, without you needing to manually scrub or control the device.
2.The weight of the model
We've listed the weight of each model we mentioned in this article. As you can see, 20 lb is quite standard for residential-grade machines, but there are heavier and lighter models, even among the full-size carpet cleaners. However, this number measures only the weight of the machine when it's empty. Depending on the size of the water tanks, you can expect to get anywhere between 5 and 15 additional pounds in the water weight.
Be prepared to carry more than the original measurement states in a real-life cleaning setting! It's important to balance tank size with weight. Finding the right tank size for you can both save you the frustration of going for a refill to frequently and reduce the possibility of injury due to operating a heavy machine.
You should consider whether you will need to carry the cleaner around a lot, or you will only need to push and pull it. If you own a home with many floors (meaning a lot of stairs), a lightweight model might be a smart choice for you.
3.How often you need to wash your carpets?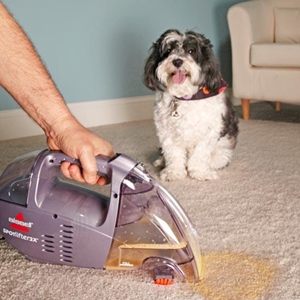 As a pet owner, you should consider cleaning your carpets regularly. Combine the frequency of washing with the preparation time and the time needed to clean and dry the carpet area, and you get a really long process which rarely anybody has the time to do every couple of months. To avoid having to go through hours of thorough cleaning every time, you should consider getting one of the listed machines that has a quick cleaning mode. With quick cleaning, washing a carpet will not take hours. Instead, it will only last somewhat longer than vacuum cleaning.
While you should definitely wash your carpets thoroughly at least once a year, having a 2-in-1 machine that can do both deep clean and quick wash will spare you hours of cleaning (or many bucks of paying costly professionals) on a tri-monthly basis.
4.How weak is too weak?
When picking an ideal model for your home, you might be drawn to the models which boast a powerful motor. While motor power does affect the suction prowess of the machine, the power alone doesn't always directly influence the cleaning results. Motor power is often divided between the suction system and various other features, like the heating modules.
If the device has a powerful motor of 9 amps or above but doesn't have other power-consuming features, you're looking at a device with great suction. Remember – good suction power means the machine will absorb plenty of water from the carpet, meaning shorter drying time.
However, stronger machines are also louder – which is something you should consider as a pet owner. If your pet gets scared the moment it notices the vacuum cleaner, consider getting a weaker machine. You should also take care of your hearing as well. Standard vacuum cleaners create around 70 decibels of noise, while full-sized carpet cleaners can get their noise levels up beyond 80 decibels.
This number only rises with motor power. Combining this amount of noise with the fact that carpet washing normally takes considerably more time than vacuuming does can get you invaluable insight into how your pet might react to the machine.
5.How costly are pet carpet cleaners?
Of course, the ost is always a huge factor in our investments. The cost will in most cases reflect the warranty length and scope, cleaning power, durability of the materials used and the construction, and additional features and parts the cleaner comes with.
Before you choose an option because it costs less than another similar one, make sure you've considered all other factors. For example, if you live in a large home with a large carpet area, you should invest more, as your carpet cleaner will likely see more action. If you do get a powerful, expensive machine, it would be a smart decision to get one with a long warranty. However, if your carpeted area is rather small, but you want to get a full-sized carpet cleaner anyway, you can consider opting out for a cheaper machine as it won't see too much wear.
While it's indisputable that cost is a determining factor in most purchases, make sure it aligns with the other requirements you have for your new device.
Should You Rent a Carpet Cleaner For Pet Stain Removal?
What about renting? That can be a viable, budget-friendly solution for you if you only need to wash the rugs occasionally. If you're a pet owner, renting probably isn't the best choice either as even higher tier residential cleaners are less expensive in the long run.
Additionally, rental machines are not always convenient or even available, as you need to reserve them and transport them to and from the big-box store. As they're commercial use machines, they usually have larger water tanks. Sadly, this also means less convenience and more weight and bulk.
On the other hand, if you decide to get a carpet cleaner for yourself, you will need to pay more attention to its storage and maintenance. Apart from the smaller spot-cleaners from the list, most carpet cleaners are quite bulky even if they're non-commercial. This makes it harder to store if you live in less spacious apartments or houses. If storage is not a problem, maintenance might be.
With professional cleaning service, you don't have any contact with the machine. With the rental, it's only necessary to empty out the tanks. However, with your own machine, you should empty out, clean and dry the tanks, the nozzle and the hose every time you use the machine. However, when you clean it yourself – you know it's clean.
Commercial use machine also means it's picked up dirt at many different homes, which, if not cleaned properly, might end up on your carpet. Besides, many non-commercial models make the cleaning job remarkably easy to do, so don't fret! In fact, all of the abovementioned models are quite easy to clean.
6. What are the Pros & Cons of owning a pet carpet cleaner?
To sum up, here are the pros and cons of your own carpet cleaner:
Pros
Cheaper than both professional cleaning and rental in the long run
Available for use 24/7, especially for quick touchups for cleaning pet stains from carpets
Your own choice of cleaning products used
Cons
Need to be cleaned after every use
Some models are bulky and hard to store
Top Rated Carpet Cleaners for Pets Comparison Chart
Product
Size
(inches)
Weight
(pounds)
Warranty
(years)
Bissell SpotBot Pet Handsfree Spot and Stain Cleaner
9.1 x 16.9 x 12.5
12.5
1
Bissell ProHeat 2X Revolution 1548
15 x 12.5 x 43.5
17.5
3
Bissell DeepClean Premier
23.5 x 14 x 25
32
3
Bissell Pet Stain Eraser Cordless Portable Cleaner
16.5 x 5.5 x 7
4.6
2
Hoover FH50251PC Power Scrub Elite
17.5 x 12.3 x 43
18.5
2
Bissell ProHeat 2X Revolution 1986
15 x 12.5 x 43.5
17.5
2
Wrap Up
As pet owners, we always want to make sure to choose a pet-friendly option, no matter what we're purchasing. Cleaning devices are not an exception, so it's a great choice to check out our carpet cleaner for pets reviews before making a purchase. Not only are pet-friendly cleaners better equipped to deal with pet hair, but they are also suitable for specialized cleaning shampoos which can target pet-specific stains.
We hope our overview of the best carpet cleaners for pet owners proves to be a useful resource and helps you make an informed, smart decision. While all of the listed devices have their pros and cons, all of them are durable, well-manufactured and powerful cleaning solutions that can make life with pets brighter and healthier.