The best lightweight vacuum cleaners for elderly are made with convenience in mind. Convenience, lightweight frame, accessibility features – these are all important because everyone should have access to trustworthy cleaning devices. For young and strong people, it might not be a big issue, but the physically weaker among us know the struggle. Keeping your floors and carpets impeccable simply isn't as easy as it seems. No matter what your circumstances are, there's a way to make the house chose easier than ever before.
Whether you suffer from a disability, you're fighting with an ailment like arthritis, or you simply feel weaker due to old age, we hope our guide and the lightweight vacuum cleaner reviews help you overcome those challenges. Let's dig into it, and see what you should expect from these convenient cleaning machines.
See The Quick Comparison Chart
Who Should Have a Lightweight Vacuum Cleaner?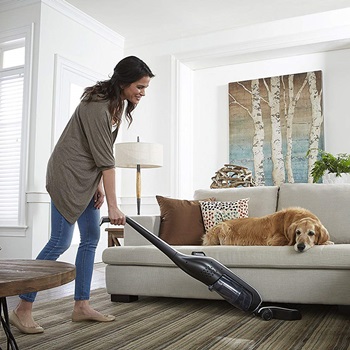 Everybody loves and needs a neat and clean home. And that's not possible without a vacuum cleaner. That's just natural, considering all of the dirt and debris that fall on our floors on a daily basis. From skin dander and human or pet hair, over dirt and soil from the outside, to food crumbs, there's a lot that pollutes our homes every day.
So, to answer the question of who should have a lightweight vacuum cleaner, we could simply say: Who shouldn't have one? If you don't need the best professional carpet cleaner for commercial use, here are no downsides to lightweight vacuum cleaners at all. However, they do come with an added benefit – they're far easier to maneuver.
This fact alone makes lightweight vacuum cleaners the ideal solution for many groups of people.
1. Seniors
First of all, the elderly can gain tremendous benefits from using a lightweight vacuum cleaner. As we age, we naturally become frailer, and our bones and muscles become weaker. That's why tasks we found easy in the past start to seem increasingly difficult.
Even if you're enjoying your retirement, the prospect of vacuuming your home does not have to loom over you every time your floors start leaving a trace on your socks. Lightweight vacuum cleaners are much easier to use, and they're suitable for even the weakest among us.
2. The Disabled and Ailed
When we need to learn to live with a disability, we can get quite creative in finding little tricks and techniques that make our lives easier. Getting the lightweight versions of common household appliances and cleaning tools is one of the simplest and most effective ways to make your life easier.
No matter if you suffer from minor mobility issues or you're battling advanced disability, a lightweight vacuum cleaner will make keeping your home clean much less of a hassle.
3. People Who Need to Vacuum Often
Even if you're strong and capable, home upkeep can become a huge hassle when you own a regular, heavy vacuum cleaner. This is especially true for households with children or pets. Both kids and furry friends couldn't care less to keep your floors and carpets tidy, so it can all fall on you.
Along with a pet carpet cleaner for the smelly messes, having a lightweight vacuum for pet hair makes regular house maintenance a much easier chore. Pro tip: it's especially handy to have a cordless vacuum if you need to take it out of storage multiple times a week.
Best Lightweight Vacuum Cleaners Comparison Chart
PRODUCT
DETAILS

Dyson Cyclone V10 Motorhead Lightweight Cordless Stick Vacuum Cleaner

Price:

$$$$

Customer Rating:

4.3

Weight:

5 pounds

Type:

Stick

Power Source:

Battery

View On Amazon

Shark Rocket DuoClean Ultra-Light Corded Bagless Vacuum

Price:

$$$

Customer Rating:

4.2

Weight:

9.9 pounds

Type:

Stick

Power Source:

Cord

View On Amazon

Hoover Linx Signature Stick Cordless Vacuum Cleaner, Lightweight

Price:

$$

Customer Rating:

4.2

Weight:

10 pounds

Type:

Stick

Power Source:

Battery

View On Amazon

Bissell Zing Canister 2156A Vacuum

Price:

$

Customer Rating:

4.2

Weight:

7.5 pounds

Type:

Canister

Power Source:

Cord

View On Amazon

Shark Lightweight & Maneuverable Upright Canister Vacuum

Price:

$$

Customer Rating:

4.2

Weight:

10.6 pounds

Type:

Upright

Power Source:

Cord

View On Amazon

Dirt Devil Simpli-Stik Vacuum Cleaner, 3-in-1 Small, Lightweight, Bagless

Price:

$

Customer Rating:

3.5

Weight:

4 pounds

Type:

Upright

Power Source:

Cord

View On Amazon

BLACK+DECKER POWERSERIES PRO Cordless Vacuum

Price:

$$

Customer Rating:

4.0

Weight:

8 pounds

Type:

Upright

Power Source:

Battery

View On Amazon
Best Lightweight Vacuum Cleaners Reviews
1. Dyson Cyclone V10 Motorhead Lightweight Cordless Stick Vacuum Cleaner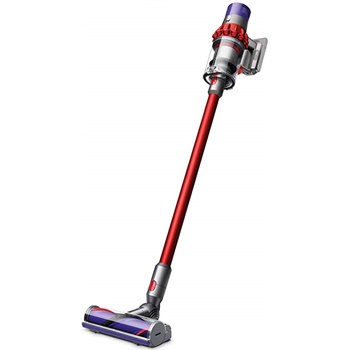 You're surely familiar with Dyson, a popular British manufacturer of home appliances, and very well known for its vacuum cleaners. Here, we have a well-liked Dyson model named Cyclone.
This stick vacuum cleaner is a popular pick among many, because it's quite versatile, and it gives you many options for cleaning your entire home. The stick vacuum can reach any nook and cranny of your home. The low profile head mounted on a swivel stick will ensure you can reach under your furniture. If you need to pick up spider webs from the upper corners of your room, you can do it too – the model weighs only 5 pounds, so you'll have no issue lifting it. It transforms into a handheld device with ease – simply detach the stick.
Additionally, this Dyson lightweight vacuum comes with a variety of extra attachments for a perfectly clean home. The battery-operated model can last up to an hour on light duty, and it has three power modes, depending on how dirty the surface you need to clean is.
Pros
Very lightweight at only 5 pounds
Transforms into a handheld device and comes with a plethora of extras
Cons
The battery doesn't last long on high-power modes
2. Shark Rocket DuoClean Ultra-Light Corded Bagless Vacuum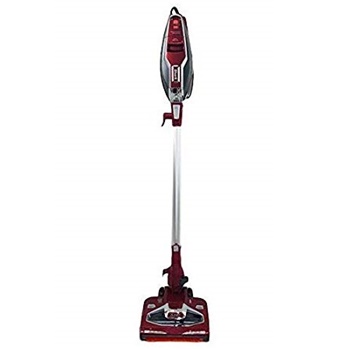 Shark makes many superstar models in the vacuuming industry, but their Rocket DuoClean stick vacuum cleaner is one of our favorites.
This stick model is quite lightweight and easy to use. In its full size, it weighs 10 pounds. It also doubles as a handheld device, and once you remove the stick and the head, you're left with a model that weighs as little as 4.5 pounds. The attached head on this vacuum cleaner is very interesting and versatile, and it can surely tackle a lot of different kinds of surfaces and messes. It comes with a soft brush roll that can tackle smooth floors and soft carpets with equal power. It's effective against large debris and tiny, stuck-on particles, all thanks to the unique brush on front.
The head also includes LED lights that help you detect any and all pieces that you want gone from your flooring. This bagless model doesn't have batteries, so you'll need a power socket in the vicinity. However, you don't have to worry about range – the cord is 30 feet long!
Pros
Comes with a unique head with a versatile brush and LED lights
Doubles as a 4.5-pound handheld model
Cons
Requires a power outlet, but has a 30-feet long cord
3. Hoover Linx Signature Stick Cordless Vacuum Cleaner, Lightweight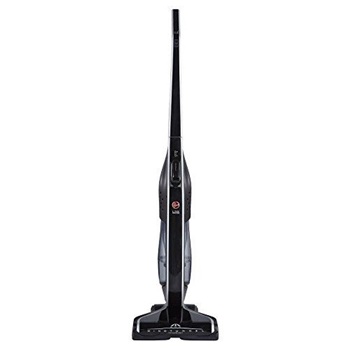 Hoover is a legendary vacuum cleaner brand. So much so, that the brand name has almost become synonymous with the device in some parts of the world. Of course, we had to feature one of their lightweight models.
This elegant Hoover LiNX model is run by interchangeable batteries. You only get one in the package, but you can get additional ones separately. You can monitor your battery power on the device itself, as it has a handy indicator. This lightweight model can be used by anyone as it only weighs 10 pounds, and its buttons are responsive and easy to push.
While you can't swap and change head accessories, the vacuum head works great on any type of flooring. In fact, this Hoover lightweight vacuum has an easily accessible button for switching between two modes – suction only for hardwood and laminate, and suction + brush roll for carpeting. The head also has a low profile design, which makes it easy to clean up under your furniture.
Pros
Has easily accessible buttons and many options for both carpeting and bare floor
Comes with an interchangeable battery and a power indicator
Cons
Doesn't come with swappable accessory heads
4. Bissell Zing Canister 2156A Vacuum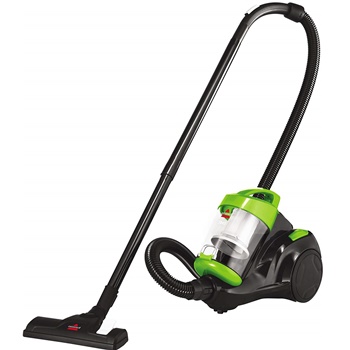 If you're looking for a lightweight canister vacuum cleaner, we recommend this popular model made by the famous manufacturer Bissell.
This small lightweight vacuum comes with a memorable name – Bissell Zing Canister, and a lovely black and green color palette. At less than 8 pounds, the model is very lightweight, but since it's a wheeled canister vacuum, you can simply pull it behind you, making it the perfect option for elders or anybody who doesn't want to battle the weight of the device while cleaning.
However, you should keep in mind that a canister model requires you to bend down (or stand on one foot) to pull out the power cord and to turn it on and off. The fact that it's corded won't limit your range since the cord is 15 feet long. This canister vacuum comes with an easy to clean dirt container, and a washable, reusable filter. This Bissell lightweight vacuum works on both carpeted and bare floors, all you need to do is flip a switch! Best of all – this model comes at a very reasonable price.
Pros
Lightweight wheeled canister model can be pulled behind you
Very affordable
Cons
Corded, but doesn't limit your range with a 15-foot cord
5. Shark Lightweight & Maneuverable Upright Canister Vacuum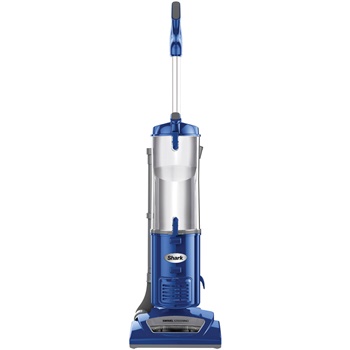 If you're looking for a simple, reliable upright vacuum cleaner for a fair price, look no further than this model by the reputable manufacturer Shark.
This Shark lightweight vacuum is there for you when you need it. It's a very versatile model that comes with a plethora of options, helping you keep your carpeted and bare floors, but also furniture and nooks and crannies completely dust and debris free. You can use this model on both carpets and bare floors since it comes with an option to disengage the rotation of the brush. While the main vacuum head isn't removable, Shark found another solution for this model. Instead of removing the head to attach a brush, it comes with a hose that you can attach to the main unit.
Essentially, this makes it very alike to canister vacuum cleaners. Along with the main head and the hose, it comes with a crevice tool and an upholstery attachment. This model is moderately lightweight, and it weighs 10.6 pounds in total. You can carry it, push it, or drag it behind you when you're using the hose, and not worry about range as it comes with a 25-feet long cord.
Pros
Doubles as a canister model with a detachable hose
Versatile – clean your carpets, bare floors, and upholstery
Cons
Corded model, comes with a cord that's 25 feet long
6. Dirt Devil Simpli-Stik Vacuum Cleaner, 3-in-1 Small, Lightweight, Bagless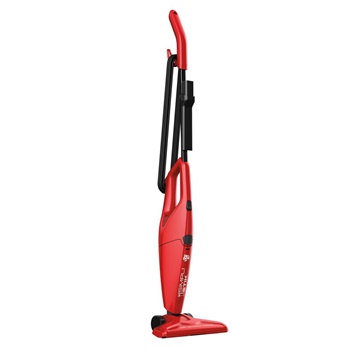 If you're looking for something that's truly light as a feather and comes for a feather-light price as well, Dirt Devil's Simpli Stik is the right way to go.
Coming for a very low price and in a small size, this vacuum cleaner may seem like a toy at first. But it definitely isn't – it's nearly as powerful as a full-sized upright vacuum cleaner. Weighing only 4 pounds, this model is light enough to be used by anyone. Apart from being affordable and very lightweight, this model is also very versatile.
In fact, it's a 3-in-1 model. You can use it as a regular upright vacuum cleaner for your floors and carpets, remove the low-rise head to clean up spider webs, or reach behind furniture with a crevice tool or detach it from the long handle to use it as a handheld device. It comes with a built-in, easy to clean dirt compartment and a washable, reusable filter inside. This little unit requires a power outlet to work, and you can reach as far as 16 feet with its long cord.
Pros
The 3-in-1 device transforms from stick to handheld with ease
Comes at an affordable price
Only weighs 4 pounds
Cons
The corded model comes with a 16-feet long cord
7. BLACK+DECKER POWERSERIES PRO Cordless Vacuum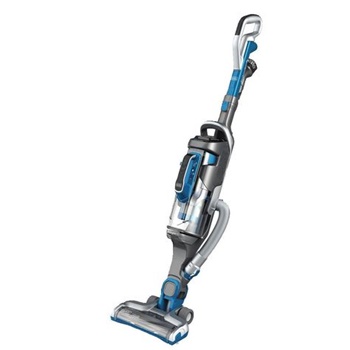 Black+Decker is a popular and reputable manufacturer of vacuum cleaners, and they created this model that we highly recommend if you're looking for a high-tech, battery-powered device.
This futuristic-looking upright vacuum cleaner is a great addition to any home. This lightweight model weighs only 8 pounds, and it also comes with a plethora of options for spotless cleaning of different areas and surfaces. As an upright unit, it's very easy to use, even though its buttons are located in the middle of the device. That design decision is there for a reason – you can take out the center part of the device – the canister, and use it as a standalone unit. That's possible because it comes with a hose, which can either be mounted inside the stick stand or be used separately with attachments.
With the device, apart from the main unit head, you also get a crevice tool and an upholstery brush. The dust container comes with technology for compressing dirt, making emptying less frequent. You can get this lightweight cordless vacuum in three versions – the basic 2-in-1, pet owner's edition, or one with a HEPA filter.
Pros
A versatile vacuum cleaner with a handheld option
Comes with intuitive controls and battery indicator
Cons
The control buttons are located in the middle, not on the handle
Types of Lightweight Vacuum Cleaners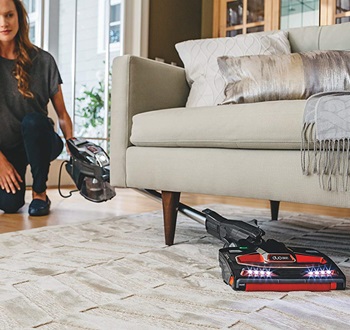 When you start researching for a new unit, you might get overwhelmed by the sheer amount of different types of vacuum cleaners that are available on the market. That's why we thought that a brief overview of the types and details about them can be handy to anybody who is looking into getting a new machine.
1. Upright Vacuum Cleaners
If you're from the US, chances are that you've used an upright vacuum cleaner at least once. The popularity of this type of vac is not an accident. In fact, lightweight upright vacuum cleaners generally come with great power to ease-of-use balance. They are designed to slide smoothly on carpets, but with the right accessory, you can clean any bare surface just as easy. Along with a lightweight and a great cleaning power, the upright vacuums usually come with reasonable prices, and many various models to choose from.
2. Stick Vacuum Cleaners
If you're searching for the lightest vacuum cleaners possible, look no further than a stick vac. This type of vacuum is similar to upright machines. But, upright cleaners collect dirt in a distinct box that's either on the top or the bottom of the cleaner and have an overall bulkier construction, which usually adds to the weight.
On the other hand, the majority of a stick vac's body is very slender, except for the head attachment and the dust box. The slim design is perfect if you have limited storage space in your closet, or if you're looking for the lightest vacuum cleaner possible. However, keep in mind that stick vacuum cleaners usually aren't as powerful as their full-sized counterparts, since the design doesn't allow a lot of space for powerful components.
3. Canister Vacuum Cleaners
Canister vacuums have a unique design that may be interesting to people who have an issue with lifting but have no problem with pulling. That's because canister vacs have the main body unit (canister) which has wheels and stays on the ground and a hose-like attachment with a vacuuming tube which you hold in your hand. With this machine, you only need to push the tube around your carpet or bare floor, and the canister rolls behind you as you pull it on its wheels. The canister type doesn't have to be heavy, as there are smaller units out there. However, people with back issues should avoid this type of vacuum cleaner because these usually require bending down to turn the machine on and off, and to clean out the canister or bag.
4. Handheld Vacuum Cleaners
If you're going for an extraordinarily lightweight unit, a handheld vacuum may be your answer. As the name suggests, a handheld machine is a miniature vacuum which is only about 15 inches long. This type of a small unit is a very handy tool to have around the house since you it offers great versatility. It allows you to clean any hard-to-reach nooks and crannies, even between the cushions of your car upholstery. Of course, the issue with handheld vacuums is that it's nearly impossible to clean your entire floor with one. Luckily, there are combination models, which let you swap between a stick vacuum and a handheld device by only changing the attachment.
5. Robot Vacuum Cleaners
What if you could always have a clean floor without ever having to clean up? It sounds like a dream come true, and it's actually possible! A robot vacuum cleaner gives you exactly that. The small battery-powered machine is programmed to freely roam around your home, sucking up any small piece of dirt it comes across. A robot vac can reach even the places that you wouldn't be able to clean by hand, for example, under the couch. These units are usually nearly silent, and fully automatic. In fact, with robot vac, you only have two occasional tasks: recharging the unit and helping it go down the stairs or flooring transition strips.
Lightweight Vacuum Cleaner for Elderly Buying Guide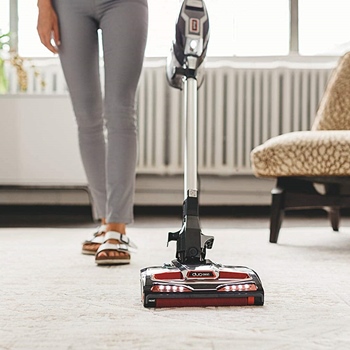 A vacuum cleaner is a cleaning tool that makes house maintenance so much easier. But in order to be truly useful, your vacuum cleaner must suit you and your needs. This is especially true if you're a senior or have mobility issues, so operating a regular-weight vac might not be an option for you. In this buying guide, we'll cover all of the most important factors that you should consider when choosing an ideal lightweight vacuum cleaner.
Consider your needs and requirements, and make sure to check whether the model you're eyeing fulfills them.
1. Bag or Bagless
One of the essential differences between models of vacuum cleaners is whether they store dirt in a bag or in a reusable plastic container. The two mechanisms are very different, and they completely change the maintenance routine for your vacuum cleaner.
1.1. Bagged
This type of vacuum cleaner requires regular bag changes. You can get a box of vacuum cleaner bags at almost any supermarket for as little as a dollar or two per piece. Still, even though that's a rather fair price, over time it can add up since you need a new bag for every couple of vacuuming sessions if you have a large home.
The most important benefit of bagged vacuum cleaners is that they prevent allergic reactions during maintenance. If you're sensitive to allergens like dust and pollen, or you have asthma, a bagged vacuum cleaner is a great choice. During maintenance, you need to replace the entire bag, which seals up as soon as you open the compartment, helping you avoid contact with the allergen which is trapped inside the bag.
1.2. Bagless
A bagless vacuum cleaner comes with a detachable plastic container for dust and dirt. As you vacuum your home, the container fills up. Once it's full, you can simply detach it, empty it up into your trash can, and place it back. This is an eco-friendly option since you don't need an entirely new bag every time you need to clean your home.
However, people who suffer from allergies, asthma, or some type of inhaled dust intolerance should avoid this type of vacuum cleaners, or have someone else empty the container for them. We definitely recommend to everyone to clean out the bagless vac container outside in fresh air, to mitigate the harmful effects and avoid getting dust back in your home.
In short, if you don't suffer from inhaled allergies, a bagless vac is more convenient.
2. Corded or Cordless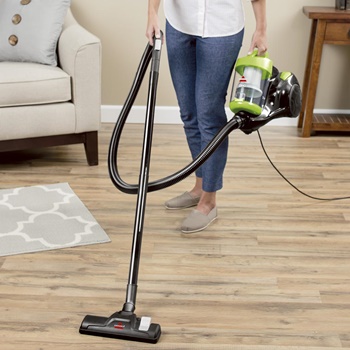 With the development of technology, more and more devices work on batteries. Vacuum cleaners aren't an exception, and they are made with very good, long-lasting batteries as well.
Cordless vacuum cleaners come with an obvious advantage – avoiding all the hassle that comes with a cord. You can finally forget about tripping over cords and having to change the power outlet each time you go to another room. Considering that having to change the power outlet usually requires you to bend down, cordless vacuum cleaners are great news for the elderly.
When getting a cordless vacuum cleaner, you should consider several factors including battery life per charge, and the time it takes the model to recharge. We recommend getting a model that has a battery life indicator, whether LED lights or screen, to help you avoid unexpected recharge breaks while cleaning your home.
The issue with batteries is that after a while, they get weaker with use. In a few years, you might notice that the battery of your vacuum requires more frequent recharging and gets fewer hours on each charge. Once that happens, you should start thinking of getting a new vacuum cleaner. So, in general, corded vacuums have a somewhat longer life span, given that you use a proper power source.
3. Ease of Movement
3.1. Maneuverability
The whole point of getting a lightweight vacuum cleaner is to make the entire ordeal easier for you. Of course, the lighter the machine, the easier it will be for you to carry it. This will make getting the unit in and out of storage a breeze, and using it much easier. You will feel the reduction in weight the most during vacuuming, especially when you need to go from one room to another.
However, a lighter weight alone won't make the vacuum cleaner much easier to use. You need advanced maneuverability, which not only makes the vacuum easier to lift but makes lifting unnecessary. A swivel head is one of the features that can reduce the amount you need to lift your vacuum at all, making the job much easier.
3.2. Handheld option
Finally, once your floors and carpets are spick and span, you may want to tackle the dust on your furniture upholstery, or in nooks and crannies and around corners of rooms. Whether you need to wash a stain on your furniture with a portable cleaner or to vacuum the loose hairs and crumbs, the single most effective way to do this is with a handheld device. Luckily, you don't need to invest in a separate machine for that.
Some upright and stick vacuum cleaners come with an option to remove the big parts and use the machine as a handheld vac. These convertible models are an ideal 2-in-1 solution for your entire home – and they're very easy to use.
4. Power Button Position
You should definitely check out where the power button is on your device before making your pick. The power button should be easily accessible while you vacuum. For upright and stick models, that means that the power switch is located somewhere at the top of the unit, close to where you're holding it. On canister models, that is not possible, and you need to bend down to reach the on-off button of the vacuum cleaner. Make sure that turning your device on and off won't be a painful or dangerous job for you.
5. Suction Power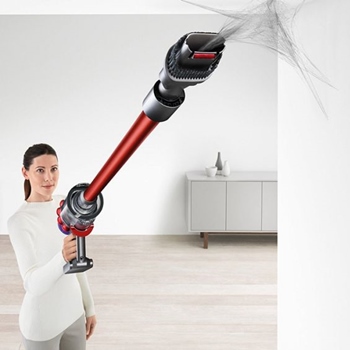 Even though your vacuum cleaner is lightweight, it doesn't have to be weak. Suction power is not related to weight, so you can still find very powerful models with great suction.
Several factors influence the suction power of your vacuum cleaner, but sadly, there's no easy or established way to measure it. Some manufacturers measure airflow to describe suction power. Measured in CFM (cubic feet per minute), the measurement describes how much air can go through your vacuum cleaner per minute.
Other brands choose a different measurement – airwatts, which relates the airflow through the device to the electric power consumption. Both of these measurements can be descriptive and useful for comparison, but different manufacturers choose different units.
6. HEPA Filter
A filter is an essential part of every vacuum cleaner. As you clean your floors, the machine sucks up, and air flows through your vac and back into the room. Inside the vacuum, a filter is needed to catch the small particles of dust that are too small to stay inside the vacuum bag or dirt container. The better the filter, the smaller the particles that stay trapped in it.
If you don't have any inhaled allergies, COPD, asthma, or dust intolerances, you can feel free to get a vac with a regular filter. But people with respiratory conditions should make sure to get a good filter that traps a high amount of small particles like pollen, dander, and dust mites. You should look for those labeled HEPA.
Standing for High-Efficiency Particulate Air, HEPA is a certification for mechanical air filters. These super-fine filters are rated to trap more than 99.97% of particles that are larger than 0.3 microns. Considering that most common allergens are larger than that, a HEPA filter in your vacuum cleaner will greatly reduce your exposure to these allergens in your home.
Remember that you should replace your vacuum cleaner filter regularly. Check the manufacturer's recommendations to see how often your filter needs replacing. In general, a HEPA filter needs changing every 2 or 3 years of regular residential use.
7. Attachments and Accessories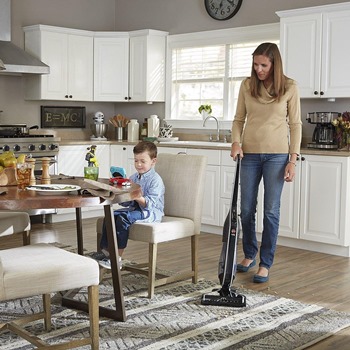 A regular vacuum cleaner head is designed to suck up dirt, crumbs, and hairs from carpets. That's why you should make sure that your vacuum cleaner comes with a couple of attachments that will make cleaning other surfaces possible.
First off, you should make sure that you either get a separate head for bare floors or that the basic head of your vac is designed to clean both carpets and bare floors. Generally, that would mean the ability to disengage the brush rotation, which is very useful for carpets, but not that great for smooth surfaces.
To keep your sofas, armchairs, ottomans, and even car upholstery free of crumbs and dust, you will need an upholstery attachment.
A crevice tool will be a great help when you need to reach all the nooks and crannies of your home, especially around and under furniture.
If you like to use your vacuum cleaner to remove dust from and around objects like lamps and picture frames, you should get a dust brush – a circular attachment with bristles.
FAQ About Lightweight Vacuum Cleaners
1. Should I get a canister or an upright vacuum cleaner?
This is a matter of personal preference, but you should also consider the type of flooring you have in your home.
Upright vacuum cleaners have long been a staple in every home in the US. And there is a very logical reason behind that: because they are designed to clean carpets perfectly. If you have a fully carpeted home, we'd strongly recommend going for an upright model. If you have a combination of bare floors and carpets, look for an upright model that can disengage brush rotation, or change the head attachment to one that's more suitable for bare floors.
In parts of the world where local cultures prefer wooden or other bare flooring, canister vacuums are more popular. Canister vacuums are quite easy to use, and they come with an advantage that you can pull them behind you, only having to lift them to bring them over floor transition strips or to bring them in and out of storage. This makes them easy to use for seniors, but this also comes with a caveat when used on carpeted areas. As you pull the wheeled device behind you, you may mess up your carpeting.
2. I suffer from an allergy or respiratory condition. What should I watch out for when getting a lightweight vacuum cleaner?
There are two important factors that you should keep in mind if you suffer from a respiratory condition, asthma, or allergies. They are how you empty the vacuum cleaner, and how good air filtration is.
The best choice for dust sensitive people is to get a vacuum cleaner with a bag. Vacuum cleaner bags are easy to replace, and many of them seal shut as soon as you open the lid. Just make sure that you get high-quality bags that can stop allergens from escaping it. Old-fashioned paper bags are not recommended.
If you get a bagless vacuum cleaner, you need to open the plastic dirt container and empty it out directly into your trash bin, which puts you in close contact with the allergens. You can use a respiratory mask for this is you can't avoid a bagless model.
The other factor you should consider is the filter in your vacuum cleaner. As air flows through the vacuum cleaner, the filter traps particles of dust, dander, and pollen inside of it, letting only filtered air come out of your vacuum. This way, you're not reintroducing dust into the air of your home. If you suffer from heavy allergies, look for a filter labeled with HEPA – a certification that ensures 99.97% of the particles are trapped inside the filter. Just make sure that you replace the filter regularly, to make sure that it works as intended!
3. How often should I replace the bag in my lightweight vacuum cleaner?
The exact time you can go without changing your vacuum cleaner bag depends on the bag capacity, how often you vacuum, the area you need to clean, whether or not you have pets, and your general habits.
If you vacuum about once or twice a week, you can expect a single bag to last somewhere between 3 and 10 uses. That translates to changing a bag anywhere from twice a month, to once every couple of months. That leaves you with an average usage of one box of bags a year.
Most bagged vacuum cleaners come with an indicator that lets you know when it's the time for a change. Make sure to check this indicator at least once a month. If your model doesn't have a clear indication for the bag, you should pay attention to the performance of your vacuum cleaner. If it takes you a lot more time to clean an area than it usually would, or the sucking power seems less efficient, it's probably the time for a change.
4. When do I need to replace the filter of my lightweight vacuum cleaner?
A filter requires far less frequent replacing compared to a bag. However, the exact time period after which you need to replace a filter depends on similar factors, including how often you vacuum, whether you have pets, and how big your vacuuming area is. Here are some general guidelines to let you know that it's time for a change:
In general, a vac filter should be replaced every two or three years in residential use
It's time for a replacement if you can feel a musty odor while vacuuming (unless you own a washable filter)
If you notice that the filter or the housing of the filter is damaged, you should replace it
I addition to the filter itself, your vacuum cleaner may have a sort of a pre-filter, which is there to catch large particles and let only the smallest ones reach the filter itself. If your model has a pre-filter, you should check if it's washable. You should replace the pre-filter together with the filter, and make sure to remove the large particles from it regularly.
5. What is the right way to clean the washable filter of my lightweight vacuum cleaner?
If your vacuum cleaner comes with a washable filter, you should make sure to wash it after a few vacuuming sessions, to keep the air in your home clean and properly filtered.
Once you take out the filter, you should first remove any large particles you see. You can take a large brush to dust it. Then, put it under lukewarm running water, and rinse it until the water coming out is clear. Let your filter air dry. This can last anywhere between 12 and 48 hours, so we recommend washing your filter after you're done vacuuming. Make sure that the filter is completely dry before you put it back into its housing in the vacuum cleaner.
Wrap Up
As we age, tasks that seem simple when young can become increasingly painstaking. Luckily, today's technology is developing all the time, giving us ingenious new solutions that can make our lives much easier. A part of that is making the common house appliances and cleaning tools much easier to operate and lighter to lift and maneuver. We're sure any senior would appreciate the best lightweight vacuum cleaner for elderly, since it can make the common domestic task so much easier for them. No more back pain and no more fighting with the machine just to get the job done. And don't worry – lightweight doesn't mean weak!
We hope you found the right model for you in our lightweight vacuum cleaner reviews. If you have any questions or your own opinion or experience to share, don't hesitate to leave a comment!
If you need a bigger power for your needs, don't forget to check our commercial vacuum cleaner reviews.