No matter how regularly you clean the house, the chances are that you pay the least attention to upholstery and furniture. Don't worry, that is a common thing everyone is doing because we take furniture for granted and clean it only when it is necessary. However, if we want to talk about hygiene, maybe it is time to consider some options. We welcome you to our guide on how to get the best upholstery steam cleaner for your home.
The choices are plenty, and the manufacturers continuously add to the number of features an upholstery steam cleaner can have on board. And, to be honest, not a lot of people know that you can have a home appliance that helps you keep the furniture clean, often than once a year at least.
So, without further ado, let's jump into the topic and see what to expect from upholstery steam cleaners.
PRODUCT
DETAILS

Hoover Spotless Portable Carpet & Upholstery Spot Cleaner, FH11300PC

Price:

$$

Customer Rating:

4.0

Weight:

9 pounds

Size:

9.7 x 13.9 x 15 inches

Warranty:

2 years

View On Amazon

Steamfast SF-375 Deluxe Canister Steam Cleaner

Price:

$$$

Customer Rating:

3.6

Weight:

10.7 pounds

Size:

19 x 12.5 x 9.5 inches

Warranty:

2 years

View On Amazon

McCulloch MC1385 Deluxe Canister Steam System

Price:

$$$

Customer Rating:

3.8

Weight:

13 pounds

Size:

13.1 x 13.3 x 19.1 inches

Warranty:

2 years

View On Amazon

Wagner Spraytech Wagner 0282014 915 On-demand Steam Cleaner

Price:

$$

Customer Rating:

4.0

Weight:

15.9 pounds

Size:

19.7 x 15 x 13 inches

Warranty:

1 year

View On Amazon

Conair Ultimate Garment Steamer, White

Price:

$

Customer Rating:

4.1

Weight:

10.4 pounds

Size:

14.2 x 17.5 x 17 inches

Warranty:

1 year

View On Amazon
Best Upholstery Steam Cleaner Reviews
1. Hoover Spotless Portable Carpet & Upholstery Spot Cleaner, FH11300PC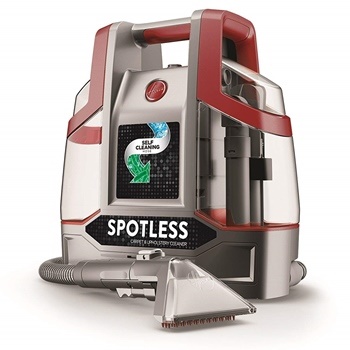 Hoover is a renown manufacturer when it comes to cleaning upholsteries, carpets, and floors in general. They designed this upholstery steam cleaner with portability and versatility in mind. The unit looks somewhat bulky, but in truth, it weighs only 9 pounds, so moving around won't be much of a problem. The design is stylish and modern, with recognizable red and gray Hoover colors.
Apart from the regular steam application for cleaning purposes, this model offers recovery suction tank as well. The suction feature removes the dirty water and dirt as you clean so that no other mopping will be necessary. The pressure hose is 5 ft long, and at the end, it has the antimicrobial universal cleaning tool that does the steaming and the suction action.
Pros
A sturdy machine from a household name like Hoover.
This upholstery cleaner has the suction module as well, which helps with scooping dirt and drying the steamed area.
Dual tank enables you to separate clean from dirty water.
Cons
The upholstery steam cleaner is somewhat bulky, but it has a heavy-duty handle on top.
The device works better with a cleaning solution from Hoover, which can be an issue with certain sensitive upholsteries.
2. Steamfast SF-375 Deluxe Canister Steam Cleaner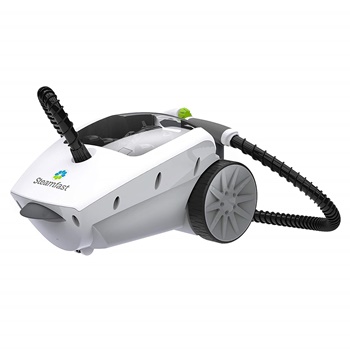 This Steamfast is known as one of the most versatile models on the market when it comes to steam cleaning. Its look resembles a standard vacuum cleaner, but there is so much more to it. The overall design is somewhat minimalist with gray and white, with added green details. But with great performances comes more weight and bulkier body. This model weighs a total of 10.7 pounds.
Inside the machine, there is a 48-ounces steam boiler which can exert enough steam to keep you cleaning for as long as 90 minutes. But what makes this upholstery steam cleaner truly versatile are its accessories, all 18 of them. You can approach steam cleaning, upholstery steam cleaning, carpet steaming, and even clothes steaming. The pack contains two nylon utility brushes, brass utility brush, round brush, jet nozzle, angled nozzle, two round scrub pads, scraper, squeegee, two extension wands, large mop head, bristle brush, microfiber pad, scrubbing microfiber pad, a filling cup, and a storage bag.
Pros
An extremely multifunctional steam cleaner, which comes with 18 accessory attachments.
The large water tank provides up to 90 minutes of uninterrupted steam cleaning
The control panel has a variable steam control.
Cons
Despite a large number of extensions, it can take you a while to learn how to utilize the full power of this cleaner.
This model is a bit on the pricier side.
3. McCulloch MC1385 Deluxe Canister Steam System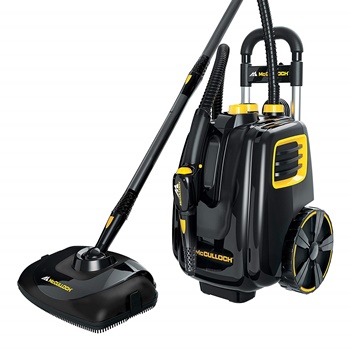 When McCulloh made this upholstery steam cleaner, they thought of every type of surface and situation. There isn't a perfect device out there, but this manufacturer tried to get closer to that goal by adding more and more options to the essential equipment. The overall design is upright, and the finish is in black and yellow, making them look elegant and slick. Keep in mind that this upholstery steam cleaner is a bit heavier than average, weighing a total of 13 pounds.
The sole versatility comes from 23 accessories offer with the unit and from its different steam strength modes. In the package you can expect to find: large mop head, scrapper, squeegee, triangle brush, broad brush, two extension wands, jet nozzle, angled nozzle, three round scrub pads, two nylon utility brushes, two brass utility brushes, brittle brush, microfiber and scrubbing mop pods, and a cute bag to pack everything up.
Pros
Separate steam modes for different kinds of upholstery.
A whole bunch of accessories to try on and adapt the steamer to the job at hand.
The large water tank that enables 2 hours of uninterrupted upholstery cleaning.
Cons
This upholstery steam cleaner is on the heavier side compared to the similar models in its class.
It needs some extra storage space to store the accessories, though you get a large free bag.
4. Wagner Spraytech Wagner 0282014 915 On-demand Steam Cleaner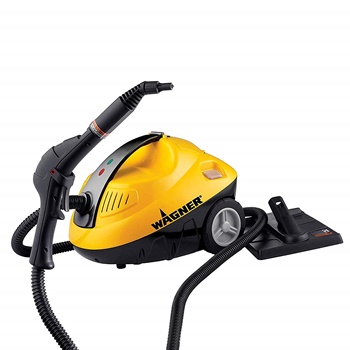 The SprayTech from Wagner is a heavy hitter. It has a large black and yellow housing, and weighs more than the majority of other upholstery steam cleaners in its class, with a total of 16 pounds. But all that extra weight isn't there for nothing. This machine is sturdy and reliable, giving off a trustworthy feel while you use it.
All in all, this is a combo cleaner. The large cylinder hub inside the body holds up to 48 ounces of water, which on full power can deliver about 45 minutes of operating time. With the model, you will get two extension wands, steam mop extension, squeegee extension, microfiber steam mop pad, a sturdy hose, and a bag to pack it all.
Pros
This upholstery is built to last, and it can withstand long working hours.
Even though it doesn't come with a lot of accessories, the set it has worked perfectly.
The strong suit of this model is wallpaper removal, making it desirable for during house renovations.
Cons
The upholstery steam cleaner is quite hefty, weighing over 15 pounds.
The upholstery multitool is a bit bigger than average, and it might lose some pressure if not help correctly.
5. Conair Ultimate Garment Steamer, White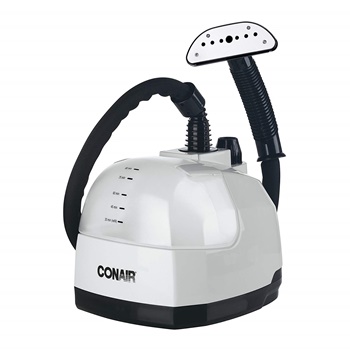 Here we have a steam multitool from Conair. Built inside a small and simple frame with black and white design, this upholstery steam cleaner will prove as a valuable ally with regular work, yes, but also with clothes and garments. The total weight of this unit is slightly above 10 pounds.
The upholstery cleaning tool that comes with the device is small and discrete, meaning that it is not intended for larger tasks. But, the strong suit of this machine is steaming clothes and drapes. Inside the package, there is a provided tall 360 stand for hanging and steaming pants. When they built this multipurpose upholstery steam cleaner, they had portability in mind. It requires very little space for storage.
Pros
Ergonomically designed to save space. It has a telescopic foldable stand, and the electric cord retracts inside.
Great for small upholstery works, and steaming clothes.
Provided 360-degree rotating hanger for larger clothes pieces and pants.
Cons
This particular upholstery steam cleaner is not very powerful, so do not expect to be doing heavy-duty cleaning with it.
The clothes stand takes some time to master.
What Is an Upholstery Steam Cleaner?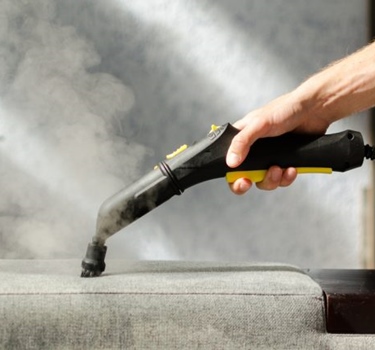 At its core, an upholstery steam cleaner is a device that can help you clean your furniture, stairs, drapes and other textile surfaces around the house. It utilizes the power of evaporated water to penetrate under the first layer of upholstery surface, and get all that nasty stuff out.
In most cases, upholstery steamers use only water as a resource, but some models have soap modes available, and some even have the suction to remove the dirt immediately. As with any steam operating machine, the number of things you can clean is up to you. We are aware that heated steam help in destroying harmful microorganisms like bacteria and mold. Additionally, some experts claim that clean water steam is the perfect weapon against bed bugs.
The unique thing about upholstery steam cleaner is the way they utilize the hot steam. Every upholstery steamer has a special tool made to press and clean the surface with care. This upholstery multitool also helps with liquifying solidified greasy stains and scooping them up right away, disinfecting them in the process.
Besides the standard upholstery cleaning features, many models have additional accessories that can help clean other stuff too. But we will touch upon that a bit later.
The important thing to remember is that these devices enable you to clean your furniture and other upholstery without taking them out of the house. Imagine clearing the carpet covered stairs without the hassle of reinstalling them one by one, over and over again.
Who Should Have an Upholstery Steam Cleaner?
Well, there are no limitations to how clean you want your furniture to be. Any household could benefit from owning a trustworthy upholstery steam cleaner, with some more than others. For example, if you own indoor pets that shed and generally leave a lot of mess and unwanted surprises, an upholstery steam cleaner could be a lifesaver. Especially combined with some deodorant cleaning agent.
1. Freedom
The most significant advantage of having an upholstery steam cleaner is independence, and freedom of choice. When the furniture gets ugly dirty, people usually decide to call expensive professionals, and worse yet, they take away the furniture to clean it at their store. Or they even bring big machines into your house, and everyone gets nervous pretty fast.
2. Ease of Use
If you decide to get your own upholstery cleaner, maintenance will come as easy as making the bed every morning. As soon as dirt lands on the couch, get your upholstery steam cleaner, and treat the area immediately. By developing this kind of habit, you will always have nicely-looking furniture, which, let's be real, saves a lot of money in the long run.
3. Health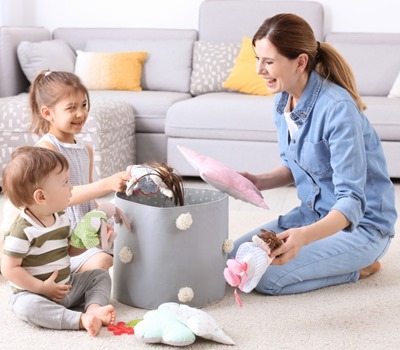 Also, if you have young kids, you might want to consider getting an upholstery steam cleaner, for two major reasons:
Keeping things clean, on-demand – Kids tend to run around touching everything and messing everything up. This situation is not an issue, but the real problem comes when it's time to clean up. Being that you do not want the kids to play with cleaning gear, the task of tidying the room up falls on you. An upholstery steam cleaner will clean these new stains, and it will do so without the use of chemicals. This feature is great if you want to keep your house, and your kids, away from the from harmful cleaning agents.
Anti-allergenic cleaning – Equally as important as regular cleaning, upholstery steaming will kill bed bugs and destroy most of the allergy sources that tend to nest up in couches, curtains, and drapes. Not only will you make your house a safer and healthier environment, but you will also keep everything fresh and clean with a few swipes of an upholstery multitool.
But, to be fair, you do not need kids or pets to keep a clean environment. If used regularly, upholstery steam cleaners can change the way your house looks, feels and smells. The change will not come overnight, but if you remain persistent, and steam clean every now and then, you will be surprised by how different everything inside your house will be.
4. Comfort
And ultimately, one of the best times to get a trustworthy upholstery steam cleaner is summer. No one likes sweat soaked couches and sofas, so no one should have to put up with it. Once you start steam cleaning your upholstery, you will be shocked by how much sweat, dead skin, and sunscreen there is in there, trapped between the fabric layers.
Upholstery vs. Traditional Steam Cleaner
The main difference between an upholstery steam cleaner and a standard steam cleaner is in the way the steam is distributed. Traditional and handheld steam cleaners tend to "bombard" the surface with hot steam until the stains give up. On the other hand, upholstery steamers have special tools that do scrubbing, steaming, and scraping at the same time.
Traditional steam cleaners also tend to have more control over the steam output due to the sensitivity of floors and wooden surfaces in general. Upholstery is usually made to withstand a lot more pressure and moisture, but there's a catch. Before even going into steam cleaning a particular piece of furniture or upholstery, check the labels and see if it is safe to for treating with high temperature and with moisture. Some materials are just not suitable, and you will have to scrub with a clot and some cold water.
Another difference between regular and upholstery steam cleaners is the use of cleaning agents and chemicals. While these machines are somewhat similar, upholstery steam cleaners tend to use more cleaning agents, if the need occurs. Steam cleaning with water only is exceptional, yes, but when the time comes to get that nasty dog urine smell out of the sofa, you want all the help you can get.
Also, regarding the chemical ingredients these machines use, upholstery steam cleaners are generally less sensitive to minerals from hard water. Of course, you should double check if the upholstery cleaner you want uses only distilled water. The resilience comes from the tasks upholstery steam cleaners deal with, which are sometimes pretty nasty. By mare comparison, upholstery steamers deal with much more direct dirt and grease than traditional steam cleaners, so the manufacturers made the upholstery multitools much more dirt-resistant and stronger.
All in all, the differences can seem subtle at first glance, but the fact is that upholstery steam cleaners are specialized, while traditional steam cleaners gravitate towards versatility. If you are not sure which path to choose, take a look at upholstery steamer models that offer other extensions and accessories that can transform it into a traditional unit.
How to Steam Clean Upholstery?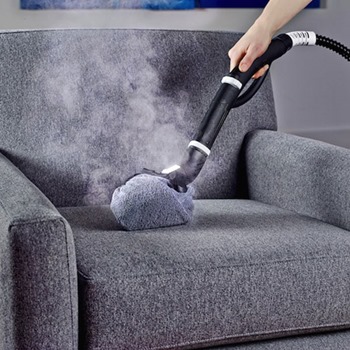 Let's just get this out of the way: upholstery steam cleaners are not miracle makers. Do not expect to clean that nasty crust out of your stairway right away. Cleaning with a steamer, especially the upholstery type, is a slow process, at least at first.
So, for simplicities sake, we are going to divide the upholstery steam cleaning process into several easy to follow steps, from preparation to completion.
1. First Things First – Vacuum the upholstery!
That's correct, before bringing the old glory to your sofa, you will have to get all the cushions out, all the pillow down, and give it a good old vacuuming. Crumbs and bigger objects like coins (imagine how much money there is in there) will only be an obstruction to the next steps of steam cleaning, which includes the upholstery steam cleaning as well.
Use the full power of your vacuum cleaner (including those extensions for hard to reach areas) and get as many crumbs, hair and other junk out. Unfortunately, a lot of people ignore this step and end up with a clogged upholstery steam cleaner, thinking it is broken or that it malfunctioned. Vacuuming your furniture is always a must, even if you are not planning to make a steam cleaning session.
2. Tackle the Stains with Elbow Grease
Hardcore stains that have been on the sofa since forever will not just vanish if you steam them. Old pet stains, coffee stains, alcohol and paint stains, those are the hardest to get rid of.
To begin this process, first, you should make sure that you know where all the stains are and at least vaguely now their origin. Take the upholstery steam cleaner and get the steam over the stains with the upholstery tool (or any smaller tool from the set). This first wave of steam will soften the fabric and prepare it for further process. If you want, you can apply some mild cleaning agent directly onto the freshly steamed stain.
*we recommend to use white vinegar or diluted rubbing alcohol for those extra-stubborn stains. Bleaches can permanently destroy or damage the upholstery. If you want to make sure that there is no pet urine smell left after the whole cleaning process, we advise you to apply some lemon juice.
 3. Almost There – Get the Material Prepared
This is where the fun begins. After you have vacuumed every corner and tackled the hardcore stains, it is time to prepare the upholstery material for steaming. Soil emulsifiers or an upholstery shampoo combination will do the trick.
Spray every piece of upholstery that you want to be steamed with the soil emulsifier to prepare the dirt inside the material for removal. And apply the upholstery shampoo to help scoop everything that comes out. Leave it to soak like that for a few minutes and brush away.
4. Prepare the Upholstery Steam Cleaner
No matter if you used a bit of steam in the second step or not, it is time to assemble the upholstery steam cleaner and pour water into the tank. If the model you have has a special container for soap or other cleaning/freshening agents, now is the time to mix them in.
Some models require time to get to the optimal temperature to work, and it would be best to wait a minute longer, just to be sure.
5. Start Cleaning the Upholstery
So far, you have vacuumed the upholstery, treated it against stains, and prepared everything for the finale. Upholstery steam cleaners can work uninterruptedly for 30 to 120 minutes, depending on the model, so that is about the time you will get to finish the job.
Take the upholstery multitool and press it against the prepared material. Pro tip: always start with detachable parts of the upholstery, like cushions and smaller pillows. Go over the fabric in a back and forth motion. You should start seeing the difference by now. Go over the rest of the upholstery, and use smaller tools (if there are any in the set) to reach lower corners and hard to reach places. The only thing to pay attention is avoiding common steam cleaning mistakes.
6. The Aftermath
If you followed the steps carefully, you should have a fresh, slightly damp furniture in your room. Turn off the upholstery steam cleaner and put it away as the manufacturer declared (empty the tanks, and remove any excess dirt from the tool).
Leave the upholstery to dry out on its own for an hour or two, or, if you're in a hurry, use a hot air dryer to speed the process up.
Upholstery Steam Cleaner Buying Guide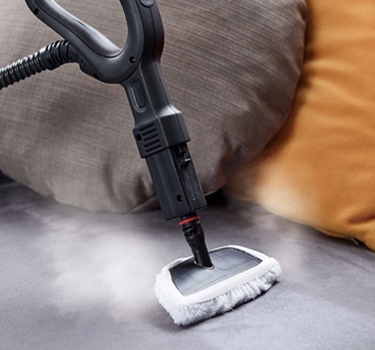 Now that we have seen and learned how to operate an upholstery, and we went through all the benefits of upholstery steam cleaning, it is time to take a look at what kind of features there are. We will also go over what type of gear you should expect to get with the main device.
1. The Upholstery Tool
There has been a debate about the best shape of the upholstery steaming multitool. There are many shapes and sizes, with three distinct categories that stand out. We think that there is no ideal tool shape and that you should always pick according to the type of cleaning you will be doing the most.
Rectangular shape – This is the most popular upholstery tool shape simply because it can go over larger surfaces faster. It can sweep the cushions with just a few moves thanks to its size and shape. The downside is that rectangular upholstery tools cannot go into the hard to reach places easily.
Triangular shape – The very first upholstery tools were triangular, and that is the reason why commercial upholstery steam cleaners often have them. These tools are great for steam cleaning sofas and upholstered stairs. You will be able to reach just enough because they're neither big or small.
Circular rotary upholstery tool – This type stands out a bit because it has an extra cleaning mechanic up its sleeve. Not every model supports a rotary tool, but if you have the chance to get one, we strongly encourage you to do so. These are the smallest of the three, but they are the best in tackling harsher stains.
2. The Size of The Water Tank
An upholstery steam cleaner tank is, in its core, a boiler. This is where the process of vaporization begins. The size if this tank roughly translates to the time you will have for a single cleaning session. Getting a model with a bigger tank should be the goal. However, you must be prepared to put some extra muscle into carrying the upholstery steam cleaner around when it's full.
Besides standard water cleaning, some models have additional tanks, that furtherly increase the model's functionality.
Dirty water tank – upholstery steam machines that have the suction feature have this sort of tank on board. It gets full while you clean, and it retains all the excess filth and dirt from before. If the model you want has this feature, remember that you will have to empty the dirty water before the tank gets full.
Soap/cleaning agent tank – more advanced models have the option to add some cleaning agent to the whole process. These detergent tanks are usually significantly smaller and do not add to the overall weight of the unit.
3. Additional Accessories and Extension
You should never judge an upholstery steam cleaner solely based on the number of free things you get. But, if you can see what kind of extensions you are buying, you can potentially double the value of the model you are eyeing. So, what kind of accessories should you expect?
Pressure steam nozzles – It may seem just like a piece of plastic on a hose, but there is so much more than that. The primary purpose of steam nozzles is to have the ability to focus the steam onto a small surface area, thus providing enough pressure to break the hardest of stains. Just be careful about the material you are working on because these nozzles can be quite powerful.
Steam mop adapters – Some upholstery steam cleaners are designed for transformations. The most common form they can take is the steam mop, designed to clean hardwood floors and an occasional glass surface. Caution is also advised because some wood cannot withstand high-temperature pressurized steam.
Squeegee – The best friend of a squeaky-clean window or mirror. The squeegee is similar to a car window wiper, only this time with hot steam. It is a great addition if you have a lot of windows or mirrors in the house because steam tends to degrease glass surfaces instantly.
Scrappers and hard brushes – These are specifically designed for people who like to sterilize their food equipment, like grills and ovens. The brushes are harsh and should only come in contact with ultra-resilient materials like steel and metal.
FAQ About Upholstery Steam Cleaners
1. Is it safe to clean floors surfaces (hardwood, tiles) with an upholstery steam cleaner?
While it does seem logical, Carpet Cleaner Lab team strongly advise against this practice. As you saw in the "how to section," the upholstery material goes through a preparation process before we steam it. Floors are generally less resilient against high-pressure hot steam.
There are upholstery steam cleaner models out there that have a particular adjustment mop that makes them suitable for hardwood floor steam cleaning. If that is the case, we say go for it. Just make sure to study the manual and test the steam cleaner on a smaller floor surface first.
2. Should I use distilled water with my upholstery steam cleaner?
Even though you do not have to, per se, it would be an excellent habit to develop. You never know how hard is the water you have at home, and we all do know what happens when a lot of mineral sediments get stuck inside a machine. To avoid damage, use distilled water. And if you happen to pour tap water in once or twice, it won't be that big of a deal. Moderation is key.
3. Are upholstery steam cleaners dangerous?
The short answer is yes. Hot pressurized steam can burn your skin, and it should not be toyed with. However, modern machines often have some safety system installed to prevent injury.
People often think that if they leave the upholstery steam cleaner on for a long time that something terrible will happen. The chances are that every upholstery steamer out there has a safety shutdown feature, so do not worry excessively. Safely steaming your furniture is not a hard task anymore.
Upholstery Steam Machine Comparison Chart
Product
Overall Rating
Price
Size (inches)
Weight
(pounds)
Warranty
(years)
Hoover Spotless Portable Carpet & Upholstery Spot Cleaner, FH11300PC
4
$$
9.7 x 13.9 x 15
9
2
Steamfast SF-375 Deluxe Canister Steam Cleaner
3.6
$$$
19 x 12.5 x 9.5
10.7
2
McCulloch MC1385 Deluxe Canister Steam System
3.8
$$$
13.1 x 13.3 x 19.1
13
2
Wagner Spraytech Wagner 0282014 915 On-demand Steam Cleaner
4
$$
19.7 x 15 x 13
15.9
1
Conair Ultimate Garment Steamer, White
4.1
$
14.2 x 17.5 x 17
10.4
1
Wrap Up
There we go, every essential bit of info you should know about upholstery steam cleaning. There is a decision-making process in front of you, and we hope that we contributed to making things easier. If you want to take the hygiene of your household to the next level, it is vital to be armed with knowledge, and with the best upholstery steam cleaner that matches your needs.
Take a moment to consider everything. Go through the guide again if needed, and get the much-necessary knowledge before you decide. And, if you want to add or ask us something, feel free to do so in the comment section below, and we will provide an answer as soon as possible.
Now, let's get cleaning!