As an idea, upholstery steam cleaner appliances are a great system to refresh the looks of your furniture and the stairs at home. On paper, utilizing steam to remove grease, dirt, and food stains from your couch sounds excellent. However, while we were making our knowledge library on carpet cleaning, we have noticed a strange pattern of underperformance from these steamers.
So, to save you some time searching, and to shed some light on this somewhat complex topic, in the following guide, we are going to address the common problems with upholstery steam cleaners and ultimately suggest better, and more reliable solutions. After all, knowing when to stop and re-evaluate the appliances you need is a crucial step to a cleaner and fresher home.
Before we dive into details, here are the portable/spot carpet cleaners we recommend for upholstery cleaning.
See The Quick Comparison Chart
What Does Upholstery Steam Cleaning Actually Mean?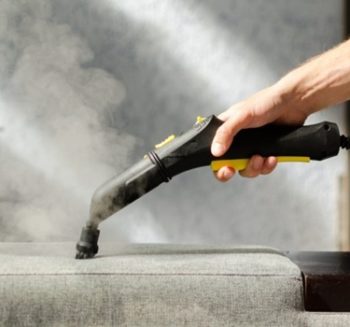 Even though it was supposed to sound intuitive, steam cleaning is a more complicated process than regular carpet cleaning. Upholstery steam cleaners were supposed to tackle stains that can be found on furniture, carpeted stairs and some smaller surfaces covered in textiles, like pillows and pet beds.
Steam cleaning makes the whole process more active since microbes and microfungi cannot survive high-pressurized water vapor. So, by utilizing such strong systems, upholstery steam cleaners were made with the idea to conveniently clean smaller surfaces, without the hassle of purchasing big machines.
With a smaller appliance such as an upholstery cleaner, the design was meant to help you get better and easier reach by utilizing smaller built-in steamer parts, thus saving space and time. While portability is a much-wanted feature of every modern appliance, manufacturers sometimes sacrifice too much for the sake of it.
All in all, the idea surrounding this appliance is smart, but we at carpetcleanerlab.com found the execution a bit lacking. Upholstery steam cleaners just did not live up to the stories, and ultimately proved that there are far better alternatives. Now, in order to not sound confusing, we are not saying that every upholstery steam cleaner out there is bad by design, it's just that there are far more useful (and versatile) machines that will fulfill the same requirements, and many more.
If we keep upholstery machines out, there are still good options for the best steam cleaners and the best handheld steam cleaners.
Is a Carpet Cleaner a Steam Cleaner?
All carpet manufacturers recommend that you should deep clean your carpets periodically using a carpet cleaner, otherwise known as a shampooer, or a steamer. Both options will make your carpets look brighter, but shampooers may sometimes leave dirt behind.
Carpet cleaners use hot water that is mixed with shampoo in order to create a formula that is applied on the carpet. After it dries, the machine removes this dirty solution through suction. Shampooers usually spray dry foam or a formula made from shampoo and water, and a rotary brush works this solution into the carpet's fibers.
A steam cleaner, on the other hand, uses warm to hot water in order to loosen up the dirt embedded into your carpet. Then, it sucks up all the dirt with a very powerful vacuum.
As you can see, carpet cleaners and steam cleaners are not one and the same, even if they are both used to perform the same task.
Best Portable Carpet And Upholstery Cleaners Comparison Chart
PRODUCT
DETAILS

Bissell 3624 Spot Clean

Price:

$$$

Customer Rating:

4.2

Weight:

13 pounds

Size:

10 x 14 x 14 inches

Warranty:

2 years

View On Amazon

Hoover FH11300PC Spot Cleaner

Price:

$

Customer Rating:

4.0

Weight:

9 pounds

Size:

9.7 x 13.9 x 15 inches

Warranty:

2 years

View On Amazon

Bissell 1400B Portable Carpet Cleaner

Price:

$$

Customer Rating:

4.2

Weight:

12 pounds

Size:

8.2 x 17.2 x 12.5 inches

Warranty:

1 year

View On Amazon

Rug Doctor Portable Spot Cleaner

Price:

$$

Customer Rating:

3.9

Weight:

4.6 pounds

Size:

17.8 x 12.5 x 20.1  inches

Warranty:

2 years

View On Amazon

Bissell 1716B Spotlifter Deep Cleaner

Price:

$

Customer Rating:

3.2

Weight:

4 pounds

Size:

18.5 x 9.8 x 7.4  inches

Warranty:

1 year

View On Amazon

BISSELL 14259 Carpet Cleaner

Price:

$$$

Customer Rating:

3.9

Weight:

12.7 pounds

Size:

8.2 x 17.2 x 12.5  inches

Warranty:

1 year

View On Amazon
Why Furniture Upholstery Cleaners Might Not Always Be Ideal?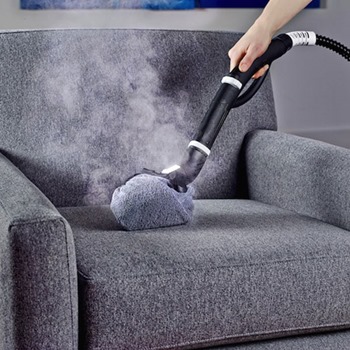 To be entirely fair, we value convenience and practicality over everything else. If the machines are supposed to make something fresher and more hygienic in the long run, we would like to believe that is the case. But, as it turns out, upholstery cleaners have some flaws that simply cannot, and should not be overseen.
Having a small, user-friendly appliance is excellent. Every upholstery steam cleaner out there will provide portability as a key feature. But what you will not hear or read anywhere is the trouble of making these tools valuable in the long run. Besides, the question of "How often do you need to clean your furniture" remains.
Upholstery steam cleaners are by no means miracle workers, not only because of the way they function, but because the furniture on today's market is made of more and more complicated materials, and there isn't a way to cover them all with a simple steamer.
What we have found as an irritating flaw in the design of upholstery steam cleaners is the perpetual need to clean your furniture more and more after you start using one.
Let's try to put this simply. Once you use your upholstery steam cleaner for the sofa, you might have to do it again very soon. Why? Well, manufacturers had to sacrifice some features, like drying and low steam mode, to gain on portability. Once you start using the upholstery cleaner because you cannot dry the fabric thoroughly enough, you will have to do it again very soon, or else you risk to suffer the appearance of mold, and similar disgusting unwanted afflictions.
Lack of a drying feature might not seem like a big problem, but since upholstery steam cleaners usually do not give you the option to choose how harsh the steam is going to be, you can safely say that some moisture will stay in the fabric. The only way from there is to completely stop using the upholstery steamer and let everything dry out or to start using it more often to counteract the bad sides. Let's be honest. No one wants to clean their furniture every week.
The Preparation Process is Too Long and Too Complicated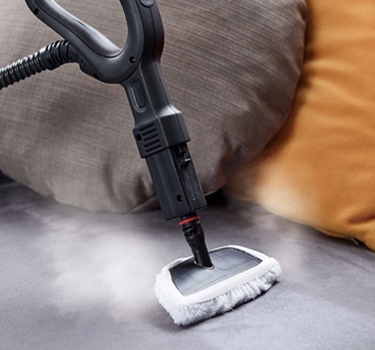 With every other carpet cleaner (steam or not) the preparation process is plain and simple: you see a dirty spot, you plug the cleaner, tackle the stain with it, repeat if necessary. With upholstery steam cleaners it takes 4 or 5 steps (depending on the model) before you even turn on the machine. For an appliance that is specialized in doing a small number of things, one would think that extra steps aren't necessarily needed.
Firstly, you have to spend a significant amount of time to vacuum the fabric perfectly. This is a welcomed task no matter what kind of cleaning you are doing, but in the case you're using an upholstery steam cleaner, you will have to be persistent and sometimes even vacuum several times before the next step.
Then, you need to put in a lot of elbow grease and scrub, scrub, scrub. This is done to "soften" the stains and make them susceptible to the upholstery steam cleaner's initial wave of hot vapor. For this part of the cleaning process, people usually use vinegar, rubbing alcohol, or some stronger cleaning agent.
Even after these to somewhat annoying tasks are done, you will still have to pre-prepare the upholstery materials by pre-steaming and brushing them one more time. The problem with this preparation process is in its length, and to make things more tedious, no one guarantees that you will not have to repeat a step or two.
What Kind of Cleaner Would do the Job Better?
Because we are all about clean carpets and upholsteries, we would like to suggest a better-working solution that will help you keep your house tidy and clean, without having to go through a detailed tactical prep process.
The ideal appliance that can help you keep your stairs and furniture fresh and clean is a portable carpet cleaner. There are a couple of reasons why portable cleaners are the right way to go, even though they are not strictly specialized for upholsteries.
The very first reason is that they are portable without sacrificing features and functionality. Portable carpet cleaners will give you the necessary reach you need to approach a large piece of furniture, yes, but on the other hand, they will also have adjustable heat and adaptable pressure. You will no longer have to go through tedious preparation just to begin with the cleaning.
The other reason why a portable carpet cleaning model is an adequate choice is the versatility it brings to the table. With upholstery cleaners, you are stuck with cleaning only upholstery (not counting the hassle of preparation) ad that's it. With a portable carpet cleaner, you will be able to tackle other jobs, such as steaming clothes, cleaning pet stains, and ultimately: cleaning carpets.
While we cannot predict the cleaning habits of every homeowner out there, we can surely stress out the most suitable type of carpet cleaner, based on the features and size, of course. By going through a lot of different types and models, looking for a suitable steam upholstery cleaner replacement, we have found out that portable carpet cleaners hit closest to home.
Why Portable Carpet Cleaners for Upholstery Cleaning?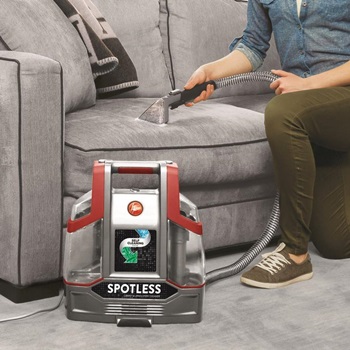 Before we go into the hows and whys of our choice, we would like to disclaim that every type of carpet cleaner (almost) can clean upholstery. But just because a hose will technically do the job, it doesn't mean it is a good choice. So, here are the three reasons why we chose portable carpet cleaners as the best substitute for upholstery steamers.
Portability – it goes without saying that furniture cleaning requires a lot of moving and sometimes tricky maneuvering. Portable cleaners will give you enough power to get the job done without getting a hernia or needing help from a family member.
Versatility – one of the main reasons why portable cleaners outperform upholstery steamers is that their overall usefulness. With an upholstery steamer, once you are done, you will not get the chance to use it for any other purpose. A portable carpet cleaner, though, will give you the option to clean other fabric surfaces around the house.
Adjustability – lastly, the portable carpet cleaner feature that bought us is its ability to adjust to different types of surfaces, and different levels of stains. Most models have a broad set of accessories and extensions that will help you get the best out of your cleaner.
Wrap Up
Modern technology brought us specialized tools of all sorts to help us keep our house clean. Some are great, but some are not so useful as initially thought. Such is the case of upholstery steam cleaner appliances. They require too much preparation and ultimately take up a lot of time to use. Sometimes, strictly specialized does not equal top-notch performance, and there is no shame in admitting that.
But, because we value a good carpet cleaner, we encourage you to take a look at our suggestions and find a portable carpet cleaning model that will fit your requirements in the best possible way. Your carpets and upholsteries deserve refreshing, so let's start cleaning!
As a bonus, you can check our carpet cleaner for pets reviews.