Whether you have no maneuvering space or you need quick stain removal, the most logical path would be to get the best portable carpet cleaner that fits your home conditions. Carpet cleaners, also known as carpet shampooers, are handy cleaning machines created for in-depth carpet cleaning.  These machines use suction, yes, but they also apply water and cleaning fluids to remove stains and even germs from carpets.  A portable carpet cleaner is generally more compact and easier to use than regular carpet cleaning machines.
Did you know that carpets can be up to 4000 times dirtier than toilet seats and around 7 times dirtier than a street? To find a suitable compact carpet cleaner for yourself, you must do some research.  We have compiled an independent list of portable carpet cleaner reviews to help you decide after you are with the guide. Let's see what these machines have to offer!
See The Quick Comparison Chart
Who Needs A Portable Carpet Cleaner?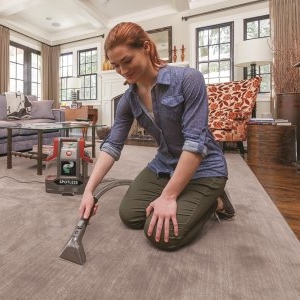 Portable carpet cleaners are a good cleaning tool for a few reasons. If you lack the space to house a regular or full-sized carpet cleaner than a compact portable model is a very good cleaning solution as it only takes up a fraction of the space.
We all have different cleaning habits, if you prefer to tackle stains head-on, a portable spot cleaner would be easier to assemble and quick to use in the case of a stain emergency. Another good point of portable units is that they are fairly light-weight. There is a far less chance of you hurting yourself by carrying or using one of these portable models than a full-sized one. Also, it is more cost-effective to use a smaller cleaning machine for small stains and spills.
There are more than a few things that you need to consider before you get a handheld carpet cleaner. We will provide you with extra information regarding the essentials that you need to know to buy a portable carpet cleaner.
Should I Use a Separate Upholstery Steam Cleaner for My Furniture?
Even though it might sound like a wise decision to get an upholstery steam cleaner, we would like to encourage you to take a look at our research on upholstery steam cleaners and see our explanation on why that might not be a great idea. Having specialized tools is great most of the time, but in this case, we found out that upholstery steamers are just not worth the hassle.
They proved to be not so convenient, and a standard portable carpet cleaner model with the right upholstery tool will do the job just as good, if not even better.
Best Portable Carpet Cleaners Comparison Chart
PRODUCT
DETAILS

Bissell 3624 Spot Clean

Price:

$$$

Customer Rating:

4.2

Weight:

13 pounds

Size:

10 x 14 x 14 inches

Warranty:

2 years

View On Amazon

Hoover FH11300PC Spot Cleaner

Price:

$

Customer Rating:

4.0

Weight:

9 pounds

Size:

9.7 x 13.9 x 15 inches

Warranty:

2 years

View On Amazon

Bissell 1400B Portable Carpet Cleaner

Price:

$$

Customer Rating:

4.2

Weight:

12 pounds

Size:

8.2 x 17.2 x 12.5 inches

Warranty:

1 year

View On Amazon

Rug Doctor Portable Spot Cleaner

Price:

$$

Customer Rating:

3.9

Weight:

4.6 pounds

Size:

17.8 x 12.5 x 20.1  inches

Warranty:

2 years

View On Amazon

Bissell 1716B Spotlifter Deep Cleaner

Price:

$

Customer Rating:

3.2

Weight:

4 pounds

Size:

18.5 x 9.8 x 7.4  inches

Warranty:

1 year

View On Amazon

BISSELL 14259 Carpet Cleaner

Price:

$$$

Customer Rating:

3.9

Weight:

12.7 pounds

Size:

8.2 x 17.2 x 12.5  inches

Warranty:

1 year

View On Amazon
Best Small Carpet Cleaner Reviews (Updated List)
1. Bissell 3624 Spot Clean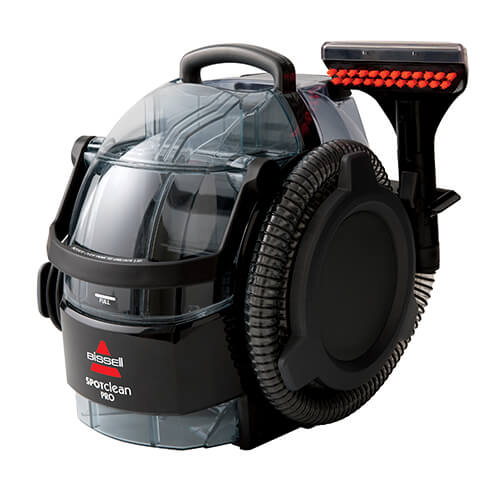 First in our list is the Bissell SpotClean Professional Portable Carpet Cleaner. The unit has a solid performance as a mid-price range carpet cleaner. It is light-weight being around 13.2 pounds making it very easy to take around the home when cleaning up a spill. The motor of the unit comes with a power rating of 5.7 amps.
This Bissell portable carpet cleaner comes with a large capacity tank that holds ¾ of a gallon (96 ounces). Gratefully the producer also gives an 8 oz bottle of their cleaning formula. Since it is a portable model all you need to do is put the attachments on the unit and fill the tank.
To clean your stairs, you can use the handy 6-inch Stair Tool. If you have a dried-in stain you can use the Tough Stain Tool. The machine cleans up stains well, even from the white shaggy carpets, but doesn't always do the best job on upholstery. The power cord is 22 feet and you get a large hose for extended cleaning.
Pros
This model is made for maneuvering all around the house, thanks to its smart design and lightweight
Tough Stain tool provides excellent support in removing old stains and pet stain
The handheld tool for upholstery is intuitive and easy to use
Cons
The extra hose storage is a bit tricky to master. If not done properly it can kink and cause breaks
Unit maintenance takes some more time due to the tightly-packed frame of the model
2. Hoover FH11300PC Spot Cleaner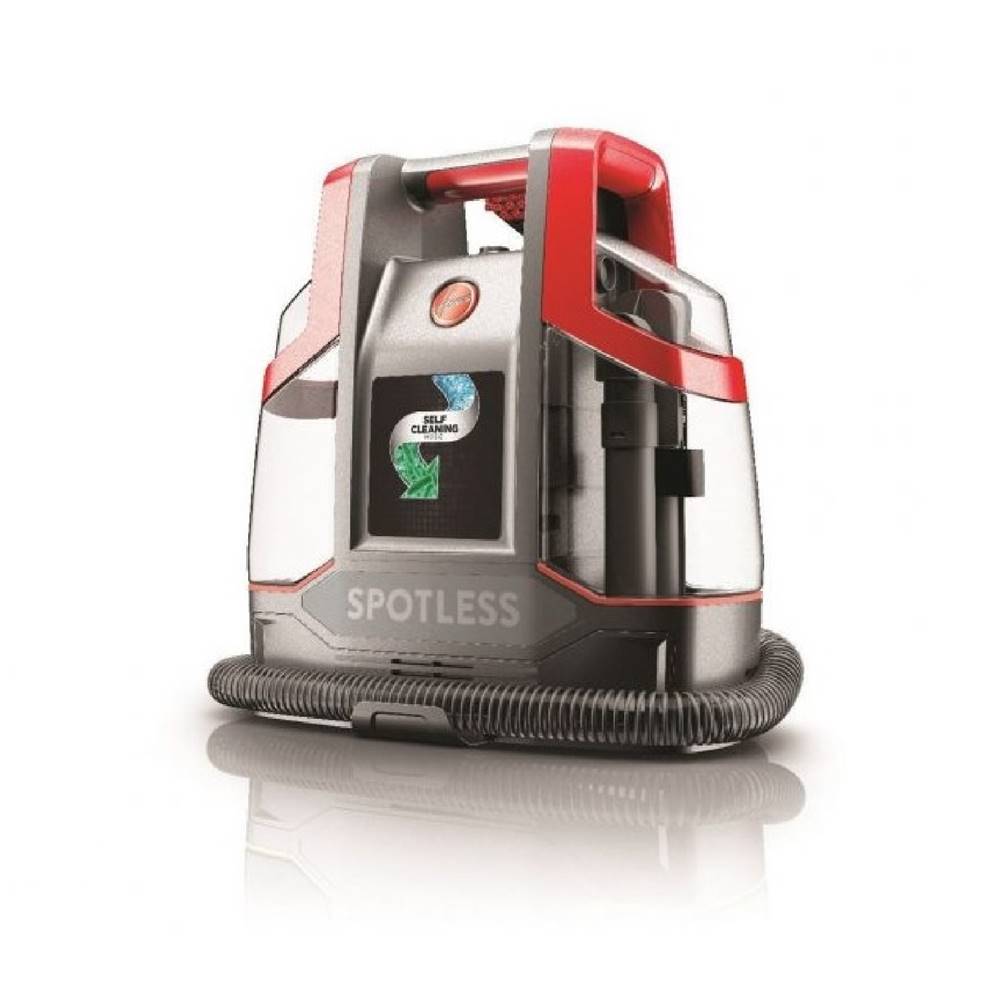 Our next cleaning machine is the Hoover Spotless Portable Carpet & Upholstery Spot Cleaner. The unit does fit into the budget-friendly price range for portable carpet cleaners, but it does also offer good performance. The motor for this model has a 3.5-amp power rating. The power cord is a bit shorter than other models. coming to 14 feet. The hose gives you a reach of about 5 feet.
The Hoover spot cleaner comes with a set of dual tanks. One is used for clean water (51 ounces) and the other stores the dirty water (36 ounces). The model also comes with a multi-purpose attachment that is lined with rubber nubs, which are 3 inches wide. This allows you to cover a variety of surfaces and the antimicrobial materials used to make this tool protects it from mold, bacteria, and mildew.
Another feature of this Hoover portable carpet cleaner is the self-cleaning hose technology. Currently, it is the only carpet cleaner that has this feature and it allows you to keep your hose clean and free from dirt and bacteria.  Since the machine is only around 9 pounds, it is one of the lightest models on our list to carry around the house. This model comes with a limited 2-year warranty.
Pros
A 15-foot long hose will help you reach secluded corners
The two tanks in the dual tank system work in great synergy and provide longer work time
The multi-purpose attachment set allows you to tackle a wide variety of tasks
Cons
This model has a somewhat shorter electric cord limiting its reach, but it makes it up with a super flexible long hose
3. Bissell 1400B Portable Carpet Cleaner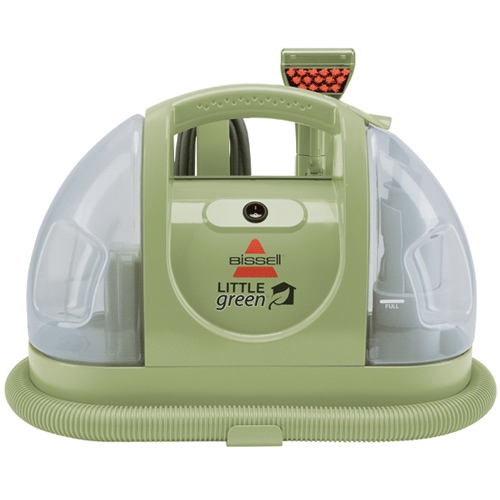 Our next model is the Bissel 1400B portable carpet cleaner. With 9.6 pounds it is light and easy to transport around your home. It comes with a power cord of 15 feet and a hose of 4 feet. It is an extra compact model which is also called the "little green" since the machine is built from at least 50% recycled materials and can itself be recycled. Also, the unit's hose and tanks are PVC free, all of this makes it most 'green' model on our list.
We've used it on a variety of stains and spills and it has delivered good results. It can clean your "pet's accidents", dirt, soda and the rest. We used on the stairs with the same attachment we used on the carpet and car interiors. If you have a tougher stain you can always use the 3-inch Tough Stain tool. The unit comes with dual tanks and a 48-ounce dirt tank capacity. The cleaning path of this unit is the standard 3 inches. The motor on the little unit has a 3-amp power rating.
The machine comes with a 1-year limited warranty.
Pros
The Little Green is eco-friendly and it is recyclable (almost completely), with te hose being 100% recyclable
The 3-inch Tough Stain tool tackles harder stains with success
This portable model is also suitable for pet owners
Cons
This model is considered to be light-to-medium-duty and is not suitable for extra-long work hours
The tanks are somewhat clunkier, so pay extra attention when putting them back on
4. Rug Doctor Portable Spot Cleaner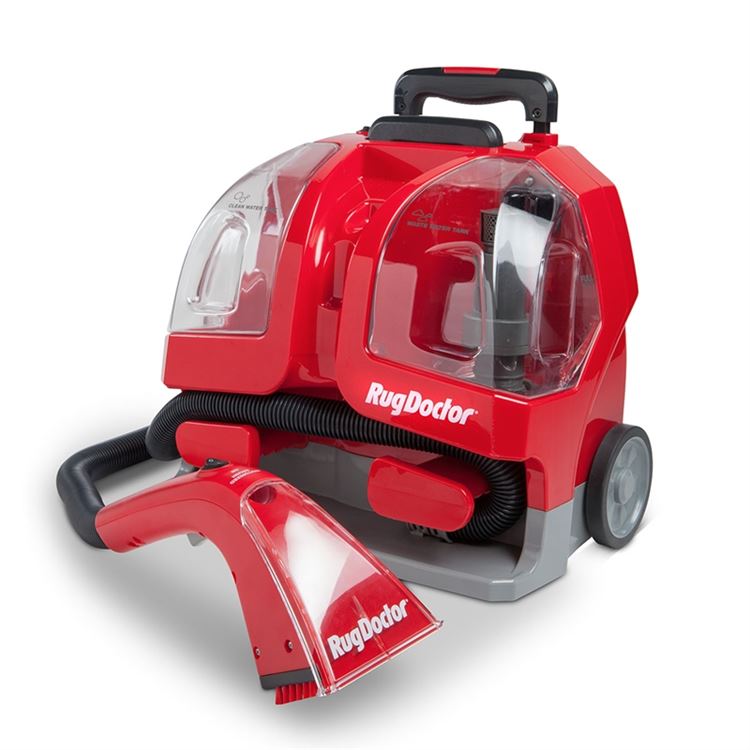 The portable Rug Doctor Spot cleaner is useful as the commercial carpet cleaning machines. The price of the model is very budget-friendly given the cleaning power it produces. The portable carpet spot cleaner is heavier than the other models in our list, coming to around 20 pounds. However, it has two carpet-friendly wheels and a foldable handlebar. It is a larger model but that also means more power and bigger containers. This unit has a 64-ounce dirt tank capacity.
The cleaning machine has a 5.5-foot-long cleaning hose with a motorized handle brush. Besides spraying and sucking the motorized brush head has moving parts which help to really get the cleaning fluids into the stain and destroy it. The oscillating brush head has a slightly larger cleaning path of 4.5 inches. The motor comes with a 10-amp power rating which gives it the edge in suction power compared to other units. The power cord for this unit is 15 feet in length.
Comparatively, it has a stronger suction and cleaning power to models in the same price range. We used it to clean stains in high foot-traffic areas, cars, and upholstery. Every cleaning job was handled just fine with the unit. The spot cleaner comes with a 2-year limited warranty. To see the cleaner in action you can check out the video below.
Pros
Excellent price-to-power ratio
Strong suction and power cleaning tackle the harshest of cleaning jobs
The smart foldable design of the unit enables easy storage
Cons
Even though the model is considered portable, when full of water, it will need some extra muscle for carrying it around
5. Bissell 1716B Spotlifter Deep Cleaner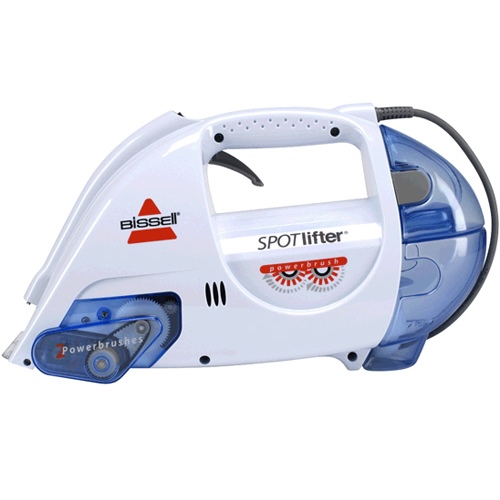 Next on our list is the handheld Bissell 1716B Spotlifter Powerbrush. No annoying hose problems with this one, because it doesn't have a hose! Instead of it, this cleaning machine has rotating brushes at the bottom of its front end. The motor gives 2 amps worth of power. The unit comes with an 18-foot power cord for continuous cleaning.
This unit is the most light-weight model on our list with about 4 lbs. Being so small makes it easy to use around the house. Since the unit itself is compact, the tanks needed to be small as well, coming to the 12-ounce dirt tank capacity. The cleaning path is the standard 3 inches for Bissel portable carpet cleaners. The manufacturer covers the machine with a 1-year limited warranty.
The Spotlifter lived up to its name while testing it on soft and regular carpets. The performance was also good with certain messes that had set in a little. People who own pets would find this cleaning tool useful as it picks up pet fur nicely. You can also use it on small stains on your upholstery or in your car. Because of the compact size of this model, its purpose is to mostly handle small stains or spills – it's not able to clean big areas.
Pros 
A portable carpet cleaner specially designed for stains
No hose body makes it super-easy to carry the cleaner around the house
Good for pet stain, old and new
Cons
This is not a standard cleaner and its design prevents it from tackling rugs or carpets, but it deals with stains and spills with utmost efficiency
Smaller water tank means that you will have to refill a few times if you plan to go around the house to remove stains
6. BISSELL 14259 Carpet Cleaner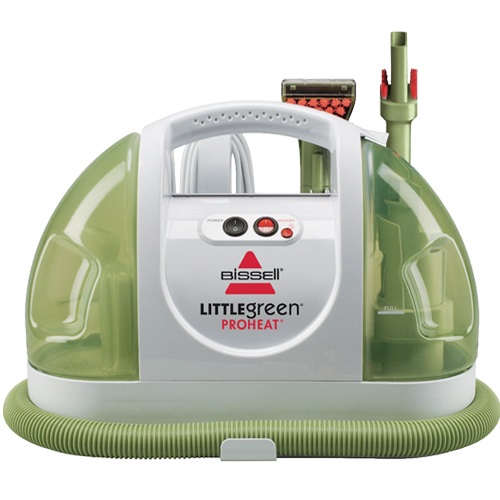 We have another portable cleaner from Bissell's "little green" production. As with other units from this series, the unit was built with at least 50% of recycled materials. While it isn't as budget-friendly as the other model, this unit can deliver more in-depth cleaning than the previously mentioned model. Even though it uses hot water, it is not near to the top-rated steam cleaners. Instead, the unit uses a built-in hot-water heater to enhance the cleaning results.
Just like the other model, this one is very compact and light-weight. The machine weighs 13 pounds before you add the water mind you. The hose gives you 4 feet of reach, which is a little short, but the power cord is 15 feet long. The real value of this unit lies with the 9-amp motor which is enough to provide standard suction and power the water heater. The machine comes with a dual-tank system that has a 48-ounce dirty tank capacity.
Additionally, the unit comes with 2 hand tools. One being the standard 3-foot stain brush tool with a cleaning path of 3 inches and a narrower crevice tool to get into small problem areas.  Because of the water heater, this unit provides a satisfactory result on most messes – even the dried up, set-in stains as well. But since heat is being applied, we would advise extra caution while using it on your natural fiber carpets. This unit is covered by a 1-year limited warranty by Bissell.
Pros
The body of this carpet cleaner is made of recycled eco-friendly material
Really compact and lightweight, making it perfect for various types of messes all around the house
Comes with 2 additional hand tools that can help you adapt the cleaner to the task at hand
Cons
The heat from the cleaner can be harmful to some materials, so it is better to make a spot test
This model is less budget-friendly than the rest in its class
Portable Carpet Cleaner Buying Guide
Before going on to choose your future portable cleaning machine, we would like to turn your attention to a few important questions in the hopes of helping you make an informed choice.
1. Size and Type of The Job
The size of the job usually dictates the size of the tool you need. If your goal is to clean your entire carpet then you should buy a full-sized carpet cleaner and not a portable one. Why? Because while you can technically clean an entire carpet or a sofa with a portable cleaner, it will take much more time and elbow grease to get it done with the portable model. For your every day accidental spills or accidents, the portable models take the prize for efficiency and ease of use. In conclusion, understanding the difference between portable carpet cleaners and more professional systems is the key to the decision.
Another thing to consider is – what are you cleaning? If you need to get rid of a spill or stain on your light or regular carpets, upholstery or car interior then these portable machines can help you. But, be careful if the carpets you want to be cleaned are outside of the designated surfaces that these machines are meant to handle, and you should avoid using portable cleaners on such surfaces. Each machine comes with an instruction manual with details about what surfaces you can use it on.
2. Power Struggle
While it is true for most models that a stronger motor produces more powerful suction, motor power doesn't always translate to a better result. When selecting your portable carpet cleaner, you need to pay attention to all of the features that the unit possesses.
Some models feature water heaters which are also powered by the one and only motor in the unit. This usually means the power rating of a motor is divided between the suction and heating features of the machine. If the cleaner doesn't have those features but comes with a high-power rating of 9 amps or more – that can result in higher suction power.
Also, more power isn't always a good thing. More power can easily translate into more noise from the machine. Full-sized carpet cleaners create about 80+ decibels of noise while vacuum cleaners make around 70 decibels. Portable carpet cleaners are much smaller and make much less noise. Here is an example of a carpet cleaner in action and you can hear the noise level for yourselves.
3. Cleaning Path
The cleaning path of a portable carpet cleaner determines the maximum area an attachment, brush or a head can clean at once. The industry standard for most portable carpet cleaners is 3 inches, which gives you access to most areas around your furniture. To make the job go quicker, some models come with attachments or accessories for stairs or furniture to make the cleaning path wider or more focused.
For furniture and car seats, you may want to use a smaller, more focused tool in order to get into all of the nooks and crannies. For stairs, there is usually a "Stair Tool" which features a wider cleaning path to save you time for the cleaning job.
4. Weight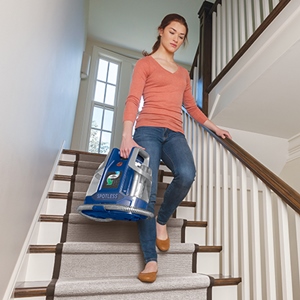 For people who have a hard time carrying heavy cleaning equipment, portable carpet cleaners can be a useful cleaning solution. Most are very light-weight, but there are some models which can get up to 20 pounds and over. But the heavier models usually come with wheels and handle you can use to drag your cleaner. Most lighter models simply come with a handle and no wheels to carry your unit where you need it.
If you are in to easy to carry units, you can also check our lightweight vacuum cleaner reviews.
5. Tanks a lot!
Tanks are an essential feature for all portable carpet cleaners. Since they are compact models, they, of course, cannot carry big capacity water tanks like the full-sized models. How big the tank is, determines how many trips to the bathroom you are going to make in order to finish the deep cleaning job. You should also check out the comment sections of other users to see if the tanks are easy to use and are they prone to leaking or not.
A useful tip would be to look for tanks that have their max water limit clearly marked on the tank as well as a mark for how much cleaning liquid you can use. If you are looking to tackle dried in stains than it would be better to get a portable unit that has water heaters in their tanks for more deep cleaning. Cleaning the tanks and other parts of your portable carpet cleaner is also an easy task.
6. Warranty
The standard for warranties differs among portable carpet cleaner producers. Generally, you get a 1 or 2-year warranty for your machine. However, you should check if the warranty covers the transport of the unit because you could be forced to pay for it by some manufacturers.  Also, most hoses and attachments are not covered by the warranty. Sometimes the only thing covered by the warranty is the motor itself.
7. Pros
Portable carpet cleaners are quick and efficient when it comes to small spills and accidents. They use less water and cleaning fluid and are eco-friendlier. They take up less space making them easier to store. Portable carpet cleaners are light-weight machines making them easy to use and carry. Also, they can be very budget-friendly solutions for keeping your house clean if you have pets.
If you are a pet owner, you should also check our best carpet cleaner for pets article.
8. Cons
It cannot be used to clean surfaces like wood, leather, stone, and tile. Dried-in stains that have been around for some time are sometimes too much for the portable machines to handle. Because they are small focused devices you need to pay extra care when cleaning a single spot on your carpet/upholstery/car interior to make sure you don't damage the area you are treating. Since they are compact devices, they are not meant for prolonged use because of the possibility of overheating.
Once you clean a single area of you will probably have to clean the entire thing to make the color match because of all the dust that gets embedded into all fabrics over time. It takes considerably more effort to clean an entire rug/carpet with a portable spot cleaner vs a full-sized carpet cleaner. Portable carpet cleaners are much lighter than full-sized models but that also means their cleaning power is also much weaker.
FAQ About Portable Carpet and Upholstery Cleaners
1. Is a cleaning agent always necessary?
There is no short answer to this question because it really depends on the situation. Carpet cleaners, as you know, have the additional option to apply shampoos or other cleaning agents during the cleaning process. If you cannot decide whether to use chemicals or not, we would advise trying doing it with water only. This way you will see if the stain is persistent or not.
If you do decide to include cleaning agents into the whole process, always do a simple spot test, on the lesser-visible part of the upholstery or carpet you want to clean. Besides, a great bonus which cleaning agents bring is the refreshing smell they leave behind. If you have a smoker in your home, or you want to freshen up an old piece of furniture, cleaning chemicals might just be the right answer. But remember that moderation is key, and a lot of detergents can damage the surface you are cleaning.
2. How often should I clean my carpet and upholstery cleaner?
It depends. If you are using your cleaner frequently, of course, you will have to clean the machine inside and out often. But the frequency of maintenance can also depend on the model. Some units have a self-cleaning mode which works while you clean. Models with this feature take up some extra water and sprinkle it on the places most commonly known to get clogged or stuck within.
Auto-cleaning mode or not, we recommend that you go through a detailed maintenance session of your cleaner, especially if you use it for upholsteries. Consult the instruction manual and see where all the hinges are. Every manual will tell you which part is safe to open, and which one is not. Be cautious because meddling with the cleaner too much can void the warranty. When you do get to the insides, do not waste a lot of cleaning chemicals. Warm water and soap will do just fine after you remove all the solid dirt.
3. What should I do in the case of over-shampooing?
If you happen to go a little overboard with the chemicals during the cleaning, do not be hesitant to act immediately. Over-shampooing is a common mistake that leads to even deeper, and sometimes irremovable, stains. The first thing you need to do is to stop the shampoo source, being it on the carpet cleaner, or if you're doing it manually.
Try to soak up as much of the shampoo with a cloth, and leave the carpet/upholstery for five minutes to rest. After this period passes, run a dry cycle with your carpet cleaner, or, if your cleaner doesn't have a dry cycle, go with the mode that applies the least water. Leave the area to dry completely.
Pro tip: if you happen to over shampoo your upholstery, you can use the excess shampoo and spread it on the surrounding area you want to clean. However, repeat the process of dry cleaning, just in case.
Wrap Up
If you have an active life, pets or small children, whatever your circumstances are – accidents will happen. For your average small accidents, it would be quick and easy to assemble and use a portable carpet cleaner for most materials in your home or your car. Vacuuming isn't enough to keep your home clean and healthy and using any type of carpet cleaner can make a dramatic difference in keeping your home clean. The information shown here was gathered through our own testing and research of the best portable carpet cleaners. We have presented to you our choices for the most useful handheld carpet cleaners judging by price, performance, and features.
We hope we have helped you find the best cleaning unit with our portable carpet cleaner reviews. If you have any questions please feel free to write to us in our comments section.
If you are not sure about getting a portable unit, you can also check our home carpet cleaner reviews.