The best carpet shampoos out there are designed to help you get the maximum out of your carpet cleaner. If there's something constant in this life, it's that carpets get dirty. This is especially true if you have toddlers or pets, or both. Did you know that your carpets can get even dirtier if you clean them with low-quality carpet shampoo? Your carpet may appear cleaner on the surface, but bad shampoo residue remains and acts as a glue. The more you walk on the carpet, the dirtier it'll become because the dust particles and flakes will just keep building up.
Luckily, we have taken the time to test the best, high-quality deodorizers and stain removers in this buyer's guide with some helpful carpet shampoo reviews to help you make the final decision after you are done reading. Without further ado, let's begin!
See The Quick Comparison Chart
What Can You Do With Carpet Shampoos?
1. Refreshing your Carpets
Having troubles with dirty and worn out carpets? We are talking about regular dirt and wear and tear from everyday use, not the heavy or even lightly stained rugs. On the bright side, this is the easiest problem you can have, and many carpet cleaners will easily refresh your carpet, and leave it looking brand new.
Refreshing your carpet will also leave a pleasant lingering scent. Many of these products don't contain the heavy chemicals that will damage the carpet fibers. Carpet refreshing products are perfect for simple carpet cleaning and regular maintenance.
2. Stain Removal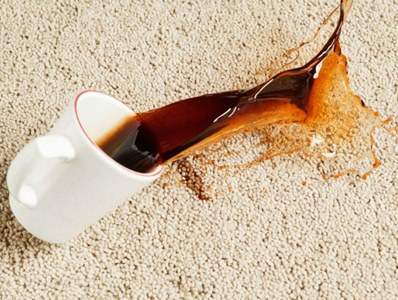 Depending on the type of stain, and the level of dirt, there's a difference between light stains, spots, simple dirt discolorations and heavy-duty stains that might include grease, oils, food, and crust. Use simple stain removers for simpler carpet issues, or specialized formulas for specific types of stains. Degreasers work best on oil and grease, of course, but might not help you with the rest of heavy stains like wine and coffee. Use different products to clean the entire area successfully.
Stains require deep penetration. Heavy stains are best cleaned with a couple of rounds of enzyme cleaners, and then, if you want to remove the bad odor, use a carpet refreshing formula for the final touch.
3. Pet Stains and Odors
Pet stains and odors are specific – their urine is strong in scent and can penetrate deep in the rugs and carpets so getting the dirt out might prove tricky. It's best to use specialized stain removers for pets. Some of the best pet odor carpet cleaners will also have the repellents inside so that your pets won't mark the same spots again.
Since the pet urine soaks the rugs, you will have to use maximum effort – one shampooing might not clean your carpets thoroughly. Beware of products that only mask the scent because you will spend hours treating the carpets, and while they will look refreshed, the fragrance will fade and a week later you will still feel the same pet odors as before. You need a carpet cleaner that will go deep in the rug, dissolve the odor particles, and bring them out to the surface so that they are easily cleaned with the carpet cleaner.
4. Other Odors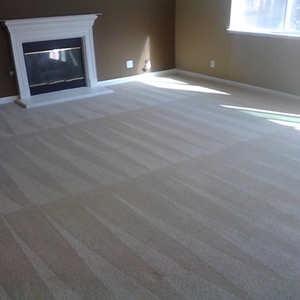 Not all odors come from pets. Some carpet deodorizers can treat mildew, mold, smoke and all other types of odors. Simple carpet odor removers can come in the form of powders, usually containing baking soda. Powders stick to the dirt particles and clump around them, especially if the dirt is damp.
Vacuuming can't clean the odors efficiently, and this way, those bad odors attach to the powder, which is then easily removed with simple vacuuming. For best results, rub the powder well into the area you wish to treat.
5. Quick Clean or Deep Clean
If we are considering the amount of time you want to dedicate to cleaning, then there are two options: simple cleaning with carpet shampoo, or the deep cleaning for the heavy stain removal and complete carpet transformation. Refreshing the rugs is simple with the deodorizing powders we just mentioned above if you just want a better fragrance and you think that the carpet is clean enough.
Best Carpet Shampoo Comparison Chart
PRODUCT
DETAILS

Carpet Miracle Cleaner and Deodorizer Solution

Price:

$$

Customer Rating:

4.3

Type:

Biodegradable,Non-Toxic

Size:

32  oz

Best Used On:

Removes Stains on Carpets, Upholstery, Pet Odors

View On Amazon

Bubba's Super Steamer Carpet Shampoo

Price:

$$

Customer Rating:

4.3

Type:

Bio Enzymes

Size:

32 oz

Best Used On:

Removes Pet Stains and Odors

View On Amazon

Hoover PetPlus Pet Stain and Odor Remover

Price:

$$

Customer Rating:

4.4

Type:

Concentrated, Enzyme Enhanced

Size:

64 oz

Best Used On:

Removes Stains on Carpets, Upholstery, Car Interiors, Pet Odors

View On Amazon

Kirby Carpet Shampoo for Pet Owners

Price:

$$

Customer Rating:

4.2

Type:

Enzyme

Size:

32 oz

Best Used On:

Removes Pet Odors

View On Amazon

Bissell 2x Professional Pet Urine Eliminator

Price:

$$$

Customer Rating:

4.2

Type:

Biodegradable Detergent

Size:

48 oz

Best Used On:

Removes Pet Urine Stains and Odor

View On Amazon
Best Carpet Shampoo Reviews (Updated List)
1. Carpet Miracle Cleaner and Deodorizer Solution
Carpet Miracle by Sunny & Honey is a great carpet cleaner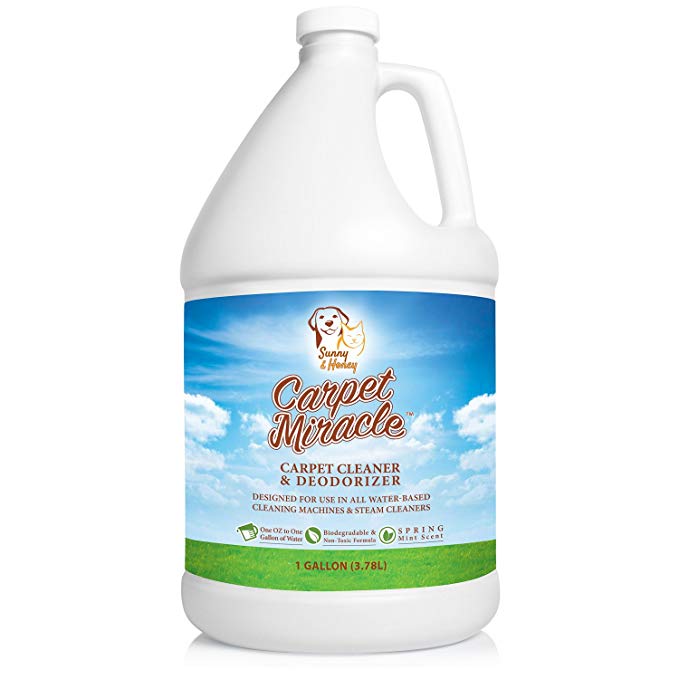 and deodorizer, especially if you have pets or toddlers in the house. It is a formula that doesn't have any harmful chemicals. When it comes to cleaning, Carpet Miracle does a good job of removing the dirt particles – the water is black after the rinsing.
The dirt is extracted with ease when it comes to new stains, but hard-core soiled rugs weren't successfully cleaned – the stains remained visible even after a couple of tries. It's a good formula for regular and spot cleaning, or if you want to refresh the carpets. Successfully cleans water-based stains like soda, coffee, minor pet stains and even cosmetics like eyeliner.
It's good for prolonging the life of your rugs, but it's also great for the animals in need. Each purchase of this 100% animal cruelty-free product supports animal rescue groups and no-kill shelters. You can use it for regular maintenance and conditioning without fear of damaging the carpet.
Pros
An American-made and cruelty-free solution that leaves a pleasant smell after the cleaning
Great for simple carpet cleaning and refreshing, as well as basic odor removal
Cons
Can't remove heavily urine-soaked and crusty stains
2. Bubba's Super Steamer Carpet Shampoo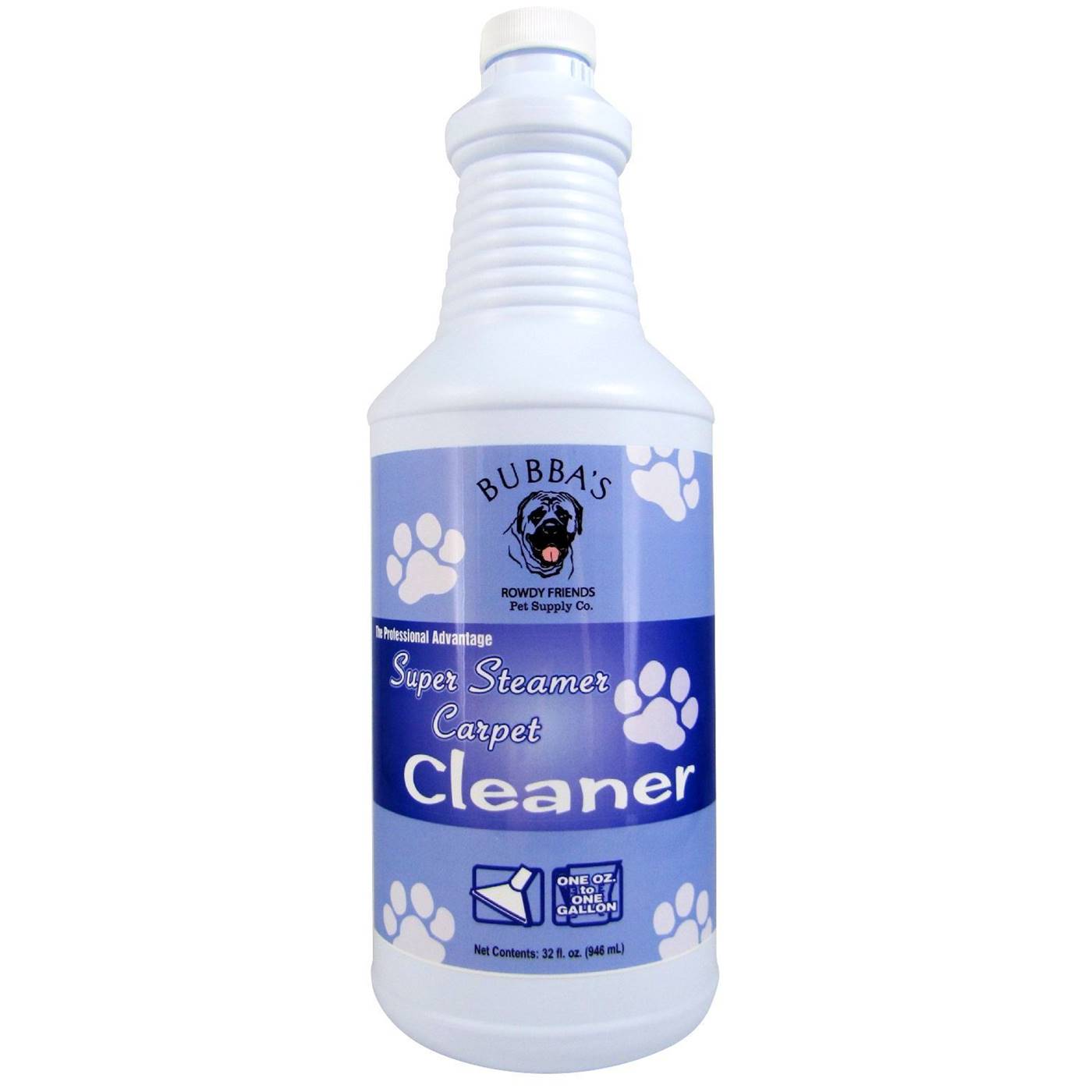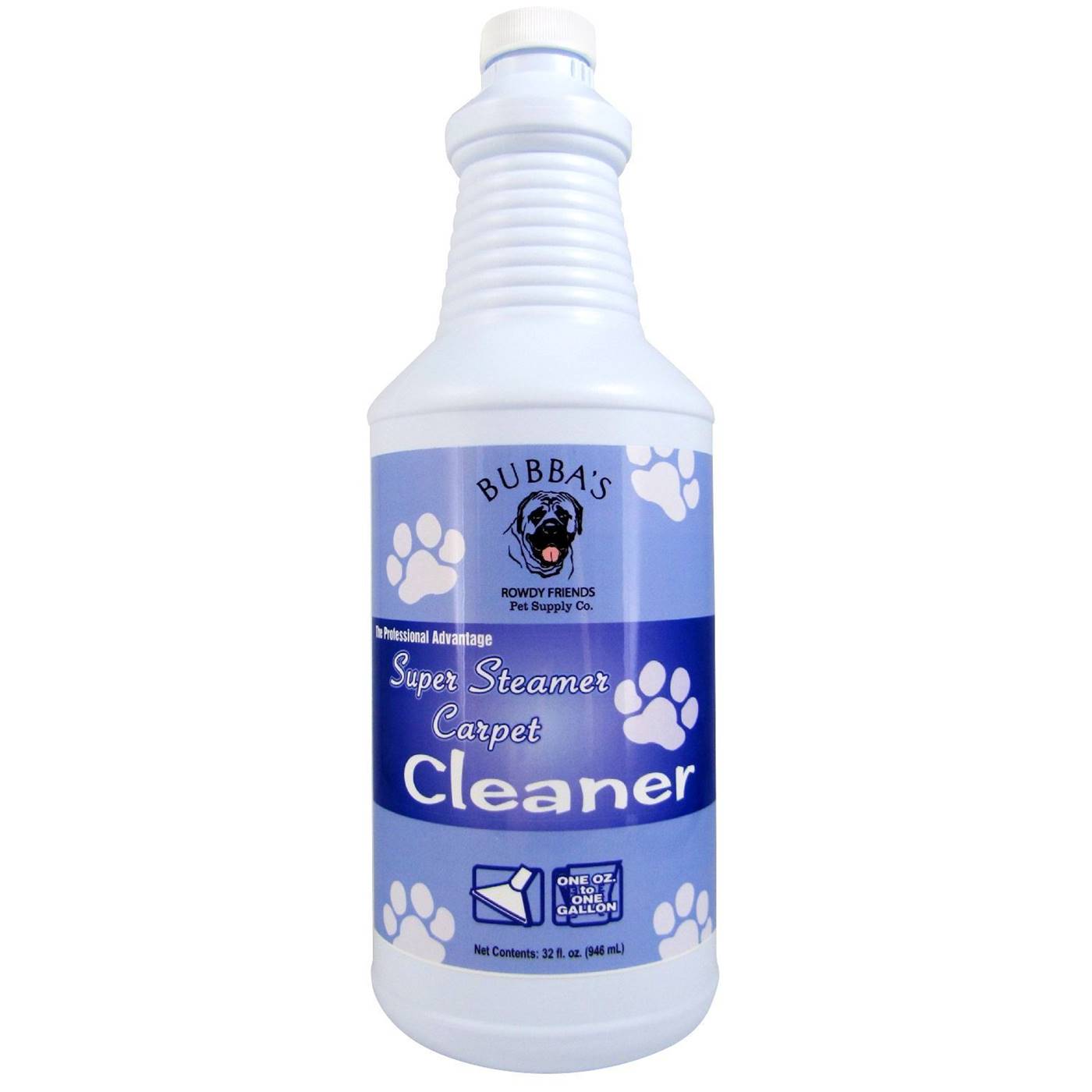 Bubba's Super Steamer Carpet Shampoo is specifically formulated to get rid of pet odors and stains, but it also works well for regular carpet steaming and cleaning. Having pets at home definitely means there are heavy traffic areas, and carpets can get dirty – fast. Since animals love marking their territories bit by bit, it might be a while until you notice the funky scent.
That said, this cleaner can help you remove the odors, but you have to understand that if the surfaces are thoroughly soaked, it will take more than one shampooing and cleaning until you get everything out. Many people stop trying mid-process and blame the product instead.
Since Bubba's carpet shampoo isn't an enzyme cleaner, you don't have to let it soak on the rug before you proceed with cleaning. The formula acts immediately and breaks up dirt particles that are easily removed with any commercial pet shampooer like Hoover or Bissell. The scent isn't overpowering if you use small amounts for light cleaning, but heavily soiled carpets require a lot more attention, so the scent can be quite powerful.
Pros
This is a green carpet cleaner, which means that it doesn't affect the environment, just the deep-rooted stains.
No-foam formula that you can rinse off immediately with carpet cleaners.
Cons
If used in larger quantities, this carpet shampoo has that strong, hospital-ish chemical smell that lasts a while.
3. Hoover PetPlus Pet Stain and Odor Remover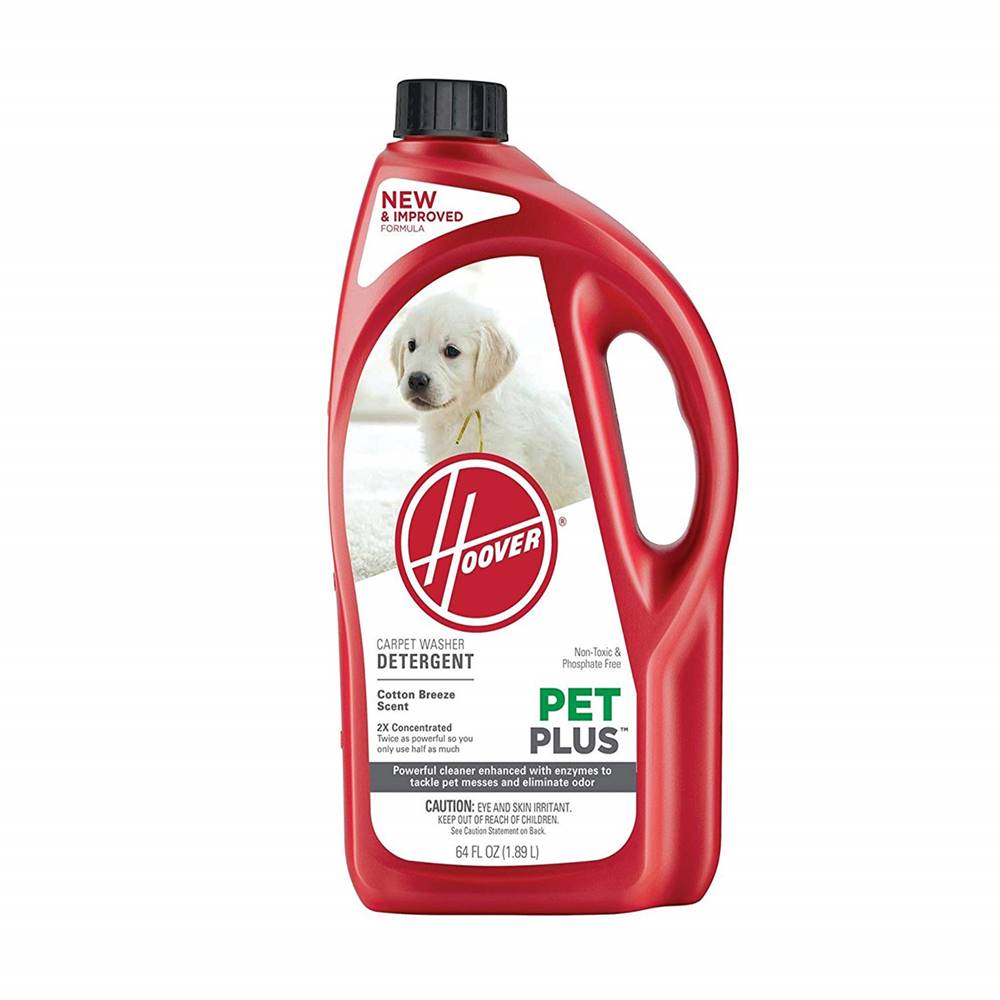 This pet stain and odor remover are great for deep cleaning your carpets and regular maintenance. It doesn't leave a scent, but it does remove the odors that build up from pet's skin flakes and dandruff.
Since this is an enzyme cleaner, the formula penetrates deep into the carpet fibers and brings the dirt and foul scents to the surface. It's best that you let the formula set for a while, while enzymes do their magic. Repeat the shampooing and rinsing if the stains prove to be harder to get rid of.
When it comes to light-soaked pet stains and odors, this Hoover carpet shampoo works well, but if we are talking about heavily soiled rugs, it might be good to try Hoover's Platinum edition. This doesn't mean that the formula won't work, it's just that it might take you a while to get rid of all the stains with a regular Hoover PetPlus.
While it's a non-toxic formula for children and pets after you use it on your carpets and upholstery, it must be kept out of reach. Hoover PetPlus is a double-concentrated formula, which means that you can clean the carpets with half as many solutions, saving money in the progress. It provides good coverage, and one 32 oz container can roughly fill a regular Hoover carpet cleaner 10 times.
Pros
Leaves a pleasant cotton breeze scent and has a formula that prevents the pet's future soiling.
It can be used for spot cleaning and light stains, if diluted properly and left to soak the carpet.
Cons
The more soiled and stained the carpets are, the more product you will have to use. Enzyme cleaners take time, so it's a lengthy process.
4. Kirby Carpet Shampoo for Pet Owners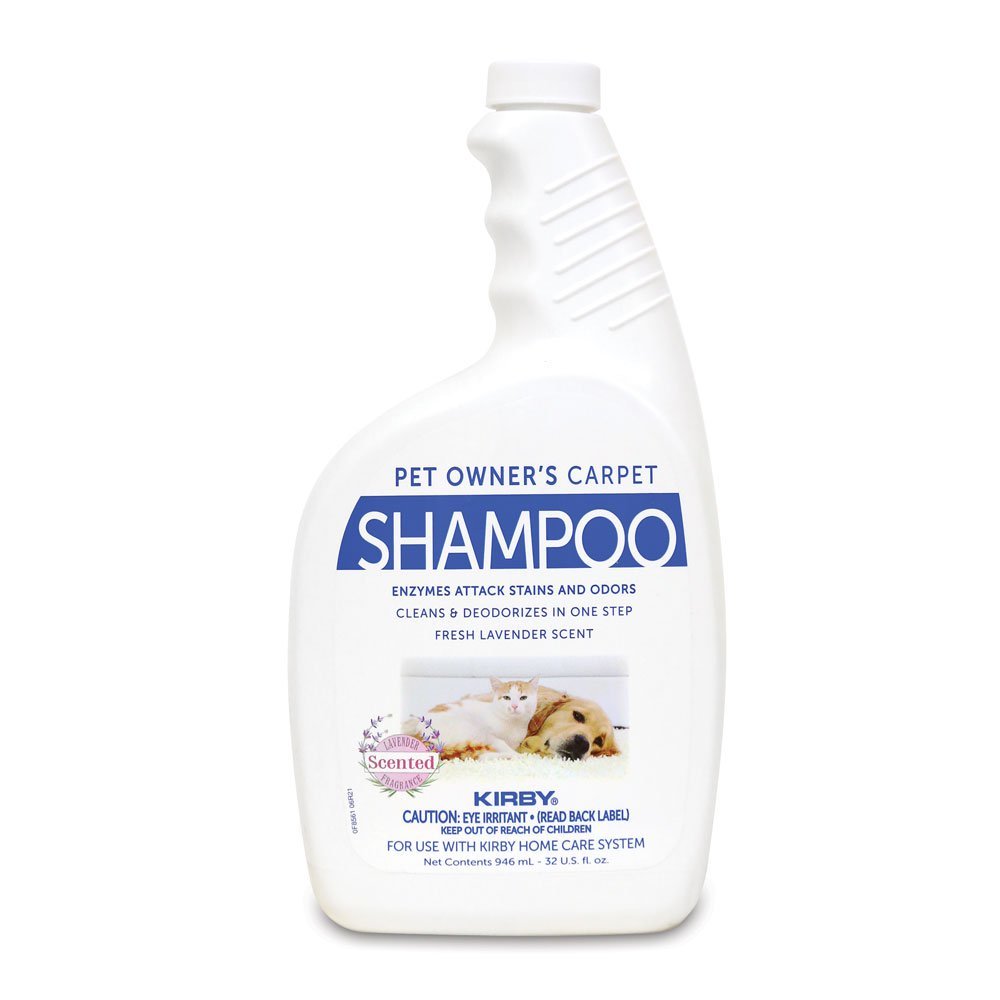 Kirby's Carpet Shampoo provides ample strength for removing heavily-soiled carpets, tracked-in dirt and nasty odors. Again, this is the enzyme cleaner that dissolves the body oils and pet dander, without just masking the odors with a fragrance. Speaking of fragrance, Kirby Carpet Shampoo leaves a pleasant, long-lasting lavender scent after the cleaning.
Heavy-duty formula foams well and there are enough suds if you use the product as it's written on the label. It can be used for pre-treating the carpet, but then it won't form the shampoo lather, naturally. This might not be the best solution for spot cleaning since Kirby Carpet Shampoo works its magic best when used with the Kirby Home Care system.
It's good for removing allergens, especially from pets. After cleaning, the carpets are thoroughly refreshed and appear lighter, but this formula doesn't contain harmful lighteners. There's enough product for multiple uses since this carpet cleaner provides plenty of coverage.
Pros
It doesn't leave the dirt-attracting residue after cleaning, so carpets will stay clean longer.
Removes crusty stains as well
Cons
It's hard to balance the water to solution ratio, so the shampoo won't foam properly and form suds if you use too much water.
Works best only with Kirby carpet cleaner machines.
5. Bissell 2x Professional Pet Urine Eliminator
Both formula and packaging are sustainably designed – this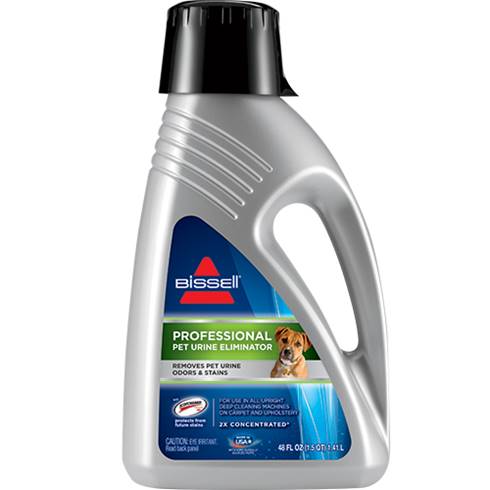 biodegradable product doesn't contain heavy metals, it's safe for the environment, and each package is made from at least 25% recycled plastic. By making the formula 2 times concentrated, Bissell reduces the packaging size in half, when buying the same amount of concentrate.
When it comes to cleaning, Bissell 2x Professional Pet Urine Eliminator works well for regular pet stains, but it truly shines when it comes to odor removal. It is intended for pet urine stains and odors, after all. It leaves a fresh scent after cleaning, but it does have a slight chemical feel.
This Bissell carpet shampoo doesn't produce too many suds, and there's no sticky residue that attracts dirt and grime after the cleaning. The specially-designed Scotchgard formula leaves a barrier of sorts on the surface, protecting your rug from the future spills and stains longer. Also, there's a safe repellent inside so that pets are discouraged to pee in the same spots.
Pros
Works with Bissell, Hoover, Dirt Devil and Rug Doctor
Great carpet deodorizer – eliminates odors successfully and keeps rugs fresh and clean for longer periods of time.
Cons
Not suitable for steam machines.
Best for pet urine stains and odor, but less effective for other stains.
6. Genuine Rainbow AquaMate Carpet Shampoo
This carpet deodorizer and carpet cleaner leave a pleasant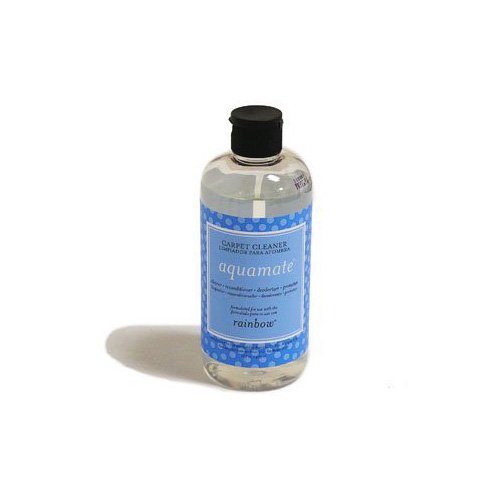 scent behind while removing most of the dirt and light stains. It's great for heavy traffic areas and dirt from the regular usage, but it lacks the power to break down heavier stains and crusts. Even soaking and using it as a pre-treatment doesn't work well on heavy-duty stains. However, AquaMate carpet shampoo is a wonderful product for carpet and upholstery maintenance and regular cleaning.
This product is specifically intended for use with Rainbow carpet cleaner, but it can be used with Bissell and Rug Doctor as well. You can use AquaMate Carpet Shampoo for spot cleaning if there's just a slight discoloration or bad odor, but it's best if you use it with the carpet cleaner. The amount of suds is considerable, which makes the cleaning easier, as the formula penetrates into the carpet fibers.
It comes in a 16 oz package which is enough for 500 square meters of carpet cleaning. This is a highly concentrated formula, and you only need a full cap per Rainbow shampooer.
Pros
Great dirt remover intended for carpet maintenance
Plenty of coverage for such a small bottle.
Cons
Price is steep for a carpet shampoo that doesn't remove heavy stains.
7. Arm & Hammer Pet Fresh Carpet Odor Eliminator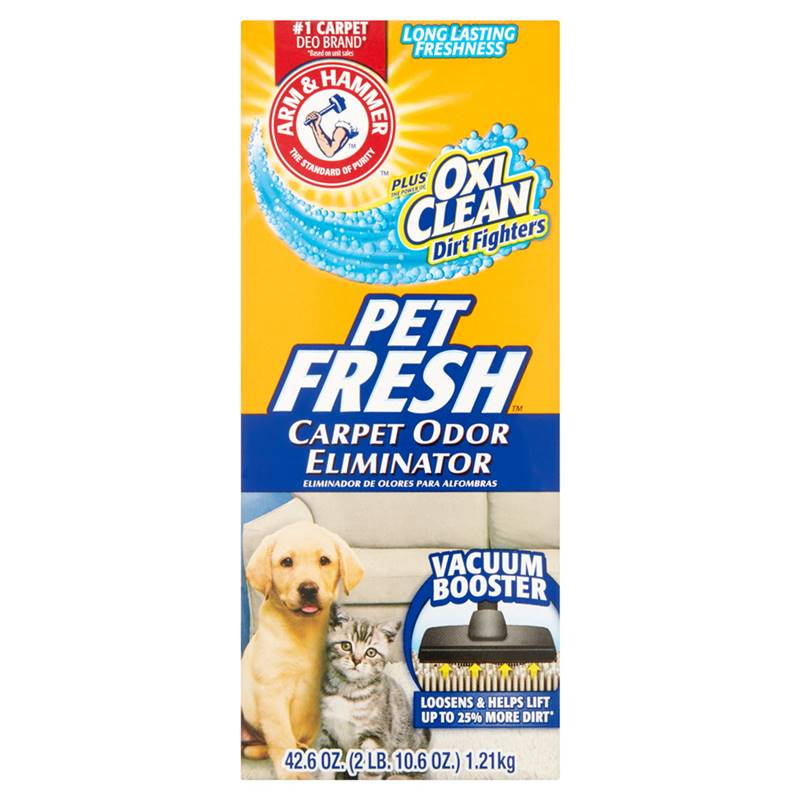 This specially formulated powder with baking soda sticks to the dirt and odors so that when you vacuum, the clumped dirt is easily removed. Baking soda is well known for its odor removal uses, and this product works well on odors like mold, mildew and even smoke.
There's a lot of powder per packaging, each container has 30 oz. When you treat larger surfaces for regular vacuuming and refreshment, you don't need to use a lot of product, but if you have a pet urine stain or something similar, feel free to pour enough Arm & Hammer Carpet Odor Eliminator so that all particles are covered with the formula. Make sure to let it sit so that the powder can get attached to the dirt and odor.
This is a great product if you want to get rid of the moldy scents and bad odors, but you can't use this carpet deodorizer for removing heavy, or even light stains – just regular dirt.
Pros
It makes vacuuming easier and more effective when it comes to dirt removal.
Good pet deodorizer.
Cons
This is not a carpet stain remover.
Leaves an overpowering floral scent that lasts for days.
8. Chemical Guys Fabric Clean Carpet and Upholstery Shampoo
Fabric Clean is a superior product that contains both carpet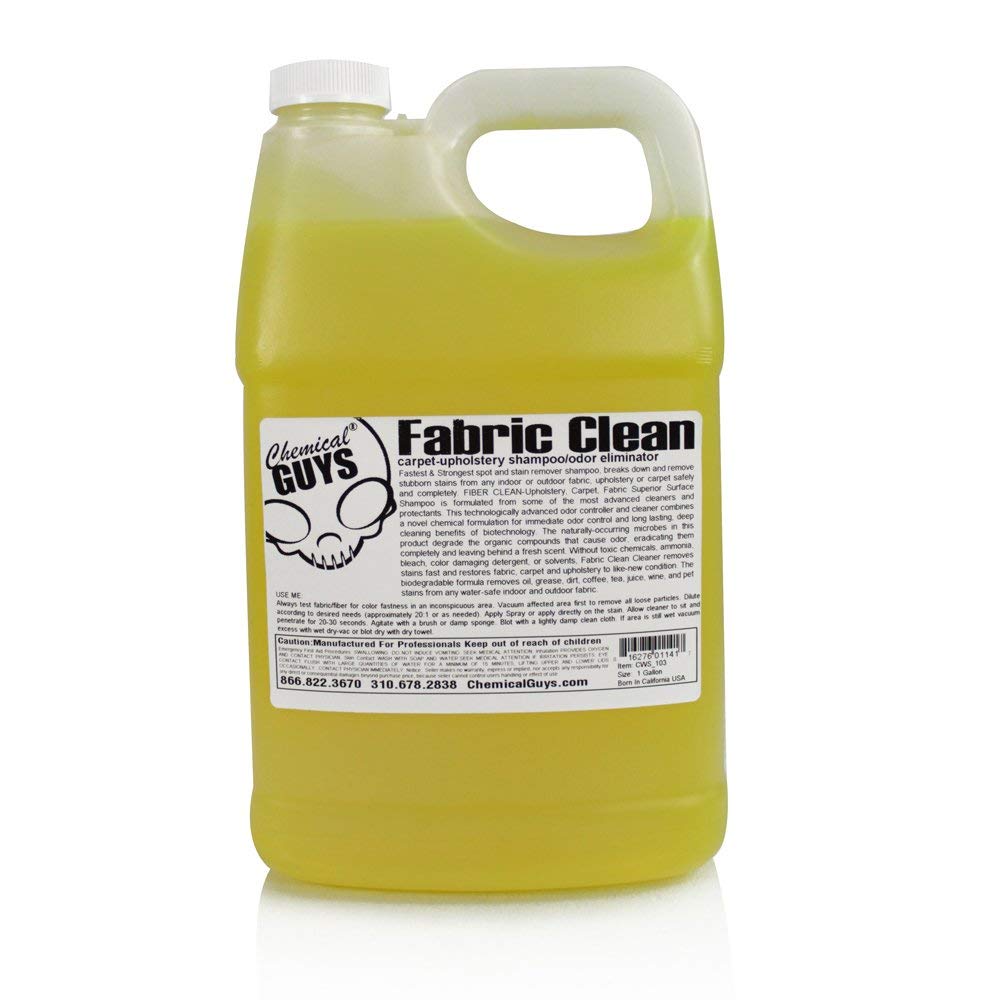 and upholstery conditioners and stain removers, leaving treated areas deeply cleaned, refreshed and conditioned. This product has a special formula that removes hard and crusty stains, so you can treat spilled foods, beverages, pet stains, urine, and tracked-in dirt.
It doesn't leave the residue at all. It's highly concentrated, so you only need about 1 ounce of a formula for 20 ounces of water. You can use Chemical Guys Fabric Clean diluted in a spray bottle and pre-treat the fabric. Since it has enzymes specially intended for fast deodorizing and pet scent removal, shake the bottle before use to activate them. Let the formula sit for a while and soak the stains before cleaning. Then, you can use a carpet cleaner that works on the principles of water extraction – like Rug Doctor for example.
Apart from enzymes, Fabric Clean can also help you remove the greasy stains from carpets, furniture, and car upholstery.
Pros
Works amazing for greasy stains and oils.
It doesn't contain bleach, ammonia or solvents that destroy the carpet fibers.
Cons
For the best outcome, it is recommended to buy their drill brush, that doesn't come cheap. It still requires a lot of manual labor if you don't have a water extractor carpet cleaner.
9. Nature's Miracle Stain and Odor Remover Carpet Shampoo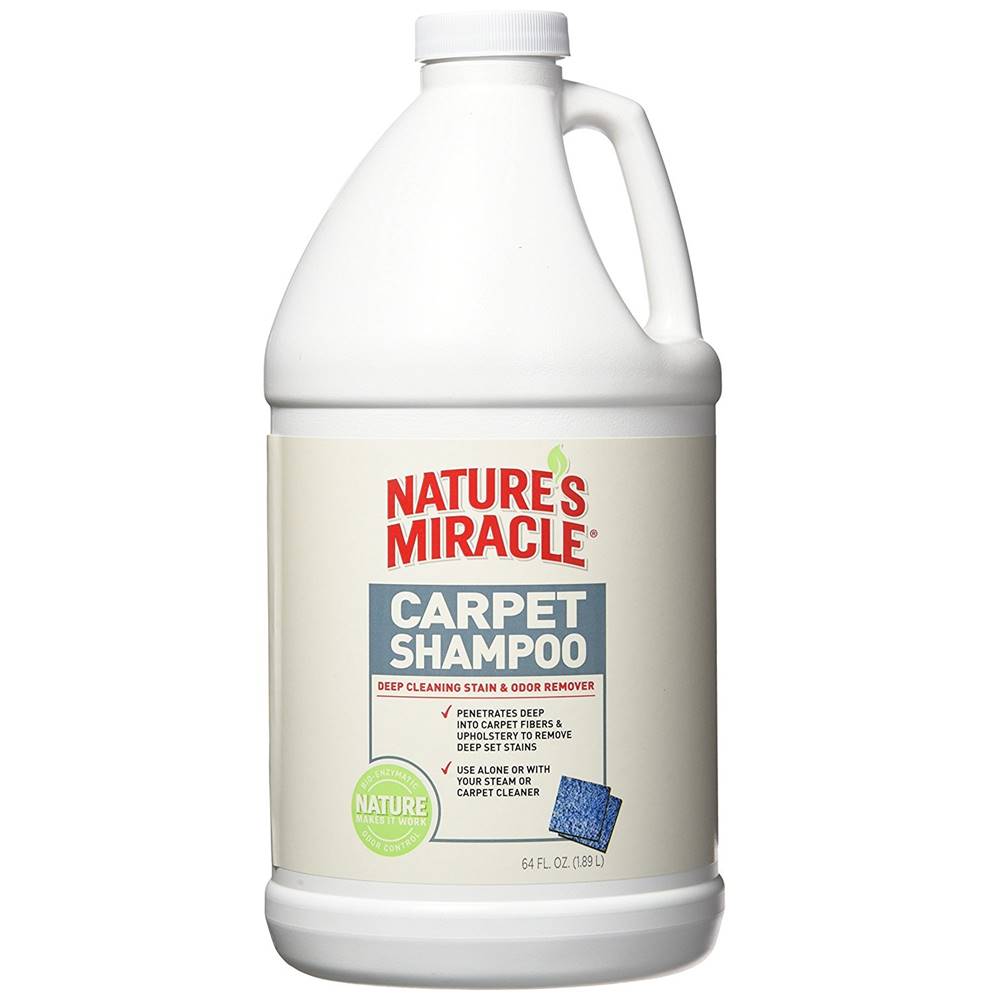 You can use Nature's Miracle to remove the majority of odors and stains, but don't forget that it's an enzyme cleaner – you have to shake the bottle before every use. Enzyme cleaners break the particles and penetrate the carpet fibers, extracting stains, allergens, and odors to the surface.
This is a low-foaming formula that you can use with any steam cleaner or water-based carpet shampoo. It's intended for cleaning carpets of all colors. This stain and dirt remover contains rug brighteners and conditioners that will make your carpet look fresh – it will even be a couple of shades lighter after the wash.
This carpet shampoo cleaner removes all odors, but while it's sold as unscented, that isn't the case. If you need light cleaning, then the scent isn't overpowering. But, if you use too much product, more than it's written on the label, then you will feel a powerful scent. If you have nasty stains, the scent will definitely get worse until it gets better. The same goes if you don't have one of the best home carpet cleaners that removes all the shampoo residue.
Pros
Powerful stain and odor remover that works well when it comes to getting the dirt and pet odor from the carpet fibers.
Carpets get lighter and appear refreshed.
Cons
In contact with pet urine, the scent is very strong as the enzymes break up the odor particles.
It might take a couple of tries before the carpets are thoroughly cleaned.
Carpet Shampoo and Deodorizer Buying Guide
It's hard to choose the absolute best carpet shampoo out there, simply because there are many issues and no product can tackle them all. Even if the manufacturers claim that. This just means that for the best carpet cleaning method, you might have to use more than one product.
There are several things to consider when choosing the best carpet shampoo:
1. Compatibility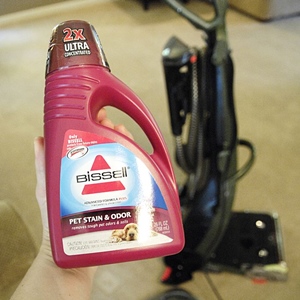 It makes no sense to buy an entirely new carpet cleaning system if you already have a good one. The trick is finding the right product that will work with the system you already have. Famous commercial carpet cleaner manufacturers like Hoover and Bissell will often insist on using their own shampoos, which is logical.
However, in order to avoid issues with product warranty, it's always recommended to use only products that are compatible with your carpet cleaner. Trying to make a homemade carpet shampoo or diy carpet shampoo is always an option, but it is harder to reach a machine compatible result.
2. Proper Use
Bear in mind that some products work better with a certain type of carpet cleaner, so if a product doesn't work well even after you read many testimonials claiming it works miracles, there is a chance you just got a wrong product for your cleaner. That doesn't necessarily mean that the product on its own isn't high-quality.
Also, make sure you follow the manufacturer's directions and dilute the proper amount of product. Use too little, and you won't have enough suds or the strength to clean the stains. Use too much product, and you might be left with a foul and overpowering scent for days. It's better to avoid common mistakes, use the right amount of formula and repeat the cleaning process several times, than to overuse the product and attempt to clean everything in one go.
3. Coverage
Depending on the carpet cleaner and the carpet shampoo, you might use different amounts of products to treat the stained area. It's hard to calculate how much each bottle will cover unless manufacturers write that themselves on the label, but different stains and dirt might require larger amounts of formula. It all depends on how dirty your carpets actually are.
4. Concentration Percentage
Pay attention to the formula concentration. Some products are more concentrated, so it might prove cheaper to buy one bottle of a highly concentrated product than just a larger package of another brand.
How to Prepare the Carpets Before Shampooing?
Reading carpet shampoo reviews is also useful before spending money on multiple products that might not even prove useful for your issues. It's the first step towards a successful stain and odor removal that can save you both time, nerves and money. After you identify the right solution for your stains and odors, you can proceed to carpet preparation.
Step 1: Clean the Area
It would be best if you could remove the furniture and everything else from the carpets so that you don't just clean the accessible areas and be left with a mosaic of colors. Pick up large clumps or stuff that could clog your vacuum.
Step 2: Vacuum Thoroughly
Make sure that the carpet is free from dust and particles. If you don't vacuum, then the carpet shampoo and dirt remover will lock in on those particles on the surface, instead of treating the stains bellow. It would be hard for the shampoo to penetrate the carpet fibers if there's a barrier.
You can also check our commercial vacuum cleaner reviews if you think that you need powerful vacuuming.
Step 3: Pre-treat the Hard Stains
Heavy stains should be pre-treated in several ways and the carpet cleaner formula should be left to soak in and dissolve the dirt. This is especially true for enzyme cleaners. They break up the dirt and stain particles over time, so putting the product on the stain and rinsing it immediately with a carpet cleaner won't do any good.
FAQ About Carpet Shampoos
1. What is spot testing, and how should I approach it?
If you ever used a potent cleaning agent, we are sure that you heard about the "spot test" and how much it can save your time, and prevent carpet and floor damages. A spot test is the best way to determine if the shampoo you got can safely be used on the surfaces you want to be cleaned. There are several ways you can do a spot test, but the principle stays the same:
Open the shampoo bottle and pour a small amount of the shampoo into the bottle cap
Get to the most secluded and rarely-used place on the carpet, preferably a corner
Spill a small amount of the shampoo on the carpet. Try not to touch it or spill anything else on that spot
Wait for a few hours and wipe the spot with a damp cloth. If you see an irreversible stain on the spot after you've wiped it, the shampoo is not fit to clean that particular carpet.
2. I have some leftover shampoo form the last bottle. Is it safe to use it together with the new carpet shampoo?
Even though this might seem like a logical thing to do, there are some things you should consider first. We could be talking about two separate scenarios here, mixing an old and a new batch of the same shampoo, and mixing two different cleaning agents. Both situations should be dealt with differently.
If you are left with a significant amount of carpet shampoo from the last bottle/container, it is reasonably safe to say that there is no danger in mixing it with the new shampoo. However, make sure that there are no hardened or dried out parts inside because this can affect the effectiveness of the new shampoo and mess up the cleaning process.
If you are planning on getting a new shampoo, it would be best not to mix it with any old leftovers. You can never be sure if they will react on a chemical level, thus posing a safety hazard. Just dispose of the old shampoo properly, according to the waste laws in your area.
3. What do I do in the case of over-shampooing?
It is important to remember that carpet shampoos bring enough power already, and over-shampooing is never necessary. On the contrary, by over-shampooing your carpet, you risk permanently damaging it. You can over-shampoo your carpet either by merely using an excessive amount of it or by not rinsing the shampoo entirely. No matter the cause, if you want to remove the extra shampoo before it harms the carpet, you will have to put some elbow grease into it, and soak it all up manually, using a soaker, or a towel.
Please remember to use adequate doses of shampoo. The dosage is made considering the potency of the shampoo, and "the more, the better" does not apply here.
Wrap Up
Carpet shampoo works immediately on the stains, and you can pre-treat the area, but the stains will only get softened by the damp shampoo. It's actually the soap lather and suds that get deep into the stain so that the carpet cleaner can remove it. That's why you can use simple carpet cleaning shampoos for immediate results. For finding the best carpet shampoo and the most optimal results, try using an enzyme shampoo first, and then the regular scented one.
Deep cleaning of all kinds of surfaces and stain removal takes a lot of time, simply because the products have to be left on the stain, and then you have to wait for them, and attempt the cleaning. If the stains are persistent, you will have to repeat the cleaning process and treat the stains all over again. This is especially true for enzyme cleaners. Again, don't forget to shake the bottle before each use. If you are dealing with heavy pet odors, the stench will be hard to endure, but you cannot remove it otherwise, so make sure that space is well ventilated.
We hope that our carpet shampoo reviews helped with your decision.