No matter what kind of business you run – an office building, a hotel, a restaurant, or a cleaning service, having the best commercial vacuum cleaner on hand is a sure way to keep everything nice and clean. After all, commercial units are made to withstand long work hours and the sturdiest dust. A heavy-duty vacuum can handle a lot of daily work, unlike your regular domestic models which are designed for use about once or twice per week.
To help you make the right choice, we prepared a buying guide that tackles everything you need to know before purchasing. Along with it, we present our commercial vacuum cleaner reviews of our favorite models on the market. Let's get right into it!
See The Quick Comparison Chart
Types and Uses of Commercial Vacuum Cleaners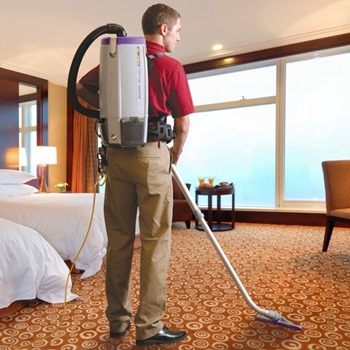 Commercial vacuums come in many shapes and sizes. They range from tiny backpack models that weigh as little as 4 pounds to huge machines that are as tall as a person, usually used in large hotels and big office buildings. Pair them up with a high-quality commercial carpet cleaner, and your business will never have to waste money on expensive professional carpet cleaning. Let's take a look at the most popular types of commercial vacuum cleaners.
1. Canister Vacuums
If you see a vacuum cleaner on wheels, rolling behind a person who uses a long hose and wand to clean the floor, you're looking at a canister vacuum. This type comes in all shapes and sizes, but they have a common quality – you can simply pull them behind you while you work, making them quite easy to work with.
While they're not that popular for home use, they're among the most commonly used ones in commercial settings. That's because of the fact that you don't have to push the entire unit with every stroke you make. This allows for larger dust cups or bags, which gives big canister vacuums more capacity without limiting maneuverability. However, the fact that they come in an odd shape and are usually larger than other types of vacuums makes them somewhat harder to store, which is an important consideration for some.
Attachments
Canister vacuums are generally considered ideal for bare floors and less efficient on carpets, but that doesn't have to be the case. The real difference comes down to the type of attachment you use – with or without rotating brushes, which are made to dig deep into the fibers of carpets to pull out hairs, crumbs, and other pieces of dirt. However, canister vacuums usually don't have an option to shut off brush rotation, so you might need to swap the entire head to change surfaces. So, when you pair your canister vacuum with a steam mop and a carpet cleaner, all of your surfaces can be perfectly clean. An advantage of canister vacuums is that they usually come with a plethora of attachments, which are very easy to swap. These attachments can sometimes be stored in compartments within the unit itself.
Canister vacs are somewhat easier to use around and under furniture, especially compared to upright vacuums, because of the unique hose and wand attachment design.
They are rarely battery powered, but some cordless models do exist. Commercial canister vacuums usually come with long cords that are rolled and stored inside the unit itself, so cord messes and tangles aren't a concern. In many cases, the units have automatic cord winding, which is activated with a press of a button.
2. Upright Vacuums
Upright vacuum cleaners have found their place in many American homes, making them the most familiar type of vacs across the country, and therefore one that your workers or cleaners might be the most comfortable using.
As the name suggests, upright vacuums are long machines that stand upright, with their dust can or bag usually on the lower part of the machine, right above the head attachment. The handle is situated above the dust can, so the user pushes the entire unit back and forth while vacuuming. Because of this, upright vacuums might have somewhat smaller dust cans in general, but that's not always the case.
Upright vacuums come in many shapes and sizes, but since they all keep the same basic, upright design, they're very simple to store and take very little floor space when in storage. That makes them perfect for establishments with small broom closets and storage rooms.
Type Of Floors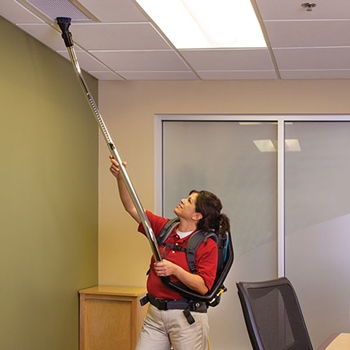 Despite their reputation as carpet-only vacs, upright models can be equally as good at cleaning bare and hard floors as other types of vacuum cleaners. That's made possible by an option to disengage the brush rotation since the so-called brush roll is designed for carpet cleaning. Cleaning the brush roll itself is also essential.
A big advantage of some upright vacuums is that some models can be transformed into handheld devices, which are ideal for cleaning corners, tables, counters, and other surfaces. You can even get particularly lightweight vacuums if that fits your needs.
While corded models are still the most common, upright vacuums often come battery-powered as well. This might be handy if you need to deal with large rooms where the position of power outlets might require unreasonably long cords for comfortable use.
3. Backpack Vacuums
As the name suggests, backpack vacuum cleaners have a unique design – they can be carried on your back. This makes them very popular among commercial cleaning services. This design allows a lot of maneuverability, and it makes cleaning large areas much simpler since the user doesn't have to drag or push the entire unit and work around it all the time.
The idea behind backpack vacuums is simple – since professional cleaners have to vacuum for many hours a day, it's important to make vacuuming comfortable. The backpack design eliminates the need to bend while doing the job.
Backpack vacuum cleaners need to be light in order to be comfortable. That's why they generally have smaller dust cans or bags, which require somewhat more frequent emptying. However, the trade-off is worth it, since the machine is much easier to use.
Additionally, backpack vacuums are generally less noisy compared to other vacuum types, which makes them suitable for businesses that need cleaning during work hours. From schools, offices, to hotels, you won't bother anyone, and you'll still get the job done.
Best Commercial Vacuum Cleaners Comparison Chart
PRODUCT
DETAILS

Oreck Commercial XL2100RHS Commercial Upright Vacuum Cleaner XL

Price:

$

Customer Rating:

4.2

Type:

Upright

Dust Collection:

Bag

View On Amazon

Shark Rotator Professional Upright Corded Bagless Vacuum

Price:

$$

Customer Rating:

4.4

Type:

Upright

Dust Collection:

Bagless

View On Amazon

Hoover Commercial Shoulder Vac Backpack Vacuum Cleaner

Price:

$$$

Customer Rating:

4.3

Type:

Backpack

Dust Collection:

Reusable Bag

View On Amazon

ProTeam Super CoachVac Commercial Backpack Vacuum Cleaner

Price:

$$$

Customer Rating:

4.5

Type:

Backpack

Dust Collection:

Bag

View On Amazon

Oreck Commercial U2000RB2L-1 LEED-Compliant Upright Vacuum

Price:

$$

Customer Rating:

3.9

Type:

Upright

Dust Collection:

Bag

View On Amazon

Sanitaire SC3683B Commercial Canister Vacuum, Red

Price:

$

Customer Rating:

4.0

Type:

Canister

Dust Collection:

Bag

View On Amazon

Hoover Commercial CH32008 Hush Tone Canister Vacuum, 9 L

Price:

$$

Customer Rating:

3.8

Type:

Canister

Dust Collection:

Bag

View On Amazon
Best Commercial Vacuum Cleaners Reviews
1. Oreck Commercial XL2100RHS Commercial Upright Vacuum Cleaner XL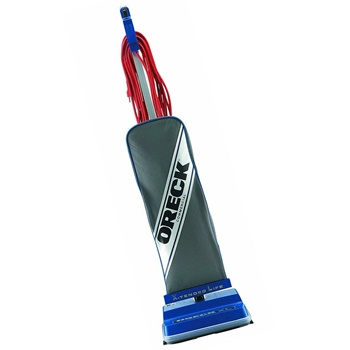 Oreck Commercial is a well-known brand of commercial floor cleaning machines and products, and the company was founded and established in the USA. Here we have a high-quality commercial model.
This upright vacuum cleaner is there for you when you need it. It will help you clean quicker because it has a very wide, 12-inch cleaning path. If you need to maneuver under furniture, you can do it easily because the unit bends to create a low profile design that can get under any sofa or bed. The head design features an ingenious way to clean corners and along baseboards – the side edge brushes will take care of that for you. You can use this Oreck commercial vacuum cleaner on both carpets and hard bare floors without a care in the world since the model automatically switches to the appropriate setting. The best thing about this model is that it's very lightweight at only 8 pounds, making it easy to use and store. It also comes with a 35-foot cord, which minimizes unplugging. The bagged unit helps you avoid reintroducing dust once it's time to empty it out.
Pros
Avoid unplugging with a 35-feet long cord
Comes with side brushes that clean corners and along baseboards
Cons
Can't use additional heads or accessories
2. Shark Rotator Professional Upright Corded Bagless Vacuum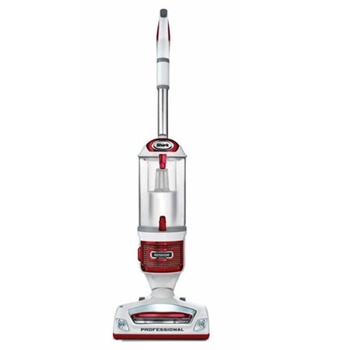 If you're looking for a versatile upright vacuum cleaner, the famous manufacturer Shark has got exactly what you need.
This professional upright vacuum cleaner can help you clean virtually any surface, with its various attachments and additional tools. With a swivel head, this vacuum is very easy to steer. In fact, it's quite light as well, at only 15.5 pounds, yet it's sturdy and durable enough for long work hours. When vacuuming, you won't ever miss a spot, since the model features a set of LED lights on the head, which lights the way as you go. This bagless vacuum will contribute to stopping global warming since you don't need to throw away vacuum bags once they fill up. Instead, you only need to empty the plastic canister one it fills up, re-attach it once it's empty, and you're ready to go. In fact, with the dust cup capacity of 1.3 quarts, you won't have to run to the trash that often. You don't need to worry about allergies, though – the vacuum features an Anti-allergen complete seal technology and a HEPA certified filter. It comes with a 25-feet long cord.
Pros
Bagless design with a HEPA filter
Very versatile – can vacuum any surface, and comes with many attachments
Cons
The 25-feet cord might be too short for large venues
3. Hoover Commercial Shoulder Vac Backpack Vacuum Cleaner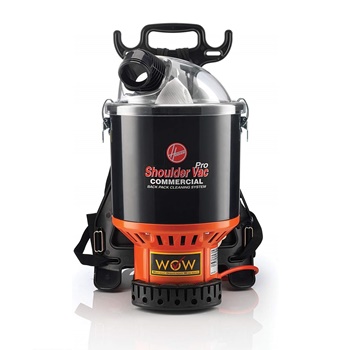 Want to simply put a backpack on your back and get going? You can't carry anything in it, but you can definitely clean up your floors and surfaces with this lightweight Hoover.
A thorough cleaning is easier than ever with this backpack vacuum cleaner. Weighing no more than 10 pounds, the design of this model allows great maneuverability and ease of use. In fact, this vac is as comfortable as it gets since the harness was designed with the professional help of a chiropractor. You don't have to worry about it leaving you with a bad case of tinnitus either since the model has a very silent operation that doesn't go over 66 dBA. Range won't be an issue either since you can go almost anywhere while plugged in – this model features a 48-feet cord. The filter will help you keep allergies, asthma, and other respiratory intolerances under control with its HEPA filter. This model comes with an easy-to-empty bag, which is, in fact, reusable, so you won't ever have to get a new pack. The model also comes with a plethora of additional tools and accessories that will help you keep your business spick and span. However, this model is not suitable for high carpets that need a powerful brush head.
Pros
Comfortable harness and lightweight for maximum ease of use
Comes with a 48-feet long cord for a huge range
Cons
Doesn't have a brushed head for high-pile carpets
4. ProTeam Super CoachVac Commercial Backpack Vacuum Cleaner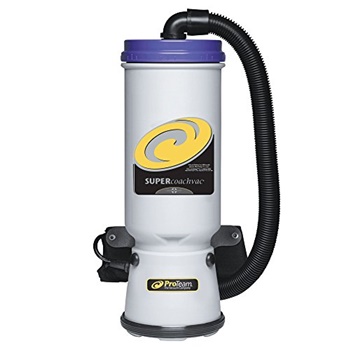 If you want to get a single tool to clean virtually any surface in your office, venue, or store, we recommend this ProTeam backpack model. You'll get everything you need in this well-designed 7-piece commercial toolkit.
This backpack vac is not the prettiest, but it's definitely one of the more powerful and versatile backpack models we came across. You can vacuum up tiles, hardwood floors, low-pile carpets, and on, under, and around almost any piece of furniture with the plethora of additional tools you get with this model. You don't need to worry about getting to the other end of that hallway either, because this model comes with an extra-long 50-feet cord. The bagged model doesn't require frequent bag changes, because it has a large capacity of 10 quarts. Along with the bagged design for dust-free emptying, this vac comes with a HEPA media filter which removes 99.97% of the allergens and dust from the air. The operation is very quiet at 66 dBA, making this an ideal model to use during the work hours of offices, schools, and hotels.
Pros
Quiet operation at 66 dBA
Comes with an extra-long 50-foot cord
Cons
This is not the most affordable model, but it comes with a plethora of accessories for the price
5. Oreck Commercial U2000RB2L-1 LEED-Compliant Upright Vacuum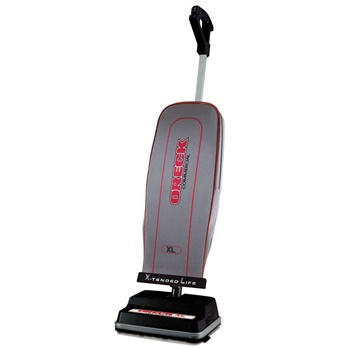 If you're looking for a high-quality commercial vacuum cleaner by an American company with a great reputation and long tradition, look no further than Oreck.
This model weighs around 9 pounds, which makes it very maneuverable and easy to bring in and take out of storage. If you have a medium-sized venue or store, you might even be able to clean up everything without changing the power plugs – this model comes with a 40-feet long power cord. The model uses big vac bags, and they fill from the top down, which helps the vacuum work perfectly no matter how full your bag is. This Oreck commercial vacuum cleaner is perfect for low-pile carpets that are popular across office buildings and stores. However, it doesn't do great on bare floors like hardwood and tiles, because there's no way to stop the brush rotation. Additionally, it doesn't come with replaceable heads or accessories. Overall, this is a very powerful and durable basic vacuum cleaner that's suitable for any business with a low-pile carpet.
Pros
Very lightweight, which makes it easy to use and store
Comes with a 40-feet long power cord
Cons
Only suitable for low-profile carpets
6. Sanitaire SC3683B Commercial Canister Vacuum, Red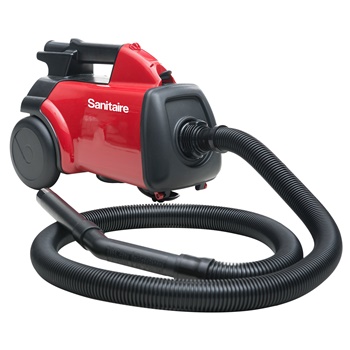 It seems that there are a lot of commercial vacs that cost a lot, but if those don't fit your budget, take a look at this Sanitaire commercial vacuum model. This is one of the highest-quality budget commercial options that won't leave you hanging.
This small but pretty red canister vacuum cleaner is a great pick for anyone who values versatility for a fairly low price. In fact, this canister model comes with a plethora of attachments ideal for cleaning different surfaces. From the combo low-profile carpet and bare floor tool, an upholstery tool, to a crevice tool and a dusting brush. This model is easy to carry around, and at only 10 pounds, you can even carry it in your hand. It does come with a shoulder strap for improved maneuverability, which is very handy, especially if you need to clean stairs. This model is ideal for small spaces like stores and family restaurants because its cord is only about 20 feet long. However, if the range isn't an issue, you'll be happy with the cord length because it's stored on the outside of the unit, so the shorter length makes it easier to manage.
Pros
Very affordable commercial vacuum cleaner
Comes with many attachments and can even be carried on your shoulder
Cons
The cord is only about 20-feet long and it's stored on the outside
7. Hoover Commercial CH32008 Hush Tone Canister Vacuum, 9 L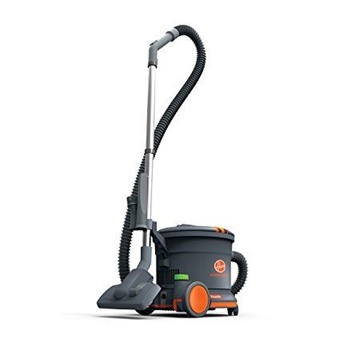 If you're tired of loud vacuum cleaners that don't get the job done, this canister model by Hoover, appropriately named Hush Tone, is the right pick for you.
In fact, this canister model is one of the quietest models we came across – with a working volume of 62 dBA, you can rest assured that cleaning is not disturbing anyone's workflow. Your cleaner or worker won't have to bother anyone by sneaking behind to change the outlets either. With a power cord that's 50 feet long, there's no need for unplugging even in large offices and venues. However, keep in mind that some customers weren't happy with the quality of the power cord, so it might be the first thing that needs replacing. This Hoover commercial vacuum uses large bags with a large capacity of 9.5 quarts, so you won't have to replace them often. In fact, this model is ideal for people who suffer from allergies, because it comes with HEPA filter bags, so you won't come in touch with the allergens.
Pros
Very silent operation at around 62 dBA
Large capacity canister which uses HEPA filter bags
Cons
The 50-feet long cord is prone to coiling
Commercial vs. Household Vacuum Cleaners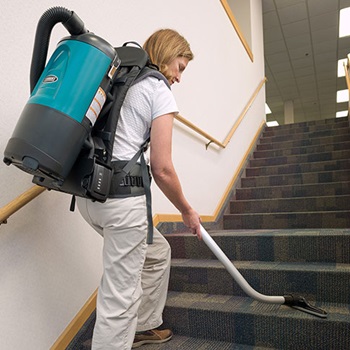 If you're new to cleaning and maintaining a business venue, you might be tempted to try to do your regular upkeep with a good, old household vacuum cleaner. But sooner rather than later, you'll see exactly why that's not a great idea.
Household vacuum cleaners are designed to clean a lot of everyday pollutants like food crumbs, dander, and hair from carpeted and bare floors of homes. For as long as you vacuum once a week, change the dust bag, and wash the filter of your vacuum regularly, it's going to do just fine for a few years. However, if you try to use the same vacuum cleaner in a business setting, where you need to vacuum practically at the end of each workday, your regular domestic vacuum cleaner is going to show signs of heavy wear and tear after only a couple of months. Soon enough, it will start overheating or losing its suction power. The battery of any commercial cordless vacuums will inevitably lose its durability to the point where you need to recharge every 10 minutes or so.
Commercial vacuum cleaners are made to work overtime. They are designed for continuous use, day after day, for several hours a day. Because they're able to handle long working hours on a daily basis, they are also far more durable compared to domestic models. Where a household vac would last 2 years, a commercial model lasts at least 5, without ever losing its suction power or overheating. Finally, commercial models are simply more powerful, which means you can vacuum the same area in a much shorter time period. In short, a commercial vacuum cleaner is always ready to go when you need it, many uses and many years after purchase.
1. Maintenance
Of course, along with the heavy-duty workload comes the need for more frequent maintenance. Where a HEPA filter in a residential vacuum cleaner lasts between 2 and 3 years, commercial models that see everyday use need a replacement once or twice a year. When it comes to bags and dust cans, commercial models usually come with bigger capacities, which can help janitors and professional cleaners avoid running to the trash can all the time.
2. Surfaces
Believe it or not, even though commercial vacuum cleaners have more cleaning power and better durability, they have a weakness as well. Most commercial buildings have low-pile carpeting, mostly because they need to withstand a lot of shoe traffic. That's why commercial vacuum cleaners have a specific design that's perfect for low-profile carpets, but that doesn't do very well on fluffy, high-pile carpets that you may find in your master bedroom. However, most commercial models do just fine on bare floors like hardwood and tiles!
3. Price
Price-wise, commercial vacuum cleaners cost more upfront, but they usually pay off in a matter of months. Since they're made to be so durable, they're a much smarter investment than buying residential vacs one after another as they break due to the heavy workload.
Commercial Vacuum Cleaner Buying Guide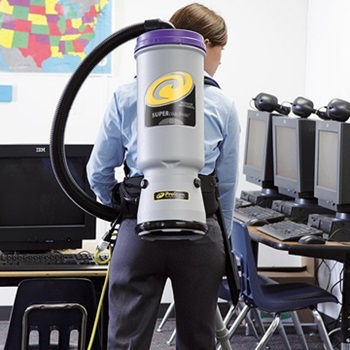 When you're ready to invest in a commercial vacuum cleaner for your business, you want to make the best possible choice. After all, your business, house, and car all deserve to be spick and span. That means finding the perfect model that has the right price to quality ratio, and that will be durable and reliable for years to come. To truly make the right choice, you should know what to look for, and what to watch out for. That's why we prepared this commercial vacuum cleaner buyer's guide, where we collected all of the information you need when making this decision. Let's take a look at all the different features and characteristics you should consider before making your final pick.
1. Power Source
Some businesses work best in small offices, and others require entire buildings. The first thing you should consider when getting a commercial vacuum cleaner is how big your area is because that's going to change what type of vac is best for your needs. This important factor should be mirrored in your choice of a power source of your vacuum. In general, we can talk about corded and cordless vacuum cleaners.
1.1. Corded
Corded vacuum cleaners require a nearby electric outlet to function. This power source is reliable and it lets you work through large areas all at once, without having to worry about battery life.
However, corded vacs come with a limited range, and you need to swap the power outlet if you can't reach a far corner of a room or hallway. If your business has a large venue or long corridors, you should definitely consider cord length of the unit you're getting compared to the size of your area.
Finally, before you make your purchase, you should make sure that the vac has a system for neat cord winding or a way to store the cord properly. Some models come with loose cords that don't have a designated storage method, which quickly ends up with tangles and frustration. Many canister vacuums come with an automatic cord winding button, which is very handy.
1.2. Cordless – Battery powered
Battery-powered vacuum cleaners are much easier to maneuver, since your range is not limited, and there's no hassle with (or tripping over) the cord. With a cordless vacuum cleaner, you don't have to deal with the furniture getting in the way either. Everything about vacuuming is simpler when you get rid of the cord – getting the vac in and out of storage is simpler, it's easier to set up and start vacuuming, and you can go wherever you need to vacuum without the need to switch your electrical outlets.
However, a battery-powered vacuum cleaner comes with the obvious caveats of limited work time. In many cases, cordless vacuums can work anywhere between 10 and 60 minutes on a single charge. The amount you get out of a single charge mostly depends on the sucking power you need, but also the quality of the battery itself. While you don't have to deal with a cord, it's important to remember to charge your battery. If you forget to recharge, it can also be difficult to deal with time-sensitive cleaning situations.
2. Dust Collection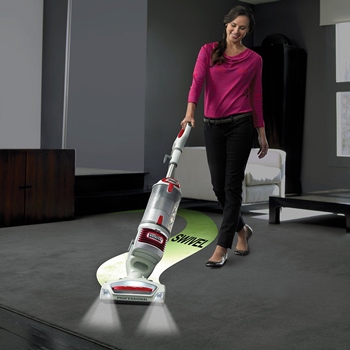 As you vacuum, the dust, hairs, crumbs, and other bits and pieces get collected in a designated container. Higher capacity containers mean less frequent emptying, but also bigger vacuum cleaners which are heavier and harder to store. There are two methods of dust collection that exist across all types of vacuum cleaners – bags and dust cans.
2.1. Bagged
Some vacuum cleaners collect dirt in single-use bags. The bags are mounted within the unit, and it takes dirt as you suck it up from the floor. Once the bag gets filled, you simply open up your device, take out the full bag and toss it, and set up a new, fresh bag.
Of course, single-use vacuum cleaner bags are not eco-friendly at all. Made out of paper or plastics, once the bag is used up, you can't re-use it. This also makes your regular vacuuming more expensive because you need to get a pack of bags every now and then. Luckily, the bags are quite inexpensive, ranging between 1 and 5 dollars per piece.
The benefit of vacuum cleaner bags is that they ensure a clean emptying process. Since most bags seal as soon as you open the vacuum, there's no dust and dirt flying around when you empty your vac. This is ideal for people with allergies, asthma, and other respiratory conditions.
2.2. Bagless
Most vacuum cleaners on the market today come with their own, plastic, re-usable dust can. Once your dirt container is full, you simply detach the can, and empty it up, throwing all the dust from your floor into a trash can.
Emptying a bagless vac can be a bit of a hassle because the dust and dirt can fly out in the process. This is not recommended for people with respiratory conditions.
Bagless dust collection in your vacuum cleaner is the eco-friendly option since you re-use the same dust can every time you vacuum. Furthermore, that also means that you don't need to make any additional purchases once you get your vac with a re-usable dust can.
3. Height Adjustment
Some vacuum cleaners come with the possibility to change the height of the vacuum head. This is done to ensure proper airflow and good suction. As you may already know, not all vacuum cleaners work equally well on different carpeting. If you need to switch from low-pile to higher-pile carpets, height adjustment is the right way to ensure your vac cleans them equally well. Make sure that the vacuum you're getting has height adjustment, especially if you need to use it on different floor and carpeting types.
4. Filter
As you suck up dirt from the floor, the filter of your vacuum cleaner picks up small particles of dust, pollen, dander, and mold spores. These particles stay trapped inside the filter, making the air that comes out cleaner and safer for everyone.
4.1. Washable filters
Because of its unique role inside the vacuum cleaner, the filter also needs cleaning every once in a while. Washable filters have the simplest maintenance routine, and because of that, they don't require frequent replacements.
4.2. HEPA certification
One of the worst things that could happen to your business is a customer that has an allergic reaction or an asthma flare-up because of the particles in your carpets and air. And this is possible whether or not your business is pet-friendly. A HEPA certified filter will ensure that this never happens.
HEPA, which stands for High-Efficiency Particulate Air, is a certification for mechanical filters in vacuum cleaners. The fact that a filter is HEPA certified ensures that your filter is super-fine and that it can trap more than 99.97% of 0.3-micron particles. In practice, that includes most common allergens, including mold spores, dust mites, pet, and human dander, and pollen. As all of these stay trapped inside the filter, you, your workers, and your customers who have inhaled allergies, COPD, asthma, and dust intolerances can rest assured that no flare-ups will happen in your venue.
5. Attachments and Tools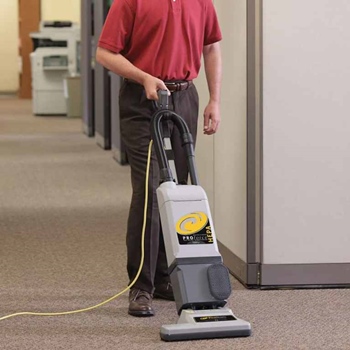 Vacuum cleaners are not only useful for cleaning your carpets. With the right attachment, you can use your vac to get almost any surface clean in a matter of minutes or even seconds. Here are some of the most useful attachments, tools, and options.
5.1. Multi-Surface
All vacuum cleaners come with a basic head for your floor. If it comes with a rolling brush, it's designed to clean carpets, as the brush bristles reach deep between carpet fibers to set dirt loose. In order to clean bare floors, like hardwood or tiles, your vacuum cleaner should either have the option to disengage brush rolling or a separate attachment without brushes.
5.2. Additional attachments
Apart from the floor heads, your commercial vacuum cleaner may come with a plethora of other attachments. Here are the most common ones and their uses.
Crevice tool: This long wand is perfect for spots that are hard to reach. Behind and under furniture or along the baseboard, the crevice tool is there for the difficult parts.
Upholstery tool: Coming with additional strips designed to comb through plush furniture, the upholstery tool is great for cleaning sofas, armchairs, ottomans, and even car upholstery.
Dust brush: This unique brush is there when you need to get rid of the dust on delicate objects. From lampshades to picture frames, a dust brush removes dust with ease and without danger of breaking your valuables.
FAQ About Commercial Vacuum Cleaners
1. How do I know what the suction power of a commercial vacuum cleaner is?
Vacuum cleaner manufacturers use many different descriptions for the suction power of their products, but unfortunately, there is still no established method to determine the strength of suction of a vacuum cleaner. Some companies use a descriptive measurement CFM, which stands for cubic feet per minute, to describe the airflow through the vacuum. Others opted for a somewhat different measurement, air watts, to show the relationship between airflow and the consumption of electric power. You can use these measurements to compare different products, but they usually don't paint the full picture since suction depends on many factors.
2. What's important in a commercial vacuum cleaner for asthma, allergy, and other respiratory conditions?
When it comes to making your business allergen-proof, the most important factor is looking for a vacuum cleaner with a HEPA certified filter. These dense filters are designed to trap 99.97% of known allergens larger than 0.3 microns, literally making the air in your venue easier to breathe. With proper maintenance of the filter, you can make sure that you, your workers, and your customers never suffer asthma, allergy, or COPD episode in your shop or office.
It's also important to pay attention to how and where the dust can is emptied. When you empty the dust can, some of the dust flies out and is thus reintroduced into your venue. Make sure that the dust can is always emptied out outdoors or in a service room.
If you want to help your workers and cleaners avoid contact with allergens, you should get a bagged vacuum cleaner. Vacuum cleaner bags seal automatically as soon as you remove them from the vacuum cleaner, trapping all of the dust inside. When it comes to emptying, bagged vacuums create the least mess. However, remember that you need to get new vacuum cleaner bags regularly.
3. How do I clean a washable filter of a commercial vacuum cleaner?
Cleaning a filter of a commercial vacuum cleaner is very similar to any regular home-use model. Just make sure that the filter is indeed washable! You can check that in your model's user manual or on the manufacturer's website.
First off, you should empty out the dust can or bag. Then, you can reach the filter. Take the filter out carefully. First, you should remove large particles. If you have the right circumstances, you can shake or blow a big part of the dust from it, just make sure it doesn't blow right back in your face. If you can't shake it off, take a brush or a small vacuum cleaner to dust the filter.
After you've removed the large particles, you can start washing the filter. Put it under a stream of lukewarm running water, and rinse it until you see that the water coming out is no longer dirty. Don't use soap unless the manufacturer recommends it in the user manual.
Now, you should leave the filter out to dry. It has to be completely dry once you return it into the vacuum cleaner. Filters take anywhere between 12 and 48 hours to dry, so you should keep that in mind when choosing the right time to do it.
You should check whether the filter needs cleaning whenever the vacuum cleaner seems to be losing suction, or after every 2-3 uses.
4. When is the time to replace a filter in a commercial vacuum cleaner?
There's no one size fits all answer to this question, and you should search for a concrete answer in the user manual of your vacuum cleaner. However, we can give you some general guidelines which can help you determine if your vac's filter is due for a replacement.
In general, commercial vacuum cleaners require changing every 6 months or once a year. Of course, this period is longer for very small venues, like stores and restaurants which have a small floor area. However, you should never go longer than 3 years without a filter change.
If you feel a musty smell while vacuuming, it's definitely time for a change, or at least, for a thorough wash and drying.
If any part of the filter itself or its housing is damaged, it's time for a replacement.
Wrap Up
There's nothing more customer-repelling than a dirty, dusty business that provokes allergy reactions and the gag reflex. Your shop, office, or venue deserves to be spotlessly clean at all times. To achieve that, there's no better tool than the best commercial vacuum cleaner. With one of these powerful machines, you don't have to worry about your vacuum cleaner giving up on you when you need it most, or whether or not the vac can take all of the surface areas at the frequency you need it too. Commercial vacuums are made to be sturdy and long-lasting, so they're reliable and definitely a worthy investment.
In our commercial vacuum cleaner reviews and buying guide, we tried to answer all of the questions you might have about getting a model for your own business. If you have any questions left, don't hesitate to leave a comment down below!