If you are new to professional carpet cleaning, then you should get the best commercial carpet cleaner for your business. Nowadays, technology has advanced so far that big, heavy-duty machines are available to everyone. Here we will talk about the strongest in the carpet cleaning game, going through the details and general info you should have in mind before you make the final decision.
Whether you want to open up your own carpet cleaning business, or you are looking to buy this unit for your office, strong, commercial units are a must. Having a workspace usually means a lot of people, and a lot of foot traffic, so naturally you will want to keep it clean. After you are done with the practical info from and the buying guide, have a look at the commercial carpet cleaner reviews. Without further ado, let's jump right into it!
See The Quick Comparison Chart
What Kind Of Tasks Can Heavy-Duty Carpet Cleaners Cover?
As you might have guessed, commercial carpet cleaners are a category of the best ones a manufacturer can offer. By best, in this case, we are talking about the wide variety of jobs these units can perform. There is nothing you can't clean with them. Stained carpets, rugs, upholsteries, and oddly-shaped furniture, decorative bedding, and tile flooring are just some of the few surfaces.
It is important to keep in mind that when it comes to fabric, we do not only want to eliminate the visual stains. Yes, we are talking about smells. Food stains and the ones made by pets often do not look as bad as they smell. Commercial carpet cleaners are generally packed with stronger sucking nozzles that help with the odors. Additionally, always consider using a cleaning agent for odors, if the manufacturer provides one.
Stains caused by everyday foot traffic cannot be eliminated in their origin, but that is why commercial carpet cleaners provide a stronger kick to get everything out of the way.
Should You Get a Commercial Carpet Cleaner Or Just Rent One?
Now, this topic is the most common one. Regardless, it should be approached with care and analyzed as equally as the other. The main question here is "Why should you buy your own machine when you could rent one?". We are aware that getting a heavy-duty carpet cleaner is an investment, but considering the price of rentals, the money will return quickly enough. If you are new to the concept of carpet cleaning with these powerful machines, this info is especially intended for you.
Cleaning a carpet with a commercial carpet cleaner is not an automated action, yet. So, you must shampoo, preheat, soak, deep vacuum the carpet before the final deep cleaning process. You can check our best commercial vacuum cleaner article if you don't have one already.
Of course, these actions are not always done, sometimes even only one is required. But most of the time, even with only shampooing, you will have to repeat the process several times. This applies especially to ultra-heavy stains and high traffic areas.
Even pet stains often require proper repeated treating with a cleaning agent of some sort. The worst thing that could happen to your carpet is having it half cleaned because you had to return it to the rental place. Half-clean, and still wet carpets and rugs usually finish as being dirty beyond repair, and they get thrown away. So, renting a carpet washer is not cheap at all. And if you do rent it, not everything will go down as smoothly as you think. Re-running some areas, or the whole carpet/rug will almost always be necessary.
Now imagine having a facility/office that you need to maintain on a daily basis. The rental cleaning bills would sky-rocket in a month or so. That is why owning such a powerful machine is always preferable if you have the budget for it.
Best Commercial Carpet Cleaners Comparison Chart
PRODUCT
DETAILS

Oreck ORB550MC Commercial Orbiter Floor Machine

Price:

$

Customer Rating:

4.5

Weight:

34 pounds

Size:

49.6 x 13.6 x 9.7 inches

Warranty:

5 years

View On Amazon

EDIC Galaxy Commercial Carpet Cleaning Extractor

Price:

$$$$

Customer Rating:

3.9

Weight:

78 pounds

Size:

31 x 18 x 35 inches

Warranty:

5 years

View On Amazon

Rug Doctor Mighty Pro X3

Price:

$$

Customer Rating:

4.3

Weight:

50.3 pounds

Size:

22.5 x 11 x 26 inches

Warranty:

5 years

View On Amazon

Bissell Big Green BG10 Deep Clean

Price:

$$

Customer Rating:

4.7

Weight:

42 pounds

Size:

20.5 x 11 x 42.25 inches

Warranty:

variable

View On Amazon

Hoover C3820 Commercial Spotter and Carpet Cleaner

Price:

$

Customer Rating:

3.1

Weight:

24 pounds

Size:

19.5 x 14.2 x 29.9  inches

Warranty:

1 year

View On Amazon
Best Commercial Carpet Cleaning Machines (Updated List)
1. Oreck ORB550MC Commercial Orbiter Floor Machine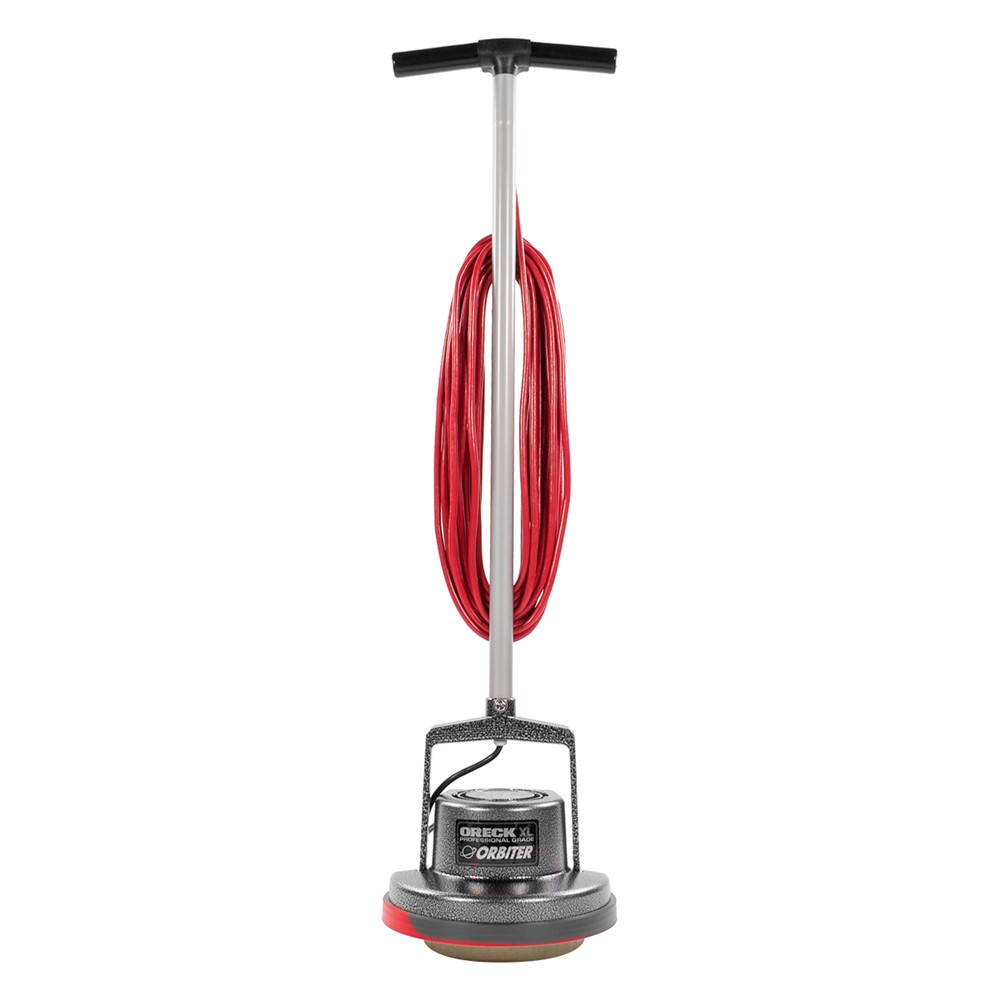 Oreck commercial floor cleaner is not like the rest of the cleaners on this list. It's actually a commercial-grade floor buffer for hardwood floors, but it also has a dry-cleaning function for your carpets. It can easily loosen up the dirt that's been deeply embedded into your carpeting, after which you can simply vacuum it and prepare the rugs for deep cleaning.
This floor machine works best on crusty stains like dirt, set-in food and the rest of the hard-core stains that can be loosened with 13-inch cleaning path brushes. This unit also lets you administer carpet shampoo and other cleaning solutions. The brushes rotate at the high speed so that carpet fibers are cleaned and stripped of any dirt from all sides.
Pros
Comes with a 50-foot long cord for a huge range and an excellent reach
This unit is on the lighter side, weighing under 25 pounds
Conveniently shaped and easy to store
Cons
Not designed to tackle the hardest of stains
There are no provided accessories with the model. These are bought separately
2. EDIC Galaxy Commercial Carpet Cleaning Extractor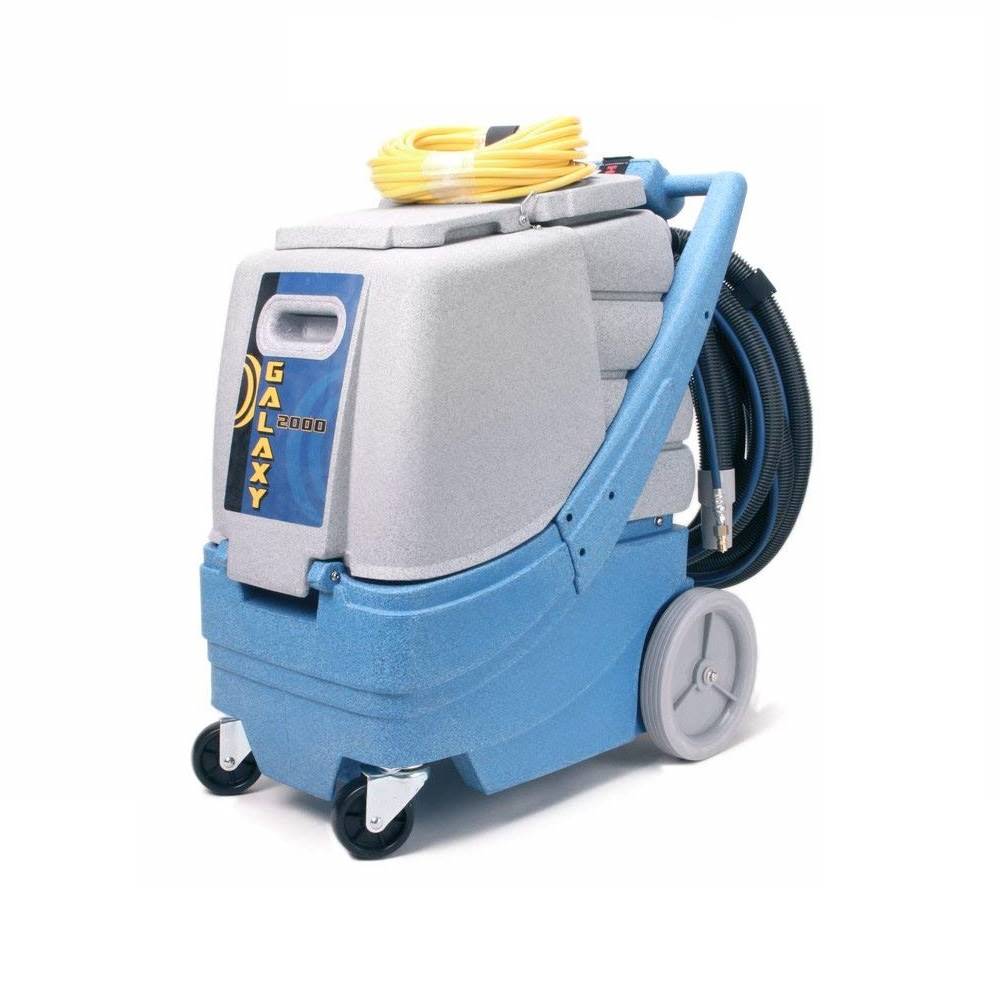 Last on this list, but certainly not least, is the EDIC Galaxy, a unit that surpasses all the abovementioned carpet cleaners. Now, it has its own advantages and disadvantages, and we have tested it in various instances.
This commercial carpet shampooer weighs just under 80 pounds, so the compact design is not a major feature. But, as you might have learned so far, lack of portability usually means extra power. The whole unit had to be mounted on 4 wheels so you can move it around. This is the unit in action.
When it comes to liquid containment, this model is packed with a 12-gallon solution tank and an 11-gallon recovery tank. Compared to some other models this one held the longest in a single cleaning session, without having to change dirty water all the time.
Galaxy has a 2-stage electric motor, and EDIC offers additional power equipment to be bought with the essential unit. One of these proved very useful and that it the external water heater to help clean at a deeper and faster rate. A very long extension hose comes with the unit, but the wand also needs to be bought separately.
Nevertheless, this model comes at a slightly higher price than average, but it also has a 5-year warranty that covers every single part of the carpet cleaner.
Pros
One of the most powerful commercial carpet cleaners out there
Massive water tank inside enables you to clean for a longer period of time
An extra-long 25-foot extension hose for an even bigger range
Cons
Thanks to the power it brings of the table, this is one of the heaviest machines in this group
This carpet cleaner does not come with a heating extension which can be bought separately
3. Rug Doctor Mighty Pro X3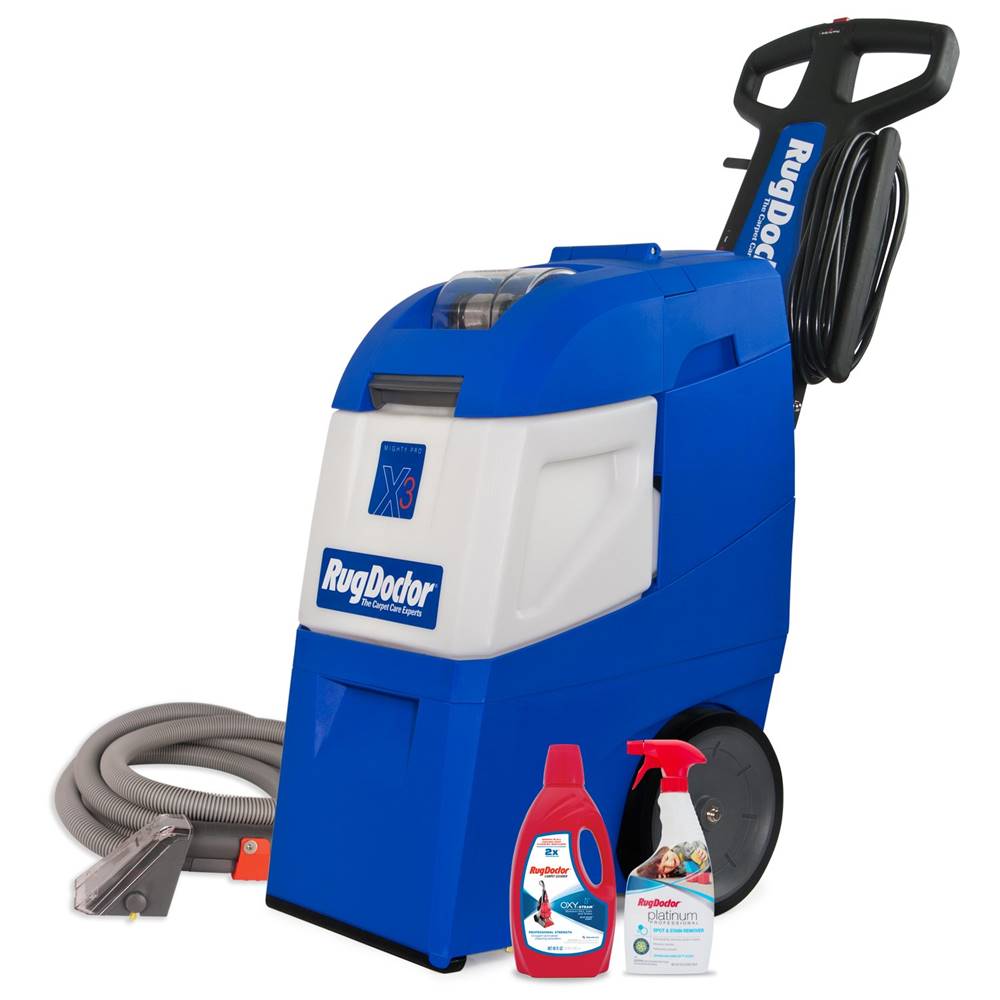 Next up, we have a slightly more robust, but nonetheless stronger, heavy-duty commercial Mighty Pro X3 unit from Rug Doctor. As the name suggests, this manufacturer is among the top competitors in the carpet cleaning industry. Even though they advertise this carpet cleaner as a home-cleaning appliance, this unit thrives in the high traffic areas.
This heavy-duty piece of machinery weighs just over 50 pounds, which gives it a sturdy structure and a feel of overall firmness. Despite its robust structure, this model is tightly packed and mounted on a 2-wheel system. And if you have the need to go portable, there is a provided 12-foot long hose with the handy upholstery tool to help you reach different places.
The cleaning path width of the unit is 10.8 inches, which combined with its 3.9-gallon recovery tank and a 3-gallon solution tank makes cleaning comfortable for up to 150 square feet.
A three-step process is implemented for faster and more efficient cleaning: spray, scrub, extract. Additionally, the cleaning agents developed by the Rug Doctor felt perfectly paired with the unit.
If by any chance there is an animal in your environment, it is important to mention that this particular unit puts out extra power when it comes to removing stains and odors made by pets.
Pros
The three-step is an excellent feature for tackling older stains
Despite its bulkier build, it can still be packed tightly, due to its shape
Very good at removing odors

Cons
Takes longer to clean compared to other models in its class
The water tanks are tightly tucked in, so reaching them is a bit harder
4. Bissell Big Green BG10 Deep Clean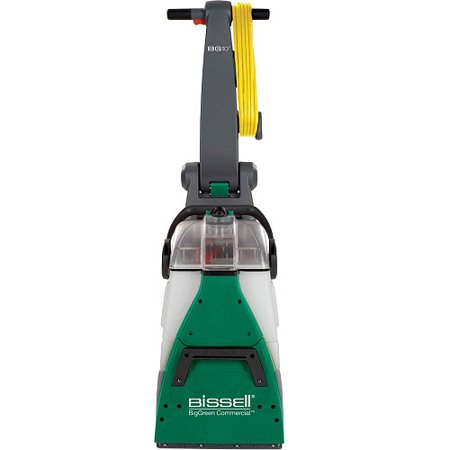 Now we have the older, stronger brother of the abovementioned Big Green model from Bissell. This unit is quite similar to its lesser version, but there are a few major differences. Right of the bat, it is important to emphasize that this model has 2 electric motors. One handles the stroking part and the other handles the circulation system. Even though this model is more powerful and has a lot to offer, its cleaning width is narrower by 10 inches.
Weighing a total of 43 pounds, this commercial-grade carpet cleaner will get the job done. To help you spend less time cleaning, this model has built-in indicators which monitor water and solution levels, so you can refill the unit at the exact right time. The unit is surprisingly easy to store and has foldable parts to help you save storage space.
It is important to remember that this part does not come with additional accessories (handheld cleaner and extension hose). That means that you need to order them if you want to get those hard-to-reach spots cleaned. We can say with certainty that this model is primarily made for carpets and rugs.
If you prefer, you can buy additional parts from Bissell, but the basic set has all the necessary components to keep your carpets clean.
Pros
Due to the power provided by two electric motors, it is considered as one of the strongest units in its class
Storing this model is pretty easy due to foldable parts
Good at tackling older stains
Cons
The additional extensions and helping tools are not included in the package, but they can be bought separately
The double motor system has only a one-year warranty
5. Hoover C3820 Commercial Spotter and Carpet Cleaner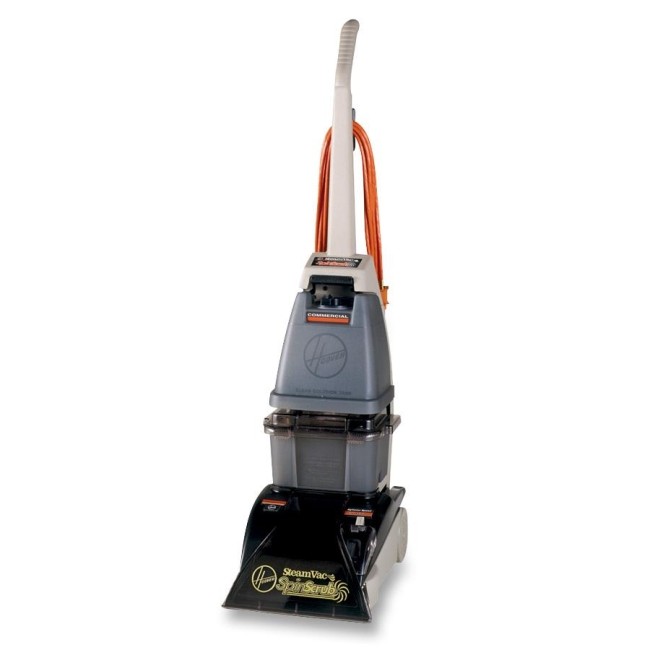 Here comes a name with a long tradition in the floor cleaning department – Hoover. Presenting its Commercial series, we were surprised by this model's performance.
With an electric motor of only 7.9 amps and only 18 pounds in weight, we thought that this model will not withstand the challenges we presented. But Hoover never seizes with surprises. This model has a cleaning path of 11 inches and some quality features.
Onboard, we have Hoover`s SpinScrub 360 system and 3 brush roll speed modes: one for heavy cleaning, the other for quick spill pick-up, and the third one for sensitive surfaces. To make things even more practical, the automatic shut-off mechanism is there to ensure that the unit will shut down if the water tank is full or not attached properly.
This model is the most portable one when it comes to commercial carpet cleaners, and has an integrated carrying handle, which combined with the lightweight of the unit allows you to carry it around and maneuver with ease. Plus, it has a somewhat longer extension power cord (35-foot-long) than the average heavy-duty carpet cleaner.
What may come down as a slight disadvantage at the cost of portability are the water tanks, which are smaller than the average ones. But all-in-all the portability of the unit makes up for it.
Pros
One of the most portable commercial units out there
The spill pick-up feature is pretty useful as a solution to sudden spills and mishaps
Comes with an automatic shut-off system as an extra safety feature
Cons
A lot of power is sacrificed for the sake of portability
A smaller water tank will not endure longer cleaning sessions, so a few trips to the sink are due
Professional Carpet Cleaner Buying Guide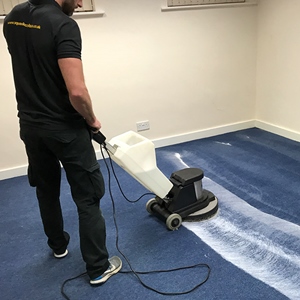 Now that we have gone through some of the most popular commercial carpet cleaner models, it is time to go into the heart of the mater. Choosing a top-rated home carpet cleaner, or a commercial carpet cleaning machine is no easy task. First and foremost, we insist on only one fact: you cannot buy a commercial carpet cleaner that has it all. That is why we need to talk about every important aspect and narrow that choice down.
The triangle of balance hangs between three features that you will have to calculate based on your own preferences. Those are portability, power, and price in general. In contrast to residential carpet cleaners, commercial ones usually cover a wide spectrum of additional features and accessories. We didn't find these units to be lacking in various departments, but if the unit doesn't come with all the commercial carpet cleaning equipment, you can buy it from the manufacturer separately.
We will go through a lot of simple, yet important questions in this buying guide. Let's begin:
1. Portability
How much do you intend to move around while cleaning? Do you plan on cleaning hard-to-reach places? How much storage space can you afford for your carpet cleaner when it's not in use?
These are some of the essential questions you should ask yourself before you continue the search for the most effective one. There is a wide variety of choices, and this aspect is as important as cleaning power. Imagine buying a heavy-duty 80+ pound EDIC Galaxy and having to clean a carpet in the broom closet of an office. Impossible.
A general rule of thumb to follow is: more portability leads to either less cleaning power or more walks to the sink.  For example, let's take the two extremes like the Hoover C3820 and EDIC Galaxy. The two represent the exact opposites when it comes to portability and maneuvering. With the smaller carpet cleaner, you will be able to do shorter cleaning sessions with ease, but as soon as a larger task comes, smaller detergent tanks may become a nuisance.
And, of course, if you plan to clean upholsteries and different types/shapes of furniture, keep in mind that you will need the longest hose you can get, and the handheld carpet cleaning extension needs to be solid.
2. Storage
Last, but not least in this category is the question of storage and saving storage space. If you need to be economical with the broom closet, always consider more portable models. Especially if you do not use the carpet cleaner every day, storing a big and robust machine can be a problem. And if you do use it every day, and cannot afford extra storage space, bigger units will also get on your nerves by dragging them in and out again and again. That is why you should give higher priority to units that have foldable ergonomic parts.
To decide which the best commercial carpet cleaner is for you, the question of whether you need "compact or full-sized" needs to be answered first. To go big, or to go fast, that is the question.
3. Animals Or Not?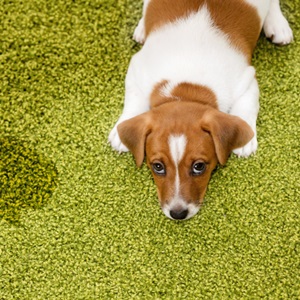 This factor is kind of self-explanatory. If there are animals on the premises, this is an important factor to consider when deciding which unit to buy. In this field, we would say that Bissell has the most to offer, with the pet smell and pet stain solutions. Regarding the topic of pets, any commercial carpet cleaner with deep clean is a great choice.
Animals, in general, do not leave harsh stains behind them. Or if they do, any commercial carpet cleaner will be able to help you out. The problem is the nasty smells and odors. That is why you should consider a unit that offers the best solution for eliminating pet stains and smells. This is where importance and priority should be given to the units with stronger suction power.
Shampooing and getting the pet stain wet is not always the most important thing when it comes to removing them. But a strong suction helps a long way.
When taking the pet factor into the equation, remember that cleaning agents are a must. Finding the right cleaning agent for your problem is a topic on its own. But getting your carpet cleaner to mix it in the right way and apply the right amount is an important role as well. A commercial carpet cleaner with automatic dosage and mixing is to be considered here.
You can also check our top-rated pet carpet cleaners list for further information.
4. Warranty and Customer Support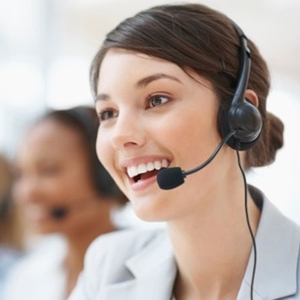 No matter what you are investing in nowadays, warranty policies are an important part of any purchase you make. Commercial carpet cleaners are usually way more protected by manufacturing companies. Remember: pay special attention to the list of parts the manufacturer will give you the warranty for. Quite often the policies are partial and protect only for motor failures.
Having a warranty policy that will cover all the additional features and equipment you get with your cleaning unit is a preferable choice, always.
Where To Find Additional Answers About Industrial Carpet Cleaners?
We have put a lot of effort to give you answers to the major questions. But it is possible that we have missed some. If you want to know something about a specific commercial-grade carpet cleaner, it's best to see the manufacturer's website.
These manufacturing companies tend to compete a lot on the modern battlefield of social media. This is more than welcome on the user side. Every commercial carpet cleaner manufacturer we encountered had a complete set of social media channels you can use. Learning a new cleaning technique, or asking about the machine itself is now possible, sometimes in real-time.
For example, Hoover provides a vast number of educational videos for you to learn how to use their product in the best possible way. The manner in which the manufacturer manages its public appearance can tell you a lot about a company.
Can Commercial Carpet Cleaners Be Your Next Job?
1. Starting your own cleaning business
Do you want to start your own cleaning business? These carpet cleaning units can be a great kick-off. If you indeed have decided to open a carpet cleaning business, you will need appropriate tools for the job. Deciding among commercial carpet machines for a business venture must begin with a question, again.
To help you with the decision, ask yourself: what kind of cleaning will we be doing? For hallway and office cleaning, a more massive and sturdy model would be a good choice. They usually provide more power at the cost of portability. Being that hallways and office spaces usually have no obstacles, and carpets are simple and rectangular, lack of portability is not a big factor here.
On the other hand, if you decide to open a cleaning agency and make home-visits, portability is your best friend. Alongside a good choice of cleaning agents and adequate accessories, of course. Picking a unit that provides the best handheld cleaner and the longest extension hose would be a good start in making the decision in this case.
2. Opening a carpet cleaner rental service
And, of course, there is the option of you opening a commercial carpet cleaner rental service and renting out your commercial carpet cleaner to people for their cleaning needs. In this case, the best logic would be to get a medium-sized carpet cleaner, but with all the necessary accessories that go with it. And establish a good supply line for the cleaning agents, preferably from the manufacturer itself.
Don't forget that some of these devices require experience to use and picking a unit with a more simple and user-friendly command is preferable. Your clients will always want to do as much as possible in the least time possible. By picking a unit with simple commands, and not too many additional buttons, they will be pleased with the service.
Wrap Up
We have prepared a lot of helpful info to process in order to carefully pick and invest in one of the best commercial carpet cleaners. It is not a simple decision to make, but with this guide, you can skip a lot of unnecessary info and ask the really useful questions. Nowadays, the number of choices is often too overwhelming, and even kind of off-putting.
Whether you want to start a cleaning business, or you just want to get the best machine for your household and/or workspace, this commercial carpet cleaner reviews should come in handy. Carpet Cleaner Lab hopes that you can find all the answers to the important questions regarding this decision.