When large, heavy-duty cleaners are a no go, it is time to think about getting the best handheld steam cleaner for the conditions you have at home. Now, let's be honest for a moment here and openly say that (almost) nobody enjoys cleaning. Maintaining surfaces that get dirty on a regular basis is often boring and sometimes even difficult. So, why not use modern technology to alleviate some of those pains and clean as quickly and effortlessly as possible?
The very first step towards getting the best-fitting cleaner that doesn't take up half the storage room is – knowledge. We invite you to use our guide and our reviews as a selection system and find the best portable steam cleaner to help you with daily tasks. Let's get right into it!
See The Quick Comparison Chart
Who Should Have Handheld Steam Cleaners?
Well, we could safely say that anyone can benefit from using a steam cleaner, especially the handheld version. While there are differences between handheld and traditional models (more about that later), the upsides of steam cleaning outshine the setbacks by a large margin. So, what are the strengths and possibilities of handheld steam cleaners?
1. Cleaning Without the Use of Chemicals or Harsh Cleaning Agents
This is by far the most popular reason why people opt-in for a steam cleaner. And now that you know how it functions, you can see exactly why. Water is safe to use on its own, and, let's be honest, no one likes to leave bleaching agents and other harmful chemicals around the house.
It is true that in some cases of extra-hard stains you will need a little bleach or vinegar, but that is a small price to pay for a safer environment. This goes double for people with kids. With a steam cleaner, you will not have to think about locking the chemical cabinet all the time.
2. Getting Rid of Allergens and Pathogens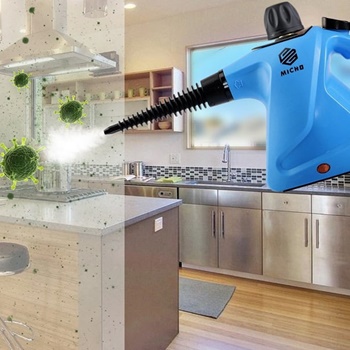 The main reason we clean, besides the esthetic ones, of course, is to get rid of all those nasty microorganisms and their products. More often than not, if we use cold water to clean, a large number of fungi and bacteria will stay, or even worse, multiply on the surface. Being that the only other option is to pour an excessive amount of chemicals on the stains, steam cleaning is the best way to go.
The smoking hot water will destroy the majority of bacterial and fungal waste while keeping the environment free of heavy-duty cleaning agents.
In the case of sensitivity to dust mites, or if it's hay fever time, a standard handheld steam cleaner will provide the support you need to get rid of those nasty allergens.
3. Cleaning Household Appliances and Machines
The topic of "cleaning the machines" is often forgotten or overseen, especially if we are talking about kitchen appliances. When you need an appliance to be as sterile and clean as possible (fridges, stoves, and microwaves), a portable steam cleaner is all you need to get the job done.
Degreasing and "demolding" those grimy parts of the freezer won't take you two days anymore. All you have to do is properly turn off the appliance, and use the steam cleaner to attack the dirt. Additionally, you will be able to clean the vacuum cleaner and other cleaning gear as well.
4. Garage and Bathroom Maintenance
Ah yes, the nastiest parts when it comes to washing and cleaning. By using a steam cleaner in the bathroom/garage on a regular basis, you will not have to worry about mold and fungus gathering in the corners and between tiles. We tend to ignore the black lines on the edge of the bathtub, but once it gets too late, the expenses can go through the roof.
For that reason alone, it would be best to invest a few minutes every day to get surfaces cleaned with the help of hot evaporated water. That will cut that problem in its root.
Best Handheld Steam Cleaners Comparison Chart
PRODUCT
DETAILS

PurSteam World's Best Steamers Handheld Steam Cleaner

Price:

$

Customer Rating:

4.1

Weight:

2.2 pounds

Size:

12.1 x 9.8 x 7.6 inches

Heating Time:

3 – 4 minutes

Warranty:

1 year

View On Amazon

BISSELL 39N7A/39N71 Steam Shot Hard-Surface Cleaner

Price:

$

Customer Rating:

3.6

Weight:

4.6 pounds

Size:

8.5 x 13.2 x 10 inches

Heating Time:

30 seconds

Warranty:

1 year

View On Amazon

McCulloch MC1230 Handheld Steam Cleaner

Price:

$$

Customer Rating:

3.6

Weight:

3 pounds

Size:

10.7 x 5.1 x 8 inches

Heating Time:

3 minutes

Warranty:

2 years

View On Amazon

Steamfast SF-210 Everyday Handheld Steam Cleaner

Price:

$

Customer Rating:

3.4

Weight:

2.6 pounds

Size:

10.5 x 5.5 x 8.2 inches

Heating Time:

3 minutes

Warranty:

2 years

View On Amazon

Comforday Multi-Purpose Handheld Steam Cleaner

Price:

$

Customer Rating:

3.7

Weight:

3.2 pounds

Size:

9.6 x 4.7 x 8.6 inches

Heating Time:

2 – 3 minutes

Warranty:

1 year

View On Amazon

Sienna Steam Birdie Handheld Steam Cleaner

Price:

$

Customer Rating:

3.9

Weight:

3.8 pounds

Size:

11 x 11 x 6.2 inches

Heating Time:

30 seconds

Warranty:

1 year

View On Amazon

Light and Easy Super Small Steam Cleaner White

Price:

$$

Customer Rating:

4.1

Weight:

4.6 pounds

Size:

21.3 x 11 x 5.3 inches

Heating Time:

20 – 30 seconds

Warranty:

1 year

View On Amazon
Best Handheld Steam Cleaner Reviews
1. PurSteam World's Best Steamers Handheld Steam Cleaner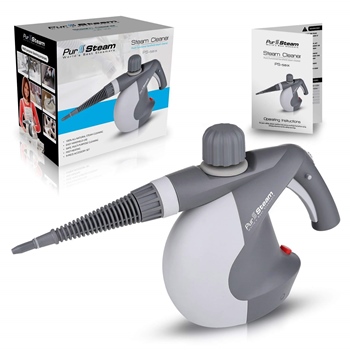 The PurSteam is a popular choice due to its versatility and availability. The body is designed to look modern with a gray finish. It weighs only a total of 2.2 pounds, which makes it easy to maneuver around the house or backyard.
This handheld steam cleaner prides itself on being more powerful than the rest in its class. While the power bump is slightly noticeable, if you use the device correctly, it will serve you just fine. Due to its potency, this portable steam cleaner can tackle even the most stubborn grill stains. The time it takes to heat up a fresh batch of water and to get ready for action is somewhere between three and four minutes, depending on the water quality in your area.
With this steam cleaner, you will be able to clean ceramic tiles, granite, waterproof wood flooring, laminate tiles, most cotton and wool carpets, and washable wallpapers.
Pros
The model seems to be quite popular, and it has a lot of good recommendations from users all around the world.
The basic set that the manufacturer includes contains a measuring cup, funnel, ironing cloth, bent nozzle, nylon brush, straight nozzle and ironing brush, an extension hose, and a window squeegee.
It is one of the most affordable models out there.
Cons
This particular model seems a bit clunky when it comes to its build, but with a little caution, there should be no issues.
2. BISSELL 39N7A/39N71 Steam Shot Hard-Surface Cleaner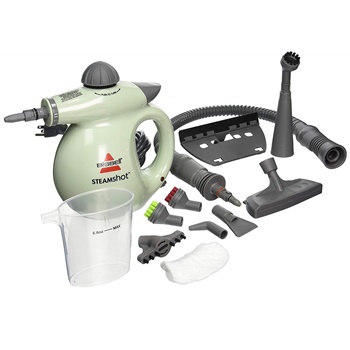 Bissell has been around for decades, creating appliances and pushing the limits of cleaning tech. This model certainly has something to show for. With its industrial retro design, it brings a whole lot to the table. The total weight of the unit is about average, totaling at 4.6 pounds.
To get to the operating state, it takes only 30 seconds. This feature makes this particular model one of the fastest handheld steam cleaners on the market. The portability of this unit is increased with a longer than an average 20-foot electric cord. This handheld steam cleaner's power consumption is rated at 1000 watts, which is slightly higher than average, but it's a strong machine nevertheless.
By using this Bissell handheld steam cleaner, you will be able to tackle all the standard stains including bathroom mold and soap leftovers, greasy grill and stained stoves, windows, various types of glass surfaces, and many more. It can even be used as one of the best upholstery steam cleaners.
Pros
This particular handheld steam cleaning model is one of the fastest when it comes to heating water. It takes only 30 seconds to start operating.
The longer electric cord makes it easy to walk around the premises and clean different spots within the same session.
The model comes with a full set of support gear.
Cons
The water tank is a bit clunky and harder to reach.
Due to its power consumption, this unit is not exactly RV-friendly.
3. McCulloch MC1230 Handheld Steam Cleaner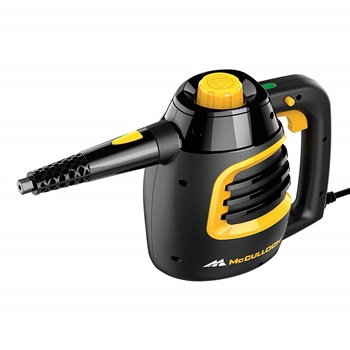 This McCulloch model definitely doesn't look like an ordinary portable steam cleaner. The design is sport-like, with a black and yellow finish. The unit comes tightly packed in a convenient bag (made to fit all the other extensions and hoses too) and weighs a total of 3 pounds, which is considered to be less than average.
When it comes to heating power of this handheld steam cleaner, it takes a 3-minute period for the water to go from cool to hot vapor. With a single water tank, you will be able to clean uninterruptedly for about 10 minutes. The model comes with a set of 11 versatile accessories that will help you to tackle any type of stain. The total length of the electric cord is 15 feet.
With a model like this, all the standard surfaces are fair game. Marble, glass, plastic and other, you will be able to clean it, if you use the steam cleaner properly.
Pros
It comes with a large set of 11 pieces (including a 34" extension hose).
Once the initial 3 minutes pass, you will be able to clean for 10 minutes without making a break.
The device is modernly designed, and it has a high-tech vibe.
Cons
This particular model is a bit more expensive than the rest in its class, but it makes it up in versatility.
The extension cord is not very long.
4. Steamfast SF-210 Everyday Handheld Steam Cleaner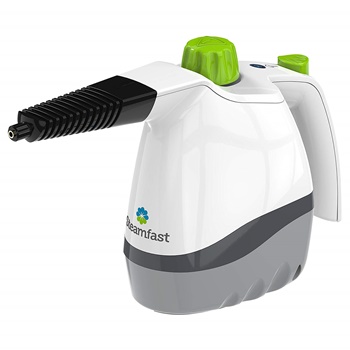 This Steamfast is somewhat of a regular house appliance. It doesn't stand out with its design and looks just like any other part of your house's cleaning arsenal. However, do not let the bland looks fool you, because this model certainly has a lot to offer.
Weighing a total of 2.6 pounds, the very first feature of this handheld steam cleaner is portability and maneuverability. With a full water reservoir, it can provide you with eight minutes of uninterrupted cleaning power, but it takes around 3 minutes to heat up initially. The fact that this unit has a 12-foot electric cord kind of trumps the overall portability of the unit. The steam stream is controlled with an on-demand button, which makes this unit more economical and safer to use.
Pros
This model is one of the most affordable ones on the market, and it has a great price-to-performance ratio.
Although there are only six extensions provided, they proved more than enough for any challenge.
Cons
This particular device is a bit weaker than the rest in its class, clocking at 900 watts of power.
The plastic used for the build is a bit clunky, so extra caution is advised during maintenance.
5. Comforday Multi-Purpose Handheld Steam Cleaner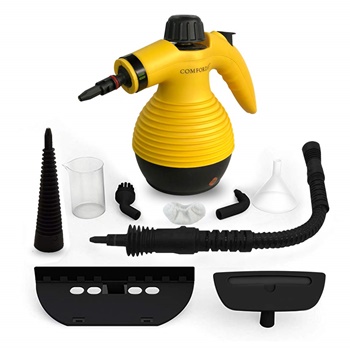 If you are looking for an ergonomically designed and modern looking handheld steam cleaner, this Comforday might be just the right solution for that problem. The black and yellow finish makes it look slightly futuristic even, and the weight of just over 2 pounds makes this model extra portable.
With a total heat time of 2-3 minutes, you will be able to start cleaning right away. The power of this model (1050 Watts) combined with a larger than average water tank will make it run 15-20 uninterrupted. Even though its power rating is above average, this particular handheld steam cleaner model is not suitable for cleaning grills and heavily-greased machinery.  Everything else is up for cleaning.
Pros
The model comes with a 9-piece set of accessories and extensions which cover a large variety of needs and requirements of an average user.
The design and shape of this steam cleaner make it pretty easy to use and to clean.
Cons
This model cannot tackle the task of cleaning greasy machines or grills, but you can still use it for other outside cleaning tasks.
6. Sienna Steam Birdie Handheld Steam Cleaner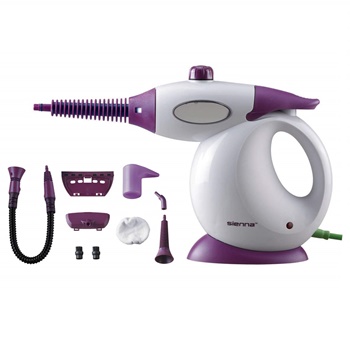 Coming to this list as a model with a much higher wattage, the Birdie surely has a wider variety of tasks it can fulfill, as well as a unique feature. As you might have concluded from the name, this slick-looking handheld steam cleaner looks like a bird, though some imagination is needed to spot that.
This particular unit has a power rating of 1500 watts. The device can handle uninterrupted operation for a long time, due to the fact that you can refill it while it is still on. Alongside the main unit, you will also get a 9-piece set of extensions and accessories to help you overcome the cleaning challenges.
One special feature this model has is the handpump which can add additional pressure to the steam stream. This feature certainly helps with the overall power, and thanks to it you can clean even old and rusty grills.
Pros
Stronger rating than average, rated at 1500 watts.
A special handpump system provides additional pressure, making the stain removal even easier.
The provided 9-piece set is easy to use and is sufficient for cleaning indoors and outdoors.
Cons
The power rating of this steam cleaner makes it non-RV-friendly.
If you plan to use the endless mode, and refill the water on the way, practice extra caution because the process can be risky.
7. Light and Easy Super Small Steam Cleaner White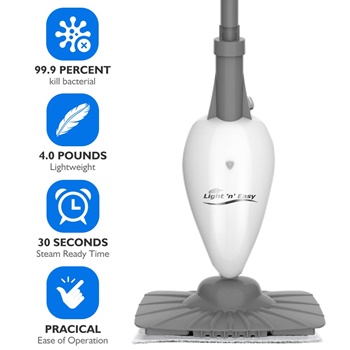 This polisher found a spot on our list due to its unique ratio of size-to-performance. It is made specifically for floor cleaning, but it is still packed in a small frame, weighing just under 4 pounds total. This specific model has a large reach than the average models, due to the 20-ft long electric cord, and a long handle attached to the main body.
Unique design aside, this portable steam cleaner can be ready in just 20 seconds, with the period increasing based on the water quality in your area. The model comes with a microfiber pad that has great absorbing power. Due to the different designs, and different purposes in mind, this mop/portable steam clear can tackle any type of floor and give it a new face.
Pros
Huge reach and lightweight make maneuvering ultra-easy.
The time this machine takes to heat up is under 30 seconds, which is considered faster than average.
Cons
This portable steam cleaner is restricted to floors and similar purposes only.
Due to the elongated design, you can not store it in a box, so some storage space will be needed.
What Is a Handheld Steam Cleaner?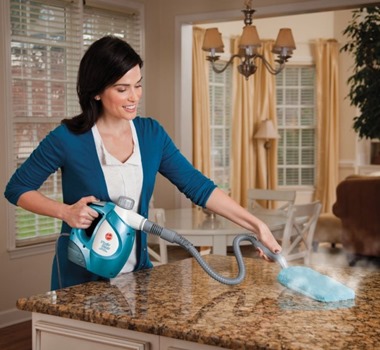 So, you are probably familiar with standard steam cleaning machines, if you read our steam cleaner reviews. They have been around for decades, and the mechanisms they utilize are not that hard to understand. Some time ago, we realized that in order to thoroughly clean household surfaces, we do not necessarily need hard-hitting chemicals and cleaning agents. With the power of intuitive engineering, water, boiled into steam, was utilized to attack even the most stubborn stains.
In the case of handheld steam cleaners, not much is changed. Well, the obvious change is the shrinking in size and dropping the weight of the machine significantly. If you haven't had any experience with steam cleaners before, we got your back. Here's a quick recap on the basic principles of operation every handheld steam cleaner has:
A potent heater boils the water inside the boiling reservoir or a similar container. This action can take from just 30 seconds to several minutes.
The steam comes out of the reservoir and enters the pipes. These pipes safely transport the steam to the main tube or hose and enable you the maneuvering access.
Through the hose or other extensions, you apply the hot steam to the stain you want to remove.
This is the simplest explanation, though things are more intricate, and the tech behind these machines is precise and safe. But you must remember that the steam alone is not there to clean the stains by itself. The hot evaporated water is there to make the harsh stains easier to remove, using a dry cloth or an extension provided with the model.
Handheld vs. Traditional Steam Cleaner
We talked about the benefits of steam cleaning in general, but what makes handheld steam cleaners different than the traditional, larger, models? Being that there is no perfect machine that can do everything, we are going to address the ups and downs of handheld steam cleaners, so you can see their worth for yourself.
1. Better Reach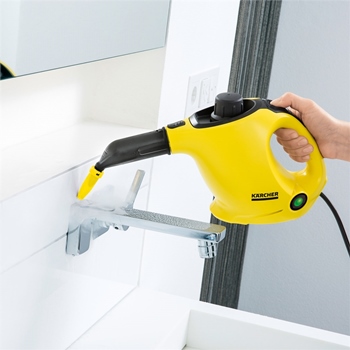 It is already in the name. With a handheld model, you will be able to tackle corners that would be unreachable with a traditional steam cleaner. Maneuvering is made much easier due to the size and weight of handheld units. They are lightweight enough so that anyone can carry them around. Additionally, almost every handheld model comes with an ergonomic flexible hose that is designed to reach small and narrow corners.
2. Plug and Play
Another valuable asset that a handheld model brings to the table is readiness. If you happen to spill some juice on the carpet or on the sofa, a portable handheld steam cleaner can be ready to go in just a few moments. And, once again, their lightweight build makes it more convenient to operate. You will not have to drag a large machine into the room just because of a small stain.
And, because they pack a smaller water reservoir, the process of heating up is quicker, and the cleaner is ready for action faster than a traditional unit.
3. Ease of Use and General Safety
This point can be observed both as a pro and as a con. The upside of handheld models is that, in the case that they are not used as intended, the risk of injury is pretty small. These devices, powerful as they are, are not strong enough to cause any serious damage to the surfaces you plan on cleaning.
However, the downside is that handheld steam leaners are generally less potent when it comes to raw cleaning power. Traditional units use larger engines, bigger reservoirs and more electric power to deliver a mightier punch.
4. Easier Storage
This probably goes without saying, but handheld steam cleaners are famous for the small amount of storage space they require. For people that live in smaller houses or condos, a compact appliance can go a long way. Some people even opt-in for an additional handheld model to use in the garage or in the workshop only.
Additionally, a large number of models come with convenient storage and folding mechanisms, so you do not have to worry about keeping tabs on each and every part.
5. Sound and Environmental Impact
Lastly, one of the biggest differences between a handheld and a standard steam cleaner is the overall resourcefulness. Handheld models will make less noise, use less electricity and waste less water during the cleaning process. Though they might not be as powerful as their traditional counterparts, handheld steam cleaners are definitely a great starting point.
Handheld Steam Cleaner Buying Guide
Now that we have set up the stage, and got to meet the basics of handheld steam cleaners, it is time to get into the intricate details. We are going to talk about all the things you should look for while picking the model for your household. As we have mentioned before, the choices are plenty, so keeping a checklist is highly recommended.
While you are browsing models and looking at different criteria, keep in mind that there is no perfect model and that it would be best to choose the features that would fit your style of usage in the most suitable way. With that being said, let's see what handheld steam cleaners are made of, and what sort of detail you should be keeping your eye on.
1. Water Tank Shape and Capacity
Even though they pack smaller water reservoirs, handheld steam cleaners come in various shapes and sizes. While this will not significantly affect the total weight of the model, it will definitely leave an impact on total run time. The logic behind it is simple: the larger the tank, the longer you will be able to clean without a refill. But that's not all to it.
Size matters, yes, but also does the shape and the accessibility of the water tank. Sometimes, a model will have a larger than average reservoir, but it takes a few steps to refill it. The type of tank you want your handheld steam cleaner to have depends solely on the way you will be using it. If you are aiming for practicality, look for a model that can be easily detachable. And, if longer runtime is the goal, look for a model with a bigger water reservoir.
2. Heating Time and Heat Regulations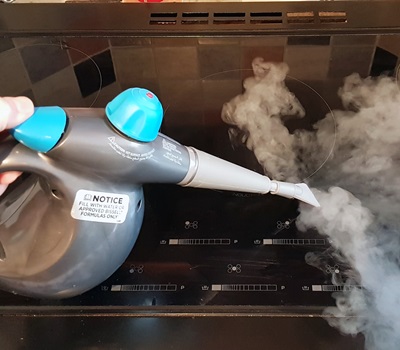 While we are on the topic of practicality, a spec you should have in mind is the time that a handheld steam cleaner takes to heat up the water to a working level. Because we are not talking about gallons and gallons of water, this time period should not be longer than 5 minutes. With different models, you can expect the heating time to vary from 30 seconds to about 300 seconds max. However, this spec can also vary depending on the water quality at our home. Harder waters sometimes need more time to evaporate, no matter the model you choose, so this type of feature should be taken with a grain of salt.
Another heat-related feature that some versatile models have is the customized heat regulation. Why is this important you might ask? Well, even though you will always need the steam to be hot, not every material can handle the same heat. If you are working with thermo-sensitive surfaces, a heat regulation module will go a long way. You can even adjust the heat levels based on the age and sturdiness of the stain you want to tackle.
3. Power
When it comes to the power of a handheld steam cleaner, we can actually talk about two different things. Machines like these turn electric power into cleaning power, and the better the efficiency of that process, the better the performances.
If you are planning to take the portable steam cleaner along on a camping trip or a cross-country in an RV, you may want to think about models that require lower wattage ratings. They tend to spend less electricity, which is more than important on the road. After all, every appliance that deals with heating or cooling is known to be a big consumer of electricity.
But, if cleaning power is what you seek, it would be best to get a portable steam cleaner that has a power rating of over 1,000 watts. Usually, this will also mean that it will heat the water even faster than the other models, so do not be surprised by a larger water reservoir.
4. Build and Ease of Maintenance
This point is kind of subjective, with a few general rules. If you plan on using the portable steam machine on a daily basis, you will probably learn how to properly disassemble the detachable parts, for maintenance reasons of course. With the help of the user manual, it should come off as easy, but sometimes, if a part is easily removed, that could be a sign of a bad build.
You need to find a model that fits your cleaning dynamics. It sounds silly, but you would be surprised by the number of people that break a crucial plastic part during the cleaning process. The handheld cleaner should be easy to disassemble, but not too easy.
5. Additional Gear and Extensions
In our reviews, you can probably see a pattern. Every model comes with a pack of additional extensions and bonus gear. Having said that, you should go through those lists, and see if the model you want has the extensions you will be using most often.
Now, while different sets come with different gear, there is a general type of extensions and helpful gadgets you can get, packed along with the portable steam cleaner.
5.1 Brushes
The chances are that you will be using this extension often. It is the simplest gear piece that a handheld steam cleaner could utilize. A brush (which varies in size) is attached to an extended hose, and that hose is transporting the heat. With a brush, you will be able to tackle the oldest and the grimiest of stains inside your kitchen or bathroom.
5.2 Window squeegee
Especially popular among shop owners, the window squeegee extension is great for degreasing windows and glass surfaces, like patio tables. The squeegee works similar to a car window wiper, only this one utilizes the power of evaporated water.
Another great use for a squeegee is to clean glass doors of a microwave and regular ovens, both for aesthetic and sanitary reasons.
5.3 Ironing cloth and/or ironing brush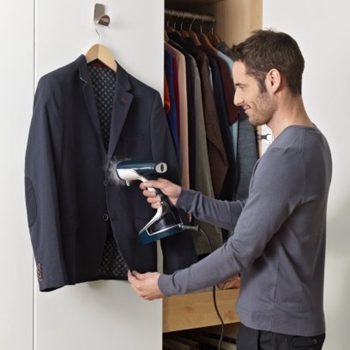 Did you know that a handheld steam cleaner can also iron your clothes? Even though the range of materials is not that wide, any type of non-thermo-sensitive fabric is fair game. Although, this kind of clothes ironing takes some time to get used to, so be careful until you get the hang of it.
5.4 Additional extension hoses and gear
Lastly, most manufacturers decide some set pieces that are there to make the usage of steam cleaners easier. Longer extension hoses, angled hoses, and focus nozzles are just to name a few. And, it has become common curtsey to include a beaker or a measuring cup for the water, along with a funnel to help you refill the water reservoir.
FAQ About Handheld Steam Cleaners
1. Is a handheld steam cleaner safe to be used around pets?
People with pets often have a lot of muddy and grassy stains to worry about. If you are worried about harsh chemicals in your daily cleaning arsenal, then steam cleaning might just be the right answer. That's because the only chemical that a portable steam cleaner uses is pure water. That being said, as long as you are properly using the cleaner, you should not worry about consequences regarding your pets.
2. Can I put cleaning agents into the water reservoir?
Even though it might sound intuitive, pouring cleaning chemicals into the water reservoir should be avoided at all costs. You might think that you are helping the cleaning process, but the truth is that chemicals can react differently when heated. Some agents can even make a small explosion.
In the areas where the water is harder and filled with minerals, some manufacturers suggest using a lime remover every now and then, as machine maintenance. We recommend doing that only if the model's manufacturer sells its own mineral removing solution. In other cases, vinegar and water will do the trick.
3. Are there any other practical usages of steam cleaners, besides cleaning and ironing?
One of the most popular uses of steam cleaners is poster and sticker removal. Hot and moist air is perfect for removing all the glue from the surface. However, before you try this at home, test a smaller piece of material under the pressure of the steam cleaner. Some materials can't handle the hot vapor, so it's better to be safe than sorry.
4. Can I use a portable steam cleaner to pressure wash a stain?
The answer may be disappointing, but you cannot pressure wash with a handheld steam cleaner. Even though these are powerful machines, the actual vapor pressure never exceeds 60 PSI. This allows more controlled maneuvers and contributes to the overall safety of steam cleaning.
Wrap Up
And there we go. Every bit of info we had found during the reviews is here. We understand that there are plenty of choices out there and that the market has a lot to offer. For that reason alone, we encourage you to read our guide and reviews once again and use this fresh knowledge to get the best handheld steam cleaner for your household.
We sincerely hope that our experience finds you well, and helps you explore the world of best portable steam cleaner models, together with their pros and cons. After all, though elbow grease is the best cleaning agent out there, there is no need to put excessive effort into stain removals. We have the tech, so why not exploit it? If you have something to ask or add, feel free to use the comment section below and Carpet Cleaner Lab will gladly provide an answer.