In case you are in the market looking for the best carpet cleaner to help you out with great messes, especially if you are a pet owner, there are two main brands you can put your trust in.
About Bissell & Hoover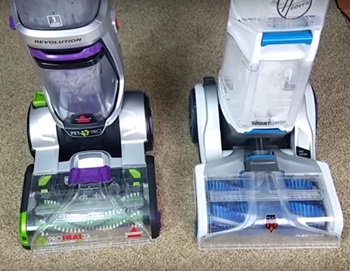 These are Bissell and Hoover brands, which are known for their high-quality products.
Bissell is a 140 years-old family-based business that produces a wide variety of cleaning products such as vacuums, carpet cleaners, steam, and hard floor cleaners, sweepers, as well as cleaning solutions.
Since this company has been on the market for such a long period, it had enough time to perfect its products and provide quality. Moreover, they have also focused on producing tools for people who have pets. Many of their products are made having the pet owner in mind.
Even if not that old, Hoover has been on the market since 1907. Since then, it has specialized in manufacturing products that allow you to clean your entire house, from the floors to the ceiling. Its products include carpet cleaners, cordless and upright vacuums, as well as various parts and accessories.
Hoover is another company that turned its focus on pet owners, producing a number of products that are very reliable in this sense.
1. Customer Services
Both companies have easy-to-navigate web pages with a lot of information regarding their products, orders, and return policies. It is quite easy to find your way on each web page and you should find what you are looking for quite fast.
If you want to contact Bissell, you have the option to send them a text message, chat, send an email, call them, or even go to a service center. With their Service Center Locator, you can easily find the closest service center to your location.
Hoover also has a Service Center locator. Besides that, you will be able to find a Knowledge Center which is a collection of how-to and instructional videos. If you have questions regarding their products, you can call them or contact them via the dedicated form on the web page.
2. Return Policies
In case you are not completely satisfied with one of Bissell's products, you can easily return it within a 30-day period. The item has to be packed with all the parts, accessories, and manuals, and you will receive a full refund.
What is more, you can arrange for an at-home pick-up of your returned product. The shipping cost is $4.95. On the official website, you can find detailed instructions on what you need to do for each type of product.
The same goes for Hoover products, but you do not have as many options as Bissell provides. However, the return process is not complicated at all.
Bissell ProHeat 2X Revolution Pet Pro vs. Hoover Power Scrub Elite Pet Carpet Cleaner
PRODUCT
DETAILS

Bissell ProHeat 2X Revolution Pet Pro

Price:

$$

Customer Rating:

4.6

Clean Water Tank Capacity:

1 gallon

Weight:

18 lbs

View On Amazon

Hoover Power Scrub Elite Pet

Price:

$

Customer Rating:

4.5

Clean Water Tank Capacity:

1.25 gallon

Weight:

18.5 lbs

View On Amazon
In case you are looking for a reliable machine, both Bissell and Hoover have a wide variety of carpet cleaners you can select from. However, in case you are looking for something designed for pet messes, not all of their models are suitable.
For this reason, we have selected the Bissell ProHeat 2X Revolution Pet Pro Full-Size Carpet Cleaner model 1986 and from Hoover, the Power Scrub Elite Pet Carpet Cleaner FH50251.
Bissell ProHeat 2X Revouliton Pet Pro
One of the advantages offered by Bissell's cleaner is that it comes equipped with a premium upholstery attachment which you can use on your furniture as well as stairs. It is extremely easy and convenient to use, especially when you are trying to clean messes such as liquid stools or vomit because the brush does not let anything stick on it. Also, the brush is very easy to clean. Since the cleaning path is 11 inches wide, it can cover a lot more than other types of cleaners. The long power cord is another advantage.
You should also know that sometimes the water tank may leak. Also, even though the price is more than convenient, the machine will not last for a very long time.
Hoover Power Scrub Elite
In case you are on a tight budget but still want quality, Hoover's carpet cleaner is a great option. Not only it is cheaper than Bissell's item, but it also comes with a pet tool that is included in the initial price. The spinning brushes are very efficient at removing embedded stains and dirt. Furthermore, thanks to the dual tank mode, the pet mess will not be mixed in the tank with clean water so, no residue will get sprayed on the carpet. You will probably also appreciate the large capacity tank and the strong suction power of the cleaner.
As a possible downside of this product, you ought to know that it is not a good option if you want your carpet to dry fast. Although it has good suction power, it is not as powerful as Bissell's cleaner.
Bissell 3624 vs. Hoover FH11300PC
PRODUCT
DETAILS

Bissell 3624

Price:

$$

Customer Rating:

4.5

Dimensions:

10 x 14 x 14 inches

Weight:

15.97 lbs

View On Amazon

Hoover FH11300PC

Price:

$

Customer Rating:

4.2

Dimensions:

9.72 x 13.94 x 15.04 inches

Weight:

9 lbs

View On Amazon
For something easier to handle, we recommend these two models. Both carpet cleaners are quite inexpensive and lightweight. In terms of power, both models have similar characteristics. Bissell's carpet cleaner has a beautiful and convenient design, but Hoover's comes with more extra features.
For example, it comes with a self-cleaning hose, which is definitely a great addition. It also comes with a very powerful brush. At the same time, Bissell's carpet cleaner comes with more useful attachments for a personalized cleaning experience, such as a stair tool, or a tough stain tool.
Both models are quite-user friendly and highly portable. Hoover is lighter, so it is a better choice if you are looking for this characteristic. We chose these two models because they are similar in many ways, but each of them shines in certain areas. It all depends on what you are looking for and what you need in terms of a reliable and convenient cleaning tool.
Wrap Up
Both Bissell and Hoover have made a name for themselves since they've been on the market. This is not only because each of them has something for anyone and any budget, but also because they offer high-quality products.
In addition, if you browse a little looking for various of their products, you will notice that most of them have positive reviews and high customer rates. Therefore, if you are looking for a reliable home carpet cleaner, we recommend looking at products from these two brands.