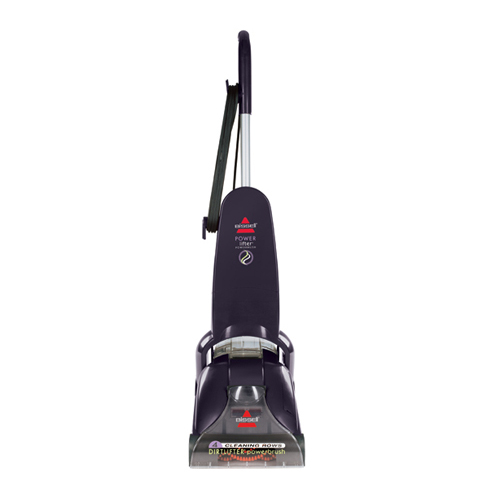 Bissell started out as a small US company all the way back in 1876 when they made their very first carpet sweepers for 1.5$. Now they have grown and evolved into the number one producer of floor care solutions in North America when it comes to overall sales. For our Bissell PowerLifter 1622 review, we have chosen and tested out a budget-friendly upright carpet cleaner.
Because of this cleaning machine's price and cleaning power, it is one of the most popular models from Bissell's line of carpet cleaners. Coupled with its low price is also light-weight design which piqued our interests as well. Through our research and experience, we hope to help you out when you're choosing your next carpet cleaner with the information we have gathered. Our review will contain information about the warranty, areas of use, pros, cons, and more useful data.
Bissell PowerLifter PowerBrush 1622 in the Field
While this Bissell carpet cleaner may look like all the other heavy massive cleaners – it is not. This model is surprisingly light, with a weight of around 16 lbs. The carpet cleaner delivers a nice level of suction with its 12-amp motor. The suction may be too powerful for some older carpets as you may notice small clumps being left in its path. The unit also has a standard 20-foot power cord.
Because of its slightly smaller design, the tank capacity of this model is 0.75 gallons or 96 ounces of dirty tank water. The 2-in-1 tank design is easy to remove, empty and fill and comes with a built-in measure cup. The brush head of the unit has a 4-row intermingled brush system that allows a good scrub on dried-in surface stains.
While the brush system is different than other models, it has a fairly standard cleaning path of 11 inches. Sadly, this model doesn't come with a smaller tool to get to hard-to-reach areas. The carpet cleaner did satisfactory work on the carpets, and we tested it on with a variety of stains. Some assembly is required, but the only tool you need is a screwdriver for the 3 screws you have to put in. You can see it assembled below.
Warranty Policy
As mentioned in its user manual, this carpet cleaner comes with a 1-year limited warranty. If something should go wrong you should contact the company via phone or email and they will inform you which is the nearest approved service and repair center for their products.
You should know that the warranty doesn't apply to filters, bags, belts, brushes or even the bladder. The last part – if broken – can cost as much as half the entire machine to replace. Also, you should be aware that the warranty Bissell gives out only covers manufacturer defects. If it is ruled that the unit broke due to inappropriate use, they will not pay for fixing or replace the model.
What Can You Clean With Bissell PowerLifter PowerBrush 1622?
During our independent testing, we found that this model is a good candidate for your residential cleaning needs. It is not the very best carpet cleaner, however, it does get the job done on areas with high foot traffic. It is budget-friendly and light-weight making it easier to push and pull your way to a clean carpet. Because of a lack of attachments, we can't recommend it for car interiors or upholstery cleaning.
Pros
A budget-friendly option with a strong 12-amp motor

Easy to empty/fill tank design

Light-weight model
Cons
A 1-year limited warranty that doesn't cover everything

Doesn't come with attachments
Wrap Up
The Bissell PowerLifter carpet cleaner delivers a solid performance over most rugs and carpets for the budget-friendly price. You can basically cover an area of 75 square feet on one tank alone. If you are looking for something just to clean your carpets for a low price, then this model is worth a look, and we certainly hope that this Bissell PowerLifter 1622 review pointed towards the specs you wanted to discover. 
If there is anything you want to add or ask us a question, feel free to do so in the comment section below, and we will gladly provide an answer.