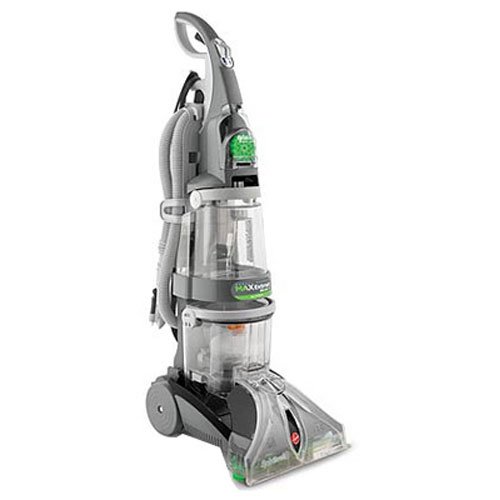 Hoover is one of the best-known companies in the world. They manufacture all sorts of carpet cleaners, shampooers, and hard floor conditioners. Our interest here is in the statement that Hoover makes one of the most trusted units on the market. We will give this model a try, summing it all up in an unbiased Hoover Max Extract Dual V review, and hopefully help you make an informed decision.
We have decided to take the Max Extract model and test it out in several situations while analyzing its pros and cons, and an optimal field of use. With so many carpet cleaner models on the market, choices are almost endless, so extra knowledge about this unit can help you decide if this is the one that's right for you.
Hoover Max Extract Dual V Specifications
Hoover is a company that pioneered in the industry of floor cleaning and made floor cleaning appliances a standard in today's world. This particular modern-looking unit is made to be used in multiple situations, which is allowed by the gear and systems onboard. A bit heavier than its predecessors, this model weighs a total of 27 pounds, which makes it a medium-sized home carpet cleaner. It has a 12-Amp electric motor which powers all the features this cleaner has to offer.
The famous Hoover`s 360 SpinScrub technology is enhanced with this model, adding an additional sixth brush in the counter-rotating mechanism. This enables the unit to go even deeper and lift the heavier stains in the fabric that you are cleaning. The unit is controlled with ease by using the commands placed just where your thumb lands on the handle.
Another great feature that this unit brings to the table is the extra-wide nozzle, giving it the cleaning path of 13 inches, which is quite above the average. This saves a lot of time considering that you clean a bit more with each stroke.
The dual water tank system is also there, totally separating the dirty from the clean water. When it comes to dosing the cleaning agent, Hoover thought of it with the automatic agent mixer. And if you need more mobility by any chance, there is the handy SpinScrub portable tool attached with a 6-foot-long hose. With it, you can get around furniture even if it's a complicated shape, and cover all types of upholstery in general.
Customer Support and Warranty Policy
We were quite amazed by the response rate of the customer service and the way Hoover tries to keep in touch with its community. They really get around to help you understand how to operate their devices, which is quite handy, whether you are a beginner or not. They even have instructional video tutorials for quick learning.
The Max Extract DualV comes with a 1-year limited time warranty, covering all the provided equipment and guaranteeing that they will replace any potentially defective gear. This is a warranty above industry standards, because most manufacturers cover only the motor or parts of the machine, without additional equipment.
What to Expect from Hoover Max Extract Dual V?
Based on its user manual, we have tested this cleaning unit on several types of carpets, rugs, and furniture. It withstood the challenges and proved to be best used on carpets that require fast cleaning. The wider nozzle is great if you aim to save time, and the dimensions allow you to carry it around with ease. The attachments for cleaning upholsteries proved solid and served their function just as they are supposed to.
Pros
Wide cleaning nozzle, shortens the time of cleaning sessions

Added sixth brush for deeper and wider reach

Portable SpinScrub handheld tool is pretty useful
Cons
The unit itself is somewhat complicated to clean if you are a beginner, but the learning curve is excellent and intuitive

The water tanks are not enough to hold up for a longer cleaning session, so some trips to the sink are needed.

 

 

 
Wrap Up
Everyone has a preference when it comes to the unit they want to get. This unit had everything a household could demand. Passing the tests with several types of carpets, rugs, and furniture, we were satisfied with this model`s performance. It seems that Hoover does make some of the most efficient models in all price ranges. We hope that this unbiased Hoover Max Extract Dual V review resolved any questions you had.
This brief summary was made to help you understand your needs, and to familiarize yourself with the carpet cleaning unit as much as possible.  And if you have doubts, feel free to ask anything regarding the unit in the comment section.