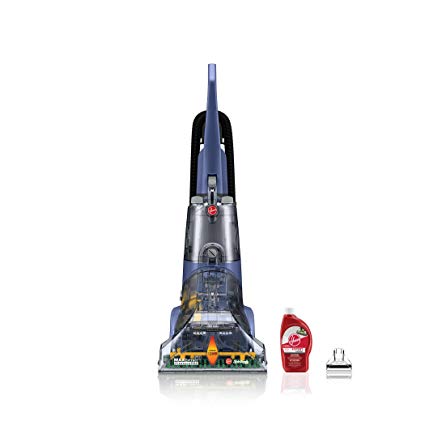 Carpet cleaning done at a professional level is a thing that everyone can enjoy. Owning a carpet cleaner doesn't have to be expensive since there are affordably priced units. Deciding which one to choose, and if it's the right carpet cleaner for your household, is a task that needs attention.  The goal of this Hoover Max Extract review is to tackle that hard question. There is an immense pool of choices to select from, and Max Extract 60 seems quite interesting.
In multiple sections to follow, we will test out, analyze and process all the available information about this particular model. Hoover as a major-league player in the floor-cleaning department has a lot of features to offer, and understanding each and every one of them will definitely help you out.
Hoover Max Extract FH50220 Specifications
Considering that Hoover stood the test of time with more than a century of existence in the floor cleaning sector, expecting nothing less than great devices comes naturally. The Max Extract 60 has a lot to offer and going through its features is a key to understanding it.
Every modern Hoover carpet cleaner has the onboard SpinScrub 360 technology with counter-rotating brushes. A 10-Amp electric motor powers this model, and makes it weigh just under 22 pounds. They even have a working service to find parts.
Next on our review list is a feature that enables deeper and better penetration into the most resistant of stains – The Edge-to-Edge cleaning technology. This enables the water stream to get under the stain, loosen it and remove it in its entirety. The main cleaning mode is done through an above-average 13-inch wide-cleaning nozzle, making the cleaning path bigger, and by that, the cleaning sessions shorter.
This unit supports heated carpet cleaning in your home, which greatly reduces the carpet drying time while helping in eliminating nasty smells and odors. To pull that off, there is a SmartTank system to keep the dirty and clean water separate. The dosage and mixing of the cleaning solution are automated. It's easy to master how much detergent your carpet cleaning needs, and this is a great skill to have if you aim to save time and money.
In case you have hard-to-reach places, Hoover provided an 8-foot-long hose with the cleaning extensions, including the SpicnScrub brush. This way, cleaning upholsteries becomes an even easier task.
Customer Support and Warranty Policy
This company mastered the balance between traditional and modern customer relations. You can reach them for help through any standard means, or just use the website which is done effectively. Hoover provides video instructions to help you assemble and properly use your carpet cleaner unit.
The Max Extract FH50220 comes with a 2-year warranty, guaranteeing mainly for the motor unit. This company proudly claims that you will not have any breaks and that they will replace any defective gear.
What Can You Clean With Hoover Max Extract 

FH50220?
We`ve set up different challenges in front of this model. Carpets, rugs, office carpets and similar surfaces were cleaned without breaking a sweat. The portable extension worked great and was able to reach some previously unreachable places. We even cleaned various types of furniture. A really great addition is the Hoover-made cleaning agent, which worked wonders on odors.
Pros
A powerful carpet cleaner in the lower price range

The suction of the unit is solid, making carpets dry faster

The cleaning width enables a wider reach and faster cleaning
Cons
This unit doesn`t come with the 3-speed mode, so it is not the best choice for ultra-sensitive surfaces

Below-average water tanks need to be emptied several times
Wrap Up
This Hoover model is indeed among the better carpet cleaners in its class. We were happy with the fact that it managed to clean quickly, enabling faster drying in the process. The carpets' cleanliness lasted longer because of it. Although the emptying of the water tanks presented a bit of a nuisance, at least the water was used effectively and cleaning was satisfying. The fact Hoover is in this game for so long makes the whole manufacturing and execution more credible.
You should consider getting this model for your household and/or smaller office, because that is the environment this unit excels in, due to its features and abilities. Getting all the vital info is important, and we hope we have provided all the specifications needed in this Hoover Max Extract review. If we missed something, feel free to ask us in the comments below.