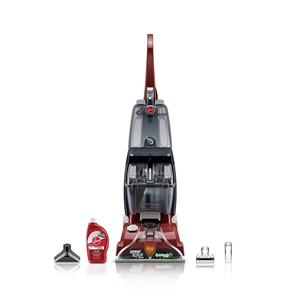 Being in the carpet cleaner manufacturing for more than a century, Hoover certainly has a lot to offer. Ranging from quick-use, compact-size to heavyweight industrial cleaners, this company gets the job done. So far, they have been among the top carpet cleaner manufacturers, and have made some of the most successful products out there. The following Hoover Power Scrub Deluxe review is here to help you decide if this model matches your cleaning needs.
We took some models to test them out, see what they can do and how much they can clean. In the following few sections, we will try to answer most of the major questions regarding the Power Scrub Deluxe. There are many, many choices out there, and we hope to help you figure out if this particular model is for you.
Hoover Power Scrub Deluxe Specifications
Before you go out and about to get yourself a good carpet cleaner for your needs, it is important to know what to look for and what to expect. With this specific model containing multiple types of technologies for faster and more convenient cleaning, there is a bonus feature. It's portability. The first thing we`ve noticed is that this unit is really lightweight and easy to handle. Weighing less than 19 pounds, combined with a 20-foot long electric cord, there was no trouble in moving around the carpet whatsoever.
Now, we will get a bit technical. Power Scrub Deluxe is powered by a 10-amp electric motor, mounted on 2 wheels to help you move around even easier. Hoover`s famous PowerScrub 360 system of counter-spinning brushes helps to break down sturdier stains. The cleaning process is done by the DualV, an 11.25-inch-long nozzle that provides equal suction for the whole contact area.
When it comes to detergent mixing, water containment, and dirty water storage, Hoover brought several solutions. First off, there is a Dual Tank system which provides two separate tanks for dirty and clean water (1 gallon), keeping them separate at all times. Above the Dual Tank, there is an automatic detergent mixer that provides the right amount (too much can be as bad as too little) of the cleaning agent, applying it evenly throughout the whole cleaning process.
The cleaning is sped up by the heating system which allows heated air to be blown directly at the carpet. Heated cleaning gets deeper into the surface, getting it cleaner at a faster rate, and above all, it makes the drying time shorter.
Customer Support and Warranty Policy
The community around Hoover is big. We were amazed by the ways this Hoover keeps in touch with its loyal clients through regular (phone, email) and more modern channels (social media, YouTube). This can come in handy, especially if you just began using your own carpet cleaner.
The company provides a two-year warranty for this particular model and is easily reachable when it comes to replacing parts. They will replace any defected part of the gear for free.
What Can You Clean With Hoover Power Scrub Deluxe?
The Deluxe model basically allows you to tackle any stain on your carpet and/or upholstery. We have managed to clean multiple types of rugs and carpets with little effort. Additionally, Hoover provided an 8-feet long hose with an attachment for cleaning upholsteries and furniture of various shapes.
Pros
It's extremely portable due to its low weight. Also, the additionally provided accessories are quite useful for stairs and furniture. The detergent mixer comes handy and provides adequate amounts of the cleaning agent. Also, it has a really explanatory user guide.
Cons
This unit is somewhat slower when it comes to really old stains. Also, the dirty water tank has to be emptied multiple times during long cleaning sessions, but it is pretty easy to do so.
Wrap Up
People generally have different demands when it comes to carpet cleaners and deciding on a single product is not an easy task. This Hoover Power Scrub Deluxe review will definitely shed some light on this model.   If you are by any chance a beginner in this field, we would definitely recommend Power Scrub Deluxe for starting with carpet cleaning.  It is very easy to use and it's lightweight. It can tackle any stain and get rid of the nasty old smells.
We hope that we have managed to answer all the questions you might have had in this unbiased review. Feel free to ask us anything in the comment section below, and we will gladly answer.