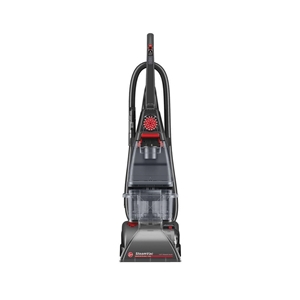 Hoover is among the top carpet and floor cleaner manufacturers. They are pioneers in house cleaning and electrical engineering. Also, they make one of the most interesting units on the market, the Hoover SteamVac Plus, famous for its versatility.
In the next session, we will try to provide an honest Hoover SteamVac review in order to help you decide and choose for one of the many models out there. We will go through some technicalities, pros, and cons, and technologies packed into this particular model. Stick around to find out how to get your stains unstuck.
Hoover SteamVac Plus Carpet Cleaner Specifications
Weighing just over 20 pounds, with a cleaning nozzle path of 11.25 inches, this model is considered to be a light-weight and medium-duty. This company prides itself to be the frontline of floor cleaning, and this SteamVac model has a lot to show for it.
Even though it weighs less than other competitive home carpet shampooers, it packs a serious punch with the 12-amp electric motor. This powerful source makes heated cleaning a valuable feature of this unit. It significantly shortens the carpet drying time, making it quite practical.
The unit packs the famous counter-rotating SpinScrub 360 brush system that helps penetrate deeper stains. This feature also enables you the option to adjust the brushes in order to clean more sensitive surfaces in order to save them from scratches and similar damage. You are able to switch between 3 speed modes: high, low, and off (for easier spill pick up).
And of course, this unit has a dual tank system onboard to separate the dirty water from the clean one,  so changing the water is easier as well. The Clean Surge feature is what makes this Hoover machine special. It easily applies extra cleaning agents in order to keep heavy traffic areas clean and to tackle sturdier stains. And, of course, this unit also comes packed with an extension hose and an upholstery tool to reach and clean your stairs/furniture with ease.
Customer Service and Warranty Policy
Hoover as a company has a lot of loyal clients and a faithful community built around its services. Even though they are a century-old company, they tend to keep up-to-date and in touch with the buyer. They even have somewhat active social media pages, and how-to tutorials, which will surely come in handy to a lot of beginners.
On the SteamVac Clean Surge model, Hoover offers a 1-year limited warranty with 30-day assurances. The company prides itself on manufacturing never-breaking equipment, so they are happy to help and provide adequate assistance.
What Can You Clean With the Hoover SteamVac?
This particular model is designed to go all around the house. The suction mechanism really helps make the carpets dry much quicker. Lots of types of carpets, rugs, furniture, and drapes could be solidly cleaned and dried using this unit.
Pros
A fairly lightweight model to maneuver around the house

The suction power is great and helps with carpet drying

The Clean Surge system helps tackle nasty smells in the fabric

The Spin Scrub hand tool proves quite handy for remote tasks
Cons
The model is not up to some ultra-heavy-duty stains

The water tanks sometimes need to be emptied mid-cleaning, but the portability makes it easier to do so
Wrap Up
This carpet cleaning unit is one of the best and most efficient in its price range. And on top of that, the price-to-cleaning-power ratio is great. It is also fairly portable and doesn't take up much of the storage space. Nevertheless, it covers all the average needs of a standard household, and sometimes even more. All things considered, this is a very good carpet shampooer.
Here is a wrapped-up Hoover SteamVac review to help you get around the topic and start cleaning your own house with your own gear. After all, we all know rentals cost an arm and a leg. If you have any additional questions we will gladly answer them in the section below.