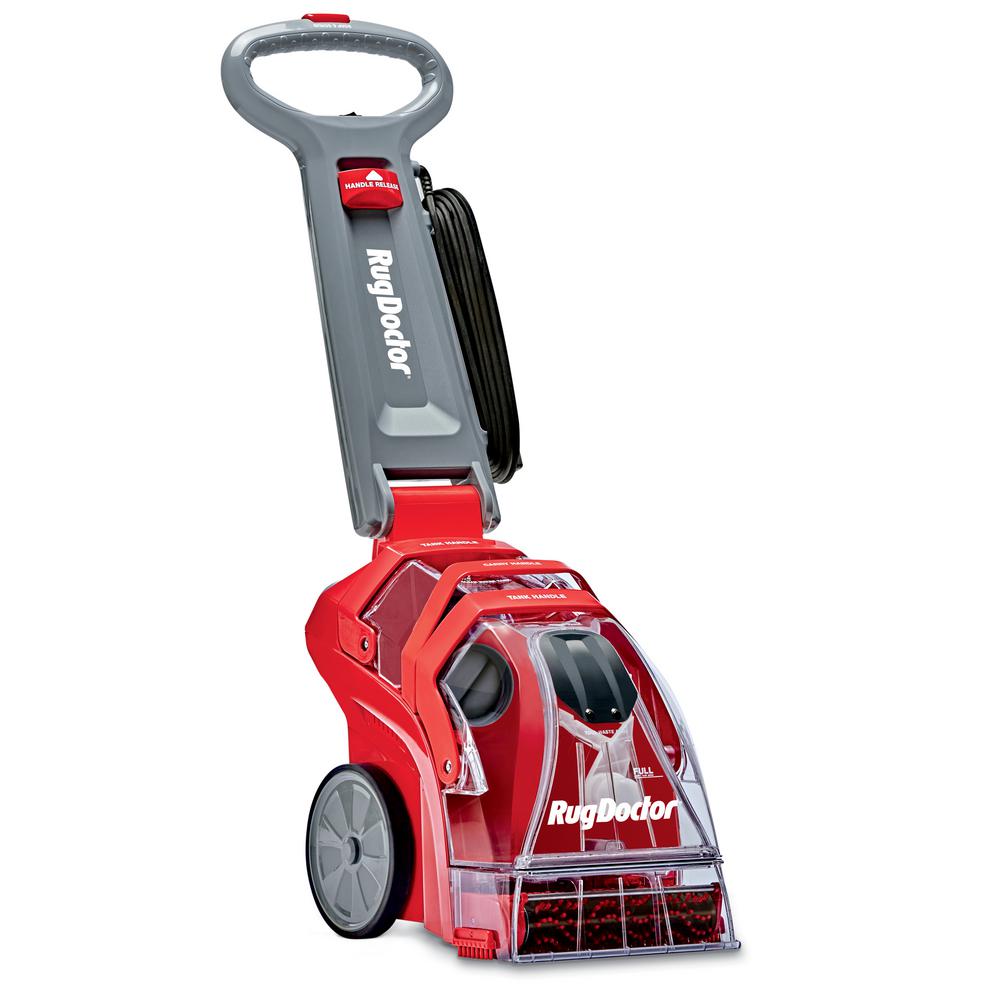 Rug Doctor started with one man's simple idea nearly 43 years ago. A few decades later, they have created some of the best carpet cleaners used around the world today. With that said, we have prepared for you an unbiased Rug Doctor Deep Carpet Cleaner review and hope that our analysis will help you with any further purchase.
This particular model is one of Rug Doctor's more powerful models that also comes with a higher price tag. We will share our findings which include specifications about the unit and other useful information like pros and cons.
Rug Doctor Deep Carpet Cleaner in the Field
This model comes from "Deep Carpet Cleaner" and "Pet Pro Carpet Cleaner" Rug Doctor lines. It is not a budget-friendly model, but the suction and cleaning power are the reasons why this unit is more expensive. It was made to be a good solution for your carpet and pet hair needs. The height of the unit is 3.5 feet, but the handle is foldable which makes it a little easier to store.
The unit weighs 25 pounds but is outfitted with carpet-friendly wheels to not leave stains on a freshly cleaned area. The machine comes with a 28-foot power cord and is powered by a strong 11-amp motor to give you a bit more suction. The head has a set of 2 brushes with 12 rows of bristles that allow the unit to deep clean any type of stain. The cleaning path is 12 inches. If you have just a small spot or stairs that you want to clean, you can always use the 3-inch versatility tool.
Should You Choose Rug Doctor Deep Carpet Cleaner?

This is an amazing unit with a lot of cleaning power. One other feature that was included was the Super Boost Spray function for heavily soiled areas which gives you a bit more versatility as well.
Testing out this machine on various carpets and upholstery showed us that the unit had no issues handling any stain situation that we threw at it. It's easy to assemble and use with its detailed user manual, as you can see from their own instructional video. The capacity of the tank comes to 1 gallon or 128 ounces.
With such great additional equipment and possibilities, the jury has reached a unanimous verdict – Rug Doctor is a great unit and you won't make a mistake if you buy it.
Warranty Policy
Rug Doctor has worked on establishing a trusting relationship between itself and its customers over the years. This unit comes with a 2-year limited warranty. During the first 30 days after your purchase, if anything should go wrong Rug Doctor will cover the costs of shipping the machine to and from the service center or factory.
However, after those 30 days, the customer will have to bear the cost of transport to the warranty/service center, while the Rug Doctor will pay for the return transport costs of the unit.
What Can You Clean With Rug Doctor Deep Carpet Cleaner?
This Deep Carpet Cleaner can be used on a variety of carpet and rug fibers and with its attachments can make short work of upholstery or difficult areas like stairs. We tested it out on multiple carpet surfaces with good results on all of them. From our testing, it performs as one of the best home carpet cleaners.
Pros
Strong motor with high cleaning power – 11 amps

Super Boost Spray for heavily soiled areas

1-gallon dirty water tank capacity

Tanks are easy to empty and refill

User-friendly design
Cons
Heavier model for a home carpet cleaner with its 25 pounds

Slower cleaning speed than other models but requires fewer passes
Wrap Up
We hope we have covered all of the important points in our Rug Doctor Deep Carpet Cleaner review. The Rug Doctor Deep Carpet Cleaner does a good job cleaning up carpets with various types of stains and pet hair. If you need a machine that can handle all of the carpeting in your home, your car interior or upholstery, then this would be a solid choice. It is certainly one of the best carpet cleaners we have tested.
That would be all for this review. In case you have something to add or ask us, feel free to do it in the comment section below.