Just as the name suggests, Rug Doctor is a company that promises a lot. They have been in the industry for quite some time, and we will put their name to the test. There are plenty of choices out there, and carpet cleaning has become available to anyone. So, in this unbiased Rug Doctor carpet cleaner review, we will try to tackle all the important questions you might have and summarize the results of testing the 3 most popular models.
We took these models and reviewed several important traits and features: cleaning power, portability, additional accessories, and unique features. The competition is strong, and the Rug Doctor gives a general feel of a company that is up to the challenge.
PRODUCT
DETAILS

Rug Doctor Deep Carpet Cleaner

Price:

$$

Customer Rating:

4.1

Weight:

5 pounds

Size:

22.8 x 14.2 x 28 inches

Warranty:

2 years

View On Amazon

Rug Doctor Portable Spot Cleaner

Price:

$

Customer Rating:

3.8

Weight:

20 pounds

Size:

17.8 x 12.5 x 17.8 inches

Warranty:

2 years

View On Amazon

Rug Doctor Mighty Pro x3

Price:

$$$

Customer Rating:

4.4

Weight:

40 pounds

Size:

22.5 x 11 x 26 inches

Warranty:

5 years

View On Amazon
Best Rug Doctor Carpet Cleaner Reviews
1. Rug Doctor Deep Carpet Cleaner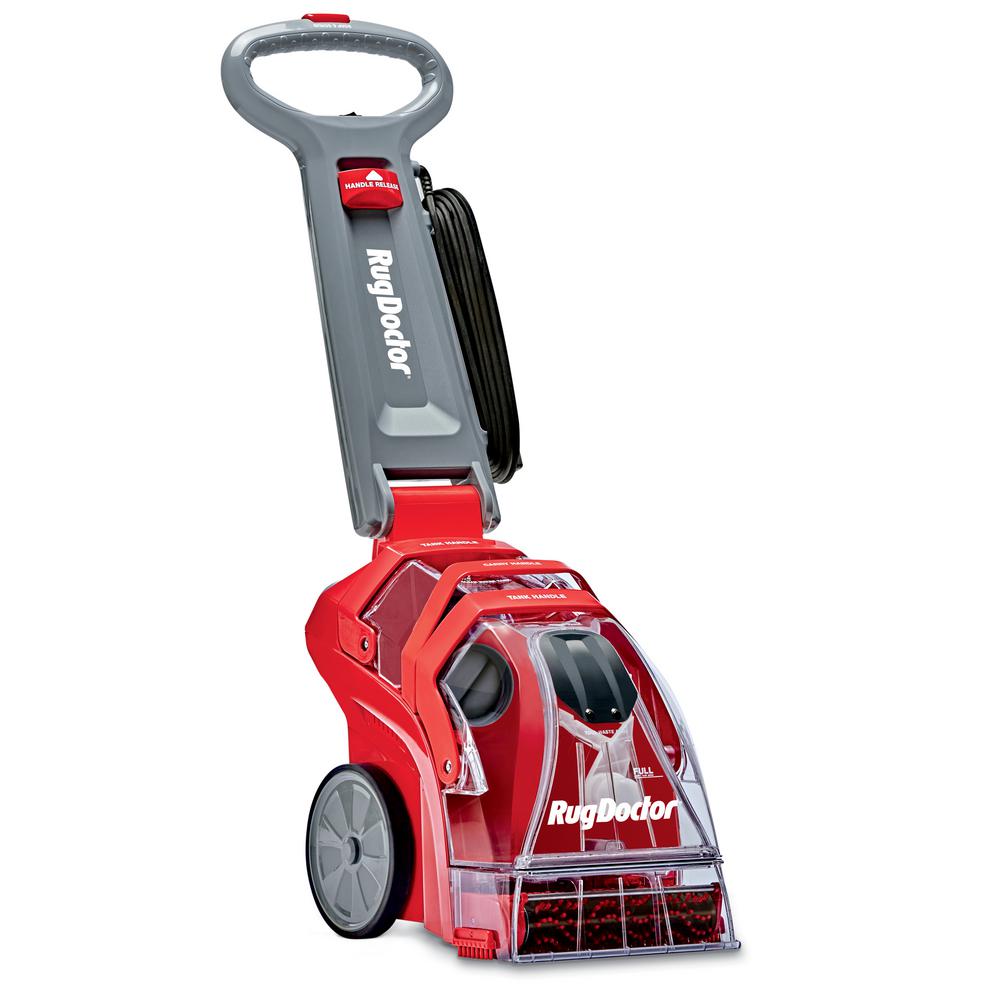 This unit falls somewhere in the middle when it comes to power and portability ratio. The unit weighs just over 25 pounds and is followed by a 28-foot long cord, so you can reach and maneuver around as you please. The total width of the nozzle is 12-inches, which is considered slightly above average and is enough to cover most of the regular household needs.
The model comes packed with Dual Cross Action Brush system – a feature utilizing 2 separate brushes underneath the machine, designed to tackle sturdier stains. And on top of that, there is a Super Boost Spray function built in. This neatly-designed function is meant to handle heavily soiled areas.
If hard to reach places are your worry, this unit comes packed with a 7.7 feet long hose and an upholstery tool, which we were able to utilize perfectly to clean some severely stained furniture.
Read More: Rug Doctor Deep Carpet Cleaner
2. Rug Doctor Portable Spot Cleaner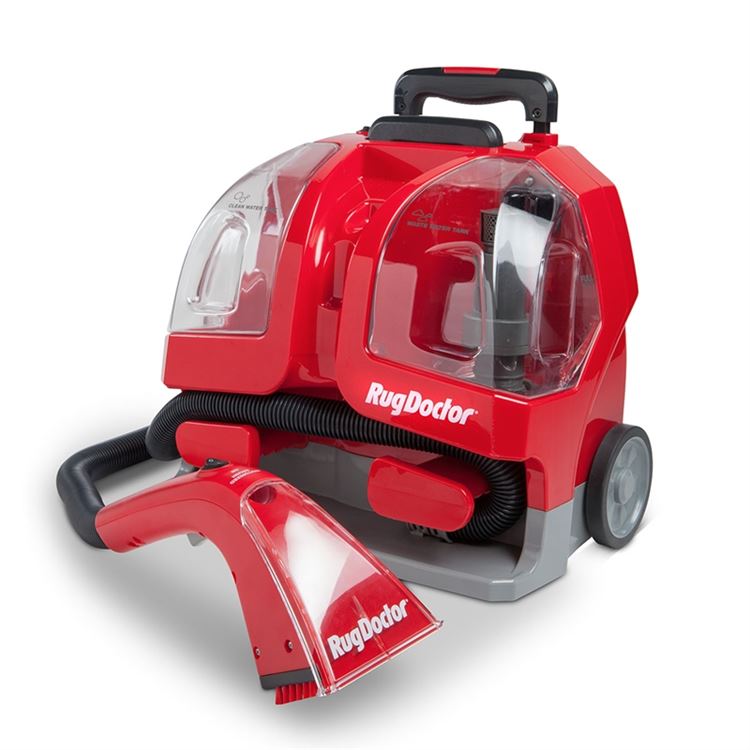 Easily concluded from the title above, this model is there to help you go around and clean at your leisure. This model weighs a total of 15 pounds and is relatively small compared to all other Rug Doctors. This is definitely a model for every-day use.
The standard technology is tightly packed into this compact unit, and the handle (combined with the 2-wheel system) is designed to help you reach anywhere you desire. This spot-cleaning unit comes with a motorized portable brush attached to a 5.5-foot long hose, followed by a 15-foot long electric cord.
The water tank capacity may be only 65-oz, but keep in mind that, when it comes to carpet cleaners, this is as portable as it gets. The portable and motorized handheld brush has a really powerful suction unit, and this model is ideal for pet owners, or households with toddlers.
3. Rug Doctor Mighty Pro x3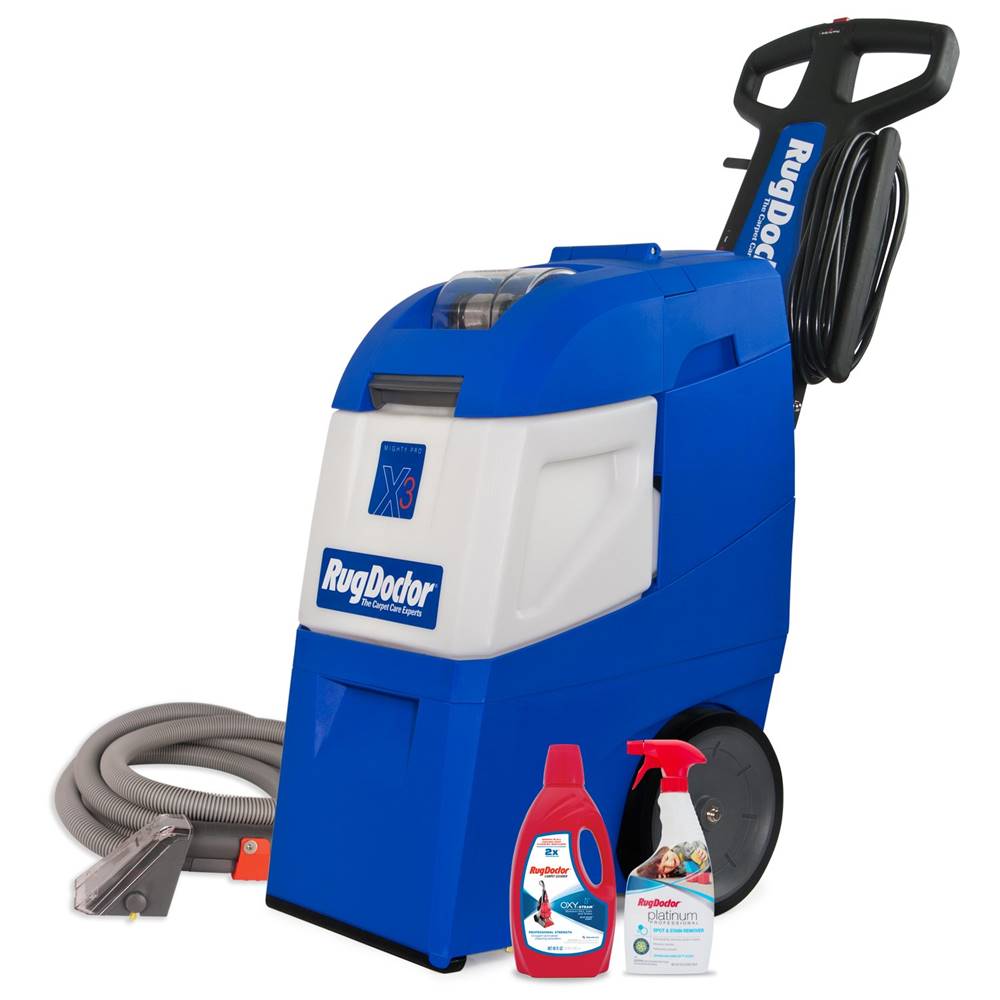 This is the true power machine of the Rug Doctor brand. This commercial grade carpet cleaning model is the most powerful on this list. Weighing around 40 pounds, it is also the heaviest, but the weight comes with the extra kick of power.
With a vibrating brush system, covering the cleaning path of 10 inches, this unit can challenge the hardest and sturdiest of stains. Even though it is a bit more robust compared to previous models, it is easy to handle, and easy to store.
The unit cleans with a 3-step program: spray, scrub, extract. And the 3.9-gallon water tank is certainly big enough to endure longer cleaning sessions, and the powerful 11-amp electric motor provides all the suction you need.
An upholstery/stair tool is provided with the unit, so cleaning furniture and unreachable corners is a welcoming addition. This tool is attached to the main body with a 12-foot long hose.
Rug Doctor as a Company
The name says it all – the Rug Doctor. This manufacturer specializes in making all sorts of cleaners for households all over the world. About four decades ago, in Fresno, California, the company was founded by a professional carpet cleaner who got some new ideas and thought that carpet cleaning machines should be available to everyone.
Being that this technology was quite exclusive and restricted to business owners only, he was motivated to invest his time and brain power into developing a competitive carpet cleaning brand that will satisfy the needs of many.
The company has a strong attitude: it isn't clean unless you wash it with soap and water. That is why they are so invested in creating and developing new systems with their machines. Besides that, they have a leading line of versatile, eco and pet-friendly cleaning agents that can be combined with their products.
Customer Support and Warranty
Rug Doctor cares about homeowner`s needs, so the info and feedback on every model they manufactured are quite transparent. They do have separate lines for rentals and for purchase, and we have actually found their Q&A sections useful while working on these Rug Doctor carpet cleaner reviews.
On their well-developed website, you can also find useful tips and tricks on how to use every piece of their equipment, sorted by model.
The warranty provided with the first two models includes a 2-year limited consumer warranty pack, while the commercial X3 model is covered by a 5-year package.
Rug Doctor Carpet Cleaners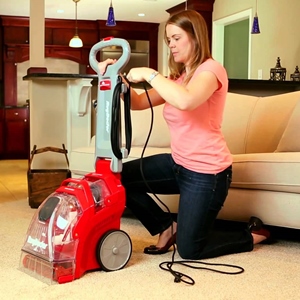 This manufacturer, in our honest opinion, delivers and lives up to the name. While searching for a carpet cleaning unit, you will find that they can match any of your needs. From affordable price ranges to portability and special requests like spot removal or pet stain removal.
Rug Doctor insists on old-school cleaning packed in an ergonomic, cutting-edge, modern technology. The design of their units feels familiar and comfortable, and the cleaning power matches the name.
To furtherly prove they care about their client base, they lead an active social media networking system at your disposal and even upload tutorials and instructions.
One of the best features this manufacturer brings to the table is the production of their own cleaning agents. Each model reviewed was packed with a sample-sized bottle of one kind of cleaning agent. Rug doctor heavily invested in developing various agents for every challenge presented.
The feature that got special attention is the portability of these units. Even the heftier ones came with hoses long enough, and handheld adapters strong enough to tackle non-carpet surfaces. The spot remover model proved especially useful in removing pet stains, and some of the lesser inconveniences, like everyday spills and soft stains.
Searching for a highly portable stain and spot remover, or a commercial grade heavy-duty carpet cleaner, this manufacturer has a lot to offer.
Product
Size
(inches)
Weight
(pounds)
Warranty
(years)
Rug Doctor Deep Carpet Cleaner
22.8 x 14.2 x 28
5
2
Rug Doctor portable Spot Cleaner
17.8 x 12.5 x 17.8
20
2
Rug Doctor Mighty Pro x3
22.5 x 11 x 26
40
5
Wrap up
And there you have it. We took the 3 main models by Rug Doctor and put them to various tests. They proved to be valuable companions in the mission of carpet and furniture cleaning.
If you are considering to buy a carpet cleaner for yourself, or for your workspace, this company can satisfy your needs. So, do yourself a favor and invest in a unit that will match your needs. No reason to spend money on a product that won't be up to your cleaning tasks.
We hope that we have answered all the important question you might have had in this Rug Doctor carpet cleaner review and that we made it easier for you to decide which model to buy.