If you are a parent, pet owner or someone who happens to bump into things around the house, you know that accidents and spills can happen easily and with no warning. A noticeable stain or odor can ruin the look of your living room, bedroom and the rest of the home. This is why people are buying the best Bissell carpet cleaners more and more nowadays.
Did you know that germs and bacteria can survive up to 6 weeks in your carpet? Carpet cleaners solve this problem by combining water and detergent to clean the stain and suck up the excess water.
We will give you our unbiased Bissell carpet cleaner review of 3 different models in the hope of helping you find your own model.
PRODUCT
DETAILS

Bissell 3624 SpotClean

Price:

$$

Customer Rating:

4.2

Weight:

13 pounds

Size:

10 x 14 x 14 inches

Warranty:

2 years

View On Amazon

Bissell 1622 Upright Carpet Cleaner and Shampooer

Price:

$

Customer Rating:

4.2

Weight:

16 pounds

Size:

19 x 11 x 44 inches

Warranty:

1 year

View On Amazon

Bissell 33N8 SpotBot

Price:

$$

Customer Rating:

4.1

Weight:

12.5 pounds

Size:

9.1 x 16.9 x 12.5 inches

Warranty:

1 year

View On Amazon
Best Bissell Carpet Cleaner Reviews
1.  Bissell 3624 SpotClean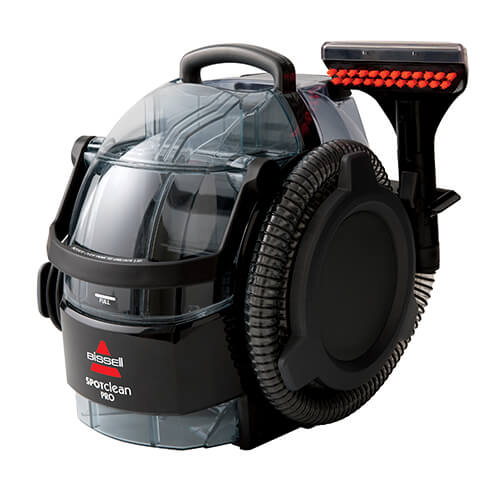 The first model we have for you is a portable carpet cleaner from Bissell. It is easily one of their lightest and most portable models, weighing in at around 13.2 pounds. But don't that compact size fool you as the motor has a 5.7-amp power rating- which is more than the industry standard for machines of the same price range. The SpotClean bundle covers your basic cleaning needs and is budget friendly.
The dirty tank capacity of this unit is ¾ of a gallon or 96 ounces. Besides the standard 3-inch brush head, the machines come with a 6-inch Stair Tool to make cleaning your staircase faster and easier. The unit also has a 22-foot power cord and a 4-foot hose.
While this model can clean spots efficiently, because of a design flaw the hose can break if it is wrapped up and stored on the unit. It comes with a 2-year limited warranty.
2. Bissell 1622 Upright Carpet Cleaner and Shampooer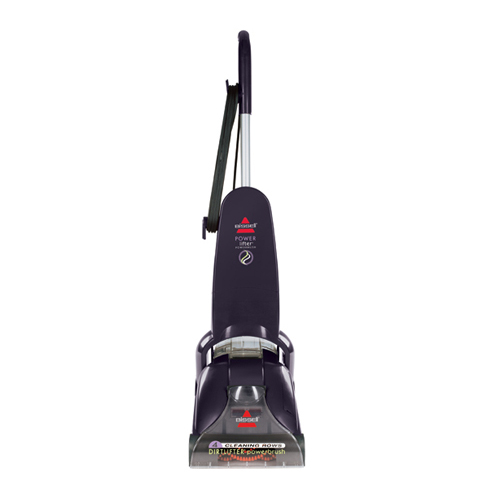 While portable models are good at getting rid of spills and stains, nothing beats a full-sized or upright carpet cleaner when it comes to cleaning the whole carpet. This unit is one of their lightest and most budget-friendly models which makes it worthy of taking a closer look. The machine weighs 16 lbs and is powered by a 12-amp motor.
You get a 20-foot power cord for continuous cleaning. The 2-in-1 tank system makes it easy to fill and empty. The tanks have a 0.75 gallon or 96-ounce capacity. This model is part of the PowerLifter and PowerBrush series, meaning it has a wider cleaning head with 4 rows of dual cleaning brushes. They are rotating and lifting stains with an 11-inch cleaning path. This helps cover more ground in less time.
Additionally, this machine comes with a removable lint screen and nozzle as well as a built-in measuring cup so you don't have to guess how much cleaning liquid you need. The unit is covered under a 1-year limited warranty.
3.  Bissell 33N8 SpotBot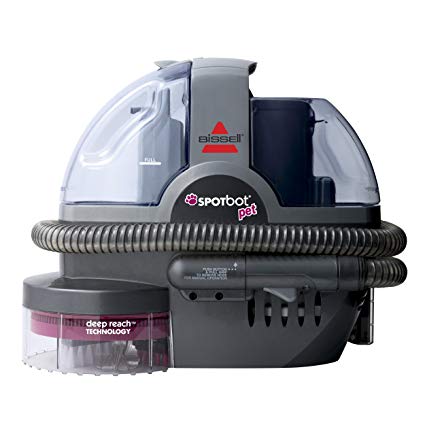 The last machine on our list is another unique product in Bissell's line, this time an auto-cleaning machine. This portable little cleaner comes with a 3-amp motor and weighs 14.1 pounds. The power cord is a medium length of 15 feet. The tanks can store up to 32 ounces of clean/dirty water.
This model is more expensive than the other portable spot cleaners, but this one also has the unique option of auto-cleaning stains. It has 2 programs – one for fresh stains (surface stains) and one for older stains (set-in stains). Just press a button and you can remove a 4-inch stain with this auto feature. If you need to clean a smaller or difficult-to-reach spot you can also use the 3-inch tough stain brush that comes with the unit.
There have been reports of factory issues with this model starting to leek after a couple of months of usage. This machine is covered by a 1-year limited warranty.
About Bissell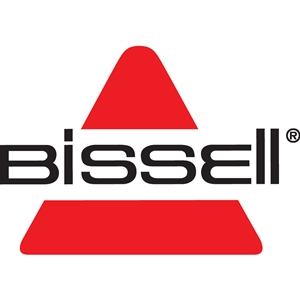 Bissell is an American company with its roots in cleaning machines since the late 19th century. The company began as a small 2-person business with the married couple Melville and Anna Bissell. To sort out the issue of sawdust building up in his crockery shop, Melville invented a unique carpet sweeper to clean up his carpets in 1876. It was patented, and the business was born.
Anna was the top salesperson in the company and helped make Bissell a household name by getting department stores to pick up and sell their product. Anna also took over the business once her husband died and became the first female CEO in American history. Since then, they have continued to produce carpet and floor cleaning machines for all types of surfaces and cleaning jobs of all sizes.
Standing the Test of Time
Starting as a "mom-and-pop" business, Bissell quickly became a powerhouse in the floor cleaning industry. By 1883 Bissell had their first factory and in the 1890's they were already producing 1000 units a day with an international presence. The company had become so internationally popular that the then Queen of England, Victoria had to have her palace "Bisselled" once a week.
They started with a carpet sweeper costing only $1.50, and in the meantime, they have grown and expanded their business to one that earns $800 million in annual revenue. Through years of effort, they have risen the top – controlling 20% of the market share – making them the number one manufacturer of floor care products in North America.
Guarantees and Return Policies
The company has worked on creating a network of customer service agents and centers in order to make a lasting relationship with their customers. The standard warranty given for most of their models is 1-2 years of limited warranty that doesn't cover the hose or accessories.
Users report a much longer lifespan if the machines are taken care off properly. However, there have been recent reports of design flaws making their latest models break or fail to cause dissatisfaction with their customers.
If your machine should stop working the procedure is to contact the company and they will help you find an authorized service center where you can take your unit for inspection.
Bissell Carpet Cleaners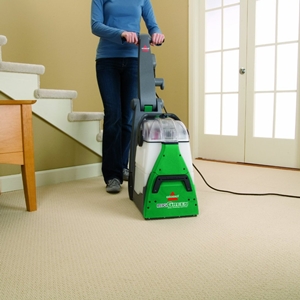 Bissel carpet cleaners started with a single carpet sweeper, now they make carpet shampooers, vacuums, carpet cleaners, and spot cleaners. They make both regular-sized and portable solutions for your floor and upholstery cleaning needs.
The prices can vary from being very budget friendly to be on the pricey side, depending on what you need. Normally, stronger units with additional equipment cost more money, but they are also built with high-quality materials.
Unlike their competition, they have spent time developing solutions for all types of floors, with and without chemicals. While they may make some mistakes with their designs. they are also a company that tries to innovate and not just maintain the status quo.
Product
Size
(inches)
Weight
(pounds)
Warranty
(years)
Bissell 3624 SpotClean
10 x 14 x 14
13
2
Bissell 1622 Upright Carpet Cleaner and Shampooer
19 x 11 x 44
16
1
Bissell 33N8 SpotBot
9.1 x 16.9 x 12.5
12.5
1
Bissell Company Summary
Bissell has been around for nearly a century and a half. They started with humble beginnings and continued to evolve into an industry giant throughout the years. They've gained international recognition based on their floor-care solutions. They even make videos to show their customers tips and tricks on cleaning their carpets with the best Bissell carpet cleaners.
They aren't without their faults, as an innovator they can sometimes get it wrong and build a product with a flaw which they address in later models. They've been around for 142 years and are probably going to continue to grow.
If you are looking for a modern company that likes to innovate from time to time then maybe Bissell can be your choice for an effective carpet cleaner. We hope we have helped you with our tests and reports. If we skipped any important point with our Bissell carpet cleaner review, please leave a comment and we will readily reply.